Under the tree
10 FUN & FUNCTIONAL TRAVEL GIFTS
Whether to use on vacation or to inspire your travels, we've got some killer gift ideas for everyone in the family.
Why give travel gifts?
Before I became the editor of KidTripster, I was a long-time consumer reporter. Every year, I scoured toy stores near and far to compile my "Top Toys for the Holidays" list; it was one of my favorite assignments, in part because it gave me an excuse to ride scooters through the office and shoot foam arrows at my co-workers. So I know a thing or two about selecting useful and memorable holiday presents.
Some of the suggestions on KidTripster's list will make your family's travel easier. Others are meant to entertain, educate, and inspire you and your kids to explore the world. I've also made a point of picking lots of products that have been designed by parents and support small companies.
Happy shopping and happy holidays from KidTripster!
Photo courtesy: Little Passports
1/Monthly subscription to Little Passports
Little Passports is a way to give your child the world without ever leaving home. It's a subscription service that delivers a monthly package filled with activity sheets, crafts, games, maps, photos, recipes, and souvenirs related to a new theme or region. The program is broken down by age: Early Explorers (ages 3-5), World Edition (ages 6-10) and USA Edition (ages 7-12); the ones for older kids include online extension activities, too. There's also a Science Expeditions Edition (ages 9+) that challenges kids to solve scientific mysteries with international scientists. Developed by two moms, Little Passports' boxes are designed to inform and inspire your future travelers. Cost: starts at $12.95/month.
KidTripster Tip: Grandparents, I think that Little Passports is a great gift from you. If you live far away from your grandchildren, it's a way to connect monthly. If you live down the street, go over and discover the box together.
Photo courtesy: Little Passports
2/Backpacks by Dabbawalla
I'm obsessed with these backpacks from Seattle-based Dabbawalla! Designed by two moms, Dabbawalla bags are eco-friendly, functional, and just plain fun. The whimsical, eye-catching graphics are punctuated by vibrant, eye-popping colors. Seriously, these bags just make me smile… and they'll make your toddlers and preschoolers smile, too - whether they're carrying them to school, on vacation or off to a sleepover. Individually-crafted at a small, family-owned sewing facility in Taiwan that supports fair labor practices, they're comfortable, durable, and completely washable.
Several of the designs come with matching lunch bags, which also are made from the same 100% toxic-free, foam material (no PVC, BPA, lead, and phthalates). With an ice pack, the lunch bags keep food cold for 4 hours.
You also can get matching ditty bags (think colored pencils, legos, and odds-and-ends) and tablet bags (fits iPad, iPad Mini, Kindle, and Samsung Galaxy).
My favorites? It's hard to choose, but I'll go with the Russian doll, penguin, rocket, and airplane. Cost: Backpacks $34-$42; Lunch bags $20-$25.
KidTripster Tip: For little adventurers (ages 1-3), consider the harness backpacks with an adjustable sternum strap and detachable tether.
KidTripster Tip: For extra personalization, you can get your child's name embroidered on the bag.
By the way, the name "dabbawalla" refers to the legendary lunch couriers in India.
Photo courtesy: Dabbawalla
3/USA License Plate Game by Melissa & Doug
I've long been a fan of Melissa & Doug's wooden toys, and the USA License Plate Game is a great addition to any collection. Meant to be played in the car, kids and adults compete to see who can spot the most state license plates on the road. You keep track on a wooden map by flipping each state's plate to the appropriate team's color. For an added challenge, you can modify the game by requiring state capitals or postal abbreviations - or simply use the map to teach state names and locations. And there are no loose pieces; each wooden license plate is tightly bungy-corded to the board. Cost: $19.99.
Photo courtesy: Melissa & Doug
4/Camera Mount by Gekkopod
In my family, I'm the official photographer in charge of capturing memories on vacation - whether on my digital SLR camera, my smartphone or my GoPro. That means I'm rarely pictured in our family photos. Yes, I've turned over my camera to fellow tourists and asked them to take a shot, but honestly, 75% of the time, I'm not happy with the result. (Seriously, I'm amazed at how many people can't frame a decent photo!)
Enter Gekkopod. It's a super flexible, 5-legged mount that securely holds a camera, smartphone or GoPro. Use it as a tripod or wrap its legs around something in the environment - a rail, tree branch or even handle bars. With your hands free, you can set the timer on your camera and jump in the shot. You can shoot from difficult angles. You also can manipulate the legs to form a stand for your phone or tablet - great for air travel. Or use the claw hands to hold your phone for video chats. It's super portable and folds up to fit in small spaces.
It comes with a GoPro adapter and a retractable holder that fits any phone (with or without a case) in the horizontal position. You also can move the mounting screw to any of the legs for even more possibilities, including using a smartphone vertically.
The Gekkopod makes a great gift for the photographer in your family. It comes in four colors: black, blue, green, and purple. Cost: $18.95.
KidTripster Tip: The bendable legs can be a little addictive and serve as a good distraction for antsy toddlers and preschoolers on a long car ride or flight.
Photo courtesy: Gekkopod
5/Scratch-off Maps by Mappinners
I admit that I'm a list maker; I like to keep track of stuff, including my travel. That's why I love the scratch-off maps from Mappinners. There are USA and world maps, plus the really hard-to-find National Parks of the USA map. Once you visit a park, state or country, you simply scratch off the gold foil with a coin. The maps are large enough to frame, and because they all have a similar look, they hang nicely as a collection. Cost varies by size and type but ranges from $40-46.
KidTripster Tip: Buy these maps for your kids when they're young. Not only can they track their travel, but they also can study geography.
Photo courtesy: Mappinners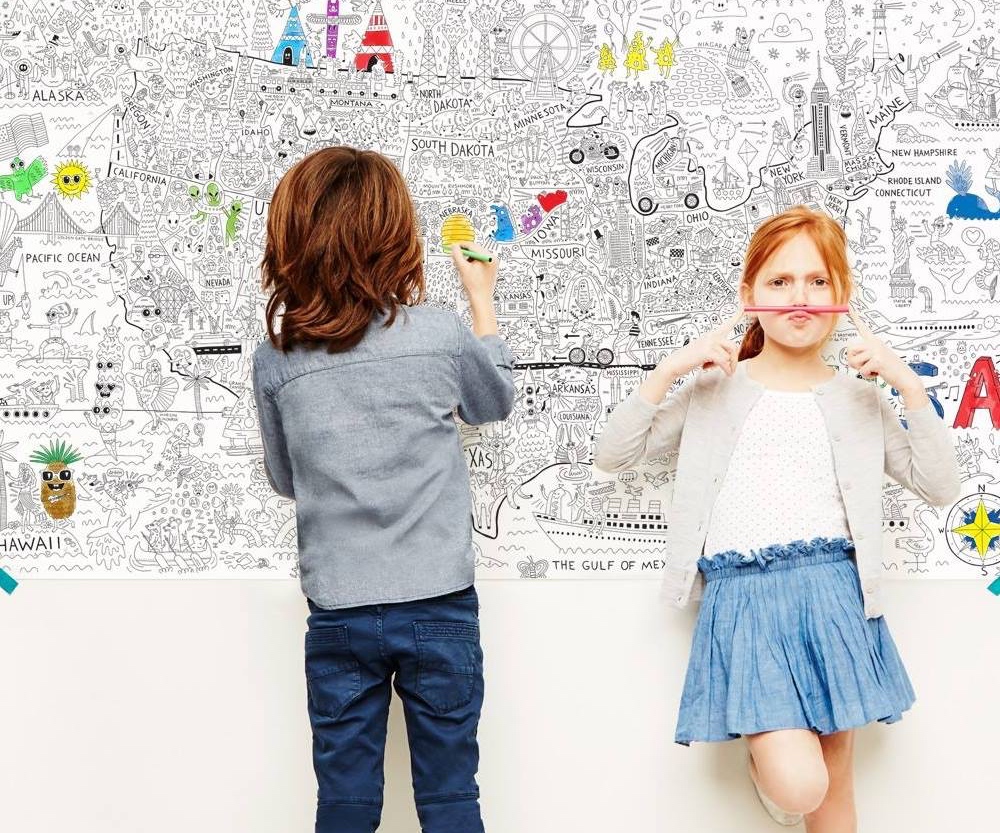 6/Really Cool Coloring Sheets by Pirasta
What do you do when your son loves to color on the walls of your NYC apartment? You turn it into a business! Mom-owned Pirasta sells sets of 20 coloring sheets (14"x10") that when assembled together create huge wall art (70"x40"). Or you can go for the really big coloring poster (63"x36"). My favorite collections are Let's Color America and What a Colorful World. The illustrations are detailed, quirky, and fun; plus, they're educational with landmarks, culture, food, and natural wonders worked in.
The coloring pages are printed with vegetable ink on recycled paper. Color the small sheets on the road or let the large poster take over a wall at home as it inspires your family's future travels. Cost: Small sets $20; Large sets $30.
Photo courtesy: Pirasta
7/World Music by Putumayo Kids
Putumayo Kids has been introducing children to songs from around the globe since 1993. But what you may not know is the company is constantly coming out with new albums that highlight music from different regions of the USA and the world. For example, it just released it's new Cuban collections. So if you've got a trip planned - to say, the Caribbean - give your kids Caribbean Playground or Afro-Caribbean Party to get them into the groove.
Putumayo sells CDs, but some music also is available for download on iTunes. CD Cost: $15.
Photo courtesy: Putumayo Kids
8/Packable Pails by AquaVault
This product is one of those that makes me think, "why didn't I think of that?" It's the brainchild of a mom and dad in Iowa. Yes, the best beach buckets in America come from Iowa! What makes them so great? The full-sized pails are collapsible, meaning you can easily pack them in a suitcase or the trunk of your car for your next beach vacation. But we're told by the inventors that they work pretty well in the snow, too! Cost: $20.
Photo courtesy: AquaVault
9/iGuy iPad Case from Speck
Hard to say who this is a gift for - you or your child, so I'll say both! iGuy is free-standing, hard foam case for the kid on the go. It fits an iPad (1-4), iPad Air (1 or 2), iPad Mini (1-4), and iPad Pro. The arms make it easy to grasp in the car; the legs make is easy to stand and watch movies on a plane. Best of all for parents, it's shock absorbent. Our KidTripster cub reporters have dropped these cases on hardwoods, pavement, and airport floors around the world!
KidTripster Tip: Sticky hands? That's okay; iGuy can be cleaned with baby wipes or mild soap and water.
iGuy comes in five, fun colors: Caribbean blue, chili pepper red, cupcake pink, grape purple, lime green, and mango orange. Cost: around $20.
Photo courtesy: Speck
10/Ticket to Ride by Days of Wonder
Maybe you've played the original Ticket to Ride board game, but did you know that Days of Wonder produces multiple versions that highlight different regions of the world? The object of the game is to collect cards that enable you to claim railway routes. Players earn points when they connect particular cities.
My family has several versions of this game, including Nordic Countries, which we packed in our suitcase and then played sitting in a snowbound cabin in Finland! The game is an entertaining way to teach geography and strategy.
KidTripster Tip: For younger kids (ages 6+), try the First Journey sets.
At Christmas, editor Shellie Bailey-Shah gives her children gifts related to a particular theme, which is often tied to an upcoming trip. Read her advice about Giving the Gift of Travel to your kids.
Photo courtesy: Days of Wonder
This writer received some complimentary products for the purpose of this review. However, all opinions expressed are solely her own.
Pin to Pinterest & read later