Denver, Colorado
TOP 10 EATS
Best kid-friendly restaurants in a city that prides itself on "clean eating"
Why go?
You could easily spend an entire week eating your way through the Mile High City! Denver, as a whole, focuses on clean eating, so it's the perfect place to introduce any kid - toddler to teen - to healthy, unique eats. But don't worry! We have our share of yummy burger joints and handmade ice cream, too! And since Colorado is home to some of the first microbrews in the country, be sure to wash any meal down with a local beer.
1/Bonnie Brae Ice Cream
799 S. University Blvd.
Bonnie Brae Ice Cream has been a Denver tradition since the mid-80s. With sundaes, banana splits, and shakes, they make all their ice cream in house, so you know it's fresh. My kid opts for traditional vanilla or chocolate every time, but if you feel like branching out, try egg nog, cherry mash or chocolate rum raisin chocolate chip. Be prepared to wait in line, as this retro joint gets super busy, even in the winter months. $
For old-fashioned ice cream with a view, head to Little Man Ice Cream (2620 16th St.) Located just across I-25 in the historic Highlands Neighborhood, this shop operates out of a 28-foot tall cream can with incredible views of downtown Denver. Every scoop you buy benefits the Scoop for a Scoop Program; Little Man Ice Cream donates a scoop of rice or beans to needy countries. $
2/True Food Kitchen
2800 E. 2nd Ave. #101
Located in the trendy Cherry Creek shopping district, True Food Kitchen will feel like a special night out for the entire family. With creative kids' dishes like chicken teriyaki bowls and almond butter-banana-strawberry sandwiches, this restaurant is a great place to introduce your kids to healthy, organic eating. And you will feel like you're on a date while sipping on one of the many specialty cocktails like the "Spontaneous Happiness" or "Fig and Pomegranate Mule." $$$
KidTripster Tip: This place is popular, so make a reservation or go early in order to minimize your wait time with antsy toddlers or starving teenagers.
3/White Fence Farm
6263 W. Jewell Ave., Lakewood
Bring your appetite!! Less than 20 minutes west of Denver in Lakewood, White Fence Farm offers up some of the best fried chicken alongside refillable sides like corn fritters, coleslaw, cottage cheese, and beets - all served family-style. If fried chicken isn't what you crave, opt for a grilled chicken salad, salmon or a turkey dinner. Afterwards, the kids can take their wooden coins and trade them in for treasures, before petting and feeding goats, ducks, and fish (bring quarters for the food). My toddler spent most of her time at the playground, picking out toys at the shop, and dancing to the live music. She also was eyeing the indoor slide but wasn't quite tall enough. (We'll be back!) You could easily spend a few hours here and leave with great memories and a full belly! My daughter repeated the word "fun" all the way home! $$
4/Cherry Cricket
2641 E. 2nd Ave.
A true burger joint in the trendy Cherry Creek shopping district, Cherry Cricket delivers up any type of burger that you want! Choose from unique toppings like cream cheese (yummy, trust me!), eggs, jam, and corned beef. (They also offer salads, wings, and some Mexican entrees, if you don't want a burger.) Kids can enjoy their own mini burger, mac-n-cheese, and milkshakes! Come early, as this place is popular among the lunch and dinner crowds. $$
5/Farmhouse at Breckenridge Brewery
2990 Brewery Ln., Littleton
Taking in the Colorado sunshine while drinking great beer? Yes, please! Located in a southern suburb of Denver, the 12-acre Farmhouse at Breckenridge Brewery features a restaurant, daily public tours, and outdoor beer garden next to the South Platte River. The full-service restaurant inside offers everything from sandwiches and salads to meatloaf and fish 'n chips. But we love to sit outside; there's a limited food menu but plenty of space for my toddler to run around and attempt to play lawn games like bocce ball and cornhole. $$
KidTripster Tip: Don't like anything on the limited outdoor menu? You can order off the full menu inside at the bar. You just have to wait for it and deliver it to your outdoor table yourself.
Very similar to the Farmhouse at Breckenridge Brewery, but on a smaller scale, the Lowry Beer Garden (7577 E. Academy Blvd.) is more centrally-located in the newly-revitalized Lowry neighborhood. Enjoy beer from across the country, as well as wine and specialty cocktails, plus food, including a soft pretzel large enough to split between a family of four! Our family loves to play ping pong or you can bring cards to play while enjoying your drink in the Colorado sunshine. $
KidTripster Tip: Take the kids here on Sundays, when the restaurant offers free ice cream for kids. My daughter went back for seconds!
6/Pasquini's Pizzeria
1310 S. Broadway
A family-owned business for more than 26 years, Pasquini's Pizzeria allows kids to create their own pizza right at the table! For the adults, this Italian gem serves up crave-worthy lasagna and pasta, addictive breadsticks, and several vegetarian options, as well as budget-friendly wines. $
KidTripster Tip: Kids eat free on Tuesday nights; get two free kids' entrées for each adult entrée.
If beer is what you crave, head to Rock Bottom Brewery. Kids can make their own pizza here too, but you can enjoy more Colorado craft brews. It has three locations across the metro area - one in the heart of the 16th Street Mall (great for people watching), one near the popular Park Meadows Mall just south of Denver, and a smaller restaurant at Denver International Airport. $$
7/Vine Street Pub & Brewery
1700 Vine St.
Located near Denver's City Park (home of the Denver Zoo and Denver Museum of Nature and Science), Vine Street Pub & Brewery is a family-friendly local hangout. Nosh on budget-friendly sandwiches or make your own grilled cheese while drinking unique brewed-in-house beers, like Java Porter or Raspberry Wheat. Families with young kids seem to flock here for happy hour because of the community tables and laid-back atmosphere. Bring cash; Vine Street Pub doesn't take credit cards. $$
8/Second Home Kitchen + Bar
150 Clayton Ln.
A kid's dream come true - eating breakfast at a restaurant in your pajamas! On Sundays from 6:30 a.m. - 2 p.m., Second Home Kitchen + Bar offers free brunch to kids (under 8) who are dressed in their pajamas. They'll enjoy a pancake and waffle bar complete with toppings like gummy bears, fruit, and candy! While you indulge in bottomless mimosas, your kids will be entertained by Clayton the Moose in the Moose Den where they can do art projects, play games, and watch movies! Second Home Kitchen + Bar offers breakfast, lunch, and dinner all week, as well. $$$
9/Murphy's
2731 Iris Ave. & 657 S. Broadway, Boulder
With two locations in Boulder (30 minutes north of Denver), Murphy's dishes up fun kids' entrées (pork tacos, fish sticks, pint-sized burgers) along with healthy sides (fruit, carrot sticks, salad). And while those tiny taste buds delight, everyone in the family will enjoy tableside magic shows! (Check out the website for the schedule.) Parents will love favorites like fish 'n chips, meatloaf, and baby back ribs, plus signature entrées like salmon, stir fry, and trout. $$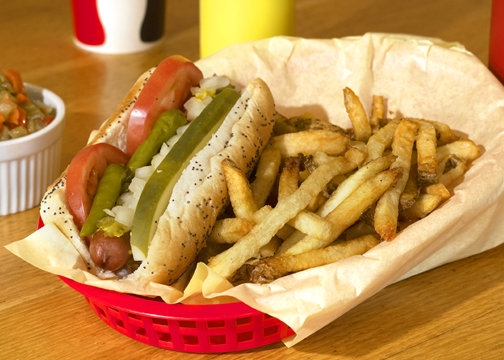 10/Mustard's Last Stand
2081 S. University Blvd., Denver; 1719 Broadway, Boulder
Serving up Chicago-style hot dogs for more than 35 years, Mustard's Last Stand is the perfect spot for a quick lunch. With two locations - one in Denver and one in Boulder - this fast-food joint also offers sandwiches, fries, and corn dogs for the kids! The Boulder location is right along the bike path, making it an easy stop on two wheels. You also can ask for a blanket in order to enjoy your dogs by nearby Boulder Creek. $
For Top 10 Plays in Denver, click here.
For Top 10 Stays in Denver, click here.
Amy Sward spends her summers hiking, exploring, and learning about her home city of Denver with her 2-year-old adventurer. In the winter, it's all about the skiing!
This writer received some complimentary meals for the purpose of this review. However, all opinions expressed are solely her own.
Pin to Pinterest & read later