Oahu, Hawaii
6 BEST BEACHES FOR FAMILIES
There's no shortage of beaches, but we know where you'll find the most family-friendly ones.
Why go?
Oahu is the most populated island in Hawaii, and it has a little bit of everything - even when it comes to its beaches. From world-renowned Waikiki to the mellow North Shore, you'll find the perfect stretch of sand for your family.
Here's our picks for the top 6 beaches on Oahu.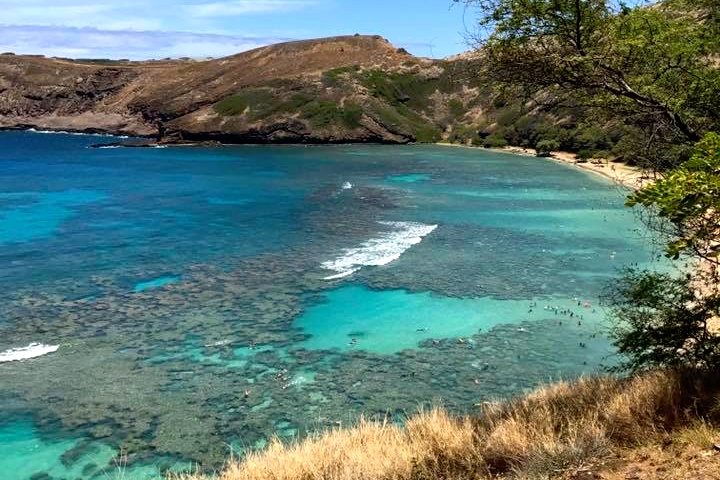 1/Hanauma Bay
Southeast Oahu
A visit to Oahu isn't complete without a trip to Hanauma Bay. In 1967, Hanauma Bay was declared a protected marine life conservation area and underwater park. What does that mean to visitors? It's one of the best places to snorkel and view marine and reef life on the island. The curvature of the bay usually gives protection from large ocean waves which makes it a great place for toddlers who are learning to swim and kids old enough to snorkel. Both my 5- and 9-year olds had a blast snorkeling here.
Before heading to the beach, everyone must watch a short film about reef conservation and safety. After the film, it's about a quarter-mile walk down to the beach; if someone in your party has trouble managing the hike, there is a shuttle. You'll find a nice concession stand, restrooms, and a gift shop. Snorkel gear is available to rent.
KidTripster Tip: The staff closes down the entrance to the park when the parking lot is full, so arrive early; I'd suggest getting there before 9 a.m. If you do arrive late, you'll be directed to park in a residential area and then walk back to the entrance. Park fee: Youth (12 & under) Free; Other $7.50; Parking cost: $1.
2/Lanikai Beach
Southeast Oahu
Lanikai Beach is consistently rated one of the most beautiful beaches in the world! It's located in the community of Lanikai in the town of Kailua on the windward (east) side of Oahu. One look at the fine white sand, vivid turquoise waters, and the Mokulua Islands in the distance and you'll understand why this beach gets all the praise. Normally, the water is fairly calm, so it's a great spot for kids to play, plus the sand is perfect for building sandcastles.
KidTripster Tip: The beach is located in a residential area, so you'll need to park on the road. There are numerous beach access points.
KidTripster Tip: There are no convenience stores or restaurants nearby, so pack a picnic if you plan to stay awhile. And know that there aren't any restrooms either.
3/Kailua Beach Park
Southeast Oahu
Kailua Beach Park is just down the road from Lanikai Beach. What once was a hidden gem is becoming a tourist destination. Despite its popularity, it doesn't feel crowded. The park has restrooms, beach showers, and picnic tables. This is the kind of beach where you come early and stay late, because you simply don't want to be anywhere else. My family and I went to Kailua a few times on our last trip to Oahu. My boys loved swimming and making sandcastles, and I loved strolling the beautiful stretch of white sand.
4/Waimea Bay
North Oahu
Located on the legendary North Shore of Oahu, Waimea Bay is a must-see beach. However, this beach is not swimmable during the winter. Big wave season hits Hawaii from November to February, attracting the best surfers in the world. Waimea Bay is home to the Quicksilver surf competition. Between December and February, the sport's elite surfers - by invitation only - come to surf Waimea. This special contest only happens during massive swells when "the bay calls the day;" waves must reach a minimum of 20-feet high for the competition to take place. The competition has only happened nine times in its 32-year history.
Summer is a whole different story at Waimea. The waves subside, making the waters suitable for swimming. My boys loved swimming here. There's also a rock outcropping in the bay that's popular for locals to climb and jump off; however it's dangerous with signs posted saying not to climb or jump.
KidTripster Tip: This beach gets busy, and parking is limited, so come early. And heed all postings and lifeguard warnings. Leave the big waves to the pros!
Photo courtesy: Janet Youtt
5/The Lagoons at Ko Olina
Southwest Oahu
With calm waters all year round, these lagoons are on Oahu's west side. If you've got small kids who can't yet swim or kids who are just getting used to swimming in the ocean, this area can't be beat. There are four lagoons protected by a rocky outcropping, making the lagoons like saltwater swimming pools. You'll find grassy areas for picnics, restrooms, and a paved, walking path that connects the lagoons. The lagoons front the properties of the Four Seasons Resort Oahu at Ko Olina, Disney's Aulani, Beach Villas at Ko Olina, and the Marriott's Ko Olina Beach Club. However, the lagoons are all public with easy parking and beach access.
6/Waikiki Beach-Prince Kuhio Beach Park
South Oahu
Waikiki is hands down the most popular beach on Oahu. It's actually broken up into eight sections. My family's favorite part of the beach is Prince Kuhio Park. Featuring, in my opinion, the safest beachfront around, this area of soft white sand is perfect for setting up camp for the day. Kids can swim in the crystal clear water, collect shells, and build sandcastles. As long as you don't mind crowds, this beach is fun and enjoyable. At the end of the day, just hop on over to the boardwalk and grab dinner at one of KidTripster's favorite Oahu Eats.
Gemma Gaudette is a former television journalist, wife, and mom to two boys, who tend to give her gray hair. She uses a lot of hair color!
Pin to Pinterest & read later