Antarctica
ANTARCTICA WITH KIDS
7 Ways to know if your child is ready for a journey to the White Continent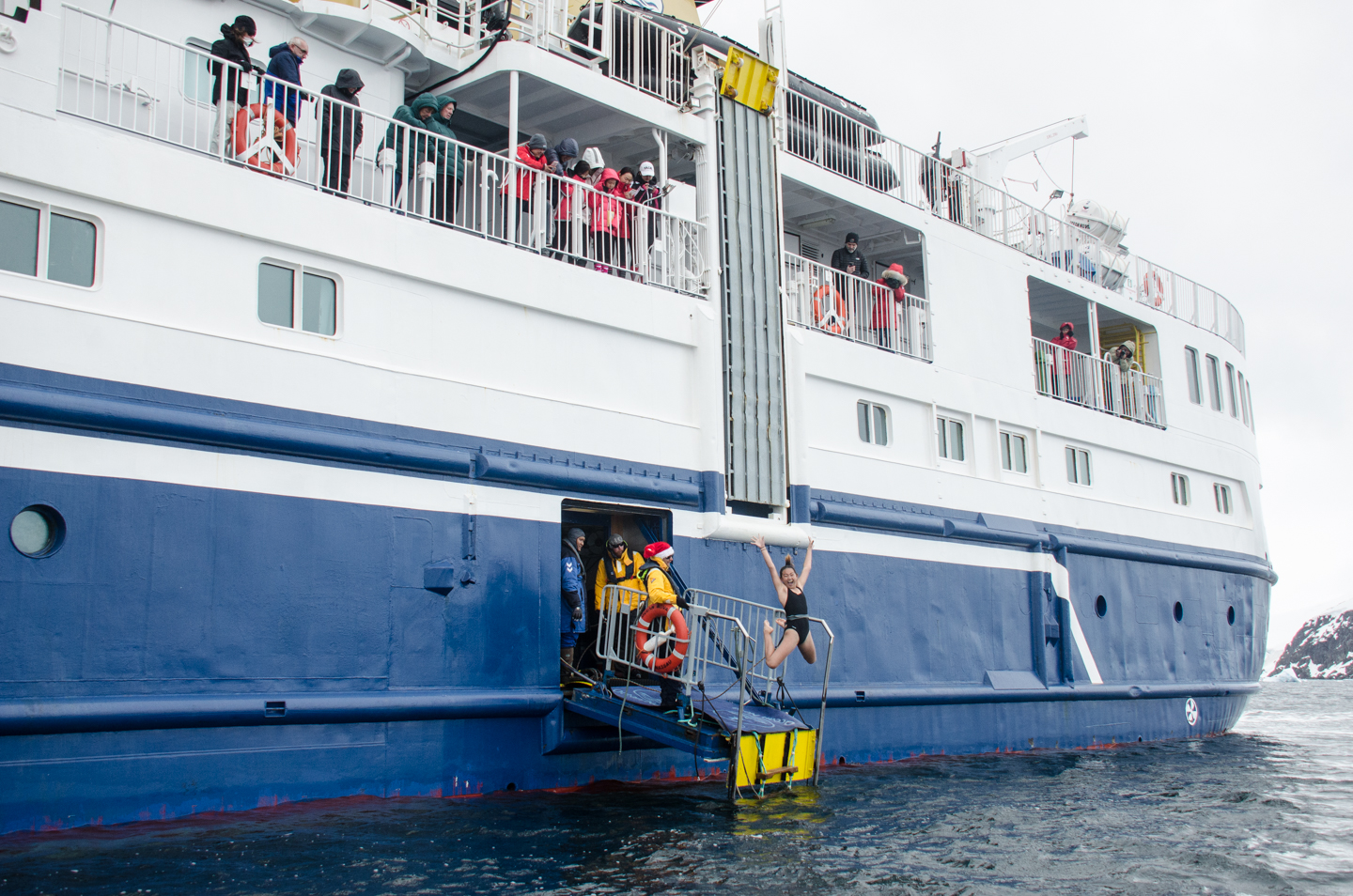 Why go?
My children and I have traveled around the world - literally. But making the journey to Antarctica was our crowning achievement. My youngest son and husband decided this trip wasn't for them and stayed home; my oldest son, age 18, and I were enthusiastically on board. While travel is more than bucket-list checkmarks, I have to say that there was a tremendous amount of satisfaction standing on our seventh continent together.
We traveled during the Christmas holiday, so there were more children on board than average. Of the 68 passengers, 11 of them were under the age of 18. These children were well-traveled; in fact, we met one family that was achieving a goal of visiting all seven continents in one year! Nine kids were neighbors in Beijing; the four families had made the journey together. There also were quite a few young adults who were traveling with their parents.
However, an Antarctica cruise is not to be undertaken lightly. Here are 7 questions to ask yourself to determine if your child is up for the challenge.
KidTripster TIp: Antarctica 21 sets a minimum age for passengers at 8 years old. It also offers a 5% discount on fares for ages 8 to 12. Read to the end of this article for my recommendation on the appropriate age to take this cruise.
Photo courtesy: Joaquin Beccar Varela
1/Will my child remember the trip?
The ability to remember a trip is not always a prerequisite for taking a trip in my book. I encourage families with young children to travel - even internationally - all the time. I think that there's tremendous value in the moment and for the overall personal development of the child, even if he or she won't remember the details a few years down the road.
However, Antarctica is an exception. This extremely expensive voyage is likely a once-in-a-lifetime opportunity. If you're going to lay out that kind of money, you most certainly what to be guaranteed that your child is going to remember and appreciate the journey.
2/Can my child handle lots of air travel?
No matter where you live in the world, getting to Antarctica is a haul, to say the least. My son and I flew from Portland, Oregon to Salt Lake City to Atlanta and then on to Santiago, Chile. The flight from Atlanta to Santiago is about 9-1/2 hours. Depending on when your flight arrives and when your next flight departs, you'll likely need to stay overnight in Santiago.
KidTripster Tip: If you have the day in Santiago or another South American city, plan to take a city tour, just to get a taste of the place. I typically opt for the tours-for-tips operations, where you reserve a tour and pay what you think the tour is worth after you've taken it. In Santiago, Tours 4 Tips offers two options everyday.
Where you fly next will depend on your Antarctica cruise operator. We traveled to Punta Arenas, Chile, a port city near the tip of South America, which is a 3-hour flight from Santiago. That's where we met our tour operator, Antarctica 21, and stayed overnight, again.
Antarctica 21 is one of only two Antarctica expedition companies that will fly tourists to Antarctica; the other is Quark. So instead of crossing the turbulent Drake Passage by ship, we flew to the continent and then boarded our vessel. Yes, you pay a premium for this convenience, but honestly, it was the only way this seasickness-prone mom was making the journey.
So if you're counting, that was five flights over three days. You need to make sure that your child is prepared for that kind of travel.
3/Does my child mind structured activities?
Small ship expedition cruises typically operate in the same way. In the morning, small groups take some kind of excursion - a nature-watching trip in a Zodiac, a walk on the continent or (if you pay an extra fee) kayaking or snowshoeing. In the afternoon, your family will take part in your second excursion of the day. After dinner, there's typically a nature lecture given by one of the expedition guides.
All these activities require your child to have a fairly good attention span.
4/Can my child entertain herself?
While there are certainly lots of activities on an Antarctica cruise - like wildlife viewing, sea kayaking, penguin encounters, whale watching, and on-board nature lectures - passengers do have some downtime. Of course, you won't find swimming pools, arcades, and kids' clubs on these expedition ships. You also won't find a lot of kids because of the expense of the trip.
So you need to ask yourself, is my son or daughter capable of entertaining himself or herself? Often, passengers play cards or board games that can be found on the ship. My son had a few good books that he read while I edited photos on my laptop. And of course, your child can always bring a cell phone or tablet for some screen time, if you wish.
KidTripster Tip: Depending on your operator, you may or may not have WiFi access. On Antarctica 21, WiFi was an extra $59 per device for the entire trip. While the WiFi was fine for reading emails or even making a phone call, it was fairly slow when it came to uploading (or downloading) photos and videos. Also, let me put in a plug here for making the Antarctica voyage an unplugged experience for your kids. They'll survive and will likely enjoy the time more. Not convinced? Read what our KidTripster Teen has to say about no-tech vacations. Parents, you, too, can benefit from a tech detox.
5/Can my child follow directions to the letter?
It's very important for your child's safety that he or she follow the rules of the ship to the letter. It's also important for the welfare of the animals that you will see to follow the instructions of your expedition guides. As tempting as it may be to cozy up to a cuddly baby chick when you're visiting a penguin colony, remember to keep your distance - 15 feet, to be exact.
6/Does my child really love nature?
If your child isn't wowed by nature, Antarctica is absolutely not for him or her. The icescapes and the wondrous abundance of wildlife - in the sea, in the air, and on land - is the show. Period. And what a show it is!
Photo courtesy: Joaquin Beccar Varela
7/Can my child weather the elements?
Antarctica is cold. You'll be cruising during the continent's summer season when the average temperature along the Antarctica Peninsula is about 32°F. While that may not seem very cold, the weather is quite variable, and the wind can be bone-chilling. To visit here and take part in the excursions, your child needs to be willing to dress for the elements during each and every excursion.
KidTripster Tip: Obviously, you'll want to come prepared: waterproof, insulated winter jacket with hood, warm hat, waterproof ski-type gloves (I actually found waterproof mittens to be a better option for keeping fingers warm), wool socks, long underwear, and clothing that you can layer. You'll also want to have polarized sunglasses or goggles to protect your eyes.
Bottom line
I would recommend children be at least 13 years old to visit Antarctica. Or give this trip as a graduation present to your high school or college senior. Or do what several parents on our voyage did - promise to pay as a way of enticing your 20-something kids to spend a vacation with you.
Nearly every child on editor Shellie Bailey-Shah's cruise - including her own - participated in the polar plunge. Did she? Not on your life!
This writer received a discounted cruise for the purpose of this review. However, all opinions expressed are solely her own.
Pin to Pinterest & read later