Utah
Arches National Park
This red rock wonderland delivers a wow! factor that your family won't soon forget.
Why go?
Arches National Park is one of the most stunning spots in the national park system. The park boasts over 2,000 natural stone arches in addition to hundreds of soaring pinnacles, massive fins, and giant balanced rocks. Your family will need to work to make it to the park's most spectacular prize - Delicate Arch- but it's worth it!
Cost: $25/vehicle; if you're visiting multiple parks in the same year, consider the Annual National Park and Federal Lands Pass for $80.
KidTripster Tip: On the day that you arrive in Moab, stop at the visitor center to pick up your child's Junior Ranger book and loaner Red Rock Explorer backpack. Also, make sure to watch the park movie so you're primed for your visit the following day.
KidTripster Tip: Arches is photographer's paradise. Of course, sunrise and sunset will yield the most dramatic pictures. Check here for times.
What to do?
No one said that it was going to be easy, but some way, some how, hike to Delicate Arch, the unofficial symbol of the state of Utah. This 3-mile hike is strenuous with an initial climb of 480 feet. It certainly didn't help that on the day that my family - including my 4- and 7-year-old sons - did this hike, it was 106°F by the time that we finished. I've never been so happy to see our RV waiting for us! We all took cold showers right there in the parking lot before moving on.
There's also a 600-foot rock ledge at the end of this hike, where you'll need to keep a careful eye on the kids. But man, the payoff! It's truly a memorable sight. The hike will take you about 2-1/2 to 3 hours.
KidTripster Tip: Get to the park when it opens (7:30 a.m. in the summer) and start this hike early. (You'll also want to get here early just to find a parking spot.) Be prepared for the relentless sun with sunscreen (reapply!) and a wide-brimmed hat. And bring more water than you think you'll need. I'd recommend at least 1.5 liters per person.
After some rest and grub, head to the trailhead for Landscape Arch. This flat, 1.6-mile hike is much easier and will take you to the longest arch in the park. Stop to check out Balanced Rock on your way out.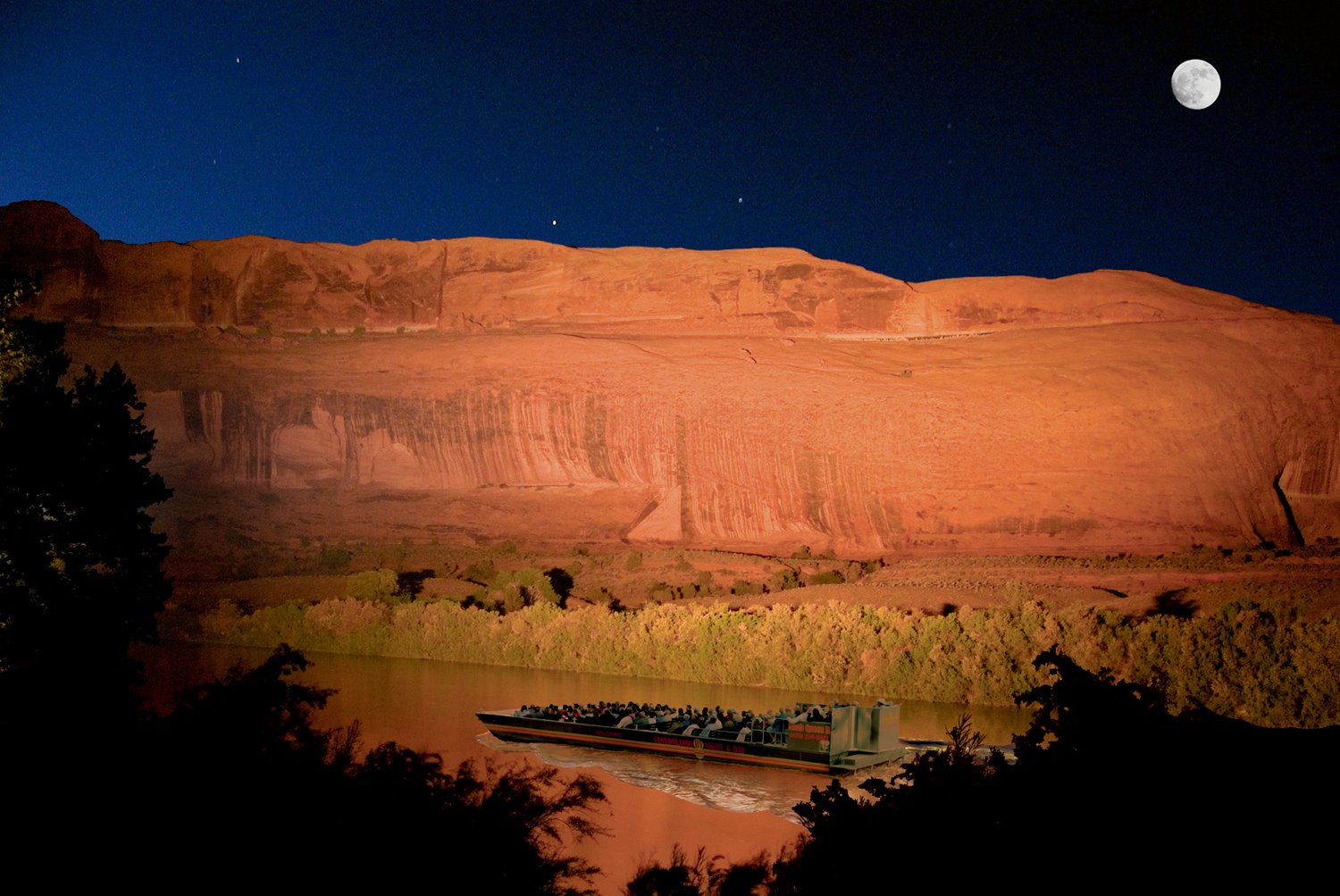 Where to eat?
Moab Adventure Center offers both dinner and a show! First, you'll sit down to a cowboy-style, Dutch oven dinner. Honestly, I'd never seen my kids pack away so much food: BBQ, baked beans, and corn on the cob. What's not to love? Then you board the Moab Queen II and head up the Colorado River with your guide for a two-hour cruise. At the turnaround point, the real magic begins. Set to music and stories from the area's cowboy and Native American past, you float by the canyon walls as they're being illuminated by 40,000 watts of light. It's truly a unique way to experience the landscape. Cost: Youth (4-12) $59; Adult $69.
Photo courtesy: Moab Adventure Center
Where to stay?
In Moab, we like the convenience and amenities of Moab Valley RV Resort and Campground. Located about three miles from Arches Visitor Center and downtown Moab, the park offers tent sites, cabins, cottages, and full hook-up RV sites with cable. There's a playground, putting green, life-sized chess set, and horseshoe pits. But the real selling point is the pool. After a day of hiking, you'll need it! Cost: $31-57/night; free WiFi.
Getting there
Arches National Park is a 3-1/2-hour drive southeast from Salt Lake City.
Headed to Canyonlands National Park? Click here.
Editor Shellie Bailey-Shah travels to national parks with her husband and two sons. She's logged thousands of miles behind the wheel of the family's RV.
Looking to get out into the Great Outdoors? Consider renting an RV or camper with our friends at Outdoorsy. It's the Airbnb of RVs, matching RV owners with would-be renters. Use this link and get an extra $50 off your booking just for being a KidTripster fan! In addition, KidTripster will get some coffee money from Outdoorsy at no cost to you.
Pin to Pinterest & read later