Utah
BRYCE CANYON NATIONAL PARK
With the largest collection of hoodoos in the world, Bryce Canyon will spark your family's imagination.
Why go?
The names of Bryce Canyon National Park's viewpoints - Fairyland, Sunset, and Rainbow - are nearly as colorful as the oddly-shaped hoodoos themselves. Hoodoos are totem pole-shaped rock formations, different from spires which taper uniformly. Photographs don't do this park justice. Your family will need to see it in person!
KidTripster Tip: The most economical way to visit the park is to purchase an annual Bryce Canyon pass that's good for the whole family. Cost: $35/vehicle; if you're visiting multiple parks in the same year, consider the Annual National Park and Federal Lands Pass for $80. You can purchase the pass inside the park or at Ruby's Inn. Then hop on the free park shuttle. Note: During the summer, RVs measuring 25-feet and longer are restricted in the park. To see where you can park, click here.
KidTripster Tip: Stop at the visitor center to pick up your child's Junior Ranger book and return it completed for a Junior Ranger badge. Also, make sure to watch the park movie so you're primed for your visit.
What to do?
There are countless trails to explore at Bryce Canyon. However, many of them are long and strenuous. For a young family, a better option is riding the park shuttle. Get off at the various viewpoints and take in the spectacular vistas. Some of the viewpoints have short trails under a mile well-suited for young children.
However, there is one family-friendly trail that I highly recommend. The Mossy Cave Trail leads to a waterfall, which on a hot, summer day is like the Holy Grail. My sons - ages 4 and 7 - played, kicked, and splashed in the water for nearly an hour - moments of pure joy! And the rocks! The slickrock here is a beautiful shade of pink, and the pebbles in the water are hues of pink, yellow, and coral, reminiscent of Miami Beach. It's truly a spectacular spot.
KidTripster Tip: Be prepared for the relentless sun with sunscreen and a wide-brimmed hat. And bring more water than you think you'll need. In the summer, temperatures often exceed 100°F. If you can hold off visiting until the fall, you'll enjoy cooler conditions and fewer crowds. Bryce Canyon is one of the most crowded parks in Utah during the summer and a favorite among European tourists.
KidTripster Tip: Bryce Canyon is photographer's paradise. Of course, sunrise and sunset will yield the most dramatic pictures.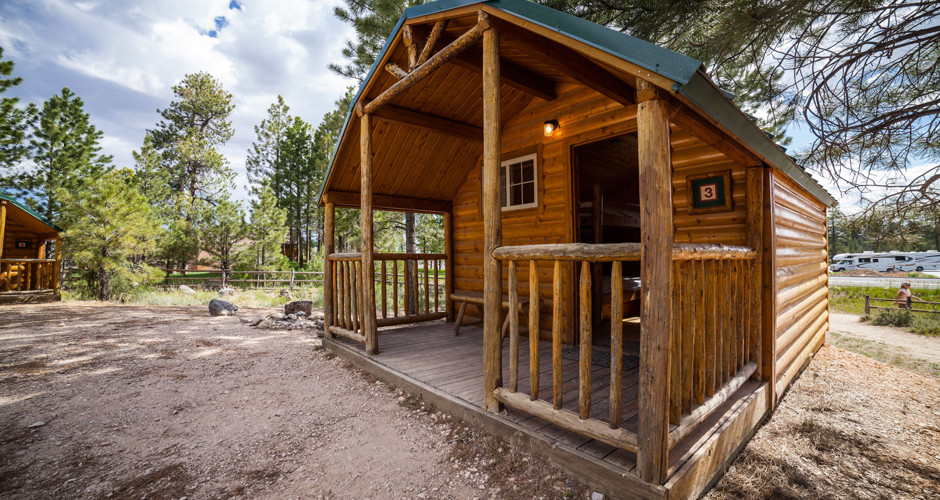 Where to stay?
Inside the park, there are two campgrounds: North and Sunset. Cost: Tent $20; RV (no hookups) $30/night. The Bryce Canyon Lodge offers pricey rooms and cabins. Cost: $231-253/night.
Located just a half mile from the entrance of Bryce Canyon National Park, Ruby's Inn is the only horse in a one-horse town. It offers lodge rooms, campsites for tents and RVS, and even tepees. There's also a laundromat and a small, often crowded pool. Cost: Cabin $64; RV (full hookups) $50; Tepee $43; Tent $34; all quoted as summer rates for a family of four.
Is Ruby's my family's favorite campground? No, but we did find it to be the most convenient.
KidTripster Tip: We attended our first rodeo just across the street from the campground. Maybe it was because we were watching amateurs or maybe it was the painstakingly-long delays between riders, but we learned very quickly that we're not rodeo people. The finer points of watching a boy flip a calf on its back and tie its feet together were just lost on us. We actually left early, mumbling that it was two hours of our life that we'd never get back.
Getting there
Bryce Canyon National Park is a 4-hour drive south from Salt Lake City or a 4-hour drive northeast of Las Vegas.
Headed to Zion National Park? Click here. Or maybe little-known Natural Bridges National Monument? Click here.
Editor Shellie Bailey-Shah travels to national parks with her husband and two sons. She's logged thousands of miles behind the wheel of the family's RV.
Looking to get out into the Great Outdoors? Consider renting an RV or camper with our friends at Outdoorsy. It's the Airbnb of RVs, matching RV owners with would-be renters. Use this link and get an extra $50 off your booking just for being a KidTripster fan! In addition, KidTripster will get some coffee money from Outdoorsy at no cost to you.
Pin to Pinterest & read later