Africa
THE SEYCHELLES & CONSTANCE EPHELIA
Yes, this pristine island archipelago is worth the trip half way across the world. See why.
Why go?
A few days into my family's visit on Mahé, the largest of Seychelles' 115 islands, my friend asked us a question. He, a native of the Seychelles, had invited us to join his family on what we expected to be a once-in-a-lifetime trip. We had traveled from Washington, D.C. to Addis Ababa on a 14-hour flight, had a short 2-hour layover, and then boarded another 4-hour flight to the capital city of Victoria in Seychelles. When our host asked "Was it worth the trip?", he was digging deeper. He wondered if we thought traveling such a great distance to an island country made sense when we as Americans have easy access to other breathtakingly beautiful, beach destinations adjacent to our own shores. Was the Seychelles not just relaxing, beautiful, and a great place to vacation, but was it unique? Our answer was - without a doubt - yes!
One thousand miles off the coast of East Africa, Seychelles has the expected draws of an island paradise: white sand beaches, relaxing breezes, palm trees, and humid days that rarely exceed 88°F. But the variety of foliage and terrain surprised my family. Hundreds of beaches beckon; some are bathed in tranquility, walled off by cliffs, while others are exposed to wind and crashing waves. Some of the 42 inhabited islands have a prehistoric quality with oversized rocks that dwarf you at every turn. I felt as I did when I visited the forests of Kenya - that this is a place like no other. Seychelles is a global leader in preservation of flora and fauna. You can see and breathe in that hard work. To top it off, it has been immune to natural disasters. No hurricanes or tsunamis have ever slammed upon its shores. It is certainly unique, and it is a vision.
Where to stay?
Cross a small bridge to enter the 120-acre, peninsula oasis that cradles the Constance Ephelia Resort on the island of Mahé. Gigantic palm branches salute visitors along a regal stretch of driveway. There's no waiting in line when you arrive in the open-air lobby. An attentive staff directs you to comfy chairs as ambient music offers this reminder - you are here to relax. Lemongrass tea and cool towels soothe weary travelers. My first thought was, "Wait, did I choose the wrong hotel to bring my 9-year-old daughter to?" But we soon realized that the resort is very welcoming to children. Many of the visitors who travel here from the United Kingdom, Germany, Italy, and India are families.
After a short ride in a chauffeured golf cart, we arrived at our room on the north end of the property. My daughter immediately was intrigued by the "buffet" of pillows welcoming us to our beds and the pillow menu outlining the varying degrees of comfort available: neck support, buckwheat, and memory foam, to name a few. Her first choice was to relax with a "swim" in the tub; my husband and I found ourselves on the terrace, listening to the waves with the beach just a short walk away.
Opened in 2010, the hotel still feels very fresh. With 330 rooms, Constance Ephelia offers a variety of suite options for guests. We stayed in a Senior Suite, which was suitable for a family of three. There was plenty of room beside the king-sized bed to add a small twin for my daughter. The Family Villas with two or three bedrooms offer more space for larger families along with private pools. Junior Suites sit on the shore of the South Beach, which offers fewer beach activities due to the larger waves and more challenging swimming conditions. Smaller Tropical Garden View rooms allow only two guests and are a longer walk to the beach.
For a more luxurious stay, your family may want to choose a one- or two-bedroom Beach Villa adjacent to the North Beach or the Hillside Villas, which overlook the beaches of the Port Launay Marine National Park - all with their own private pools.
The Presidential Villa spreads out over more than 10,000 square feet with three bedrooms for six adults, its own gym, a private spa, and two private pools. Yep, better save that for your next trip without the kids.
The rooms provide all of the luxuries that you could desire: quiet air conditioning, quality toiletries, robes and slippers, rain shower, Nespresso machine, mini bar, and free movies available on demand. You'll be comfortable enough to never leave your room. But this is Seychelles. No matter how luxurious it is, you'll want to leave your room!
What to do at the resort?
Biking
We wanted to make sure that we explored as much of the property as we could during our visit. So when we saw that we could rent bicycles to get around the resort, we signed up. Even though complimentary golf carts cruise around the resort every 5 to 10 minutes, we wanted to be in control of our own transportation. Bikes are free to Villa guests only. For Junior and Senior Suite guests like us, bikes rent for 160 Seychelles rupees/day (about $12) from the fitness center. The bikes needed a little WD-40, but we were soon on our way and rode safely and comfortably. We used the bikes to tour the property, passing by the tennis courts (free to guests along with equipment), spa, and mangrove nature conservation area.
KidTripster Tip: With many of the bikes reserved for Villa guests, they're at a premium. If you're interested in renting them, make it a priority to go to the fitness center when you arrive.
Kids club
The kids club is free to guests (ages 4-11). First, you must register your child. Then you may drop them off for as long as you'd like between 9 a.m. and 10 p.m. My daughter, an only child who is accustomed to spending a great deal of time with my husband and I, was hesitant to participate. But when she saw the trampoline, she eagerly jumped in with a group of other kids. Kids aren't held captive here for the day, which is something I've experienced with other kids clubs. They can come and go with their parents and participate in a variety of activities offered hour by hour, ranging from ziplining to pastry making to pool games in the kids' pool located at the club. Crab feeding was scheduled for 10 a.m. Crab feeding? We had never heard of such a thing, but my daughter explored with her new friends and leader Miss Ramona. I've rarely seen a group of kids under 10 be so quiet and attentive as they were waiting for the crabs to crawl out of their underground mazes and grab at the leaves dangling from the kids' hands!
Discovery is a theme at the Constance kids club, and kids have an opportunity to explore the natural world that the hotel and the country are committed to preserving. A favorite daily activity is feeding the Aldabra Giant tortoises that are common around Seychelles today but were endangered centuries ago.
A pay-to-play resort option for kids is the "Feel Like a Team Member" experience booked through guest services. Children can "work" side by side with a restaurant pastry chef, concierge or other hotel staff member to learn the ropes. Besides the free one, there's another more challenging zipline for the entire family (ages 3 and up). Cost: about $70/each; I'd recommend reserving before you arrive at the resort. And babysitting also is available for a fee.
KidTripster Tip: The small zipline for kids is free of charge, but you'll need to reserve a spot with the kids club a day in advance.
Kids can eat at the kids club each day, but lunch is not complimentary, so be prepared for that expense. Kids also receive special wristbands that they can keep or exchange for "treats" daily.
Exploring nature
Constance Ephelia offers its own Green Guide to guests interested in exploring the vast wildlife surrounding the resort. Mangrove wetlands protect hundreds of species of fish, trees, birds, and crabs. Guests can kayak into the mangrove forest at high tide to gain a better understanding of the resort's commitment to conservation. Three different hiking trails weave through the property, including the Ros Lepa Trail, which is a 2-kilometer trail that ends at a set of steps that lead down to the sea. The steps are believed to have been carved out by sailors 3,000 years ago.
KidTripster Tip: The Nature Discovery Trail is the one best-suited to kids. You'll find information boards to help you learn more about Seychelles' biodiversity.

Beach & pools
From our Senior Suite on the tranquil North Beach, we were well-positioned to take advantage of the resort's watersports. The beach overlooks the Port Launay Marine National Park that's accessible to all Seychelles residents and visitors. Know that none of the beaches in Seychelles can be privately owned, so hotels can't lay claim to any beach; locals lounge on the sand right alongside hotel guests. Beach activities, however, are for guests only and are included in the cost of your stay. Complimentary non-motorized watersports available include paddleboards, pedal boats, windsurfers, kayaks, and a small catamaran. The beach staff was friendly and helpful and held our belongings in a locker while we kayaked and paddleboarded – a first for me. They didn't even laugh when I fell off on my first attempt to stand up. I can't say the same for my family! It was worth getting back on the board to take in the view of the lush hills and sparkling beach from the water.
If you aren't indulging in a private pool at one of the resort's villas, there's plenty of room for your family at one of the resort's six other pools that dot the property. We rode our bikes over to a glamorous, slate-tiled pool surrounded by cushioned lounge chairs and beds, adjacent to Cyann, the hotel's sexy restaurant and bar. It was a beauty.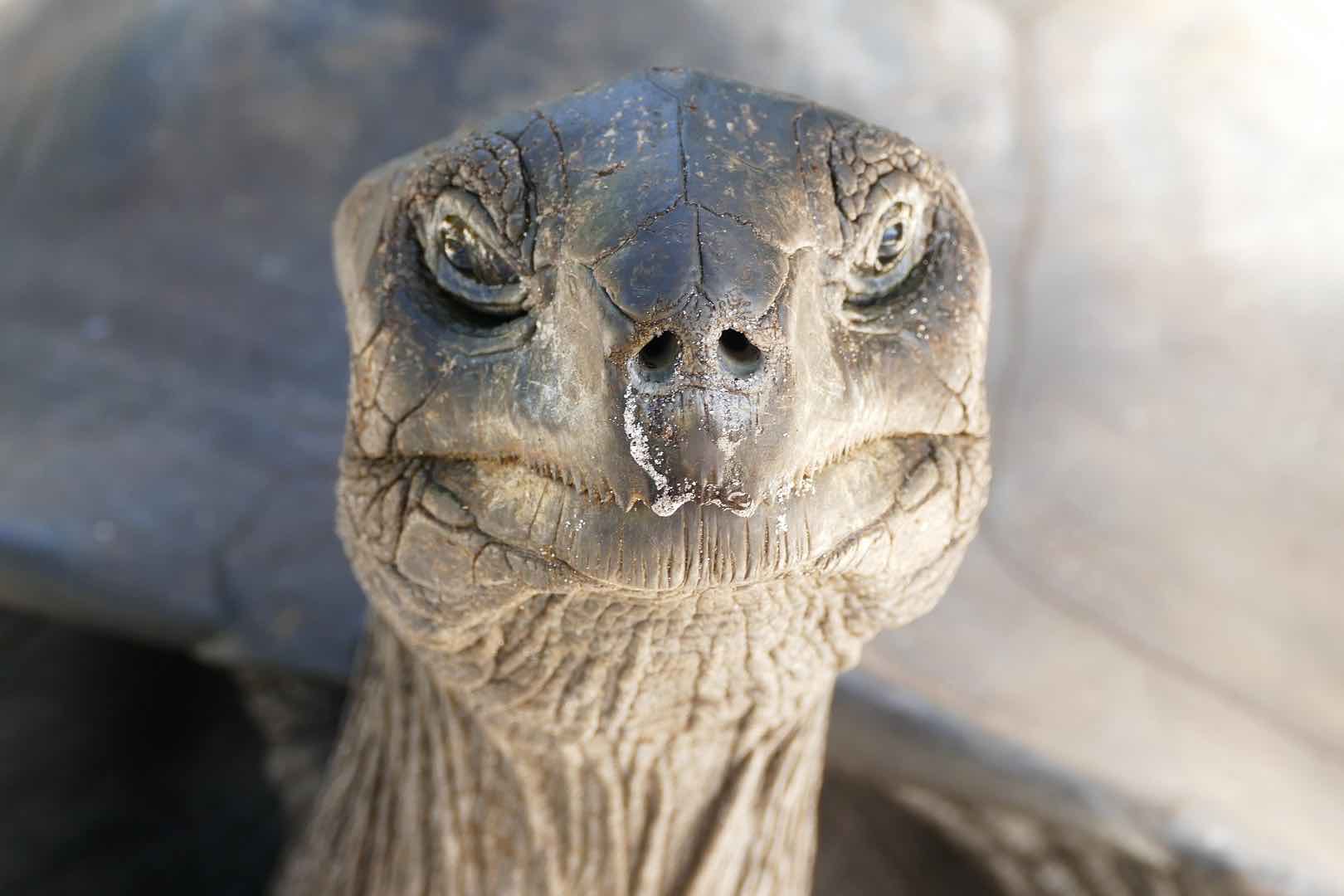 What to do away from the resort?
Constance Ephelia is located on the west side of Mahé in its own quiet oasis with plenty to explore. There really isn't a reason to leave; everything that you'd need is on the property. But Seychelles is a country worth exploring more deeply. If you're interested in taking a guided tour, I recommend the catamaran adventure booked through Mason's Travel. Mason's will pick you up for an early morning, 45-minute drive from the hotel to a jetty near downtown Victoria for a half- or full-day excursion. Our full-day trip took us and a couple dozen other adventurers to St. Anne Marine National Park. We cruised aboard the Anahita catamaran for about 20 minutes with two friendly tour guides and the boat's crew. The Anahita anchored in the center of the marine park, surrounded by five islands: St. Anne Island, Surf Island, Round Island, Long Island and Moyenne Island (moyenne means middle in Creole).
KidTripster Tip: Creole is Seychelles' local language derived from its earliest recorded history in the 1700s, when its African inhabitants came under French control. English is commonly spoken as well since the British colonized the country before it gained independence in the 1970s.
After the catamaran dropped its anchor, half of the tourists left to explore the coral reef and 1000 species of fish under the sea through the portholes of a nearby semi-submersible boat while the other half fed the fish with bread from above. Sadly, the coral was heavily bleached in the 1990s as a result of global warming. Still, the next activity of the day - snorkeling off of the catamaran - was a thrill for my 9-year-old who bravely tried snorkeling for the first time and spotted plenty of fish. Life vests are available for less experienced swimmers. Our next adventure was a dingy ride to the island of Moyenne. We hiked to a giant tortoise habitat where we were encouraged to touch the slow-moving natives under their chins. As we continued, we wound past one vista more beautiful than the last. The trail ended back at the beach where we first arrived. We searched for seashells to carry home as souvenirs.
If you have the time, take a trip to another island other than Mahe while exploring Seychelles. Mahe has beautiful beaches, incredible hiking, and plenty of history to explore. But you can see vastly different terrain via bicycle on the island of La Digue. Or you can hike through the Vallée de Mai forest on the island of Praslin, known for its unique palm trees that produce the Coco de Mer, a coconut exclusively grown in Seychelles. You can book excursions to these islands through Mason's Travel or if you're feeling adventurous, venture there on your own. We rose early one morning to catch a Cat Coco ferry to Praslin and then a separate inter-island ferry to La Digue. The fare isn't cheap - about $120/ticket on the Cat Coco and another $20 to La Digue - but I think that it's completely worth it; children (under 12) get a discount. You can spend a day or stay overnight.
KidTripster Tip: If you book this trip on your own, you'll need your passport or a copy of your passport to purchase a ticket on the Cat Coco.
KidTripster Tip: If you're prone to seasickness, take your motion sickness medicine. The ride on the Cat Coco is bumpy, to say the least.
Where to eat?
Constance Ephelia provides guests with three dining options when you book: bed and breakfast, half board which includes dinner and breakfast or full board which includes all your meals. There's no option of going completely à la carte, because each area of the property is assigned a breakfast buffet where no money exchanges hands. Our breakfast destination was Seselwa. The restaurant was just steps from our room with views of North Beach and an option of dining on cushioned sofas on the sand. My husband immediately noticed the eight types of water to sample; he was less impressed than I with the cinnamon and lemon varietal but quite refreshed by the cucumber. Try the made-to-order waffles, crepes, and omelets. We're typically not big breakfast eaters, but we were that morning! The staff practically had to roll all three of us out of there!
Dinner was a similar indulgence at Corossol, one of five restaurants on the sprawling property. With a spread of buffet choices from around the world, Corossol features a special region each evening. We arrived on Cowboy Grill Night complete with BBQ ribs, chicken, and the more accessible local game, lamb.
Other restaurants include Adam and Eve with Asian cuisine, Helios with a Mediterranean menu, and Cyann, the resort's most formal dining option that offers both local and Asian flavors, as well as a sushi bar. Alcohol is not included in boarding prices.
KidTripster Tip: Be sure to read the weekly schedule of restaurant openings and closings. Some restaurants are open for lunch and dinner each day, but others are not. Know that Cyann requires a reservation and specific attire.
When to go?
We visited Seychelles during the month of August when it's busy with tourists. It's also the time of year when it's the coolest and windiest. Because of the wind, the water at some of the beaches can be pretty rough and unsuitable for swimming. But there are more tranquil options all around the island; just ask a local for the best beaches for kids. We found great swimming and snorkeling on Mahé at Beau Vallon, Sunset Beach, Baie Lazare, and Anse Soleil.
In the less windy months of the year (December through June), the water is reportedly calmer, but bugs are more prevalent, especially mosquitos. Since it's surrounded by wetlands, Constance Ephelia sprays for insects twice a week. If you plan to venture to other parts of the island, you may want to pack insect repellent.
How much?
Constance Ephelia is a full-service resort with all of the comforts and luxuries that you'd desire, and the price reflects it. During peak vacation season, Junior Suite rates start at $750/night; with half board, the rate increases to $965. Senior Suites go up about $100/night, and family villas start at $1600/night.
KidTripster Tip: The resort offers special deals like seven nights for the price of five. Look online for discounts.

KidTripster Tip: Go for the half board or full board. Eating à la carte will add up, and leaving the property is only easy if you have a car at your disposal.
Getting there
The quickest route to Seychelles is through Addis Ababa on Ethiopian Airlines. There are other routes with longer layovers on Turkish Airlines through Istanbul and Emirates through Dubai. It's at least a 20-hour trip, no matter how you slice it, so go easy on yourself. We contemplated spending a couple of days elsewhere on either side of the flight. In the end, we're happy that we spent our entire vacation in Seychelles because there was so much to explore - that is, after you recover from your jetlag.
Journalist Jocelyn Sigue lives in Washington, D.C. with her husband and daughter, two proud native Washingtonians. While she's happy to live amid all that our nation's capital has to offer, Jocelyn's okay being a native San Franciscan.
This writer received complimentary stay and activities for the purpose of this review. However, all opinions expressed are solely her own.
Pin to Pinterest & read later