Mexico
CRUISING WITH UNCRUISE
Considering an UnCruise voyage? Read Editor Shellie Bailey-Shah's day-by-day account from the Sea of Cortez.
Why go?
I'm a fan of smaller ship cruising for families; however, the experience is not for every family. Read our review of UnCruise Adventure's Sea of Cortez voyage off Baja California, Mexico here. Then for more detail on what to expect, read on.
Note: Part of the appeal of small ship cruising is the flexibility. Schedules are not rigid. If the crew spots a Humpback whale headed in the opposite direction, the captain will change course to follow. If the seas are expected to be choppy, the expeditions leader will cancel skiff tours in favor of a beach day. So while what I'm about to describe was my family's experience on UnCruise's Sea of Cortez cruise, your itinerary could vary slightly.
DAY ONE
To meet the ship, you first fly into Los Cabo International Airport (SJD) on the southern tip of the Baja California peninsula, located between the Pacific Ocean and the Sea of Cortez. Your escort will meet you and drive you to Barceló Grand Faro Los Cabos Hotel. We arrived in the morning and were able to enjoy all the amenities of this all-inclusive resort including pools, basketball, beach volleyball, game room, plus unlimited food and beverages (including alcoholic drinks), compliments of UnCruise. Around 4 p.m., all the passengers gathered to board motor coaches for a nearly 3-hour drive north to La Paz, the embarkment point. While it may seem odd to start your cruise with a long bus ride, it's done for good reason. The navigation from Cabo to La Paz is typically a rough one with passengers turning green or worse. Being extremely susceptible to seasickness, I'd ride six hours to avoid spending time sick in my cabin's head! North of La Paz, you find calmer seas and more interesting wildlife.
KidTripster Tip: Bring a separate bag for your resort day with swimsuits, sunscreen, and a plastic bag for wet clothes.
The Safari Endeavor is a 232-foot long, luxury ship that can accommodate 84 passengers, though our particular cruise had only 76 people. On the first level, you'll find staterooms, the galley, the dining room, and a library stocked with musical instruments for your use (guitars and a banjo), movies to play in your room, and books on wildlife that I referenced throughout the week. On the second level, there are more cabins, two massage rooms, the popular lounge with bar, and an open bow area. On the third level, you'll discover still more staterooms, two hot tubs on the stern, and a storage area for your complimentary wetsuits and snorkeling gear. Finally, the top level is a sun deck with tables and chairs, plus a covered fitness area with two ellipticals, two stationary bikes, and a few free weights. Every space was immaculately clean, so much so, that I found myself walking around the ship barefoot most of the week.
The friendly crew meets you at the dock, and then a steward personally escorts you to your cabin. We had two Captain-level cabins - one for my husband and I and one for our two sons, ages 14 and 17, just across the hall. Similar to another small ship cruise that I sailed, there are no room keys. None. You may find that a little disconcerting at first, but to be honest, it's rather freeing not to have to worry about keys. We've never had an issue with theft.
KidTripster Tip: The Captain category is in the middle of the road price-wise, but I can't imagine needing to pay more for a higher cabin level. The cabins were quite roomy with a large picture window and private bath. Our room was situated on the first floor and exited to an interior hallway. That's important, because it allows you to enjoy the view at all times with your curtains open. Cabins that exit to an outside walkway have constant foot traffic and less privacy.
Once all the passengers were settled, the captain hosted a welcome reception with appetizers and drinks. At this point, I realized that the cruise had an open bar, meaning all drinks, including alcoholic drinks beyond just wine and beer, were included. I also realized that the crew was entirely American; besides the captain and a few engineering personnel, was made up of mostly 20-somethings, full of energy and enthusiasm. The crew introduced themselves; I wish that the passengers had been invited to do the same. It would have been nice to get a jumpstart on putting names with faces.
So let's talk about the passenger makeup. As with most cruises (excluding Disney), it skews older. Of the 76 passengers, only seven were kids, six of whom were between the ages of 12 and 17. The youngest, age 6, was traveling with a group of 21 family members and friends. If you're looking for the kind a vacation where your kids spend most of the day with other kids in the kids' club and teen lounge, this cruise is not for you. (And know, there are no kid-specific lounges on the ship.) But if you're looking to connect and spend quality time with your kids, an UnCruise voyage is ideally suited to the task. Honestly, my sons really didn't care that the ship wasn't filled with other kids their own age.
KidTripster Tip: If you're looking for more kids on an UnCruise ship, consider an Alaskan voyage. This same ship and others sail several itineraries during the summer break, when more families are available to travel.
KidTripster Tip: Technically, kids are supposed to be at least 8 years old to sail. However, exceptions can be made in advance with UnCruise approval. The 6-year old on our cruise did very well and easily participated in all activities. There's a $500 discount per child on the fare, excluding holiday departures. UnCruise also has private charter cruises, where kids of any age can sail; however, there's no child discount on those boats.
The evening ended with dinner. It's open seating, meaning you can eat at any of the tables. We dined with Juan Carlos Solis, who was an additional expert sailing on this particular cruise. Mexican-born but living in the USA with his family, Juan Carlos is a marine biologist and ornithologist who would be leading the birding walks. He gave us the inside scoop on what to expect.
KidTripster Tip: Tables are set for six people, making it impossible for us to sit with other families during the voyage. However, our boys enjoyed the dinner conversation with the couples that we did sit with and never complained. Of course, your kids could sit separately, if they preferred.
With our bellies (too) full, we headed to bed. I popped a few Dramamine, just in case. But I ended up not needing them, as we sailed smoothly through the night.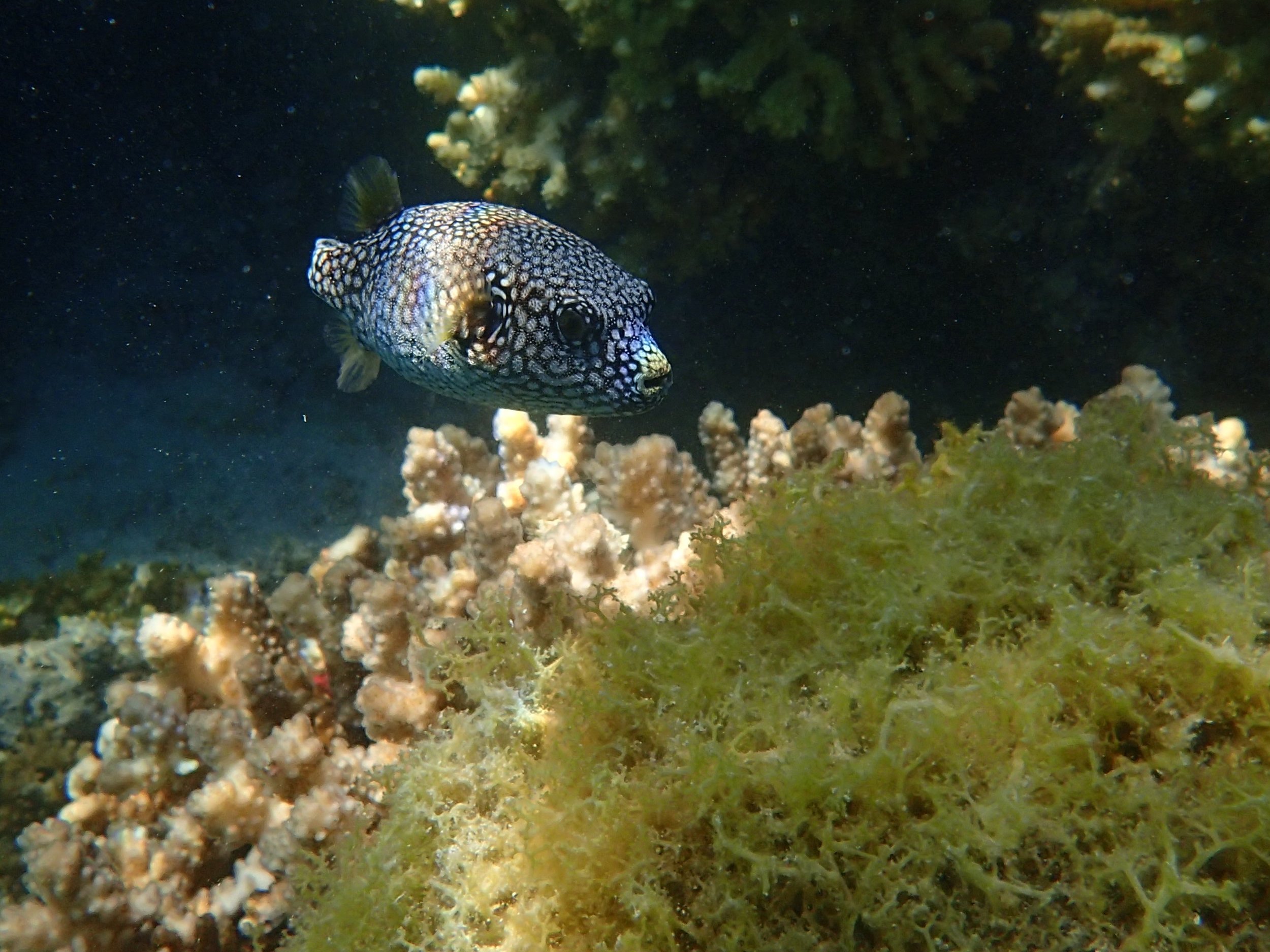 DAY TWO
I ambitiously woke at 6 a.m. to photograph the beautiful sunrise which did not disappoint. And since I was up, I had no excuse not to attend the complimentary yoga class on the sun deck at 6:45 a.m. Yes, morning yoga. The ship employs three wellness crew members; each is a yoga instructor and massage therapist. And yes, each passenger receives a complimentary 30-minute massage during the trip; kids can get a 30-minute chair massage.
KidTripster Tip: Kids are supposed to be 12 years old to participate in yoga, but I'm pretty sure if you just asked, your younger child could participate. Believe it or not, there were a few tweens and teens at the morning class!
After yoga, I made a happy discovery. That open bar that I mentioned serves all-day lattes! It's a bit sad how delighted I truly was. Breakfast was followed by a mandatory safety drill and activities orientation. The ship's expeditions leader, Ellie, explained that every evening, she and a guide would personally talk to each passenger about which activities they'd like to choose for the following day. We could select from three activities in the morning and three in the afternoon. Activities typically included snorkeling, hiking, skiff rides to see wildlife or "beach parties" with stand-up paddleboarding, kayaking, and swimming.
KidTripster Tip: There's no need to bring your own snorkeling equipment. Wetsuits, snorkels, masks, and fins are distributed to everyone; you have your own set for the entire week. However, if you have a younger child on board, you may want to bring a smaller, good-fitting wetsuit. Also, know that cruises are not set up to support scuba.
KidTripster Tip: Will you need a wetsuit? It depends on when you sail. In November, the average water temperature is 76° F; in March when we sailed, it was an average of 70°F. To me, the water was cold. My kids wore their wetsuits while snorkeling, but when they swam from the beach, they didn't. I could never bring myself to actually swim without the wetsuit.
The Sea of Cortez is nicknamed "the aquarium of the world" and "the Galápagos of the North" because of the sheer number of fish and mammal species here, including Gray, Blue, Humpback, Fin, Pilot, and Orca whales. And the crew has a "drop everything" mentality when it comes to wildlife sightings, prioritizing the passenger experience over schedules. That was quickly demonstrated on this morning, as our orientation session was interrupted by a super pod of dolphins, nearly one hundred in number, leaping and riding the ship's bow. Fun fact: Did you know that a dolphin can put half its brain into sleep mode, while the other half continues to operate? It pays to have naturalists on board, feeding you information!
KidTripster Tip: Carry a camera with you at all times, so that you're ready to capture wildlife moments.
After lunch, we had our first excursion. We chose snorkeling; frankly, my kids will always choose to be in the water, no matter what. The guides smartly stagger the excursions' departures, so that you're never waiting around for a skiff, a small inflatable boat that serves as your transportation off the ship. We snorkeled in a group with our guide. More so than other small ships that I've been on, there's a high priority on safety and keeping track of people. Yes, that's a good thing, but it can be limiting for more confident snorkelers. We had good water clarity and spotted Panamic Sergeant Major, Whitecheek Surgeonfish, Guineafowl Puffers, Reef Cornetfish, Cortez Rainbow Wrasse, and Pacific Creolefish, plus a very shy moray eel.
KidTripster Tip: Let me offer some perspective here. I've had the good fortune to cruise the Galápagos Islands. The islands are worthy of their bucket-list standing. I truly believe that they are the pinnacle of wildlife viewing. So to be clear, the Sea of Cortez is not the Galápagos, but it still offers excellent wildlife opportunities. Plus, it's a heck of lot easier to get to and is more affordable.
KidTripster Tip: When you're comparing the cost of small ship cruises to traditional cruise lines, take into account all the extras that are included in the price, like the drinks, massages, and excursions. On a traditional ship, off-ship excursions are not covered and can be very pricey. With UnCruise, you're getting two every day.
Dinner afforded us an opportunity to meet a new couple; nearly all the passengers were from the USA, except for one couple from Canada and another from Australia. It happened to be my birthday, and the crew helped celebrate with a small cake and a round of singing.
Here's something that I didn't expect but very much appreciated: every evening, one of the five guides gives an educational presentation in the lounge, typically on wildlife that we're likely to see during the week. Each of our guides had studied marine biology, geology, environmental studies, or some related field and was eager to share his or her knowledge. Tonight, our guide Dan gave a lecture on invertebrates - everything from limpets to Lion Mane jellyfish - that I found truly fascinating. At first, my youngest son was reluctant to attend, but he, too, found it really interesting. When we returned to our cabin, we found chocolates on the pillow. But honestly, I was so stuffed from dinner, I couldn't eat another bite!
What impressed me the most on this day - and every day that followed - was the crew's extreme efficiency and professionalism. It's a level of personalized attention that my family has rarely received on past trips.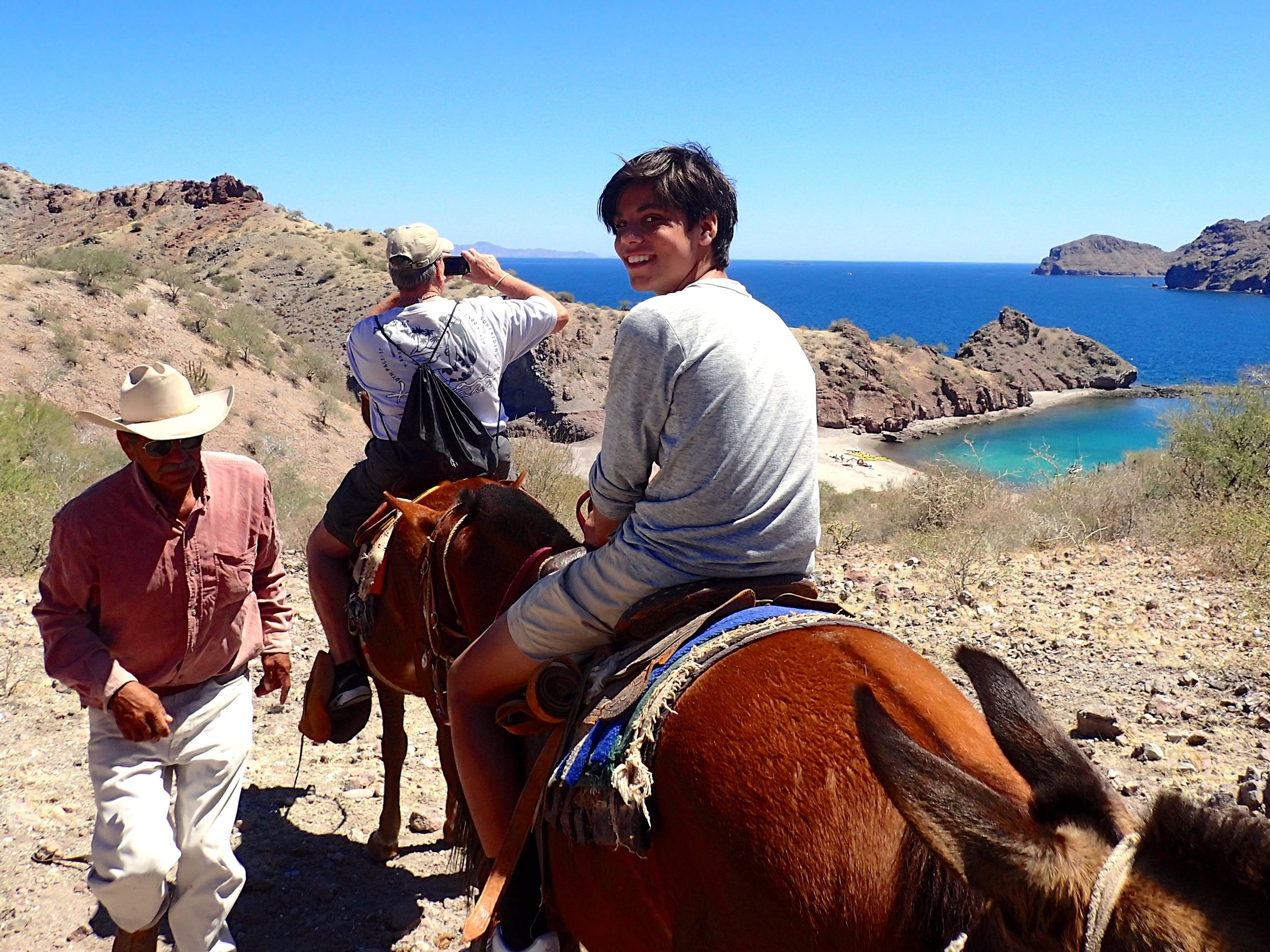 DAY THREE
Who gets up to go birding at 6:30 a.m.? We do, plus 15 other passengers! This week's cruise had an emphasis on birds with expert Juan Carlos on board; in addition, some of the passengers were part of a birding group. Juan Carlos guided us through a small settlement called Aqua Verde on the peninsula. I have to say, birdwatching with someone who actually can find the birds, recognize their songs, and accurately identify them makes all the difference. Plus, Juan Carlos is a walking Wikipedia of interesting facts. For example, did you know that mockingbirds can mimic the songs of hundreds of other birds and can actually sing two songs at one time, because they possess two separate voice boxes? Intriguing, right? On our short walk, we saw dozens of species including three birds that are endemic to Baja California: the Gray thrasher, the Yellow-footed gull, and the find of the day, the Xantus's hummingbird. Part of the fun was seeing Juan Carlos' exuberance when we'd make a discovery; it was contagious. My 14-year-old, water-loving son chose the birding hike as his favorite activity on this day over both stand-up paddleboarding and swimming.
In the late morning, we saddled up for a mule ride with a local family of rancheros. The Ramero family herded their mules 12 miles over the mountain to meet us. Abuelo (grandpa) Julio paired each rider with a mule, and then the climb began. From the ridge overlooking Bahía Aqua Verde, you could truly appreciate its name, which means "green water." But to be honest, the remainder of the mule ride - more than an hour through desert scrub - was less inspiring. Yes, we can all say that we've ridden a mule, but I probably wouldn't recommend the activity to another family. Also, mules can be temperamental, so you really need to be a confident teenager or adult to ride and handle the reins.
We spent the afternoon at the "beach party," which is better described as unstructured play time with opportunities for stand-up paddleboarding, kayaking, tidepooling, and swimming. And the high level of service continued on the beach with Jimmy, the lead steward, serving drinks and snacks.
KidTripster Tip: Even if you're not a hat person, bring one and wear it. The sun here is quite intense. And don't forget to lather the sunscreen regularly.
After dinner and the evening presentation on birds of Baja, we returned to our cabin for a show. A lonely pelican was swimming back and forth outside our window. More accurately, it was hunting fish that were illuminated by the ship's flood lights. And these fish could fly! No need for an in-room movie; the hunt was entertainment enough.
DAY FOUR
Today, we were reminded that cruising is a weather-dependent activity. Until this point, we'd had extremely smooth sailing, much to the relief of this prone-to-seasickness mom. But when we arrived at Puerto Los Gatos, we experienced stronger than expected winds. That meant that morning snorkeling was cut short because of rough surf. But cruising on the big ship remained comfortable.
After lunch, we were treated to popsicles on the sun deck. These weren't just any ordinary popsicles; they were handcrafted at La Fuente in La Paz. The numerous flavors were unusual, like pistachio and soursop, along with creamy chocolate. The kids and I decided that we'd be happy to have them everyday for the rest of the cruise!
I paid a visit to the bridge today. As promised at orientation, passengers have an open invitation to explore the bridge during the day, if the ship isn't in the process of anchoring. I had a really nice conversation with the captain, both about the voyage and his background, including the fact that he actually lives with his family in Cambodia when he's not sailing on the Safari Endeavor.
This afternoon was designated as the whale watching day on the big ship. During March, the whales start to move south through the Sea of Cortez to the Pacific and then north to Alaska. Of course, finding them is another matter, made more difficult by the white-capped seas. Fortunately, we didn't have to depend on our own eyesight. The UnCruise crew and the nature guides helped scan the horizon for those elusive whale spouts. We spotted several and then spent about an hour following one Humpback in particular, who rewarded us with several breaches and waves of his fluke!
KidTripster Tip: Every room is supplied with one pair of binoculars, so no need to bring your own.
But it was during the evening that we were treated to the most unique sighting of our cruise, courtesy of an very observant Juan-Carlos who alerted passengers: glow-in-the-dark dolphins. We were sailing through an area populated by bioluminescent organisms, underwater creatures that glow like fireflies. At the same time, a huge pod of dolphins decided to ride the bow. As they approached the ship, they disrupted the water. The dolphins picked up the bioluminescent critters and appeared to glow! They followed us for nearly an hour, perhaps encouraged by our hoots and hollers. The crew called them "tron" dolphins.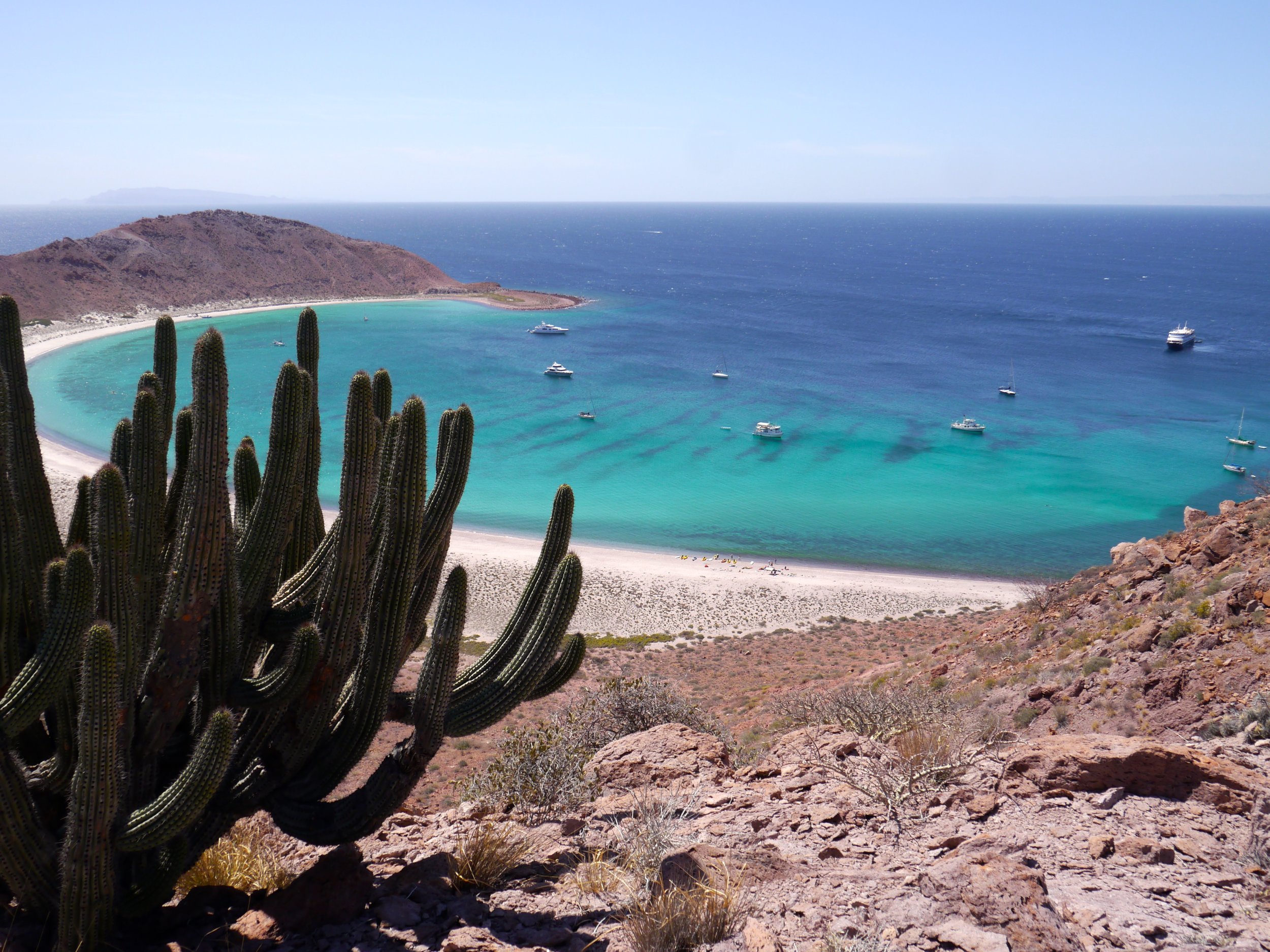 DAY FIVE
This morning, we arrived at Isla San Francisco with its long stretch of white beach and half moon bay. We chose the longer, two-hour guided hike to the ridge overlooking the beach. While the desert vegetation was a bit redundant, the views of the aquamarine water below were quite breathtaking. We spent the afternoon on the beach, making full use of the stand-up paddleboards and kayaks. My sons swam, but my husband and I couldn't quite will ourselves into the crystal clear but cold water. We're told that we missed out on some good fishspotting.
KidTripster Tip: Even when you're simply going to the beach, bring your snorkeling gear and wetsuit. Had I done that, I may have been able to stand the water… maybe.
Even with two daily activities, you do have plenty of downtime on the ship. Happily for this mom, UnCruise cruises are unplugged, meaning there's no WiFi on board. My youngest son did spend some time playing video games on his iPad, but he read, too. My oldest son actually finished an 800-plus-page book with real, paper pages! But we also spent time as a family. My husband taught the boys how to play Euchre, insisting that it was a basic skill that they needed to master before heading off to college.
KidTripster Tip: It's a good idea to pack a few, small games that your family can play on board, in addition to a pack of cards.
DAY SIX
We awoke this morning to views of the rocky island of Los Islotes, a protected rookery where California sea lions breed and give birth to their pups. It's also home to a number of sea birds, including my favorite, the Blue-footed booby. But we weren't the only ones here. A vessel out of La Paz was improperly anchored off the rookery without the necessary permits to snorkel in this area. The crew, who clearly takes their responsibility of environmental stewardship seriously, photographed the boat and reported it to the national park service.
Before entering the water, our UnCruise guide, Stephanie, gave us a few warnings. Sea lion pups can be playful and curious. If they see the zipper tag on the back of your wetsuit floating in the water, they may grab it and play "undress the human." They also like shiny jewelry, so we were warned to leave that behind. Or they may try to harmlessly mouth your wetsuit or flipper. On the other hand, the male sea lions, or bulls, are a different story. Territorial and protective of their harem of females, bulls will warn humans to back off by blowing bubbles in the water. You shouldn't return the bubble blow but instead head the opposite direction.
From the water, we saw a few dozen sea lions, most of them sunning themselves on the rocks, including a cow that was nursing her pup. Another sea lion was swimming, injured with a hook in its face. Stephanie took a photo and later reported it to the national park service. While some sea lions were effortlessly gliding through the water, they didn't approach us. Other shipmates, who snorkeled later in the morning, reported playful interactions with the pups. This time, we were unlucky.
Fun Fact: Do you know the difference between a sea lion and a seal? Sea lions have outer ear flaps like us; seals don't. Sea lions also have a pelvis that allows them to tuck their hind flippers under their bodies like dogs when they're sitting on shore; seals extend their back flippers out behind their bodies.
After brunch and a short navigation, we arrived at a pocket beach on Ensenada Grande on the island of Espiritú Santo for a kayak tour. Afterwards, we explored the tide pools with interesting invertebrates and puffer fish.
KidTripster Tip: If there's something that you and your family want to do, just ask. Most of the activities are designed to accommodate all ability levels. Our family and another family of five were interested in doing something more exerting, so we simply asked the expeditions leader to arrange a family kayaking tour. She did, and we enjoyed a lovely afternoon on the water.
A word about meals on board: All meals, with the exception of the brunch on this day, are table-served not buffet-style. At breakfast and lunch, you have the choice of two entrées; at dinner, you have a choice of three, which includes a meat, fish, and vegetarian option plus soup or salad and sides. In general, we found the beef selections to be better than the fish, but it's likely dependent on your chef. Both lunch and dinner include a dessert prepared by the pastry chef. Our favorite dessert was the cinnamon churros dipped in chocolate ganache. With a few exceptions, we found the offerings to be very good. The service was always top-notch.
KidTripster Tip: Portion sizes, especially for growing teenagers, can be small. It's important to know that you can ask for seconds and even thirds! The staff wants to make you happy. In fact, after my oldest son asked for seconds one day, the wait staff offered him a double portion at every meal from then on, which he happily accepted. Also, if you want a side of fruit, toast or oatmeal with breakfast, just ask. If you would rather have a salad on an evening that the chef is serving soup, just ask. Truly, it's okay. In fact, one morning, my husband and son spotted the crew having Fruit Loops during the staff breakfast, so they, too, asked for a bowl in addition to the regular, guest breakfast. Done.
KidTripster Tip: Have dietary restrictions? It's not a problem. Just let your booking agent know when you reserve your trip and remind the chef when you arrive. It's as easy as knocking on the door and stepping into the galley.
The day came to a close with a presentation on whale sharks, as the following day we'd have an opportunity to swim with them in open water. Whale sharks, the largest fish on earth, are an endangered species. They gather in just a few places around the world. While adults can be as long as 60 feet, the whale sharks that congregate off the coast of La Paz are adolescents and typically are no bigger than 20 feet. That sounded big enough to me! They're filter feeders and are completely harmless to humans. Still, tonight's audience listened very intently with the anticipation of tomorrow's swim.
DAY SEVEN
Today was the day that my kids had been looking forward to the most - the day that we'd attempt to swim with whale sharks! We arrived back to our starting port of La Paz in the morning. The weather was perfect with little wind and flat seas. We felt fortunate, because the guides explained that the passengers on the previous week's cruise were unable to make the attempt; the winds had been too strong, and the port actually closed, allowing no boats to leave.
In order to approach whale sharks, you need a special permit; only a limited number of boats are allowed, so as not to overwhelm the sharks with flipper-wearing humans. UnCruise uses an outside vendor called Fun Baja that supplies the boat, captain, and guide; our ship guide also accompanied the group.
Here's how it works: a small group of snorkelers, typically six, plus a guide suit up and stand on deck. Everyone is watching for the tell-tale sign on a whale shark - a dark shadow moving in the water. Here's where it pays to have an experienced crew who can spot the sharks. Unlike whales, whale sharks don't have to surface to breath. Once spotted, the captain maneuvers the boat ahead of the whale shark, and the snorkelers are deployed like a Navy SEAL team to yells of "go, go, go!" I have to admit that I was a bit nervous the first time and stuck to the guide like glue. She kept her eye on the shark, continuously maneuvering the group into position. Just as the whale shark swims by, she yelled, "look down." Now here's where it gets interesting. Depending on where you are in the group, you could find yourself floating to the side of the shark or floating on top with the shark only a few feet (seems like inches!) below. Guess where I found myself the first time? Yep, I was positioned perfectly to see its enormous mouth coming right toward me. So I continued to float over the full length of the body until I cleared the tail, praying he'd wouldn't decide to make a last-minute turn and give that tail a good swoosh. Wanna see what it looks like? Click here. Once he passes, the work begins. You need to turn and swim alongside him for as long as you can. If you're me, that's not very long; he's faster than he looks. If you're my sons, you can follow him for a good minute.
KidTripster Tip: While whale sharks won't eat you, they could inadvertently brush up against you with their body or swipe you with their tale. But in general, there's little danger, and I didn't hesitate allowing my kids to swim.
While all this is happening, the other snorkel team has been deployed - either ahead on this particular whale shark or with another one. After you lose your shark, you climb back into the boat, and the process begins again. To be honest, it's exhilarating. Once I shook my initial nerves, I couldn't wait to get back in the water and neither could the rest of my family. We had time to swim with three whale sharks, and my 14-year-old son quickly declared it as his favorite experience of the trip!
KidTripster Tip: Some of the passengers opted to watch the whale sharks from the boat. While it's possible to get a glimpse, it's certainly not the same experience. If you can will yourself into the water, I would strongly recommend it. It's one of those once-in-a-lifetime experiences. Also know that while Fun Baja crew will do its utmost to find whale sharks, it's not a given. UnCruise does whale shark excursions in November, December, and late March. From late January through early March, it does Gray whale excursions in Magdalena Bay, where the females go to have their calves.
The rest of the day was spent in La Paz, either at your leisure or touring of El Serpentario, a sanctuary for birds, reptiles, and other creatures. And all passengers were given coupons to redeem for ice cream at La Fuente, the creamery that made those amazing popsicles that we enjoyed earlier in the week.
KidTripster Tip: The crew offers short, 10-minute tours of the galley and engine room on this last full day. Your kids may find it interesting to get a behind-the-scenes look.
The day ended with the captain's dinner and slide show of the week's memories, prepared by the expedition guides. When we returned to our rooms, we found our nightly chocolates, plus a much-appreciated thumb drive with photos from the week to take home.
KidTripster Tip: Like all meals, dress for the captain's dinner is casual. Don't bother packing fancy clothes and shoes. If you're like my sons, you'll be relieved to not be forced to dress up.
DAY EIGHT
The morning started early with one last breakfast aboard the Safari Endeavor before the crew lined the dock for high fives, handshakes, and hugs. We boarded two motor coaches. Most passengers were headed to the airport; some headed back to the hotel in Cabo to wait for later flights, while others were extending their stays at area resorts.
KidTripster Tip: Like all cruises, UnCruise has a procedure for leaving tips for the crew. Tips are split equally, which I think is a fairer way to compensate not only the stewards and guides whom you have a lot of face time but also those crew members that contribute to your comfort behind the scenes. The captain makes it clear that tipping is not required; that being said, the suggested tip is $25/day/passenger. Again, it's completely up to you. The manager who handles hotel and food service will take credit card payments before the captain's dinner on your last night.
Overall, I highly recommend UnCruise. If your family loves natures and your kids possess the maturity to appreciate the opportunity, the experience can truly be a memorable one. And it's hard for me to imagine a cruise line with a more accommodating and customer service-driven staff. Thanks to the hardworking crew of UnCruise's Safari Endeavor for a wonderful family vacation!
Find out what our KidTripster Teen thinks of UnCruise. Click here.
And why does another one of our KidTripster Teens prefer small ships over big cruise lines? Find out here.
Editor Shellie Bailey-Shah swore off cruises a few years ago after suffering three days of unyielding seasickness. However, she's so glad that she made an exception for this UnCruise voyage. She and her family now hope to see Alaska by small ship.
This writer received a complimentary cruise for the purpose of this review. However, all opinions expressed are solely her own.
Pin to Pinterest & read later