At sea
DISNEY DREAM & FANTASY
What you need to know about the newest & largest ships in the Disney fleet
Overall impression
The Dream and Fantasy are almost identical in size and scope and sail exclusively out of Disney's home port of Port Canaveral, Florida. While they have more bells and whistles than the Magic and Wonder, sailing on them typically comes with both larger crowds and higher prices. State-of-the-art features unique to these two ships, such as the virtual portholes in interior staterooms and AquaDuck tube ride, set it apart from the older ships. However, my family has noticed that the larger crowds in the dining rooms, pools, and deck parties detract somewhat from the experience. We are happier on the smaller ships while our children are still young, but I can imagine that we will start to prefer the larger ships once they reach their teenage years.
Recent itineraries: Bahamas, Caribbean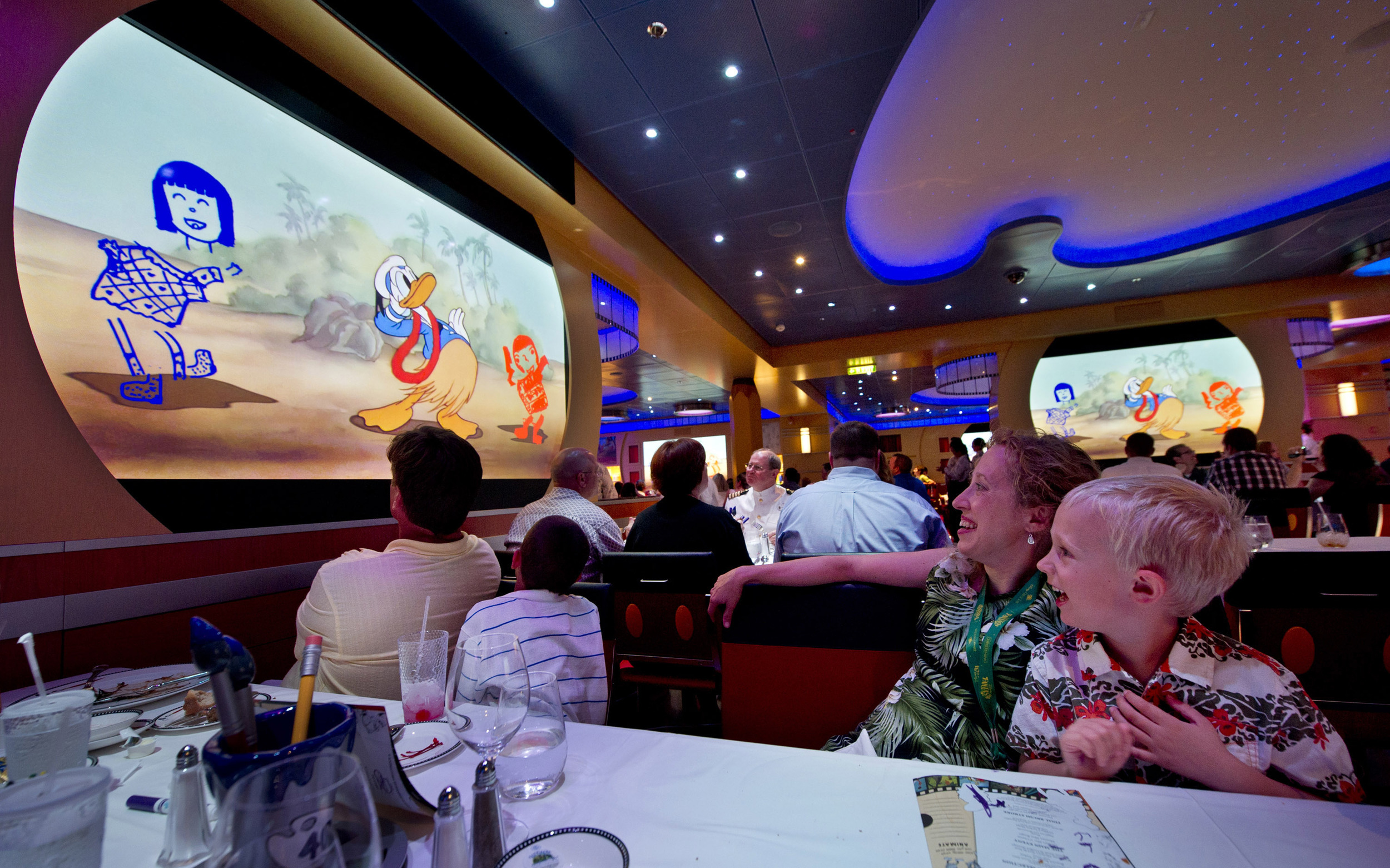 Dining
Both the Dream and the Fantasy have three main dining rooms in which guests are assigned specific times (usually 5:45 p.m. or 8:15 p.m.) to dine each evening. With the rotational dining system, the same servers follow the guests to the different restaurants each night, allowing for a more personalized dining experience. At least one of these restaurants provides table service dining for breakfast and lunch (times are not assigned), and you can also choose to dine at Cabanas on Deck 11. This more casual restaurant offers buffet-style dining for breakfast and lunch and table service for dinner, if you choose to skip your assigned dining room for an evening. The pool decks are home to several fast food options which are convenient for grabbing a quick bite and offer kid-friendly selections such as hamburgers, pizza, paninis, wraps, and chicken tenders. Room service is available 24 hours a day. You may also make a dinner or brunch reservation at Palo (brunch is only offered on sea days), the ship's adult-only Italian restaurant, for an upcharge of $30/person. Unique to the Dream and Fantasy is Remy, a gourmet French restaurant, whose seven-course menu was created by a three star-Michelin chef. This adult-only venue requires advance reservations and has an upcharge which starts at $85 per person for dinner and $55 per person for the champagne brunch (only offered on sea days of sailing four nights or longer).
KidTripster Tip: Room service is not available after 1:30 a.m. on the final night of the cruise.
KidTripster Tip: The Dream is the only ship to have Vanellope's Sweets & Treats Shop, inspired by the movie Wreck-it Ralph. The theming is impressive and definitely worth a visit but be cautioned that the items sold here are not included in your cruise fare.
Recreation
Both ships are home to three pools on Deck 11: the shallow Mickey Pool with a twisting water slide great for young kids, the deeper Donald Pool located right in front of the ship's huge funnel vision screen that is more frequented by older kids and adults, and the Quiet Cove adult-only pool. There is a splash pad for toddlers in swim diapers (which are not allowed in the pools) as well as the thrilling AquaDuck water coaster. This clear tube propels riders on rafts up and down several decks of the ship, as well as over the side, 13 decks above the ocean. It sounds scarier than it is, and I think that any rider who meets the 42-feet height requirement would enjoy it. The line can get long, so I recommend riding it early in the morning, late in the evening, or while the ship is in port to minimize the wait. Deck 13 on both ships houses Goofy's Sports Deck, where you'll find mini golf, ping pong, and foosball as well as a basketball court. You'll also find virtual sports simulators (additional fee and reservation required), which allow guests to experience six different sports with realistic graphics and sounds.
KidTripster Tip: The Fantasy is currently the only Disney ship offering a Star Wars Day at Sea on select sailings.
Youth clubs
It's a Small World Nursery (reservations required; $9/hour) provides child care for babies 3 months to 3 years old. The Oceaneer Club and Lab are for younger children (ages 3 to 12) and only the Dream and Fantasy are home to the Magic PlayFloors. These huge interactive video screens on the floor allow kids to use their hands and feet to interact with video games. Tweens (ages 11 to 14) have their own space called The Edge, and The Vibe is for teenagers (14 to 17 years old). All clubs are well supervised by the youth services staff. When the ship is docked at Castaway Cay, the children's programming moves off the ship and onto the island. Parents can drop their kids (ages 3-12) off at Scuttle's Cove and enjoy some time at Serenity Bay, the adult-only beach. Scuttle's Cove is not waterfront but provides both a splash pad and sandy area for kids to enjoy.
KidTripster Tip: The youth clubs have daily open houses, where age restrictions don't apply and the entire family can check out the space together. This can be a great way to introduce timid children to the spaces with the comfort of knowing that mom and dad are nearby.
Adult district
Each evening at 9:00 p.m., an area of Deck 4 on both ships transforms into an adult-only district. On the Fantasy, the space is called Europa. As the name implies, it has a European theme and includes O'Gills Irish Pub, the London-themed Tube night club, the Skyline lounge which features panoramas of European cities, and the French-themed Ooh La La champagne bar. The Dream has a Skyline lounge of its own, as well as Evolution night club, 687 sports pub, the District Lounge and Pink champagne bar. The Meridian wine bar is tucked away on both ships on Deck 12 in between Palo and Remy and includes a serene outdoor terrace and cigar lounge.
Evening shows
The three main stage shows on the Fantasy include Disney's Aladdin: A Musical Spectacular, Disney Wishes, and Disney's Believe. The Dream is home to Disney's Believe, Villains Tonight!, and The Golden Mickeys. The shows are Broadway-caliber productions that are enjoyed by cruisers of all ages and are performed two times each evening in order to accommodate dining times. I'd strongly recommend going.
Quick facts
Newest and largest ships in the Disney fleet
Built in 2011 (Dream) and 2012 (Fantasy)
Currently sail out of Port Canaveral on Bahamian (Dream) and Caribbean (Fantasy) itineraries
With 1250 staterooms, each ship holds a maximum of 4000 passengers and 1450 crew members on 13 decks
Standard staterooms range from 169 to 299 square feet and sleep 3 to 5 people
Suites range from 622 to 1781 square feet and sleep 5
Diana Smith is an expert cruiser. She and her family, including her three Disney princesses, have set sail on six Disney cruises. For more, check out Disney Cruise Mom Blog.
Pin to Pinterest & read later