Italy
FLORENCE & BEYOND
Top 10 things to do with teenagers in the birthplace of the Italian Renaissance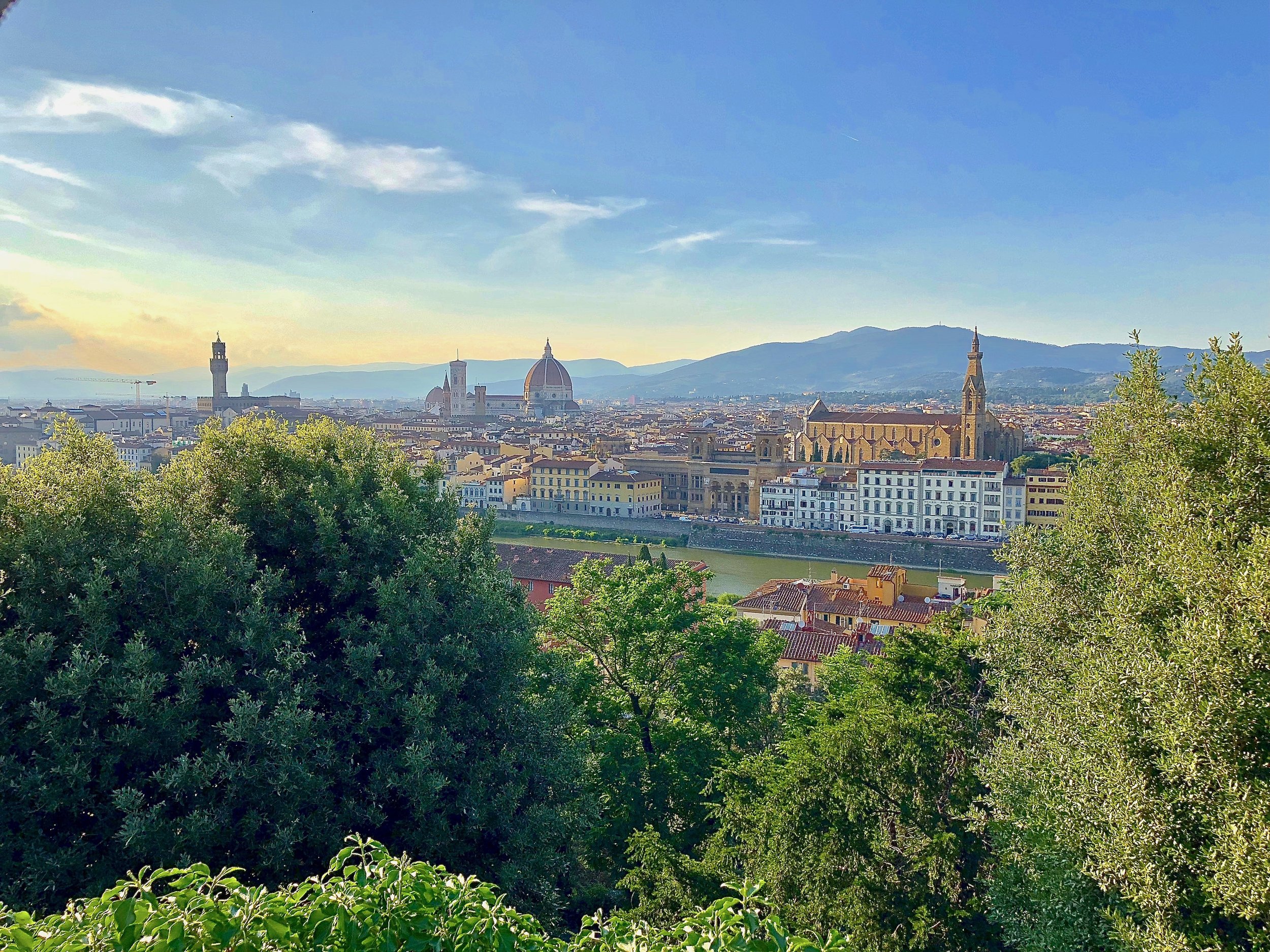 Why go?
Most people come to Florence to see great Renaissance art and architecture like Michelangelo's David, Botticelli's Birth of Venus, and Brunelleschi's dome. But what if your kid's interest in Donatello and Raphael doesn't extend beyond the Teenage Mutant Ninja Turtles? Luckily, there's more to Florence than fabulous art. Read on for 10 teen-approved things to do in and around Florence, Italy.
KidTripster Tip: We recommend visiting Florence in the shoulder season (April-May and September-October) when temperatures and crowd levels are lower. However if like us, summer is your only option, try to go in June, stay in a place with air conditioning, take afternoon breaks, and carry a water bottle. You can refill it at public fountains where the water is safe to drink, but not cold, so before you go out, fill your bottle with ice.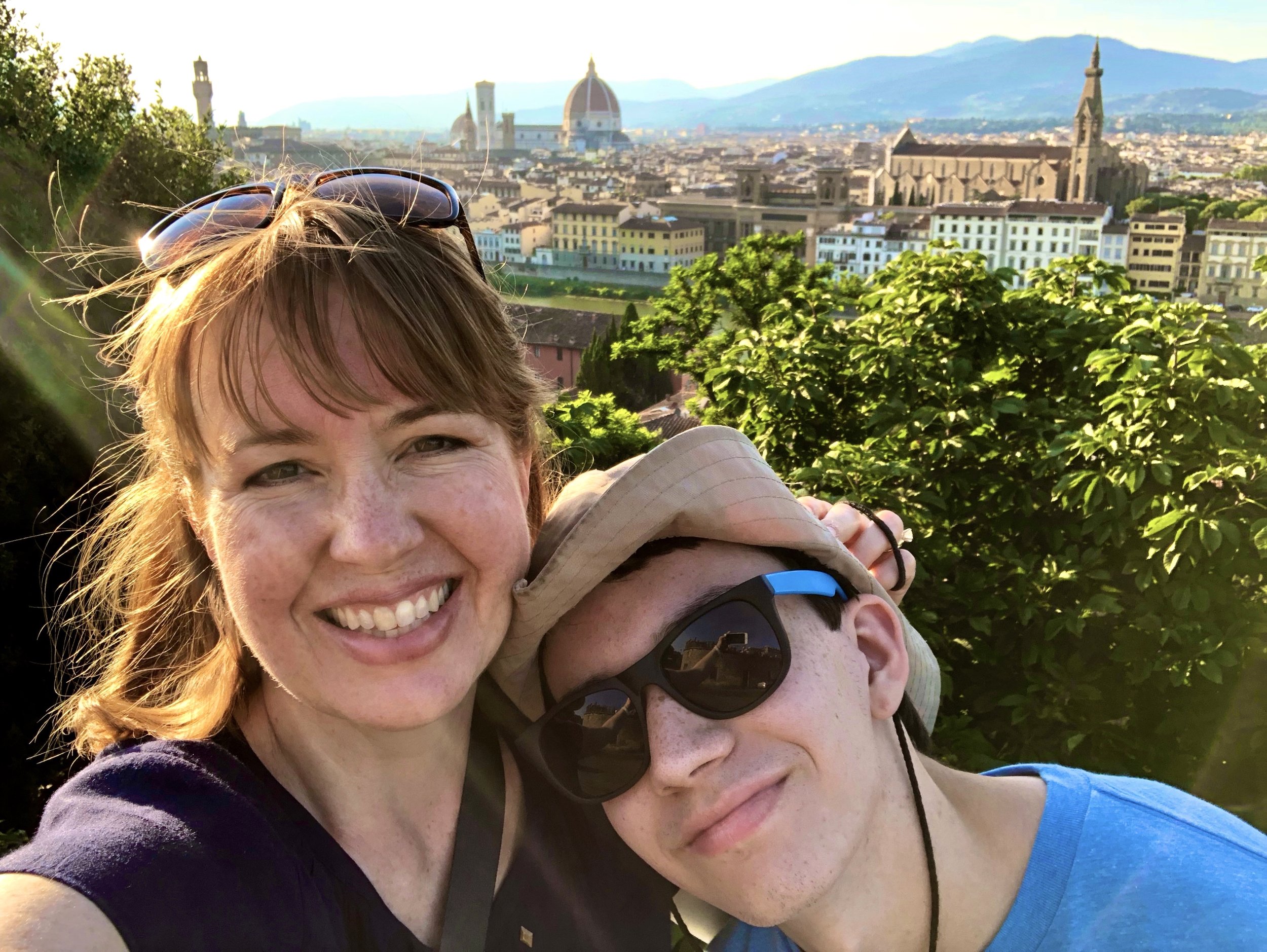 1/Hang out at Piazzale Michelangelo
Take a leisurely walk through the narrow streets of the Oltrarno neighborhood and up the tree-lined staircase to Piazzale Michelangelo for a breathtaking view of Florence and the green hillsides beyond. A popular place for romantics at sunset, even teenagers with their moms will want a selfie with that iconic Florentine skyline behind them. I thought my son might get bored up here with nothing to do, but he enjoyed just sitting on a stone wall overlooking the city, taking it all in. I tend to want to go everywhere and do everything when I travel, but I learned on this trip how important it is for my teen to have time each day to just do nothing.
KidTripster Tip: Stick to the suggested walking route on Google Maps. We took what looked like a cute shortcut and ended up going up a very steep hill, just to have to go down the other side and back uphill again later.
KidTripster Tip: Tourists aren't the only ones who flock to Florence in summer, so bring along mosquito repellent. We wore the same insect repellent wristbands that my kids use when they go to summer camp. We still got a few bites, but not nearly as many as I have on previous visits.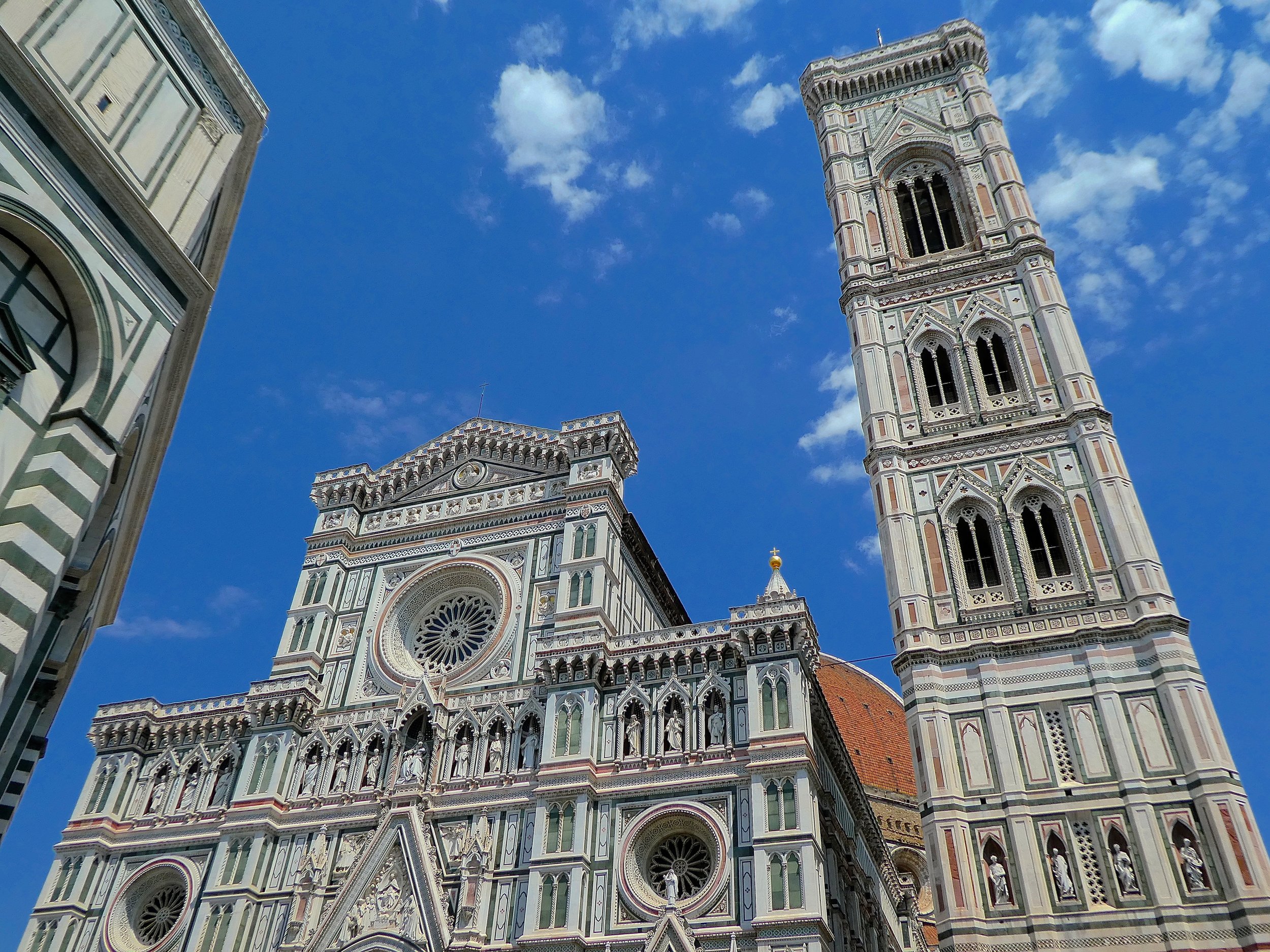 2/Climb Brunelleschi's Dome and/or Giotto's Bell Tower
Topping the cathedral of Santa Maria del Fiore, also known as Il Duomo, is Brunelleschi's Dome, the largest masonry dome in the world. To climb the dome, you'll need a timed reservation and a ticket to the Duomo monuments. Once you enter the church, pause for a look at the cathedral's interior, especially if you've decided to skip the long line to get inside again later. Halfway up, there's a walkway just under the cupola that gives you a close encounter with the Last Judgement frescoes right above you.
The 463-step climb wasn't as strenuous or claustrophobic as we'd heard. There are a few spots where you'll pass people headed the opposite direction; use those times to catch your breath and peek out the narrow windows. At the top, you can see straight across to the roof of Giotto's Bell Tower. The walkway around that bell tower roof is enclosed in a wire cage, so the dome offers better family photo ops, but climbing the bell tower gives you a wonderful close-up view of the dome.
Which one should you climb? If your legs are able and your kids are willing, I recommend both! It's another 414 steps to climb the tower, but you can wait a day or two between climbs, if you'd like. One cumulative ticket to all the duomo monuments includes the dome and bell tower (as well as the cathedral, baptistry, crypt, and duomo museum), and you've got 72 hours from the first entry to visit them all. It's alright if you don't see everything, but do take a few minutes to step into the baptistry for a quick peek at the magnificent gold mosaic ceiling. Cost for cumulative ticket: Youth (6-11) about $4; Adult about $22, depending on exchange rate.
KidTripster Tip: Bring a camera with a good zoom so you can appreciate the details high on the cathedral's pastel exterior.
3/Chill in the Duomo Museum
The calm, uncrowded, and wonderfully air-conditioned Duomo Museum was a welcome break on a hot, summer afternoon. My son really appreciated getting to sit down on benches and rest his feet. The main attraction here is a look at Ghiberti's beautifully detailed baptistry doors, known as The Gates of Paradise. (The ones outside on the baptistry are copies.) And don't miss Michelangelo's Florence Pietá. Kids can even touch a replica of a portion of that statue, part of a hands-on series for visually-impaired guests.
4/Don't miss the Uffizi Gallery
Even if your teen isn't interested in art, you shouldn't skip the Uffizi Gallery, which houses the biggest and best collection of Renaissance art anywhere in the world. Book your tickets in advance for the first entry of the day when the museum is least crowded and everyone has fresh legs. Then budget your time so you can enjoy the highlights before the kids get restless. The museum's audio guide is pretty dull and doesn't give much more information than is on posted signs. We used the free audio guide on the Rick Steves' Europe app instead. It's nice to get the background story on the pieces that you're looking at, but it's peppered with corny jokes and staged banter that my teen got tired of quickly. A transcript of the guide is included so you can read what you're missing, if you choose to skip ahead.
Don't miss the Botticelli Room and works by Michelangelo, Raphael, and Donatello. There are pieces by Leonardo (Da Vinci) too, but we couldn't find them, so we didn't complete our little Ninja Turtles scavenger hunt. Tell your kids to be on the lookout for paintings of infants and toddlers holding live birds (which were apparently given to babies as playthings, at least in paintings) and a dramatic Caravaggio painting on a round shield of a horrified, decapitated Medusa.
Pause at the end of the sculpture hall for a view of the Arno River and famous Ponte Vecchio bridge and take a little break on the terrace outside the top floor cafe with partial views of the Duomo and Palazzo Vecchio. Cost: Youth (under 18) Free; Adult about $29, depending on exchange rate.

You could also visit the Accademia where you'll find Michelangelo's original David. Even those with a limited interest or knowledge of art will find the amount of detail in this sculpture absolutely extraordinary! But if your kid's attention span in waning, there's a copy in the Piazza della Signoria. Just know that it doesn't compare to the original.
KidTripster Tip: Granted, an art museum may not be your kid's idea of fun, but family travel is about meeting everyone's needs - parents included. So if it takes a bribe of gelato to make this stop happen, so be it!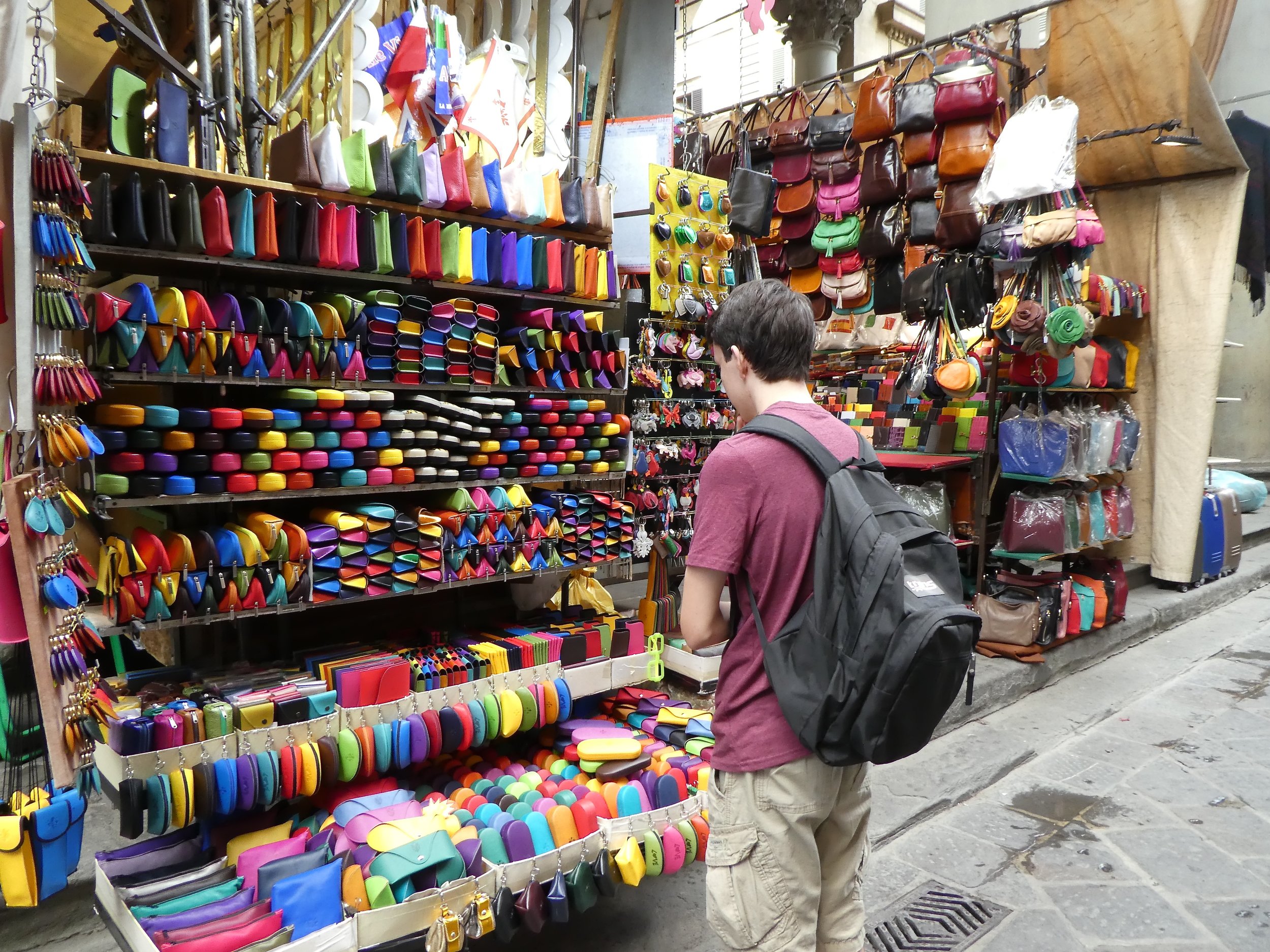 5/Explore markets & medieval streets
We went on a few self-guided walking tours, but my son preferred wandering around with no agenda at all. Everywhere you look, there's something interesting to see, and the streets are often filled with music played by city-approved, top quality musicians, especially at night. You'll find them near the Uffizi, Duomo, and other open spaces.
Stroll through Mercato Nuovo, a colorful, covered market right around the corner from the Piazza della Signoria. This market seems to be run by more local (and less pushy) salespeople than the much larger Mercato di San Lorenzo. Also known as Loggia del Porcellino, the Mercato Nuovo is home to a bronze boar statue with a snout that's been rubbed to a smooth, shiny finish by tourists hoping to ensure a return trip to Florence. We bought some handsome Italian neckties here at a bargain price of about $24 for three ties.
Traveling with younger children? Click here for a list of interesting toy shops that are bound to make them smile. Young kids and kids at heart might also like a spin on the quiet, antique carousel in Piazza della Repubblica.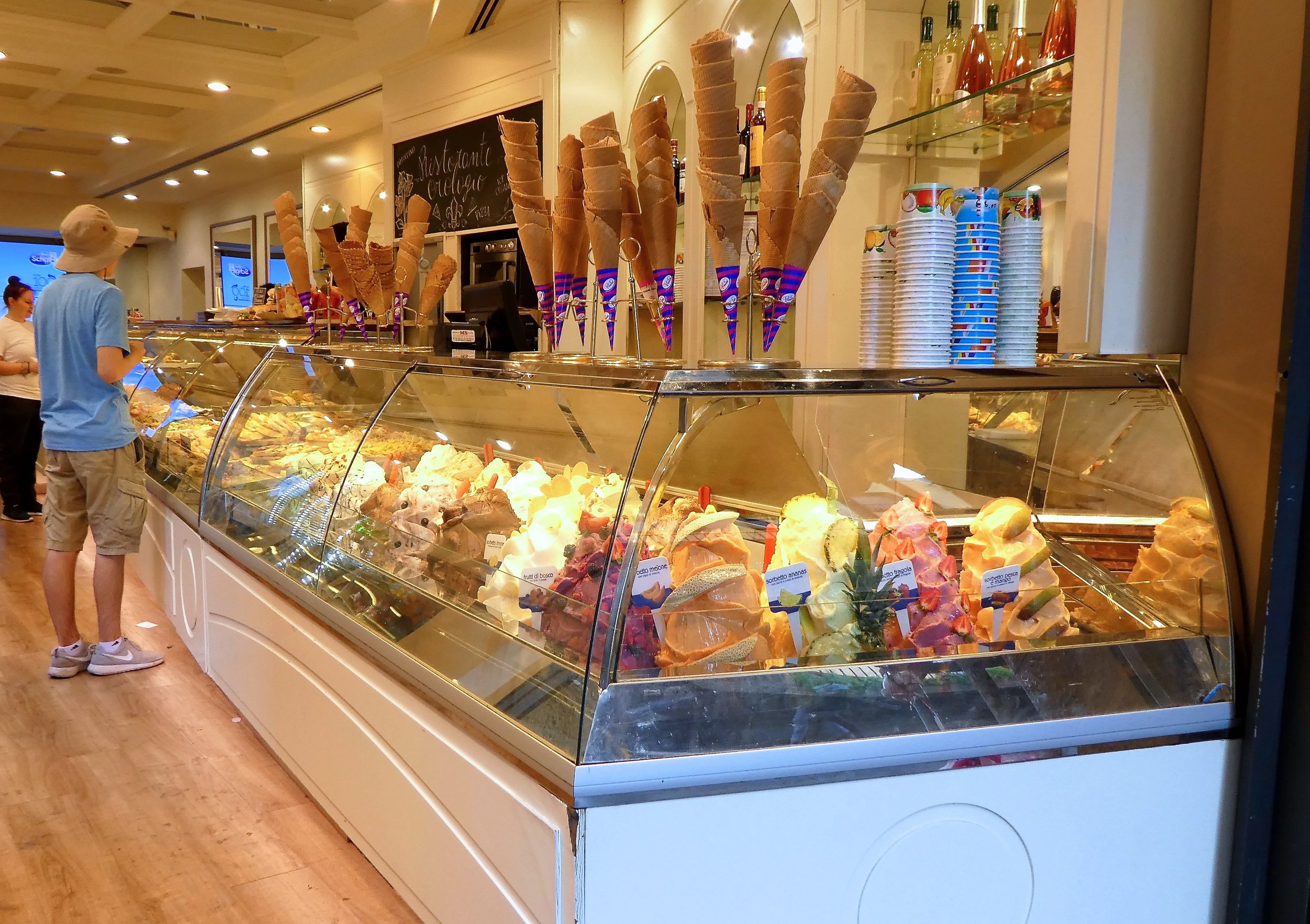 6/Enjoy gelato, pizza & other tasty treats
Gelato shops in Florence are like Starbucks in Seattle - there's one on every corner. It's a good thing, too, because you're going to need some gelato to cool off in the summer. I'd even venture to say that you'll want gelato anytime of year! The scoops are small, and gelato contains less fat, sugar, and calories than ice cream, so it's perfectly acceptable to have more than one cone or cup per day. You can even learn how to make it as part of Florencetown's Pizza and Gelato Making Cooking Class. We weren't able to take the class, but another KidTripster mom and her family did, and they loved it. The instructors are funny and make a point to engage the kids during the 2-1/2-hour session. You'll learn to make your own pizza from scratch and then eat your delicious creation. The gelato making is more of a demonstration, but kids are usually selected to help out. Cost: Adult about $66, depending on exchange rate; discounts for students and kids.
My son ate a lot of pizza during our trip. Pizza by the slice is usually cooked earlier in the day, and then reheated. We thought pizzas made-to-order were a lot tastier. Most of them are just the right size for one person and aren't much more expensive than ordering by the slice.
If you get tired of pizza, try a Turkish kebab. Istanbul Doner Kebap (Via dei Benci 18R) makes giant tortilla-style wraps containing beef, chicken or falafel, plus lettuce, tomato, cabbage, peppers, onions, yogurt sauce, hummus, spicy chili paste, and french fries. Yes, french fries! My son surprised me and ordered the works. He loved it so much that we went back again the next day.
7/Take a side trip
Florence is a great base for some wonderful side trips, and you can't come here without taking at least one. We visited Pisa, Siena, the Lamborghini Museum, and Cinque Terre (more on those to come).
You can get to any of these places by purchasing spots on a tour, but we prefer going on our own. It's far less expensive, and we get to choose an itinerary and pace that works for us. It's easy to do by yourself, and you don't even have to rent a car. Utilizing Italy's rail and bus companies is easy, convenient, and economical. We found the trains and buses to be clean, comfortable, and reliable. It's best to book train tickets online in advance from one of Italy's two main rail companies, Trenitalia or Italo. You can buy your bus tickets in person. The prices are fixed and seats aren't likely to sell out, so you've got the flexibility to be a little spontaneous.
Just one hour from Florence by train is the Leaning Tower of Pisa. Closed for years to restabilize the foundation, this wonder is open again for those wanting to climb the slanted stairs to reach the bells at the top. You need to buy a timed ticket for the tower climb, which can be purchased online from the Opera della Primaziale Pisana. Cost: about $22/person, depending on exchange rate.

Was Pisa worth a visit? That depends on who you're asking. I thought that it was fun to climb the tower (you sway back and forth a bit as you go up the spiral staircase) and loved the Fallen Angel sculpture at the base. I would have liked more time to visit the cathedral and enjoy a leisurely lunch at a cute sidewalk cafe in town, but we'd only budgeted three hours, so we didn't have enough time. My son was excited at the idea of seeing this iconic symbol of Italy, but once we were there, he thought taking goofy "holding up the tower" photos was cheesy.
KidTripster Tip: If you're arriving without luggage and all you're doing is visiting the tower, look for a train that stops at the smaller and much closer Pisa San Rossore station. Otherwise, it's a pleasant 20 to 30-minute stroll through town from the main train station, Pisa Centrale.
8/Take the bus to Siena
There are many small Tuscan towns that you can visit as a day trip from Florence, like Lucca, Siena, and San Gimignano. I'd been to the latter two on previous trips and chose to return to the medieval, walled city of Siena for its easy access and beautiful cathedral, which ended up being our favorite church in Italy. The mosaic floors and zebra-stripe pillars were quite unique, and the navy blue ceiling studded with gold stars reminded us of the Great Hall of Hogwarts. Cost: about $6/person, depending on exchange rate.
My teenager's favorite part of Siena was getting lost - on purpose - among the narrow, 13th-century streets. We even got to hear drummers practicing for the upcoming Palio horse races that take place twice a year in the piazza. For spectacular views, climb the bell tower of Siena's City Hall, the Torre del Mangia. Cost: Youth (0-11) Free; adults about $12, depending on exchange rate.
To get to Siena, go to the bus station (Busitalia SITA Nord Autostazione) right across the street from Florence's main train station (Firenze S.M.N.) At the ticket counter, buy two tickets per person for bus 131R, the fastest and most direct route. Validate your ticket in the machine on board and save the second ticket for the return trip.
KidTripster Tip: Take a current bus schedule (Orari Autobus - Firenze/Siena) with you so that you know when the last few buses head back to Florence. Confirm these times with the driver when you get off, and don't plan on taking the last bus. If you should miss it, you could be stuck in Siena for the night.

We really enjoyed the 1-hour, 15-minute ride. The bus takes you on the autostrada through the peaceful countryside of Tuscany with hilltop villas and green fields. It was refreshing after a few days in the bustling city. Cost each way: about $10/person, depending on exchange rate.
KidTripster Tip: Don't take the train. The trip is longer, and the station is located downhill from town.
9/Zoom out to the Lamborghini Museum & Factory
If you've got a sports car fan in the family, don't miss the opportunity to visit Museo Lamborghini in Sant'Agata Bolognese. When my son got his first glimpse of the shiny Aventadors sitting out front, he thought he'd died and gone to heaven. Two floors of Lamborghinis make up the museum, which he felt was worth the trip just on its own. Watch here. However, you absolutely must splurge and buy tickets that include a 50-minute guided tour of the production line. I'm not even a car enthusiast, but that tour was one of the highlights of our trip.
Our fantastic guide led us through the Aventador line, stopping in front of almost every station to explain what part of the car was being assembled (by hand!) and answer our questions. At the end of the line a "baby Aventador" was "born," and our tour was timed just right so that we got to hear its first cry. My son said he just about died when they revved the engine. "Mama, mia!" exclaimed our guide, and we couldn't have agreed more. What a sound!
KidTripster Tip: While you can take photos in the museum, no photography is allowed on the factory tour. You'll just have to commit those images to memory.
Buy your tickets online as far in advance as possible. Cost for tour and museum: Youth (6-14) about $60; Student (14-17) about $86; Adult about $90, depending on exchange rate.
KidTripster Tip: To enter the production facility, you'll have to store all your belongings in a free locker. If you have your luggage, you can pay to store it at the Bologna train station or bring it on the bus and store it at the museum in one of several lockers that can accommodate carry-on sized suitcases.
You can't sit inside or even touch any of the cars in the museum or factory, but you can test drive a Lamborghini Huracàn across the street at the Bull Bar. You'll have to shell out some serious cash. Prices start at around $168 for just 10 minutes, and you have to be 19 to drive. If you're under 19, you can still ride along as a passenger.
Plan for a delicious lunch or dinner at Ristorante Da Taiadèla, just a few minutes walk from the museum. It's full of Lamborghini employees at lunchtime, so the service is quick. It's friendly too, and the entrées are a good value. The pumpkin stuffed tortellini in brown butter and sage was the best meal that I had the entire time we were in Italy!
We spent 3-½ hours in Sant'Agata Bolognese, the perfect amount of time to thoroughly visit the museum, take the tour, and have lunch.
Getting to the museum from Florence is easy. Take a 35-minute train to Bologna, walk a few blocks, and buy a round-trip bus ticket from the Bologna Autostazione on bus 576 headed in the direction of Crevalcore. It's about a 55-minute ride through Bologna and the surrounding countryside until you get off at S.Agata B. Chiesa Frati. The museum is two blocks from the bus stop. If in doubt, simply ask your driver. On your way back, pick up the bus on the opposite side of the street from where you got off. To see the bus schedule, click here and then open the document called "Orario della linea" to see the current bus schedule; also confirm times when you buy your ticket. We saved a small fortune taking the train and bus instead of paying for an all-inclusive tour or hiring a taxi.
KidTripster Tip: There's an audio recording and reader board on the bus that announce the next stop. When we boarded, we set the alarms on our phones for 50 minutes, just in case we weren't paying attention or accidentally fell asleep and missed our stop.
10/Relax by the sea in Cinque Terre
Last but not least, this charming collection of colorful, little seaside villages on the Mediterranean was our favorite place in all of Italy. The locals are friendly, the air is fresh, and life slows down here. You'll hear that Cinque Terre is overrun in the high season by day-tripping cruise passengers, and while parts of it were busy at times, it felt practically empty compared to Florence. Honestly, my kid really isn't a city kid; he was longing for some green spaces and sea air. Do yourself a favor, take a vacation from your vacation and spend a day (or more) in Cinque Terre.
It's possible, and quite nice, to visit each of the five villages in one day. They're connected by train and, in good weather, by boat. You can also hike between the towns on the rugged trails of the Cinque Terre National Park. The most famous and easiest trail, the Via del Amore between Riomaggiore and Manarola, has been closed for years due to mudslide damage. I'm glad that didn't stop us from giving another trail a go. Hiking along the cliffline from Corniglia to Vernazza with its steep, rocky terrain was a welcomed challenge, and the views are incredible!
If you plan to hike, you'll have to purchase a Cinque Terre Card online or at information offices near the train stations. Cost for a one-day trekking card: Youth (4-12) about $5.50; Adults about $9. Cost for a one-day treno card (trails plus trains): Youth (4-12) about $12; Adults about $19, depending on exchange rate.
KidTripster Tip: A treno card saves you money if you plan to hike and take at least three train rides in one day.
The best beaches for swimming are in the largest of the villages, Monterosso al Mare, but even the rocky beach of Riomaggiore sees its share of sunbathers and swimmers.
It takes just under 2-1/2 hours to reach Cinque Terre from Florence by train, so it's doable in one very long day. However, I'd been there before and knew we'd want to stay overnight. You will, too. We rented an apartment through Airbnb for two nights and even that felt too short.
Can't get enough of Tuscany? Read about renting your own villa. Click here.
Elizabeth Ely Moreno fell in love with Italy in her twenties and then returned with her 18-year-old on a mother-son tour of Italy and Spain.
Need help planning at trip to Florence? Our friends at Ciao Bambino! specialize in luxury family travel to bucket-list destinations. Click here to find out more. If you end up booking through Ciao Bambino!, KidTripster gets some coffee money at no additional cost to you. Just wanted you to know!
This writer received some complimentary experiences for the purpose of this review. However, all opinions expressed are solely her own.
Pin to Pinterest & read later