Michigan
GRAND HAVEN
10 Reasons why Grand Haven is truly a grand beach destination for families
Why go?
The decision to vacation in Michigan is usually quite intentional. Because of its location as a peninsula, it's not a state that travelers typically pass through on their way to another destination. But with miles of beaches and 11,000 inland lakes, Michigan is more than a worthy vacation spot.
The city of Grand Haven, nestled along the shore of Lake Michigan about a 3-hour drive from Chicago or Detroit, is ideal for families. I actually was born in Grand Haven and spent my childhood in the area. But sometimes, you don't realize how truly special a place is until you return later in life as a visitor.
Photo courtesy: Bob Peskorse
1/Beach camping at its best
While there are other campgrounds in Grand Haven and other state parks on Lake Michigan, Grand Haven State Park is in a class by itself. Not only are you steps from one of the most popular stretches of sugar sand beaches in the state, you can stroll on the picturesque boardwalk along the Grand Haven Channel to the inviting downtown with its restaurants and shops. It's such a gem that tourists compete for reservations with residents who live a mere five miles away!
Because of its perfect location, you'll be willing to overlook its lack of full hookups, though sites do have electricity. The bathhouse offers private toilet/shower rooms. RVs park in a parking lot with sand backyards; there are spots for tents, too.
KidTripster Tip: Because of its popularity with locals, you're advised to make a reservation, especially if you plan on visiting during the town's Coast Guard Festival in late July. Reservations open six months in advance.
2/Wide array of water sports
With its sandy bottom and clear water, Lake Michigan is a great swimming lake. However, the lake temperature can be nippy. August is your best bet for warmer water temperatures, averaging around 70°F. You can rent speed boats, pontoon boats, jet skis, stand-up paddleboards, canoes, and kayaks at Sun Sports Rentals at Chinook Pier, a short 20-minute walk from the campground.
Photo courtesy: Marci Cisneros
3/Crowd-pleasing musical fountain
Since 1963, the Grand Haven Musical Fountain on the hill overlooking the channel has entertained locals and visitors alike. From Memorial Day through Labor Day, the fountain plays every night at sunset (Friday and Saturdays only in May and September). The free, 20-minute show is a choreographed ballet of colored water spouts dancing to a wide selection of music, comparable to the fountain at the Bellagio in Las Vegas. You can view the fountain from Waterfront Stadium or your own blanket on the grassy hillside.
Photo courtesy: Randy Riksen
4/Fish as big as small children
Lake Michigan is home to some of the best Chinook salmon fishing in the world. If you don't have your own gear, hire one of the many charter companies; most are based at Chinook Pier. Grand Haven celebrates its Salmon Festival during the third weekend of September. The three-day festival includes the Big King Salmon fishing contest, a gourmet salmon cook-off, and a wine-tasting pavilion featuring Michigan's top vineyards.
Photo courtesy: Brian Fett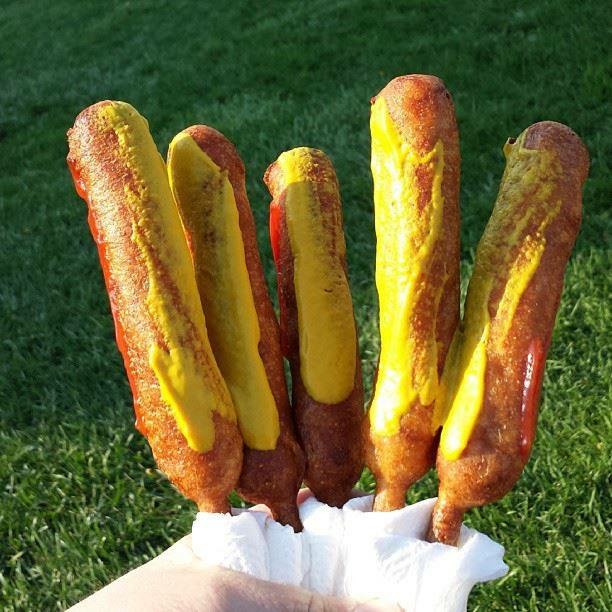 5/Boardwalk eats & sit-down dinners
Along the boardwalk, you'll find locals lining up outside perennial favorites, like Pronto Pup, which serves lightly-battered corn dogs loaded with tempting toppings. The sign out front invites health nuts, who may be worried about their cholesterol, to keep walking! Across the street, another favorite, Dairy Treat, serves up local Hudsonville ice cream to eager customers. Finally, you can weigh in on the local battle for best pizza - Fricano's Pizza Tavern versus Mr. Scrib's Pizza which gets my vote.
If you're looking for more upscale fare, try Grand Seafood & Oyster Bar, located in the old Grand Theater, or Porto Bello, situated in the historic Story & Clark piano factory.
6/Specialty shopping
The downtown area of Grand Haven boasts a number of specialty shops, all within walking distance of your campsite. Step inside Mackinaw Kites & Toys, where kites come in every shape, size, and color. The helpful staff will match a kite to your personal skill level; then simply head to the wide open beach to fly. Peek inside C2C Gallery, where owner Cyndi Casemier is committed to showcasing Michigan artisans. A ceramics artist herself, Casemier often sits in the front window, working her potter's wheel. Or sample old world chocolates at Fortinos, a family-owned institution for three generations. In addition to candy, the shop sells gourmet meat, cheese, wine, and coffee.
Continue walking down the boardwalk pass Washington Street, and you'll find yourself at Chinook Pier. On Wednesday and Saturday mornings (June to October), visit the farmers market and sample fresh Michigan produce. On Sundays from 11 a.m. to 2 p.m., the space transforms into an art market with an ever-changing display of fine art, metal works, glass, jewelry, and more.
Photo courtesy: Marci Cisneros
7/Free history lesson
Take a break from shopping and wander inside the Tri-Cities Historical Museum, where admission is free. See how the area's first inhabitants, the Native Americans of the Ottawa tribe, used birch bark for both their lodges and canoes. Learn how fur trading and then timber influenced the area's development, as well as more recent businesses like the Bastian-Blessing Company, the world's largest maker of soda fountains. (It's the place where my mom and dad met!) You'll also get an inside look at the history and mechanics of the Grand Haven Musical Fountain.
The Depot Museum of Transportation (closed during winter) is housed in a restored 1870s Railroad Depot near Waterfront Stadium. Visitors can step back in time and experience the area's railroading and nautical past.
8/Big beautiful boats
Skipper a rented boat up the Grand River into Spring Lake or board a double gaff-rigged top sail schooner with Wind Dancer Charters for a cruise on Lake Michigan. Even if you're not able to get on the water, you certainly can admire the boats that cruise the city's channel. (Little-known trivia: No matter where you visit in Michigan, you're never more than six miles from an inland lake or stream!)
Photo courtesy: Grand Haven Area Convention & Visitors Bureau
9/Lighthouse lore
With 3,126 miles of Great Lakes shoreline, Michigan is home to more lighthouses than any other state. Next to the Grand Haven State Park, you'll find the pier that leads out to Grand Haven's - not one - but two lighthouses. Now decommissioned, the lighthouses aren't open to the public, but it's still a very pleasant walk to see the structures. Other lighthouses in the surrounding area include Holland's Harbor Light, known as "Big Red," with its unusual square tower, and Muskegon's South Pier Lighthouse.
KidTripster Tip: Beware of the weather. Storms can blow up quickly on the lake and send waves crashing over the pier. Unfortunately, many thrill seekers have lost their lives here.
Photo courtesy: Bob Peskorse
10/Coast Guard Festival
The Coast Guard Festival is a premier 10-day event, drawing over 350,000 people to Grand Haven which has been designated as "Coast Guard City, USA" by Congress. Every year in late July, the city celebrates with parades, ship tours, fireworks, and more. Even if you don't visit during the festival, check out the Coast Guard station and memorial to those who've sacrificed their lives in service to our country.
Photo courtesy: Ed Post
Editor Shellie Bailey-Shah remembers walking the Grand Haven boardwalk as a teenager. It was an inexpensive and popular date night activity. These days, she's happy to stroll with her husband and two sons.
Pin to Pinterest & read later