Caribbean
GUADELOUPE
KidTripster Teen: Top 5 things for teens to do in this very French slice of paradise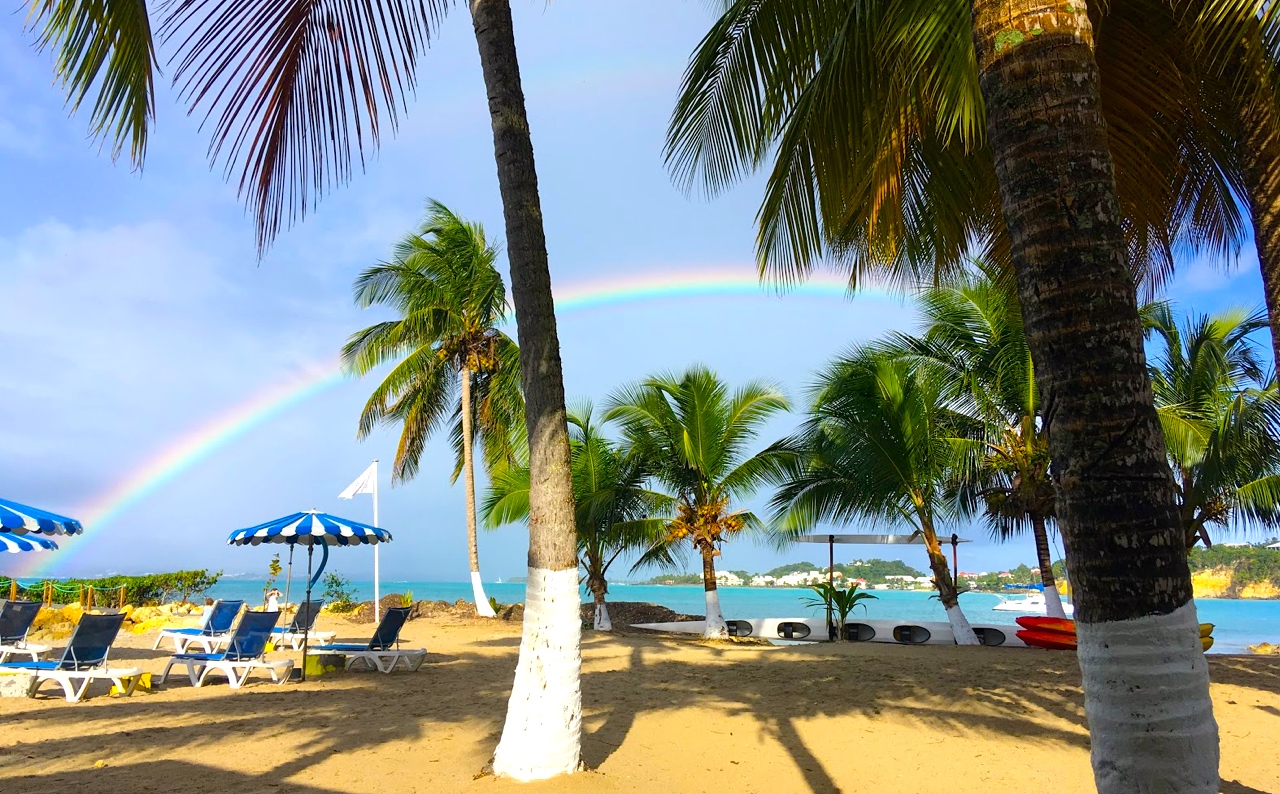 Why go?
Guadeloupe is a beautiful French Caribbean island, located southeast of Puerto Rico. It's a wonderful place to go on vacation, despite the fact that most of your friends will have no idea where it is. Maybe that's the best part! Expect fresh passion fruit, guava, and pineapple every day, plus tasty Creole food. Guadeloupe has picturesque beaches and its own volcano! My family and I visited during the rainy season, so there were intermittent showers; but those rains resulted in some massive rainbows in the morning and sometimes in the afternoon, too.
KidTripster Tip: Nearly everyone on the island only speaks French. Make sure to bring a French-English dictionary or download a translator app on your phone before you visit.
KidTripster Tip: Print out whatever you'll need before leaving for Guadeloupe because the free WiFi at the hotels and restaurants isn't strong enough for downloads or uploads.
Guadeloupe is made up of two main islands connected by an isthmus. The main city of Pointe-à-Pitre and the airport are located along this isthmus. Basse-Terre is the westernmost island and the larger of the two. It's where to go for more adventurous activities. On Bass-Terre, you'll find the volcano, waterfalls, hot springs, hiking trails, and a huge rainforest reserve.
KidTripster Tip: The roads on Basse-Terre are incredibly steep and confusing, so make sure to be on a vigilant watch for signs pointing you in the right direction. Also you'll want to download a map of Guadeloupe in advance to make traveling by car easier.
The eastern island of Grande-Terre is more urban but still relaxed with resorts, beaches, and restaurants. When traveling between the two islands across the isthmus, leave yourself plenty of time, even an extra hour or two. The traffic is horrible, and accidents are frequent.
KidTripster Tip: All of Guadeloupe operates on "island time," meaning that dining and activities often take an hour longer than you may expect. Just relax, you're on vacation!
Here's a look at my favorite activities.
1/Hike to the top of a volcano
On Basse-Terre, you'll find La Soufrière, Guadeloupe's volcano. During the rainy season (June through November), the peak is constantly shrouded by clouds. If you're going to hike to the top, I'd recommend starting from Saint Claude. A cobblestone trail leads half way up; it takes about 30 minutes. When the path ends, you scramble the rest of the way to the top; it took me about another hour.
KidTripster Tip: During the rainy season, the winds are sometimes so strong that you're forced to climb on all fours. Dress accordingly.
2/Surf along a black sand beach
Between the towns of Capesterre Belle Eau and Trois Rivières on Basse-Terre, you'll discover a tiny village called Anse Salé Bananier. There's is a black sand beach here, which is great for surfing, but bring your own surfboard because there aren't any rentals in this area.
KidTripster Tip: When visiting La Soufrière and Anse Salé Bananier, keep your eyes peeled just north of Capesterre Belle Eau. You'll spot an awesome pink Hindu temple! You can see beautiful depictions of various Hindu gods on the roof. Unfortunately, public visits are not allowed.
Photo courtesy: Cedric Frixon
3/Jump!
Les Chutes du Carbet are three majestic waterfalls on Basse-Terre. Individually, they're referred to as One, Two, and Three. Yes, really! Two of the waterfalls are on a road just south of Capesterre Belle Eau. The other one is on a different road accessible from the middle of town. Just ask for directions.
You can pay to see the larger waterfall, One. The hike to Two is free and short, but know that it's also steep, rocky, and muddy. Along the way, you'll find the hot (warm) spring from the volcano, which can be used like a slide. Also for you parkour masters, there's a great cliff jump of about 12 feet into a pool of water; just be careful to jump on the deep side for safety's sake. The pool isn't fed by the hot spring and can be quite brisk.
KidTripster Tip: There are no bathrooms and no place to change. It's a true rainforest.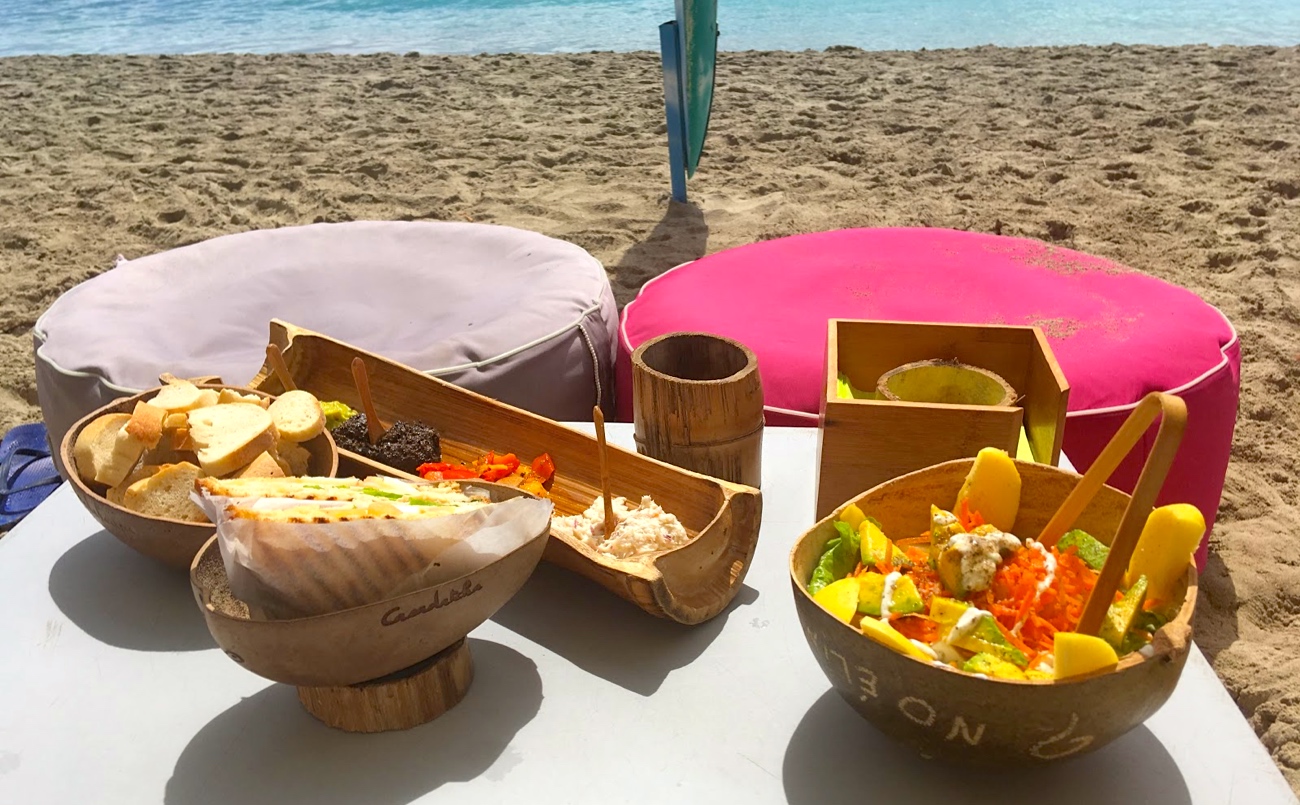 4/Eat along the beach
Le Gosier on Grande-Terre has a beautiful town beach for swimming and free parking. The waves along this white sand beach are 2- to 3-feet high, and there's plenty of trees for shade.
KidTripster Tip: Eat at Casa Datcha. The food is amazing, and the English-speaking staff makes fresh fruit smoothies, which help to cool you down. They provide beach cushions for seating (even after you're done eating).
KidTripster Tip: Guidebooks will point visitors to Sainte-Anne's Plage de la Caravelle, but if you aren't staying at the Club Med here, avoid this beach. It's crowded, and there aren't any waves or bathrooms.
5/Get sprayed by the sea
Visiting Pointe des Châteaux at the very tip of Grande-Terre is worth the effort. It was the most spectacular site that I saw on my trip to Guadeloupe. Here, 20-foot-high waves smash up against the high, rocky cliffs. The spray will fog your sunglasses from 50 feet away!
Walk on the upper part of the beach when visiting the cross at the peak of the dramatic hills, if you don't want to get wet. Even though the beach is very steep, the waves will go up a lot higher than you may think. There's a side path from the peak of the hill which passes a second, more rundown cross and then connects to the parking area. Even though there is a beach here, swimming isn't safe.
Erazmas De Voe is a high school sophomore, living in New York City. He loves hiking and adventures with his family. When he isn't traveling, you'll find him at home playing his saxophone or piano and cuddling his urban rabbit, Thumpelina.
Pin to Pinterest & read later