Maui
KAMAOLE SANDS
Budget-friendly on Maui? Yes, we know just the resort!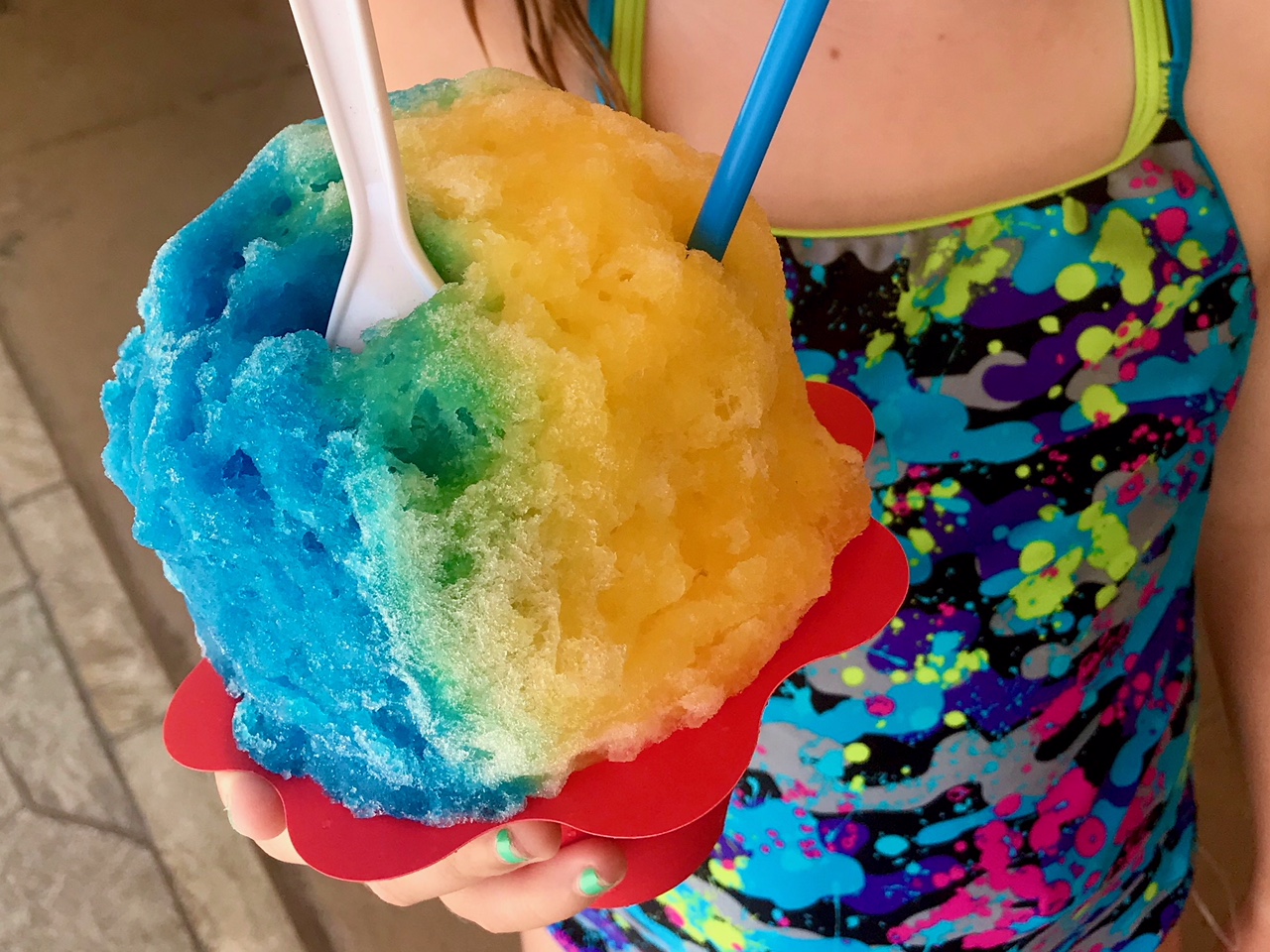 Why go?
Here's proof that it's possible to vacation on Maui in a spacious, oceanview suite on the sunniest side of the island without breaking the bank!
Kamaole Sands in South Kihei on Maui's southwestern shore is family- and budget-friendly. The sprawling, beautifully-landscaped condo complex is less than half the price of other condo properties, in addition to being close to shopping, dining, and island activities. My family and I overheard several guests saying that they come back year after year. We now understand why.
Where to stay?
My kids squealed with excitement when they first saw our 2-story, 2-bedroom, 1,036-square-foot condo at Kamaole Sands. They loved this place! The spiral staircase grabbed their attention, and they immediately claimed the queen-sized bed and full bathroom in the upstairs loft. The main floor had another bedroom with a queen-sized bed, full bath, kitchen, laundry closet, dining area, and sofa bed in the living room. Each suite is individually decorated by a different owner. The unit was clean, comfortable, and fully furnished although somewhat dated. It included everything from beach towels to laundry detergent to DVD movies to watch at night. My oldest daughter explained why she liked it so much: "It's homey. Other hotels look like hotels, but this place feels like home." I would have to agree.
Kamaole Sands has 400 condo suites, all affordably priced. Rates for a 1-bedroom suite start at $161/night; 2-bedroom suites start at $227/night; 3-bedroom, deluxe suites starts at $377/night. All the condos have private lanais, and many of them have ocean views.
What to do?
Maui's world-famous beaches will beckon you, for sure; in fact, the island boasts 30 miles of beaches. When a terrific stretch of sand is across the street from your condo, start there! Kamaole Beach Park III is directly across the street from Kamaole Sands. The county beach park has lifeguards, shaded picnic tables, and a playground. The sand is white and soft, and the water is great for swimming, bodysurfing, and snorkeling. Our Kamaole Sands condo was outfitted with two big beach wagons full of boogie boards, water toys, snorkeling gear, and sun umbrellas - everything we needed for a day at the beach and then some!
KidTripster Tip: Morning is the best time to go to the beach on Maui before the tradewinds and waves kick up and the sun becomes too intense. Then return in the evenings to see those amazing sunsets.
KidTripster Tip: Select your sunscreen wisely. Before taking a dip in Maui's ocean waters, make sure you're wearing sunscreen that doesn't harm the coral reefs and marine life. The Hawaii legislature has banned sunscreens that contain two chemicals that are toxic to coral: oxybenzone and octinoxate. Be sure to use reef-safe sunscreen.
Kamaole Sands has a swimming pool, kiddie wading pool, and two whirlpools. It also boasts four tennis courts, a ping pong table, and an exercise room.
Maui Ocean Center (192 Ma'alaea Rd., Wailuku), one of Maui's top attractions, is located in Wailuku, just 11 miles from Kamaole Sands. This indoor-outdoor oceanography center is a terrific place to take the kids. See sharks, rays, and hundreds of fish in the 750,000-gallon Open Ocean tunnel, stroll over to Turtle Lagoon, and touch sea creatures in the tidal pool exhibit. Aquarium divers, marine naturalists, and veterinarians lead presentations throughout the day. The Humpbacks of Hawaii exhibit and a 139-seat, 3D dome theater, the first of its kind in Hawaii, is coming to the center in the fall of 2018. There's also a restaurant, casual cafe, and a huge gift shop on site with lots of Hawaiian-made products. Cost: Youth (under 3) Free; Youth (3-12) $20; Adult $30.
KidTripster Tip: The Maui Ocean Center is a great rainy day activity, because even though you walk from building to building, most exhibits are indoors. Yes, it does rain in paradise!
The best piece of advice that I can offer when visiting Hawaii is to spend time with local residents who are working to preserve the Hawaiian culture. Our family visited the historically-important Kō'ie'ie Fishpond at Kalepolepo Park in Kihei which dates back to the 1400s. Hundreds of years ago, fishponds were used to cultivate fish for Hawaii's monarchy. This fishpond, which has been lovingly restored, is on the National Register of Historic Places.
We signed up in advance for a morning cultural canoe tour. Our guide, Kehaunani, was an absolute delight! She greeted the nine people in our group, explained her family's extensive history in Kihei, and delivered a powerful chant in Hawaiian: "There's an island in a canoe and a canoe in an island." She explained that we should treat the canoe and our paddle in the same way that we would treat our ancestors - always with the utmost respect. Then she marked the beginning of our memorable outrigger journey by standing on the beach and blowing in a pū (conch shell), sharing an ancient Hawaiian tradition.
During our 90-minute canoe tour, we paddled in sync out of the fishpond and across the adjacent coral reef. Whenever a sea turtle would pop its head out of the water, Kehaunani would exclaim, "honu," which is Hawaiian for green sea turtle. These sightings were thrilling for my kids, especially when one swam right up to our canoe. Kehaunani gave paddle commands in Hawaiian, and we chanted in unison with her. It was a hands-on, one-of-a-kind, authentic Hawaiian experience! Cost: Youth (8-12) $40; Adults $70; funds are used to support the fishpond's non-profit organization. Children must be 8 years old to participate, and everyone must be able to swim; reservations are required.
Photo courtesy: Maui Ocean Center
Where to eat?
Kamaole Sands is located halfway between Kihei and Wailea, so you can go in either direction to find just about any kind of food that you're seeking. Some restaurants also are within walking distance.
Manoli's Pizza Company (100 Wailea Ike Dr.), a family-owned Italian restaurant in nearby Wailea, is ideal for families with open-air seating overlooking a golf course and gorgeous sunset views during dinner. It's casual, friendly, and serves up great food! My husband and I shared a spinach salad and a 14-inch, organic, wheat-crust pizza made to order: shrimp pesto with spinach and mushrooms on one half and BBQ pulled pork with onions on the other half. At Manoli's, the kids' menu features all-you-can-eat pizza or spaghetti and includes a drink and a cookie-ice cream dessert. My youngest daughter requested one of Manoli's huge homemade meatballs, and our server delivered. Cost for the kids' meal: 99¢ plus the child's age, up to age 10.
KidTripster Tip: Holy moly, the Holy Manoli dessert is delish! Manoli's signature dessert is a baked-to-order, homemade chocolate chip cookie topped with vanilla ice cream, hot fudge, caramel, and Oreo cookie crumbles. Save room!
Cafe O'Lei has several locations on Maui. We dined at the Kihei restaurant upstairs at the Rainbow Mall (2439 S. Kihei Rd). The sprawling restaurant with its attractive ambiance was a pleasant surprise! The menu is full of Hawaiian specialties, a large variety of flatbreads, and a full sushi bar featuring sushi chef Masa-san from Osaka, Japan. We started with sushi and crab cakes, which were fabulous! The kids enjoyed the keiki menu, and I liked the price: $6.95 for kids (12 and under). After a week of seafood, my husband and I both felt like switching gears and ordered the slow-roasted macadamia nut roast pork drizzled in honey, which was deliciously comforting and so affordable at $18.95.
Maui Brewing Company (605 Lipoa Parkway, Kihei) recently opened an impressively modern location in Kihei in the brewery headquarters. With 36 craft and specialty beers on tap, this place also has a family-friendly vibe and yummy island-inspired cuisine. The extensive menu is full of locally-sourced produce and just about everything is homemade. I could go back again and again and still not order everything that I want to try here: innovative salads, flatbreads, small plates, sandwiches, fish, and Hawaiian pub food. There's a kids' menu, too.
KidTripster Tip: Don't want to spend your limited time on Maui at a sit-down restaurant? There are many places on the island to grab food and go, including delis, food trucks, and convenience marts. Even ABC Stores have a fresh food section full of ready-made sandwiches, salads, and fruit to take with you on your next Hawaiian adventure.
You don't need to travel far for the cool Hawaiian favorite, shave ice. Just walk the short distance from your condo to the Kamaole Sands swimming pool snack bar, which serves every flavor of shave ice, in addition to smoothies and other treats. The shave ice here is humongous!
Getting there
Ten airlines serve the Kahului Airport (OGG), Maui's main airport. Kamaole Sands Resort is 15 miles south of the airport. Renting a vehicle is the best way to get around the island.
Wendy Thies Sell is a freelance writer, emcee, and mom of two kids and a dog, based on California's Central Coast.
This writer received a complimentary stay for the purpose of this review. However, all opinions expressed are solely her own.
Pin to Pinterest & read later