Lihue, Kauai
KAUAI MARRIOTT RESORT
With so much for kids to do, you may not want to leave this Hawaiian resort.
Why go?
Kauai is the oldest of all the main Hawaiian Islands, dating back some five million years. The wettest spot on earth is in the center of the island on Mount Waialeale with an average rainfall of 450 inches per year. This high annual rainfall has eroded the mountain, carving out ridges, canyons, valleys, and too many stunning waterfalls to count. The breathtaking Waimea Canyon - often referred to as "the Grand Canyon of the Pacific" - should be on every traveler's bucket list.
The island also has been a hot spot for feature films. Dozens of filmmakers have chosen the Garden Isle as the backdrop for their movies: Jurassic Park, Raiders of the Lost Ark, Mighty Joe Young, and Outbreak. If you remember the majestic green cliffs and lush jungle scenery from these films… well, that's Kauai.
This island is defined by its scenery and laid-back lifestyle. If you're looking for a relaxing, family friendly vacation where parents are pampered and the kids are busy with endless activities, look no farther than the Kauai Marriott Resort.
Where to stay?
This resort offers 345 guest rooms and 11 suites. You have a choice of a garden view, partial ocean view, and full ocean view. All the rooms come with a mini fridge. We stayed in an ocean view room with two queen beds. Our room had a balcony which was lovely for reading and drinking our morning coffee. The room was a comfortable size, and the bathroom was spacious.
Admittedly, paradise isn't cheap. On average, a garden view room starts at $305/night. An ocean view room will cost upwards of $100/night more.
KidTripster Tip: Upon check-in, you'll receive a bucket and shovel for each child in your party. My kids were thrilled! Also, there's a $35 daily resort fee which covers WiFi, self-parking, breakfast for kids (12 and under with a paying adult), and two welcome cocktails. It's worth it to pay the resort fee.
What to do?
The Kauai Marriott Resort sits along Kalapaki Beach. This beach is great for swimming, learning to surf, boogie boarding, and stand-up paddleboarding. It's partially protected from the open ocean by a large breakwall, which makes it really easy for little kids to splash around. You also can see outrigger canoes and visiting cruise ships come and go in Nawiliwili Harbor.
The real selling point of this resort is the activity schedule for all ages. When we checked-in, we were handed a four-page (double-sided!) activity guide for the week. Most activities are complimentary, and many of them are specifically geared to kids. There are so many options that my family and I had to narrow down our choices each day. One highlight: the "fishing for whip cream" kids' race. My 7-year-old eagerly volunteered to eat a huge pile of whipped cream (hands-free) to find three hidden Swedish fish and then eat them, too. Our entire family participated in the resort's version of The Amazing Race, called Hurry, It's a Paradise Scramble. This activity had us running all over the resort looking for clues and then completing tasks. My kids insist that I share with you that we, indeed, placed first! For the more adventurous type, you can take canoe surfing, surfing, paddleboard or scuba lessons for an extra fee.
If you'd rather relax during your Hawaiian vacation, then head to the pool. The pool here is lovely with four large hot tubs. There's also a smaller kiddie pool with a slide geared to the 5 and under crowd.
The resort boasts the Ocean Course, a Jack Nicklaus signature golf course which winds its way through mango and guava groves to dramatic seaside cliffs. For even more relaxation, you can spend a day at the resort's Alexander Day Spa and Salon.
KidTripster Tip: Even though there's so much to do at this resort, make time to go off the property and explore Kauai.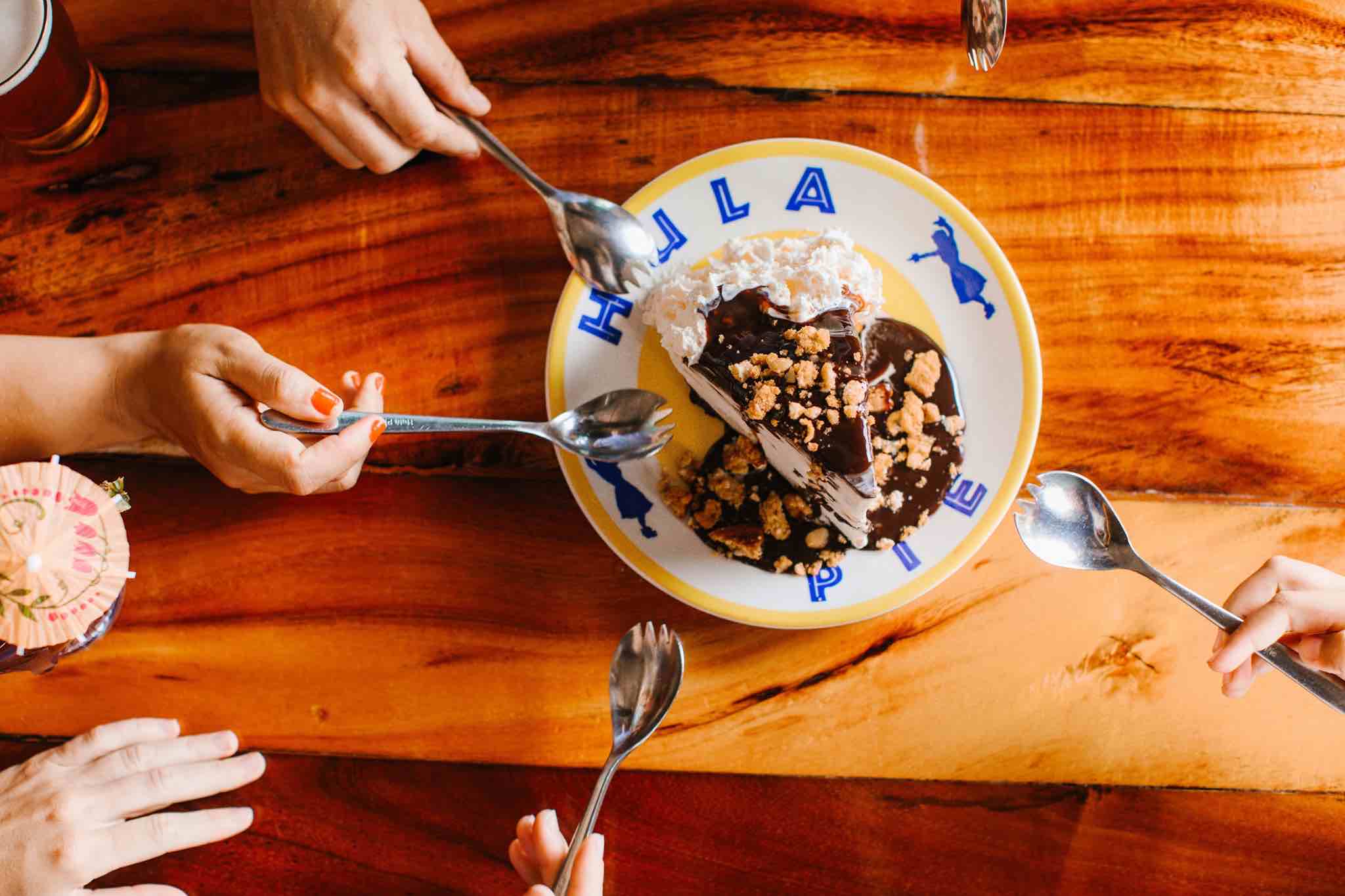 Where to eat?
The food options at this resort are adequate. We did eat breakfast one morning at Kukui's on Kalapaki Beach because with the resort fee, our kids ate free with a paying adult. The restaurant offers a breakfast buffet overlooking the pool. There's an omelet bar, fresh tropical fruit juices, fresh fruit, and numerous breakfast options along with a keiki (Hawaiian for kids) section that features chocolate-chip waffles which made my kids happy.
KidTripster Tip: For $37 per person, you can buy a souvenir travel mug that is refillable with soft drinks, ice tea, coffee or tea during your stay. I must admit, I was hesitant to splurge on this, but when I saw that a cup of coffee at the resort was $7/cup and not refillable, I decided that it worth the money. My kids loved being able to go to the self-serve soda fountain at the recreation desk and fill their cups with soda or lemonade. It's a fun treat while on vacation.
Just steps away from the resort with beautiful views of the bay is Duke's Kauai. This restaurant is one of my family's favorites. The philosophy at Duke's: make sure everyone feels like they're a part of Duke's ohana (Hawaiian for family). From the wonderfully attentive staff to the high quality food, you'll feel the love. Be sure to leave room at the end of your meal for the famous Hula Pie.
KidTripster Tip: Ask to sit upstairs near the windows to take in the sunset.
Down the road from the resort is the Kauai Beer Company. This restaurant and brewery is right in the town of Lihue, and it's definitely more of a locals' hangout. The food is incredible, and my husband says the beer is delicious, too! The kids' menu is good. My boys' favorite part: the bookshelf full of board games. While waiting for our food, we played old-school games like Connect Four and Battleship. My kids didn't ask to get on their electronic devices once!
Photo courtesy: Duke's Kauai
Getting there
All major airlines fly to Kauai. Most West Coast cities including Los Angeles, Phoenix, Portland, San Diego, San Francisco, and Seattle offer non-stop flights. These flights are around 6 to 7 hours in length.
KidTripster Tip: You'll want to rent a car so you can explore the magic of the Garden Isle. No need to reserve a high-priced jeep or convertible; save your money and rent a basic economy car while on island.
Journalist Gemma Gaudette is wife and mom to two boys, who tend to give her gray hair. She admits to using a lot of hair color!
This writer received a discounted stay for the purpose of this review. However, all opinions expressed are solely her own.
Pin to Pinterest & read later