Winter Haven, Florida
LEGOLAND BEACH RETREAT
Cowabunga, dude! Surf's up at the LEGOLAND Beach Retreat, where you can chill in your very own brick-like bungalow.
Why go?
Conveniently located just a half mile from LEGOLAND Florida theme and water parks, Beach Retreat sports 83 surf-themed bungalows. You'll feel like you're staying in a brightly colored, larger-than-life LEGO set! My children immediately fell in love with the place. They called out the name of each cove as we passed. In the room, they enthusiastically pointed out all the lego figurines and were thrilled with the bunk beds.
Yes, this place truly was built for kids!
Where to stay?
With the drive-thru, check-in process at Beach Retreat, you don't even have to leave your car before arriving at your own beach pad! Each bungalow sleeps up to 5 people; there's a separate bunk bed room for the kids. Each room comes with a mini refrigerator, multiple USB charging plugs, and a container of LEGOS for the kids to play with during their stay. And of course, the bungalows are completely decked out in LEGO décor with a distinct surfer vibe. Watch our KidTripster cub reporter's first impression here.
The bungalows are arranged in 13 different horseshoe-shaped coves, named after popular LEGO minifigures including Shark Suit Guy, Ocean King, and Sea Captain. And each cove has an outdoor play area for kids to enjoy, while parents watch from their own private patios.
Rates start at $135/night but can run considerably higher during peak season.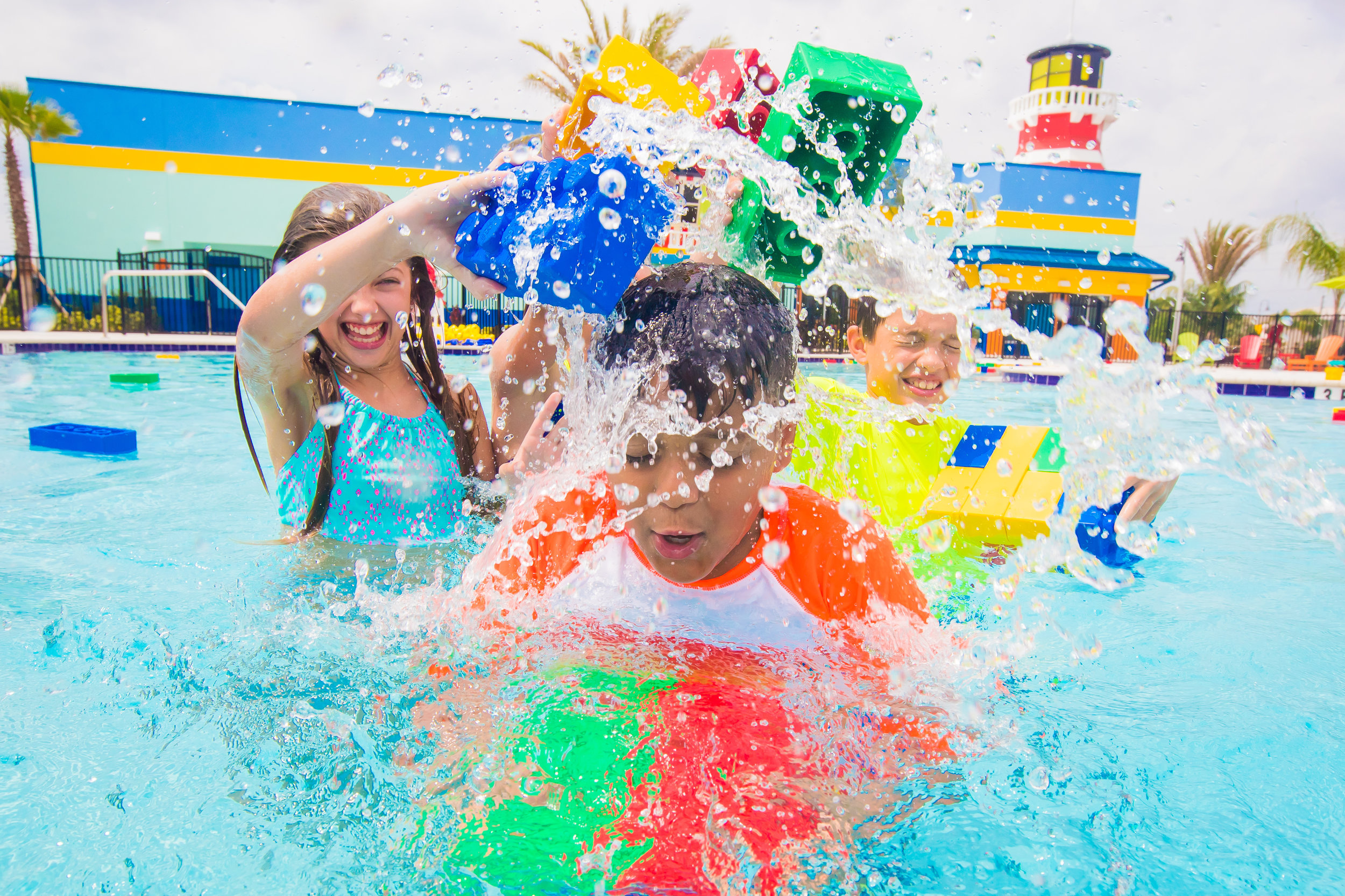 What to do?
One of the first things that got our attention was the beautiful swimming pool next to the lighthouse. It's the largest themed pool at LEGOLAND! In this oasis, you'll find large but soft LEGO bricks to play with in or out of the water. My kids wasted no time jumping right into the pool and immediately got to work building their own creations. It was a chance for the hubby and me to simply kick back. Wow! There are also regular activities for the kids, including games and parties, plus Master Builder competitions.
Legoland Beach Resort may be built for kids, but it has a spot for adults to unwind, too. As the kids enjoyed the adjacent sandy area by the pool, my husband and I opted for the Beach Retreat signature drink, "Fish in a Bag." I know, it sounds fishy, but if you have a sweet tooth, consider that craving met. (Careful though, it's fully loaded!)
Of course, LEGOLAND theme and water parks are the main draw! For more on what to do inside the parks, click here.
KidTripster Tip: As a Beach Retreat guest, you get to enjoy "Bonus Brick Time." That's a fun way of saying that you get into the park 30 minutes before the park officially opens.
Beach Retreat offers a great way to relax before or after your time at LEGOLAND. Use the accommodations to recharge rather than a place to play all day.
Where to eat?
The all-you-can buffet at Sandy's Castle Restaurant made life easy for our young family - that is, after we pulled the kids away from the giant LEGO sandcastle and brick-building center at the entrance. There's lots of good choices. You'll find a full breakfast of eggs, bacon, bagels, toast, sausage, and fruit. Muffins and french toast sticks were a hit. At dinner, the kids couldn't resist the tater tots. We also enjoyed the make-your-own fajitas. Breakfast is included in your stay; lunch and dinner rates apply. Cost: Youth (2 and under) Free; Youth (3 to 6) $6.84; Adults $17.11; save 20% if you book in advance.
If you're spending the day at the pool, grab a bite from Bricks Beach Bar. It offers an eclectic menu of made-to-order food including pizza. Drinks, both alcoholic and non-alcoholic, are beach-themed. We liked having the option to order food and drinks without having to pull the kids from the pool area.
Getting there
LEGOLAND Beach Retreat is across the highway from the main entrance to LEGOLAND Florida Resort, which is located about a 45-minute drive from both Tampa and Orlando.
KidTripster Tip: If you're staying in Orlando, you can take the LEGOLAND Shuttle. Know that you have to reserve your seat 24 hours in advance. Cost: $5/passenger.
While LEGOLAND theme and water parks are close, they're not exactly close enough to hoof it. Instead enjoy complimentary transportation to the park entrance. If you choose to drive, you'll get complimentary parking in the main parking lot.
KidTripster Tip: Pay $5 to upgrade your parking, and you'll enjoy a shorter walk to the entrance.
Tracy Atwood is a mom with two children, a supportive husband, and a vocal, geriatric, Siamese cat. She burns off that stay-at-home mom steam every evening in her local CrossFit gym.
This writer received a complimentary stay for the purpose of this review. However, all opinions expressed are solely her own.
Pin to Pinterest & read later