Carlsbad, California
LEGOLAND CALIFORNIA
What started with a simple interlocking brick has evolved into a major theme park, water park, and hotel for every LEGO enthusiast.
Why go?
LEGOLAND California is the perfect mecca for those who eat, sleep, and play LEGOs. It's a place where one can imagine, create, and most importantly, have fun! This resort, which includes an amusement park, water park, and aquarium, is best suited to kids, ages 10 and under. And in my opinion, it's a better value than that unnamed amusement park which sits 65 miles to the north.
Where to stay?
If you are visiting LEGOLAND California, you'll want to stay at the LEGOLAND Hotel for the full LEGO experience. After the turnstiles to the theme park lock for the day, the party continues at the resort. The hotel is broken up into five different themed rooms: Adventure, Pirate, Kingdom, Friends, and NINJAGO. If your kids fancy crowns and suits of armor, book a room on the first floor. The second floor is where the swashbucklers rest ye heads after a day's plundering. The third floor is for those ancient Egyptian tomb raiders. The few Friends rooms share the first floor and are very close to the elevators. And the new LEGO NINJAGO rooms will transport your little ninja to Asia, for sure.
KidTripster Tip: Take the elevator and prepare to bust a move! As soon as the elevator doors close, the disco ball starts spinning.
Each room sleeps five comfortably. The main room has a queen-sized bed and TV. Kids have their own sleeping area with bunk beds and a pull out trundle, in addition to their own TV. The room comes with a coffee maker, complete with coffee and hot chocolate, juice boxes, and waters, which are replenished on a daily basis. Some rooms have an adjoining door, making two rooms into one big suite for large families. Wonderful additions to the rooms include decorations made out of LEGOs, a bin of LEGOs for play, and a safe with a secret code (more on that later). My girls were most excited about the bunk beds and who would sleep on the top bunk.
The resort pool area is a highlight with a zero-entry splash area for little tykes and floating, foam blocks in the large pool, just begging to be stacked. My 5-year-old had a blast trying to build a sea-worthy raft. My 8-year-old spent time in the deeper end of the pool away from the smaller children. The resort also has a fitness room and free WiFi; resort fee $25/day.
The fun doesn't stop there; frankly, it's never-ending! Kids can embark on a scavenger hunt through the hotel. The clues lead to the combination code for the safe in your hotel room. Inside, you'll find all sort of treats! Our treasure included LEGO Mixels, LEGO magazine, and chocolate coins. Evening activities will vary but can include a magic show, dance party, and LEGO building contests. On the night we stayed, we managed to hit Jester's Jam Dance Party and the swim-in movie, LEGO Star Wars - The Movie.
Your stay at the resort includes breakfast for up to five people. When you check in, the staff will ask you what time you'd like to eat. While there may be a line, the host seats you fairly quickly. Breakfast is not continental, but rather a full breakfast buffet, so come hungry!
KidTripster Tip: Opt for breakfast either at 7 a.m. or 8 a.m. The park opens at 9 a.m. to hotel guests only; it's best to be there for the opening.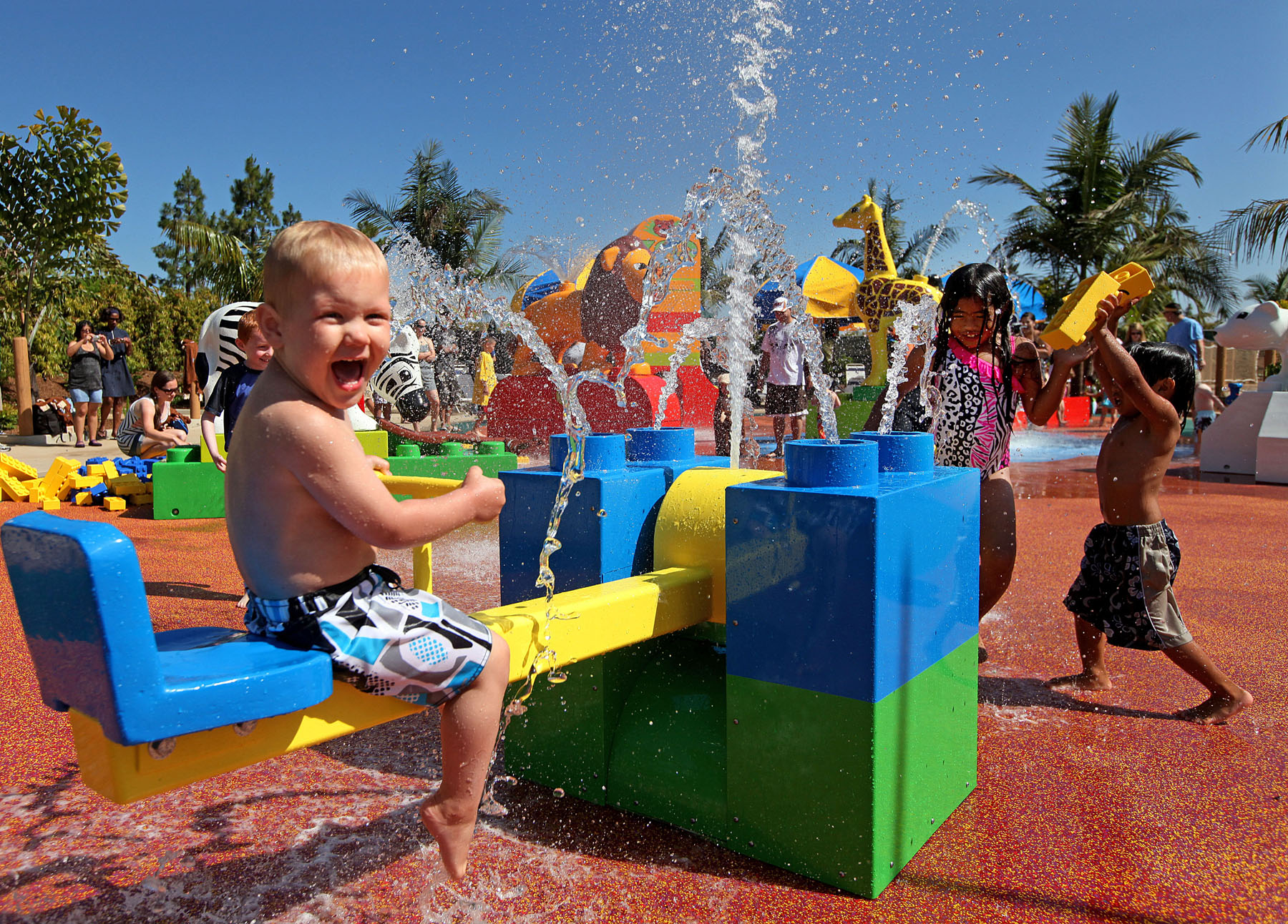 What to do?
LEGOLAND California theme park is broken up into different themes: Explorer Island, LEGO Friends Heartlake City, Fun Town, Pirate Shores, Castle Hill, Land of Adventure, Miniland USA, and its newest area, Ninjago World. You'll find the roller coasters in Castle Hill (The Dragon), Land of Adventure (LEGO Technic), and Explorer Island (Coastersaurus). For those who enjoy interactive rides, try LEGO Ninjago, where you become a Ninja warrior throwing ninja stars at assailants, or Lost Kingdom Adventure, where you battle mummies, scarabs, and skeletons. LEGOLAND has a driving school for older kids and junior driving school for littler kids, which is an oval track.
LEGOLAND has done some serious thinking about keeping kids entertained. At times, the queue for a ride can get long, but almost every ride has a waiting area for kids. It's outfitted with, you guessed it, LEGOs. It was nice not to hear the constant whining of "I'm bored" or "my feet are tired of standing," while in line.
KidTripster Tip: Lines do get long for the Safari Trek ride. Try and ride it first thing in the morning.
We thought that the girls would be bummed with the lack of girl-themed LEGOs, but frankly it didn't phase them. LEGO does target girls with the Friends Heartlake City, but to be honest, it was lackluster and felt like an afterthought. If there had been a replica of LEGO Friends Treehouse, for example, we would have spent more time there.
Miniland USA is impressive with miniature replicas of cities like Las Vegas, San Francisco, and New York City. The extreme attention to detail is stunning - from the erupting volcano at the Mirage to the cable cars on the hills of San Francisco. And for those Star Wars fans, you can snap photos next to LEGO Yoda, Darth Vader, Han Solo or R2-D2. You'll end at a LEGO Death Star. We spent a lot of time in the Star Wars area. With the popularity of Star Wars: The Force Awakens, we couldn't get the girls to move on to other areas! They love Rey and Princess Leia and enjoyed walking through the miniatures.
When you're tired of rides or Miniland USA, head to the back of the complex where you'll find the water park, which is split in two sections. The regular water park features four water slides, a splash park, and Build-a-Raft River. Like the theme park, if your little tykes are too small, there's a near duplicate area for them to explore. Heading to the Chima Water Park, be sure to check out the wave pool, Crag's Run, Cragger's Splash, and Crooler's Twist (think large play structure in water). Our favorites were the smaller water play structures with the mini-water slides. It was a perfect size for the girls and other novice swimmers. When you're done for the day, head back to the hotel or for $5, hit up a family-sized air dryer; lockers and cabanas are available for rental.
Finally, be sure to check out the SEA LIFE Aquarium, the third part to the LEGOLAND complex. Leave at least 90 minutes to walk through the two-level aquarium. While on the small side, the aquarium is impressive. You'll find LEGO divers inside the huge tank housing sharks, rays, and salt water fish; with a push of a button, the LEGO figures come to life. Upstairs you can look down into the massive 200,000 gallon tank. It's here that you can also learn more about sea life and conservation methods.
Where to eat?
Eating at LEGOLAND consists of the standard theme park fare - burgers, hot dogs, and pizza. But there are some more unusual food places; try Wok N Bowl Ramen in Heartlake City, Granny's Apple Fries in Castle Hill, and Ninja Kitchen for Vietnamese food in Ninjago World.
The LEGOLAND Hotel has two restaurants, Bricks and Skyline Lounge. Bricks is an all-you-can-eat buffet. While on the expensive side, the food will satisfy all your family's cravings. Dinner choices consist of carved meat, seafood, Mexican, salad bar, and soup to name a few. There's a middle island which caters to kids. The buffet bar sits lower to the floor and has traditional kids' favorites, like spaghetti, chicken fingers, fruit salad, macaroni and cheese, pizza, and French fries. You'll often find adults loading up their plates at this station, too!
How much?
For the LEGOLAND Hotel, you'll be spending about $270-$400/night, depending on which themed room that you choose. The Pirate and Adventure rooms are the least expensive, while the Kingdom and Friends rooms are more.
LEGOLAND California cost: Youth (3-12) $92; Adult $98; save $5/ticket by purchasing online in advance. Combo tickets including water park and aquarium cost: Youth (3-12) $116; Adult $122; save $15/ticket by purchasing online in advance; look for other online discounts.
KidTripster Tip: If you wanted to do everything - the theme park, water park, aquarium, plus time at the hotel - you'd need a minimum of two days; three days would be even better. When we went, we paid for one day and got a second day free.
Getting there
LEGOLAND is located in Carlsbad, California, about a 45-minute drive north of San Diego.
KidTripster Tip: Be sure to check the theme park schedule. LEGOLAND is closed on Tuesdays and Wednesdays, following the busy spring/summer season. Plan accordingly.
Holly Thiel lives in Portland, Oregon, with her husband and two daughters. When not traveling, she enjoys playing in the creek in their backyard with her kids.
Pin to Pinterest & read later