California
LEGOLAND California
5 Reasons why this theme park is a great fit for young kids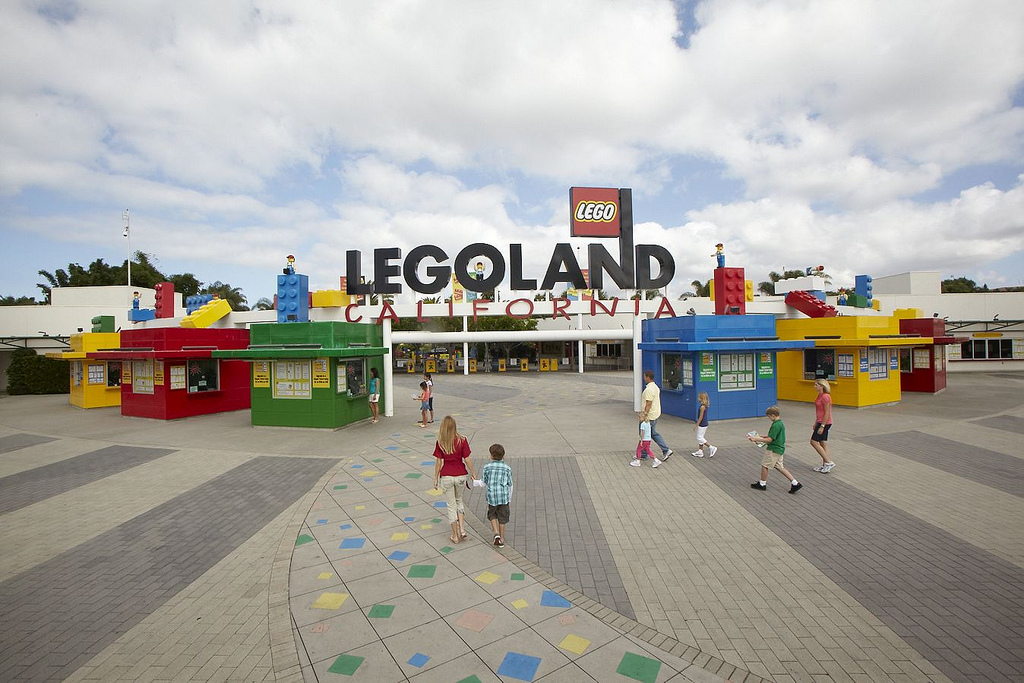 Why go?
My husband and I have two busy boys, ages 2 and 4. Usually for vacation, we swim out their energy somewhere in Southern California. This year, we decided that it was time to tackle (insert horror flick scream here) a theme park! Yes, it sounds like a nightmare, starring two small children, and it could be, but LEGOLAND California is a perfect fit for our family - like two LEGOS snapping together!
Here are 5 reasons why LEGOLAND may be perfect for your toddlers and preschoolers, too.
1/Fun Town
Fun Town has the most rides for little ones. There are two different race tracks, so kids of all sizes can have fun and even get their own driver's licenses. We loved the fire truck race where Mom, Dad, and the kids can compete against other teams to extinguish a blaze. There's even a helicopter ride that my 2-year old could control. The rides are short and the lines move quickly. Perfect.
KidTripster Tip: Be prepared to ride. The minimum height to ride alone is 42-inches; the minimum height with an adult is 34-inches for most of the rides in the park. I rode with my 2-year old on everything.
2/DUPLO Playtown
The DUPLO Playtown is a place to let the kids run wild. It's a small, contained area with LEGO houses and barns that the kids can climb and explore. Best part, it's easy to keep an eye on them, while they get all that energy out. Both boys enjoyed this part of the park immensely. There's also a small train that the kids can ride.
KidTripster Tip: Get a map, so you can know before you go. Almost every hotel or resort near LEGOLAND will have a brochure with a map that shows the areas of the park that are best suited for small kids.
3/Kid-friendly food
Several food courts are scattered throughout the park. They're actually filled with healthy food, ranging from salads to sandwich wraps to Philly cheese steaks. The kids meals are winners, too, with noodles and marinara sauce or chicken strips, a drink, and fresh fruit. Of course, you can find your hot dogs and hamburgers, as well. It's all here to satisfy your hungry munchkins.
4/The Lego Movie 4D A New Adventure
Newly opened, The LEGO Movie 4D A New Adventure is an extension of the recent blockbuster. What's 4D? It's basically 3D with real-life sensory experiences. The theater sprays a little water on the crowd, and there's a citrus smell in the air. Best part, it's a nice break in a cool place where the kids will actually sit still. It lasts about 20 minutes, so it's quick and painless, and the wait in line isn't too bad either.
5/There's an app for that!
LEGOLAND has a free app that will give you estimated ride times for every ride in the park, helping you decide where to go next or when it may be time for a snack break. This tool was invaluable when my 2-year old started spiraling. I could pick a quick ride for distraction or if wait times were too long, I could strap him in the stroller and walk through the park. MiniLand USA is a great place to stroll and check out cool LEGO brick creations.
You can do it! This amusement park really tops out at about age 10, so go now. Just put one brick in front of the other and build some beautiful memories.
KidTripster Tip: The park is big. We were there for four hours (two of which my youngest was asleep in the stroller), and we only saw half of the campus. With younger kids, it's best as a two-day affair. Plus, LEGOLAND also has SEA LIFE Aquarium and a water park on site.
Elena Picha-Buller is a former journalist who lives in Portland, Oregon, where she spends most waking hours chasing her two active sons.
This writer received complimentary admission for the purpose of this review. However, all opinions expressed are solely her own.
Pin to Pinterest & read later
Pin to Pinterest & read later