England
LONDON
KidTripster Teen: 10 must-dos for teens visiting London
Why go?
I love London. It's one of the most fun trips that my family and I have ever taken. I loved every aspect of the city; it's truly unlike any other place that I have been before. If you get the opportunity to visit, go!
Check out my top 10 favorite things to do in London.
1/Be a Beatle
I grew up listening to The Beatles; my parents are big fans. Abbey Road is one of the most famous albums by the band. On the cover, it shows the four band members walking across a real street in London, named Abbey Road. This iconic location wasn't quite as busy as I had expected, allowing my dad to take a picture of my mom, my brother, and me crossing in the same way as John, Paul, George, and Ringo did. Of course, if you're not a fan of The Beatles, you won't have quite the same experience that I had, but it will be an experience nonetheless. Plus, the architecture in this area of the city is really beautiful. Walk around and take it all in.
2/Navigate the Tube
The majority of my family's traveling in London consisted of walking and taking the Tube, which is the nickname of the underground train system. While some may find public transportation uncomfortable or unpleasant, I enjoy it. The walls of the underground tunnels are decorated with posters and British advertisements. I believe that you can discover a lot about the British culture just by looking at the walls.
KidTripster Tip: Buy an Oyster Card. It's the the most economical way to travel between city sights - either by bus or Tube. You simply load money onto the card. Youth (10 and under) ride the bus and Tube for free; use the gate entries (to the left) instead of the turnstiles that take Oyster Cards when at the subway station.
3/Be a royal watcher
Before visiting London, I had the expectation that there would be grand, regal buildings everywhere. Upon arriving, I looked. Of course, I was wrong, but Buckingham Palace came the closest to my far-fetched fantasy. It was so beautiful and detailed in every part of its architecture. I even saw the queen's guards wearing red tunics and bearskin hats on the outside! It was too busy for us to tour that day, but I can only imagine how beautiful it must be on the inside!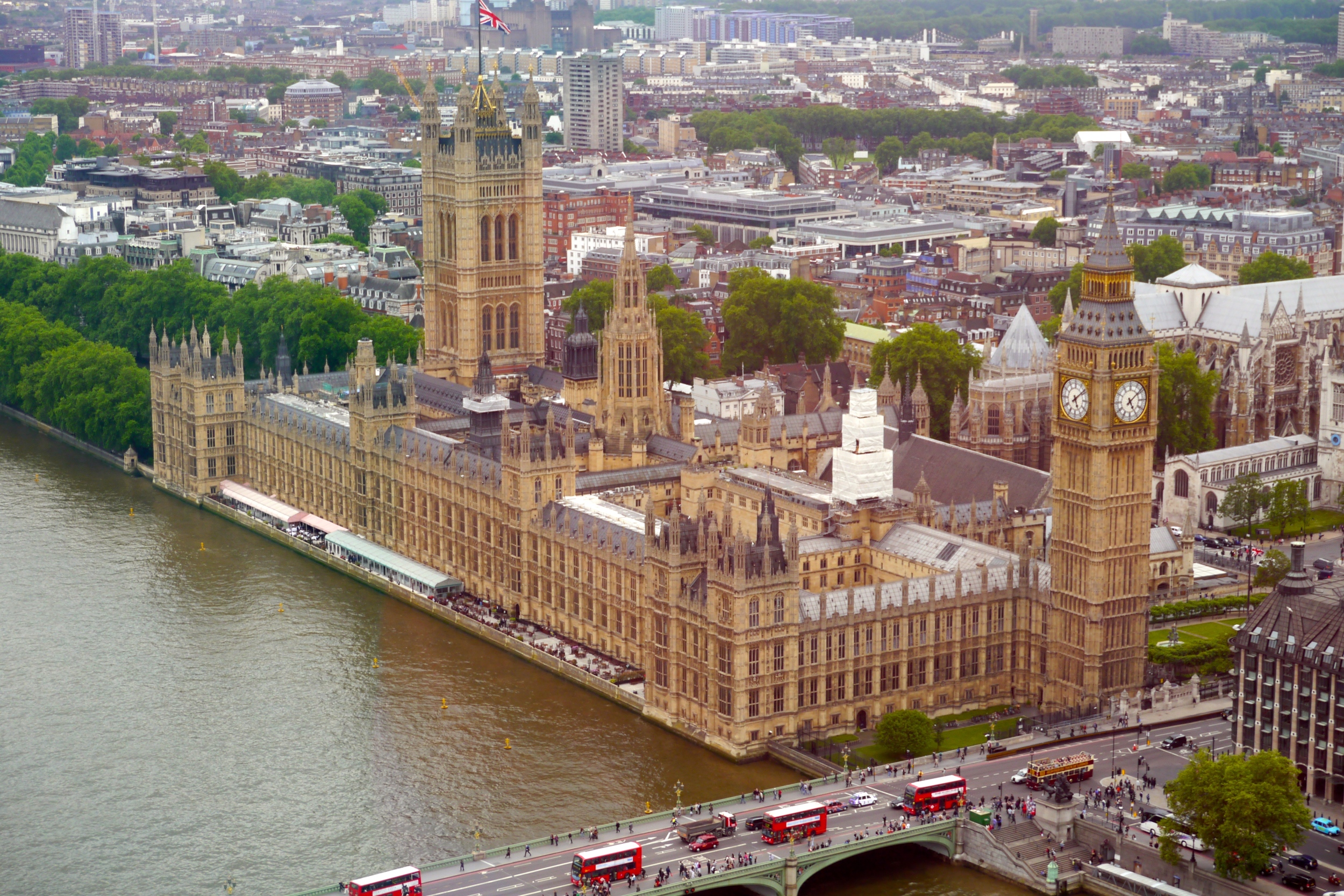 4/See Big Ben
When I think of London, the first thing that comes to mind is Big Ben, the giant clock tower. I had seen it in pictures and movies and read about it in books; it truly is the symbol of London. It's within walking distance of the London Eye ferris wheel, Buckingham Palace, and Westminster Abbey, so make sure to stop.
KidTripster Tip: You will have to admire Big Ben from a distance, as tours are only open to U.K. permanent residents.
5/Embarrass yourself
I admit that I have an obsession with Doctor Who. In fact, while I was in London, I would return to the hotel and watch an episode every night before bed. My parents were supportive and perhaps amused by my love for the British science fiction television show. They did some research and found a real TARDIS in London. (For those unfamiliar with Doctor Who, a TARDIS is a big, blue telephone booth that serves as a time machine and spacecraft in the show.) I took a reluctant picture in front of it, feeling a little insecure because of the many people around me who would recognize what a nerd I was. However, if you are a Doctor Who fan, I wouldn't pass up an opportunity to see a TARDIS in real life.
6/Board the Hogwart's Express... not!
I'm not only a fan of Doctor Who, but I'm also was a huge fan of Harry Potter. I've been reading the books and watching the movies during my entire childhood. So when I found out that my family and I would be visiting London, I knew that we had to do something related to Harry. We ended up visiting King's Cross Station, which, of course, is where Harry finds Platform 9-3/4 and then boards the train to Hogwarts School of Witchcraft and Wizardry.
KidTripster Tip: Without a train ticket, you won't be able to get on the actual platform. However outside that area, there's a replica of a trolley, where you can take a photo as you pretend to push the trolley through the wall and into the wizarding world.
KidTripster Tip: Die-hard Harry Potter fans should not miss a visit to Warner Bros. Studio Tour: The Making of Harry Potter outside London in Leavesden.
7/Shop like a Brit
Of course, London has many stores not found in the USA. One of my favorites was Boots, a pharmacy chain (like the British version of Walgreens or Rite Aid). The reason why I liked this place so much was because of all the makeup it had. There were so many brands that I had never seen! My mom and I bought some mascara, eyeliner, and eyeshadow. (My brother and I also got some British candy. Try Curly Wurly chocolate bars!)
Photo courtesy: Boots
8/Go to Westminster Abbey
Westminster Abbey was one of the most beautiful buildings that I saw on my trip. Of course, Prince William and Princess Kate were married here, which made me want to visit it even more. Upon entering, I understood why it was worthy of a royal wedding. My family and I attended a church service; however, after a long day of walking around London, I was so tired that I feel asleep in a pew!
9/Eat at Borough Market
At Borough Market, vendors sell fruits, vegetables, baked goods, and all kinds of other food. One of the best meals that I've ever had was the shrimp wrap that I got at Applebee's Fish Shop & Café. I really enjoyed my time walking around this area and would definitely recommend it to anyone visiting London.
Photo Courtesy: Borough Market
10/See a professional soccer game
I didn't go to a soccer game myself, but my brother and my dad did, and they really enjoyed themselves. My brother told me about all of the fans singing, cheering, and yelling for Arsenal (most of them intoxicated, he says). Everyone there seemed so passionate about the game. He said that is was a much different experience than watching an American soccer match.
KidTripster Tip: Make sure you don't wear the opposing team's colors.
Looking to enjoy a British tradition? Read our KidTripster Teen's 5 Favorite Spots for Tea Time in London.
Elena Martinez is a high school sophomore who travels the world with her mom, dad, and brother. She enjoys art, music, and spending time with her friends.
Need help planning at trip to London? Our friends at Ciao Bambino! specialize in luxury family travel to bucket-list destinations. Click here to find out more. If you end up booking through Ciao Bambino!, KidTripster gets some coffee money at no additional cost to you. Just wanted you to know!
Pin to Pinterest & read later