London, England
TOP 10 STAYS
Yes, it's a bit daunting! We've picked the best hotels that offer a good location & those little extras for kids.
Why go?
Yes, it's a bit daunting! There are hundreds of hotels and specialty lodging options in London, but not all of them are ideal for families. As is the case in nearly every European city, it can be challenging to find a hotel room to fit more than two or three people. That's why I've made a point of only recommending hotels that can accommodate at least four people. In addition to size, I've chosen places that offer a good location (or at least good proximity to a Tube station) and those little extras for your little ones.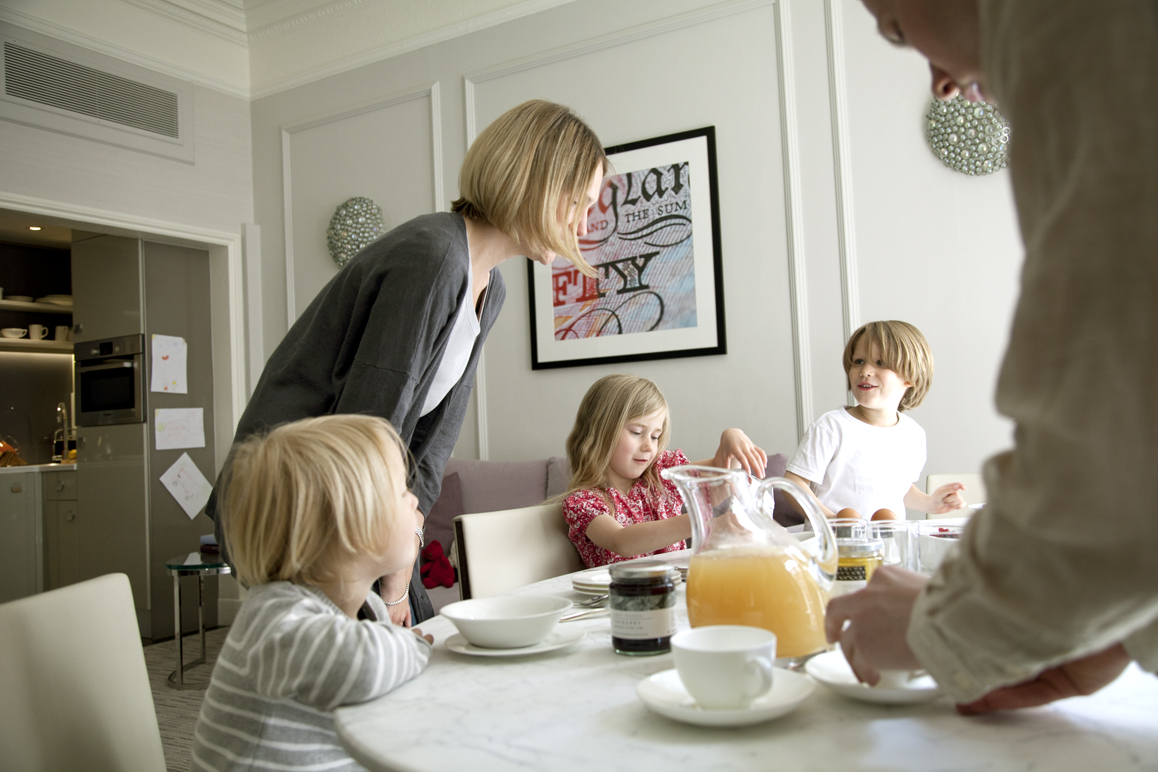 1/Athenaeum Hotel & Apartments
116 Piccadilly (Tube station: Hyde Park Corner)
It's hard to imagine a more family-friendly option than Athenaeum Hotel & Apartments. They've literally thought of everything! Apartments include a fully-equipped kitchen with washer/dryer, dining area, a sitting room with a sofa that converts to bunk beds, and a master bedroom with an en-suite bathroom, plus housekeeping service twice a day. There are connecting rooms, if you're traveling with other families. And there's more: child-sized robes, slippers, toys, books, video games, movies, popcorn, soda, and a freezer stocked with ice cream, plus milk and cookies delivered at bedtime! Borrow the hotel's bikes and kites and head to nearby Hyde Park. Kids (12 and under) eat free with a paying adult. Room for four starts at $611/night.
2/The Rubens at the Palace
39 Buckingham Palace Rd. (Tube station: Victoria)
Just opposite Buckingham Palace and the Royal Mews, The Rubens at the Palace rolls out the royal red carpet for families. Kids even fill out their own preference forms, including their favorite colors, drinks, foods, and animals, upon arrival! Families can stay in the specially-dedicated Family Wing with its ten interconnecting rooms which when combined can accommodate up to 11 people, a bonus if you're traveling with multiple families. The hotel offers a long list of baby and toddler amenities, so you don't have to pack everything. For older kids, there are robes, slippers, coloring books, interactive city maps, video and board games, plus a nightcap of milk and cookies. The hotel opens its kitchen to kids during the "Master Chef in the Art of Pastry" experience. And finally, the hotel's Director of Fun can recommend the best family-friendly activities in London, plus he'll turn you on to some lesser-known gems. Free Wi-FI. Room for four starts at $660/night.
3/Arosfa
83 Gower St. (Tube station: Goodge Street)
Located in central London's Bloomsbury neighborhood that was once home to Virginia Woolf and Charles Darwin, Arosfa is family-run bed and breakfast hotel. Rooms can accommodate up to four people. The hotel has a small garden in the backyard, where kids can burn off some energy. Complimentary full English breakfast; free Wi-Fi. Room for four starts at $259/night.
4/The Nadler Kensington
25 Courtfield Gardens (Tube station: Earl's Court)
The Nadler Kensington is a reasonably-priced (by London standards) boutique hotel located near Hyde Park, Kensington Palace and Gardens, and several museums. The deluxe room can sleep four people with a queen bed and two clever oversized chairs that fold out into twin-sized beds. There's also a mini-kitchen for preparing light meals or snacks. Breakfast is not included; free WiFi. Room for four starts at $267/night.
5/Premier Inn London Country Hall Hotel
County Hall, Belvedere Rd. (Tube station: Waterloo)
A budget option in the heart of London, London County Hall Hotel is a one-minute walk to the London Eye and a less than ten-minute walk to Big Ben and Parliament. Baby cots can be added to the spacious rooms. Kids (under 16) eat breakfast free; complimentary Wi-Fi. Room for four starts at $107/night.
6/Luna Simone Hotel
47-49 Belgrave Rd. (Tube station: Pimlico)
Set in a Victorian townhouse, Luna Simone Hotel is another option for the budget-conscious family. The family-run hotel is comfortable, homey, and well-located near tourist attractions and public transportation. Brothers Bernard and Peter are friendly and serve a complimentary and tasty English breakfast each morning; free Wi-Fi. Room for four starts at $263/night.
7/Meliá White House
Albany St. (Tube station: Great Portland Street)
Located near Regent's Park and ZSL London Zoo, Meliá White House welcomes kids with a gift and a voucher for ice cream. The spacious family room can accommodate two adults and two children (under 11) with king-sized bed and double-sized sofa bed. Breakfast included; free Wi-Fi. Room for four starts at $350/night.
8/Marlin Apartments
Various locations
Marlin Apartments operates more than 700 service apartments in London, all within a five-minute walk of public transportation. The Empire Square location sits within a quiet, modern neighborhood near the financial district and just a short walk from the amazing Borough Market, London's oldest continuously-functioning market, where food lovers of any age will be in heaven. The property is ideally set up for families with fully-equipped kitchens and washer/dryers in either the family apartments (bed + double-sized sofa bed) or 3-bedroom premier apartments. Room for four starts at $233/night.
KidTripster Tip: Be sure to take advantage of the front desk staff, who may look more like corporate receptionists, but they proved to be effective concierges, going out of their way to make arrangements and supply helpful insight.
9/B+B Belgravia
64-66 Ebury St. (Tube station: Victoria)
Situated in three Georgian townhouses, B+B Belgravia is only a short walk from Buckingham Palace. There are two family rooms (king-sized bed + two single beds) that can sleep up to four people each. Guest can borrow bikes for free. Complimentary English breakfast served every morning overlooking the back garden; free Wi-Fi. Room for four starts at $203/night.
10/Airbnb
Various locations
As is the case in other major European cities, hotel rooms in London are expensive. It's also very difficult to find a room that will accommodate a larger family. That's where websites like AirBnB can be a life saver! Look for properties where you're able to rent the entire space, whether it's a flat or house. You'll also want to be close to tourist attractions, or at the very least, a subway station.
For Top 10 Plays in London, click here.
For Top 10 Eats in London, click here.
When Editor Shellie Bailey-Shah travels with her sons to London, you can bet that her youngest will order "Spotted Dick" (steamed raisin pudding) on every restaurant menu… just because.
Pin to Pinterest & read later