Mexico
MEXICO CITY
Top 10 things to do with kids in this dynamic capital city
Why go?
Don't get me wrong, I love relaxing by the pool. But all-inclusive beach resorts won't show you or your kids what Mexico is really all about. For fun, family-friendly experiences steeped in history, art, and culture, head to lively Mexico City.
Here's a list of my family's top 10 favorites.
1/Chapultepec Park
Start at the Museo Nacionál de Antropología. This world-class museum houses the enormous Piedra del Sol (Sun Stone), often incorrectly called the Aztec calendar. Out front, watch the Voladores de Papantla, performers who spin upside-down 75 feet above you. Then cross the street and enter Chapultepec Park, home to a free zoo (with giant pandas), pony rides, paddle boat rentals, and the beautiful Chapultepec Castle, once home to royalty, presidents, and a military academy. It's also the site of the deaths of Los Niños Heroes (patriotic teenage cadets who died heroically during the Mexican-American War). There's a train to the top, but my family prefers to hike.
KidTripster Tip: If you visit in late February to mid-March, buy tickets to see the ballet Swan Lake, performed right on Chapultepec Lake.
2/Deep-fried deliciousness
Hidden in trendy Polanco (adjacent to Chapultepec Park) is a little hole-in-the-wall restaurant called Quesadillas Maria Isabel that's been a favorite of mine for twenty years. It serves deep-fried tortillas stuffed with cheese and your choice of fillings, like chorizo or squash blossoms. Top the tortillas with decadent sour cream and salsa verde at your table. My favorite combo is queso con hongos (cheese with mushrooms).
3/Hundreds of years of art, culture & history for free
Down the monument-studded Paseo de la Reforma (bike and pedestrian-only on Sunday mornings) is the Zócalo, where you can tour the oldest and largest cathedral in Latin America. In the Palacio Nacionál, where the president shouts "Viva Mexico!" on Independence Day, the walls are covered in giant Diego Rivera murals depicting Mexico's long, turbulent history. Kids will love the street performances in the plaza by barefoot dancers in authentic Aztec dress. Daily at 6 p.m., soldiers ceremoniously lower the enormous Mexican flag in the center of the square.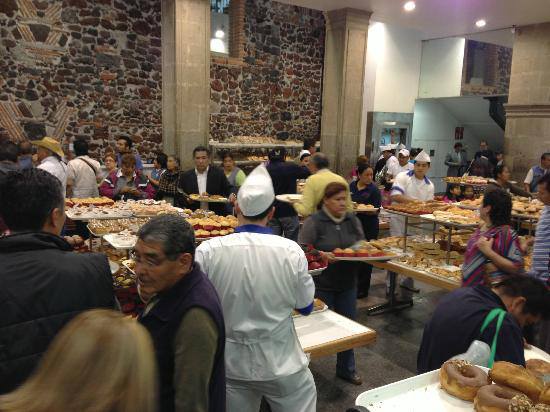 4/Cakes taller than your kid
While in the historic center, pop into the 90-year-old bakery, called Pasteleria Ideal, grab a tray, and pile it with pastries and cookies. My kids love the conchas (sweet rolls shaped like clam shells) and orejas (similar to French palmiers). But the main attraction is the second floor, filled with towering pastel-colored wedding and birthday cakes, dripping in what looks like icing stalactites.
KidTripster Tip: As with any large city, be aware of your surroundings, be discreet with your valuables, and keep a close eye on your kids. I have never once felt that my children or I were in danger while visiting Mexico City, but we stay away from seedy areas and are always cautious.
5/Spectacular dancing in a sinking palace
Buy tickets directly from the box office for the Ballet Folklorico (folk dancing, not traditional ballet) in the magnificent white marble Palacio de Bellas Artes with its famed Tiffany glass curtain. The palacio is so heavy, that over the years, it has sunk more than 12 feet into the former lakebed that is Mexico City (as has the cathedral). Across the street, the colonial, tile-covered Casa de los Azulejos is home to Sanborns, a family-friendly restaurant with English menus.
6/Tacos for breakfast? Si, por favor!
For an experience like no other and the best lamb tacos that you'll ever eat, head to the original Barbacoa el Mexiquense in the residential area of Las Arboledas. Open only on weekends (and packed with local families), this popular restaurant serves tender lamb Barbacoa that's been slow-cooked over hot stones in underground pits. Order a cup of delicious consomé or try the tacos dorados with crema and queso. My kids like buying homemade ice cream out front, which comes in traditional flavors as well as beso de angel (angel kiss) and mamey (a fruit native to Mexico and Central America). There's another location closer to the city, but it's smaller, and you won't get quite the same experience.
7/Ancient pyramids
Climb the pyramids in Teotihuacán, 30 miles northeast of Mexico City. The steps are steep, shallow, and uneven, and the climb down is scarier than the climb up. But even little kids make it to the top, and the views from the Pyramids of the Sun and Moon are worth it. Don't feel like climbing and having your legs ache the next day? Cross an item off your bucket list and fly over the pyramids in a hot air balloon!
KidTripster Tip: There's little shade at this UNESCO World Heritage Site, and even in cooler weather, the sun can be punishing. Dress appropriately, wear comfortable shoes, and bring bottled water. You can buy cold drinks and treats and haggle over unique souvenirs, but the shops are on the outside edge of the huge site.
8/Lunch in a grotto
If you work up an appetite while exploring the pyramids, try La Gruta (The Grotto), a popular restaurant inside a cave. A cave, people! How cool is that? (Pretty cool. Bring a sweater.)
9/Live like locals in Lomas de Sotelo
Shop at an open-air market called a tianguis where vendors offer samples of fresh watermelon and tostadas dipped in crema. Try tunas (cactus fruit) and queso Oaxaca (Mexican string cheese). The tianguis in Sotelo (three miles northwest of Chapultepec) is open Tuesday and Saturday mornings only. (If that doesn't fit your schedule, ask your hotel concierge for another tianguis recommendation.)
While in Lomas de Sotelo, try the tacos al pastor, gringas (flour tortilla quesadillas with al pastor meat), and a side of grilled onions from our family's favorite taco stand in the city, El Taquito de Sotelo on Av. Lomas de Sotelo, across from Sitios de Taxi 435. There's also a playground across the street.
KidTripster Tip: Sitios de taxi are official, licensed taxi stands located throughout the city. It's generally safer to order a taxi here than to hail one on the street. Ask if there's a taximetro (meter) or tarifa (set price) before getting in and carry small bills, unless you don't care about getting correct change. You also can get around by metro, bus or eco-bici (bike rental service available to anyone with a Visa or Mastercard, even tourists).
10/Fiestas on the water
Take a break from the hustle and bustle of the city and head to Xochimilco, 17 miles south of Mexico City. Hire a colorful trajinera (flat-bottomed boat) for an hour or two on the canals that once spread all over pre-hispanic Mexico City. Vendors in small canoes sell handicrafts and food like corn on the cob that's roasted in the boat. Now that's fresh! (Try it smothered with mayonnaise, chili powder, and crumbled cotija cheese. Trust me, it's delicious.) You can pay by the song to be serenaded by Mariachis (or just listen for free as they play for other trajineras). Teens and tweens will enjoy looking for the creepy Isla de las Muñecas (Island of the Dolls) or try punting with the deceptively heavy pole. Agree on a price per hour (about 350 pesos/30USD) before climbing aboard. This spot is peaceful on weekdays and festive (and crowded) on weekends, especially Sundays.
Elizabeth Ely Moreno lived in her husband's hometown of Mexico City during their honeymoon year. They've returned several times with their two boys, now teenagers.
Pin to Pinterest & read later