Kauai
MUST-DOS FOR KIDS
7 Things to do on your Hawaiian vacation in Kauai that your kids will absolutely love
Why go?
Kauai is truly a getaway unlike any other. From lush gardens and never-ending waterfalls to hikes that will literally and figuratively take your breath away to some of the best kid-friendly beaches in the country, this beautiful island has something for the whole family.
Here are my top 7 picks for families with kids.
KidTripster Tip: Trying to decide if Kauai is the right island for your family? Click here for an island-to-island comparison.
1/Waimea Canyon
Nicknamed the "Grand Canyon of the Pacific," the views of the cliffs and ocean that you'll see at Waimea Canyon are truly stunning. You can drive the scenic route and pull over at the lookouts to take in the Napali Coast and too many waterfalls to count. If you're up for hiking, my family's favorite hike is the Alakai Swamp Trail. This trail takes you through some beautiful scenery to a boardwalk that runs through the highest elevation swampland in the world - the Alakai Swamp. When the weather is right, the views from the end of the trail are nothing short of amazing!
KidTripster Tip: You may be tempted to take one of the large inflatable raft tours along the Napali Coast. Know that these rides can be both long and rough - so rough that you may be worried that you or your kids will bounce right out of the boat! I'd only consider this kind of tour for older teens.
Photo courtesy: GoHawaii.com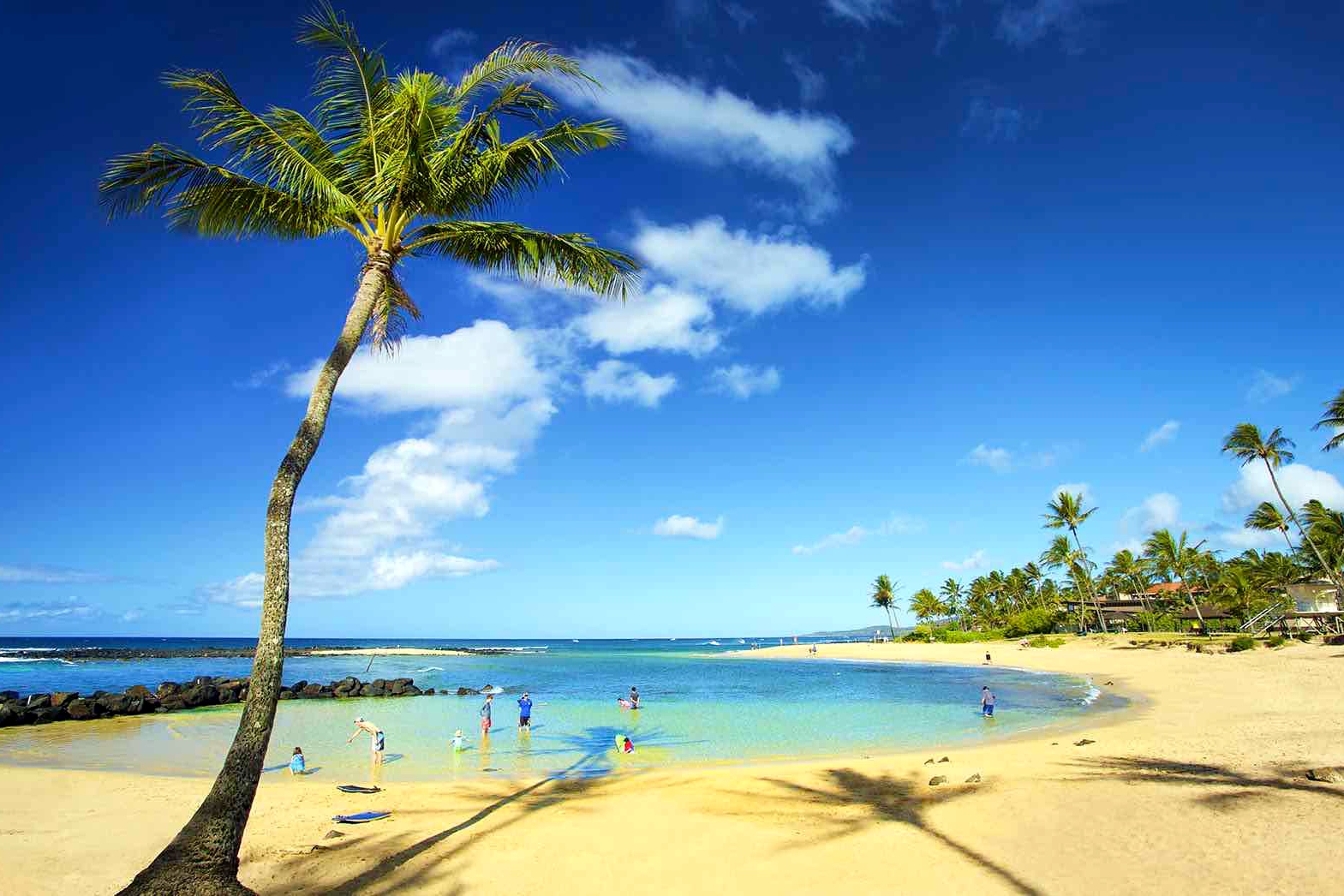 2/Poipu Beach
Poipu Beach is my favorite beach on all of Kauai. Every time we visit, we see Hawaiian monk seals and sea turtles lazing on the sand. There's a wonderful keiki (child) beach on one end of this stretch that is surrounded by lava rock, which makes for a perfect wading pool for kiddos who can't yet swim. A little farther down the beach, there's an ideal spot for snorkeling with a reef that keeps the water fairly calm. My two boys, ages 7 and 11, love snorkeling here. There are restrooms, outdoor showers, picnic areas with grills, and lifeguards on duty. Pack a picnic and make a day of it!
Photo courtesy: GoHawaii.com
3/Tubing
Kauai Backcountry Adventure needs to be on the top of your "to do" list while visiting Kauai. The company has exclusive access to the historic irrigation system on the former Lihue Plantation. This ditch and tunnel system was built by hand in the 1870s to irrigate the sugar crops grown on the island but sat unused starting in 2000 when sugar was taken out of production. In 2003, Kauai Backcountry opened a section for tubing tours. This water system runs through some of the most beautiful and remote land on the entire island.
Our guided tour was such fun! Our guides were funny, informative, and made my 7-year-old feel so comfortable on his own tube that he didn't want the fun to end. The tour also includes a picnic lunch. This tour is perfect for kids, ages 5 and up. I can't recommend this adventure enough. It's worth every penny that you'll spend. Cost: $116/person.
KidTripster Tip: Grab the flyer at the front check-in desk of all the staff's favorite places to eat. You'd only learn about many of these restaurants and food trucks from locals.
For KidTripster's Top 10 Eats for families in Kauai, click here.
4/Ke'e Beach
After the massive rains and mudslides of 2018, Ke'e Beach was closed because the road between Princeville and the beach had to be repaired. This was a blessing in disguise because it gave the reef more than 18 months to recover. Now the fish and other marine life are so plentiful that you'll be blown away.
Ke'e is one of the more popular beaches on the north shore and is located at the end of the highway. It's also at the start of the Kalalau Trail, which means the parking lot fills up quickly and early in the morning. The snorkeling in the summer is good when the ocean is calm. During the winter, this beach is unswimmable because of the large swells that the north shore experiences during these months.
KidTripster Tip: Make sure to note the channel in the reef. There's the possibility of strong currents - even in totally calm conditions - in this channel. Any water flowing over the reef - whether from waves or tidal changes - has to flow back out, and it does so via this channel. A life guard is on duty at Ke'e from 9 a.m. to 5 p.m. daily. It's best to only swim here with supervision. And by all means, keep an eye on your kids.
Photo courtesy: Hawaii Division of State Parks
5/Visit Spouting Horn
My son's favorite thing to do when we visit Kauai is visit Spouting Horn. (I'm pretty sure that he also likes walking through the flea market on the pathway to Spouting Horn. He always seems to talk me into buying him a souvenir!) Spouting Horn is a natural blowhole located on the south side of the island. The Poipu surf tunnels into a natural lava tube here and releases a huge spout of water during large swells. According to Hawaiian legend, the hissing noise that occurs is said to be the Kaikapu lizard who guards the coastline.
Photo courtesy: Dallas Nagata/GoHawaii.com
6/Wailua Falls
Wailua Falls is a little off the beaten path. Located at the south end of the Wailua River near Lihue, it cascades into two streams, dropping 173 feet. If these falls look familiar, that's because they were in the opening credits of the long-running television show Fantasy Island. Wailua Falls can be seen from the road, so no need to put on your hiking boots.
Photo courtesy: Damon Moss/GoHawaii.com
7/Princeville Ranch Adventures
Where do I even begin with this day of adventure? There are many tours to choose from at Princeville Ranch. Our family chose the 4-1/2-hour Jungle Valley Adventure. Our guided tour at this working ranch started with a short hike where we got to see stunning Hanalei mountain views. The hike ends at the ranch's private mountain stream where we hopped into kayaks for a peaceful and easy paddle. We then hiked again, ending up at a spectacular fern-lined valley where we got to experience two fast and fun ziplines. My 7-year-old passed on this adventure, but my 11-year-old was all in. It was not only fun but incredibly beautiful! After the zipline, we hiked down to a private swimming hole with a small waterfall. My husband and I jumped into inner tubes, and the boys jumped off the platform into the water below too many times to count. Yes, even this mom jumped off… once! Then our guides provided a wonderful picnic lunch. After lunch, we hiked back and then paddled downstream as our guides taught us about the flora and fauna on the island. To this day, my boys are still talking about this tour, calling it the "best day ever on Kauai!" Cost: Youth (5-11) $129; Adult $159.
Journalist Gemma Gaudette didn't realize how adventurous she was until she had two boys. Her boys and husband constantly keep her on her toes as she plans what family adventure they'll tackle next.
This writer received some complimentary activities for the purpose of this review. However, all opinions expressed are solely her own.
Photo courtesy: Princeville Ranch Adventures
Pin to Pinterest & read later