Maui
NAPILI KAI BEACH RESORT
Discover this deluxe resort for those seeking to experience a more traditional Hawaiian vacation.
Why go?
In stark contrast to Maui's bustling high-rise resorts, Napili Kai Beach Resort is a relaxing, tropical escape to the Hawaii of your dreams. At Napili Kai, 96% of the rooms have an ocean view. And what a view it is! Napili Kai surrounds a crescent-shaped, reef-protected beach with stunning views of nearby islands of Lāna'i and Moloka'i. Here sea turtles swim alongside snorkelers and the sweet smell of the plumeria flower fills the air.
The resort has everything that we could want in a Hawaiian getaway: a soft sandy beach on a calm bay, luxurious accommodations, a fabulous restaurant serving sea-to-table cuisine, unique Hawaiian cultural programs, and the ability to whale watch from your private lanai. Aloha!
Photo courtesy: Doug Peebles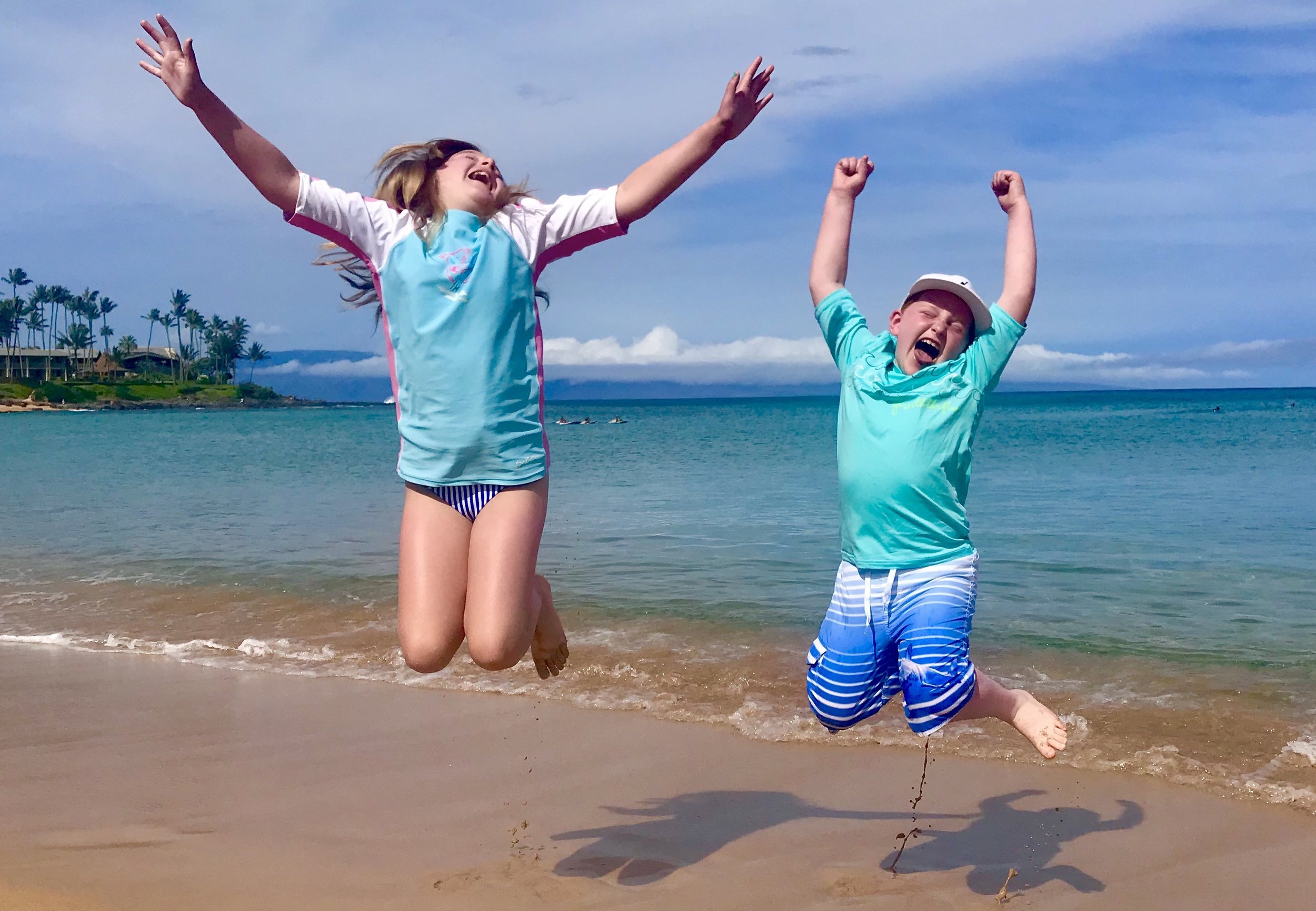 What to do?
Since the beach is the star at Napili Kai Beach Resort, my family and I headed straight for the sand. This resort makes it easy to gear up; beach towels, chairs, coolers, snorkels, and masks are free for guests to use. Napili Kai will arrange for boogie board ($14.99/day or $35.99/week) and paddle board ($59/day) rentals, too. Both are popular activities here due to the typically calm water. Since we were newbies to stand-up paddle boarding, my husband tried it first - without falling, I might add. Then he took both of our skittish kids, ages 8 and 10, out for a ride. Sitting on the board while Dad paddled, they explored the reef and spotted tropical fish and sea turtles in their natural habitat. Once they were back on shore, I had gathered up enough courage to try it myself. Turns out, there was nothing to be scared of! I paddled out on my knees and soon stood up, cruised around Napili Bay, waved to my family watching from the beach, and returned to shore with nary a drop of water on my swimsuit. And then something interesting happened. Our nervous daughters, who had just witnessed me conquer my fears, suddenly were determined to stand up on the paddle board, too!
KidTripster Tip: Start your beach day by 9 a.m. The water is calmer with little to no breeze. You'll have the beach almost to yourself, and the sun is less intense.
KidTripster Tip: An important note about sunscreen: recent studies have shown that several common sunscreen ingredients (oxybenzones) kill coral reefs. Hawaii is set to become the first state to ban such sunscreens. So before you travel, buy reef-safe sunscreens. Both Napili Kai and Hawaiian Airlines hand out free samples of the Raw Elements brand. And learn from our mistake - reapply often to avoid sunburn!
Napili Kai also has four swimming pools, a couple of whirlpools, a boutique spa, two 18-hole putting greens (putters are provided), and shuffleboard courts; golf and tennis is nearby.
A highlight of our stay at Napili Kai was the Keiki Hula Show, the longest running children's hula show in Hawaii. Since 1966, the Napili Kai Foundation has preserved Hawaiian culture by teaching Maui's children songs, dances, language, and history. They perform a delightful hula show with a live band every Tuesday evening in the resort's pavilion; it's free to resort guests. They even invite visiting kids on stage to learn the hula during the performance. My kids loved dancing and wearing real flower leis, which can be purchased for a modest fee before the show.
Napili Kai's Keiki Kids' Club is offered mid-June to mid-August and during the Thanksgiving and Christmas holidays; it's complimentary to guests. Children (ages 6 to 10) can learn the hula, golf on the putting green, make a lei, watch a movie, run an obstacle course, build a sandcastle or do arts and crafts.
KidTripster Tip: Try to attend the 10 a.m. coffee demonstration and raffle at the Beach Cabana to learn more about the culture of the islands with palm frond weaving, coconut husking, poi making and tasting, and ti leaf history.
I'm always surprised by what my kids think is cool. Turns out, their favorite activity at Napili Kai was endlessly exploring along the rocky pathways by the shore where lizards scatter with each step that you take, flowers drop from the trees like raindrops, and the resort's adopted cats mew and might, just might, allow you to pet them. This is what they'll remember about Maui. As I discovered, the best way to experience Hawaii is to simply let Hawaii happen.
Where to stay?
Napili Kai Beach Resort's 163 hotel rooms, studios, and 1- and 2-bedroom suites are located in 11 low-rise, plantation-style buildings connected by pathways that meander through the resort's extraordinarily lush grounds full of plumeria, orchids, palm trees, and over 60 colorful varieties of hibiscus. All rooms, recently renovated and decorated in elegant Hawaiian decor, have private lanais and most have kitchenettes.
Our spacious, oceanview, 1-bedroom suite in the Puna 2 building was fabulous! There was a fully-equipped kitchen, dining table, two full bathrooms, and twin beds for each of my kids. My husband and I even could see the ocean (and hear the waves) from our king-sized bed in the living area. The wonderful lanai, overlooking a small swimming pool and the black lava rocks along the shore, was where we spent most of our time in the suite. We watched the sunset over the ocean, looked for whales and sea turtles, and were even greeted by a morning rainbow.

KidTripster Tip: Some buildings have multiple, adjoining rooms and/or studios and adjoining lanais; these layouts are great for multi-generational travelers. Napili Kai even has special Family Reunion rates.
Napili Kai's philosophy? "We don't nickel-and-dime our guests." Parking is free, Wi-Fi is free, kids (ages 12 and under) eat free in the resort's Sea House Restaurant, and there is no resort fee, which is rare on Maui. Each morning, guests enjoy complimentary coffee, iced tea, lemonade, and fresh pineapple at the Beach Cabana. The resort also offers free activities such as putting parties, mai tais by the pool, cultural presentations, and a horticultural tour of the property. Again, the key word here is free.
Fun fact: In the Hawaiian language, Napili Kai means the joining of a crescent of sand and the sea.

Hotel rooms start at $335/night, family studios run $400/night, and 1-bedroom, oceanview suites start at $675/night.
Photo courtesy: David Watersun
Where to eat?
Napili Kai has one on-site restaurant serving excellent food all day. The award-winning, open-air Sea House Restaurant is located at the water's edge with stunning ocean views. Renowned chef, Alex Stanislaw, recognized as "Best Chef on Maui," has appeared on TV shows such as the Rachael Ray Show and Great Chefs. He's even known to visit with guests at their tables to explain how he prepared their meals. Chef Stanislaw sources produce from local farmers; the fresh fruit, vegetables, and goat cheese, for example, are all from Maui, and the seafood comes from the surrounding waters.
Our family's spectacular dinner at Sea House began with superb coconut shrimp with Thai chili sauce and a caprese salad with ripe Haiku tomatoes, fresh mozzarella, and local basil. The restaurant's Pacific Rim-style cuisine is on full display with a menu certified to be ecologically responsible through sustainable fishing practices. I ordered the evening's fish special: locally-caught Opakapaka, a light and delicate Hawaiian pink snapper, on top of shrimp fried rice with local non-GMO papaya, sweet Maui onion, and a delicious beurre blanc and sweet soy drizzle. The exquisite entrée paired well with my glass of Sonoma-Cutrer chardonnay. My husband enjoyed tasting the variety of Hawaiian craft beers on the menu.
Breakfast and lunch are equally special at Sea House, where everything is fresh, the portions are generous, and the waitstaff is professional and gracious. For breakfast, I enjoyed the unique and delicious Molokai sweet potato frittata and POG (passionfruit/orange/guava) juice. At lunchtime, I recommend the crispy crab avocado sushi and the beautiful chicken papaya salad. And nothing says, "I'm on vacation," like sipping a Blue Hawaii cocktail with lunch!
KidTripster Tip: Kids (ages 12 and under) staying at Napili Kai eat free at Sea House. The keiki menu at lunch and dinner includes grilled mahi-mahi, chicken tenders, pasta with red sauce, cheeseburger, and grilled chicken breast. My daughters also shared the restaurant's huge, homemade, macadamia nut cinnamon roll from the main breakfast menu.
A much more casual option during the day is the Makai Hale snack bar at Napili Kai's main swimming pool and just a few yards from the beach. There's a good variety of coffee drinks, muffins, croissants, shave ice, smoothies, ice cream, pizzas, hot dogs, chicken wings, nachos, and more. I recommend the refreshing açai bowl with fresh fruit, granola, and macadamia nuts!
Because our suite had a kitchen, we made a trip to the grocery store to have food on hand in the room, but we also visited a couple of very good nearby restaurants.
Maui Brewing Company, Hawaii's largest craft brewery, has two popular restaurants on Maui: one in the Kahana Gateway Center (2-1/2 miles from Napili Kai) and a second location in Kīhei. The handcrafted beers such as the Bikini Blonde Lager and Coconut Hiwa Porter are tasty, and the flavorful food was a pleasant surprise. The large menu full of fresh local ingredients includes interesting small plates, salads, flatbreads, sandwiches, burgers, fish, and a great Hawaiian-style "Pub Plate" made up of Kalua pork, white rice, and ulu macaroni salad. The seared ahi cobb salad is outstanding. But be forewarned: the housemade, wasabi-cilantro vinaigrette has a delicious kick!
Our family is crazy about sushi. Lucky for us, we found the freshest sushi on the island at nearby Miso Phat. The owners also captain the Shiso Phat boat that provides fresh fish for both its restaurants, one in Kahana and the other in Kīhei. The Kahana location is casual and cozy with a handful of tables and a sushi bar. The staff is upbeat and efficient. We devoured Miso Pretty (rainbow) rolls and yellowtail and snapper nigiri that was among the freshest, most delicious sushi that we have ever had! We even returned the next day to buy the cool Miso Phat hats and t-shirts as souvenirs.
Photo courtesy: David Watersun
Getting there
We got into the aloha spirit immediately by flying Hawaiian Airlines, one of 10 airlines with service into Maui's primary airport, Kahului Airport (OGG).
Napili Kai Beach Resort in West Maui is a one-hour drive from the airport. If renting a car, make sure that you take the southern route, Highway 30, using the new Lahaina Bypass and not the northern route around the remote Kahakuloa side of the island, which seems shorter on a map but isn't. That route is full of hairpin curves and one-lane sections and isn't recommended.
KidTripster Tip: Napili Kai Beach Resort's address is Lahaina, but it's actually located ten miles north of Lahaina Town on Napili Bay, adjacent to Kapalua.
With so much to see and do on Maui, the second largest of the Hawaiian islands, I suggest renting a car or Jeep during your stay so you can fully explore. Aloha!
Wendy Thies Sell is a journalist, writer, and emcee raising her family on California's Central Coast, the ideal setting for her love of wine and waves.
Photo courtesy: Douglas Peebles
This writer received a complimentary stay for the purpose of this review. However, all opinions expressed are solely her own.
Pin to Pinterest & read later