Foxborough, Massachusetts
NORMANDY FARMS FAMILY CAMPING RESORT
This camping resort actually lives up to its name with more activities than many 5-star hotels.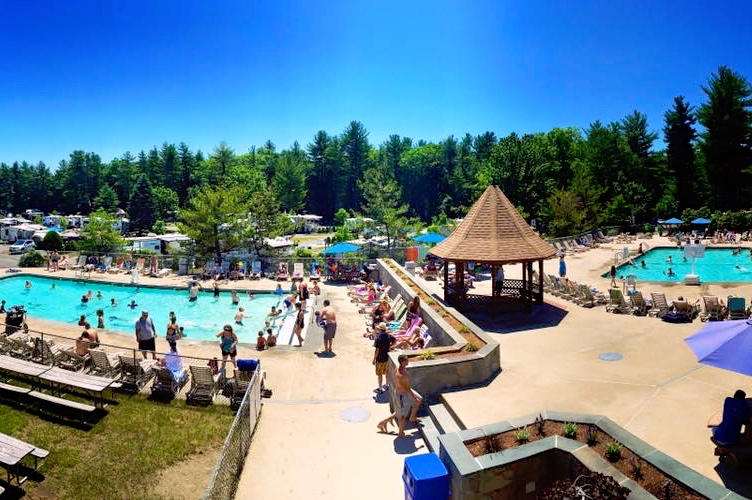 Why go?
I admit to having been skeptical. My family and I have been RV camping since 2007; we've stayed at nearly a hundred RV parks, many of which have falsely billed themselves as "resorts." But I can honestly say that Normandy Farms Family Camping Resort is in a league of its own. On this particular cross-country trip, we chose this park because of its proximity to Boston and close access to the commuter train. We had no idea that Normandy Farms was a destination for families in its own right. In fact, our family had planned to spend all our time in Boston; but when we experienced some mechanical difficulties with our RV and my husband stayed behind to meet with a mechanic, my younger son opted to stay behind as well, just so he could take advantage of the park's long list of offerings. In fact, the park's guide, which you receive upon arrival, is more extensive than some national parks!
Where to stay?
As nearly every place in New England does, Normandy Farms has a history that dates back hundreds of years. Francis Daniels, a French soldier who was captured by a colonial privateer and then sold as an indentured servant, purchased what is now known as Normandy Farms in 1759. While the working farm was eventually transformed into a year-round campground, it has remained in the family. The park is managed by 7th, 8th, and 9th generations of the Daniels family!
At over 100 acres, Normandy Farms is immense. In addition to tent and RV sites, the park rents safari tents, lean-tos, pop-up trailers, yurts, and cabins. Sections of the park can be a little tight; if you're driving a large rig, I'd recommend requesting D-H sites which are pull-thrus and near the recreation lodge and pools. Back-in sites along the softball field also are spacious; those are designated as B sites. Tents sites start at $37; full hook-ups sites start at $62. Rates are higher during summer peak season, weekends, and holidays.
Though we didn't use the bathhouses, they are impeccably clean! Every time I looked in that direction, I saw one of the many park employees cleaning the facilities. The same goes for the park's other facilities - clean and well-maintained.
KidTripster Tip: As you may imagine with a park of this size, there's a fair number of rules. My kids' least favorite? All children (ages 3 to 17) have to wear wristbands during their stay to access the pools, bike park, and recreation events. In addition, there's a manned gate, where you need to use an access code to enter the park. If you have people visiting you, they'll be charged a visitor fee of $12/person/day.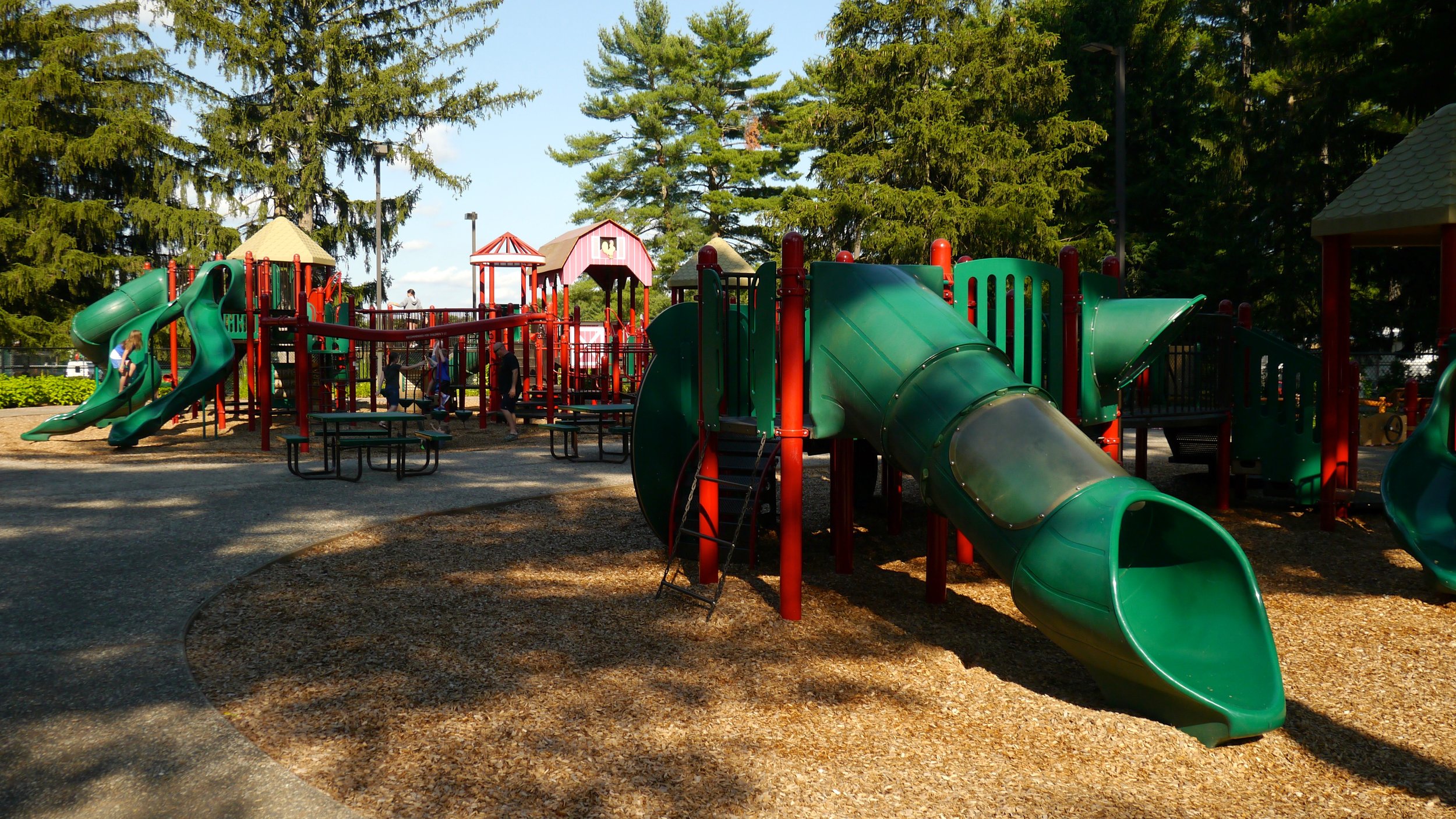 What to do?
Where to begin? I'll start with where my kids always head first - the pool. At this park, there are four large pools: one near the entrance gate, one inside the recreation lodge, and two outside the lodge. Yes, during the summer, these pools are busy, but my kids never seem to mind.
Inside the 20,000-square-foot lodge, you'll find a kids-only and an adults-only loft with games and billiards. On the first floor, an arcade features air hockey, pinball machines, and video games. There's a ping pong room, where you can borrow paddles, but you have to pay for balls. And during the evening, there are scheduled activities like dance parties with a DJ. One night, the park hosted country line dancing, complete with an instructor.
Now we move to the long list of sports activities at the park. There are fields/courts/pits for basketball, soccer, softball, beach volleyball, bocce, shuffleboard, and horseshoes. There's a full 18-hole disc golf course in a wooded area, two well-equipped playgrounds, dog park (pet-walking services for a fee), and nature trails. But my sons' favorite was the awesome bike park, complete with a jump line, pump track, and skills area. All these amenities are included in the cost of your stay.
We're not done yet! Like camp, Normandy Farms offers daily, programmed activities for the kids such as arts and crafts, parachute play for little ones, candy bar bingo, dodgeball, capture the flag, scavenger hunts, movie nights, and more. For the adults, there's yoga, zumba, water zumba, poker tournaments, and happy hours. (Some activities have a small fee.) And to top it all off, the Wellness Center offers Swedish and deep tissue massages! When's the last time that you had a massage while camping?!
KidTripster Tip: Normandy Farms has special seasonal offerings for holidays like Halloween, Easter, and Thanksgiving, too.
Where to eat?
Granted, when you're camping - even "camping lite," as I like to call RVing - you expect to do most of your own cooking. However, the park does have a snack bar, so take a night off! Kamper's Kitchen serves breakfast, lunch, and dinner plus ice cream and snacks. The food isn't anything to write home about, but it's a nice alternative to cooking.
Getting there
Located in Foxborough (also spelled Foxboro), Normandy Farms is one of the closest campgrounds to Boston, and I dare say, the nicest. It's 34 miles from downtown Boston and 25 miles from Providence, Rhode Island.
Instead of driving into Boston, opt for the MBTA commuter rail line, which is 3 miles from the park. You can ride north from Mansfield Station to South Station in Boston and then access the city's subway system, called "the T." Take the commuter rail south to Providence.
To get from the campground to the train station, we used Uber, as there's no parking for RVs. Less expensive than a taxi, an Uber ride will run you about $10-15/one way.
Our friends over at RVFTA's Campground of the Week podcast also recommend this park. Check out what they have to say here.
Editor Shellie Bailey-Shah travels to state and national parks with her husband and two sons. She's logged thousands of miles behind the wheel of the family's RV.
Looking to get out into the Great Outdoors? Consider renting an RV or camper with our friends at Outdoorsy. It's the Airbnb of RVs, matching RV owners with would-be renters. Use this link and get an extra $50 off your booking just for being a KidTripster fan! In addition, KidTripster will get some coffee money from Outdoorsy at no cost to you.
Pin to Pinterest & read later