At sea
ROYAL CARIBBEAN FOR FAMILIES
Top 10 reasons to cruise with Royal Caribbean
Why go?
With more than a dozen cruises on different lines under my belt, Royal Caribbean International is my go-to cruise company when planning a family holiday. It offers sophistication for parents, ample activities for teens, and engaging youth programs for junior cruisers. It has the perfect combination of party atmosphere, family togetherness, and relaxation - all without breaking the bank.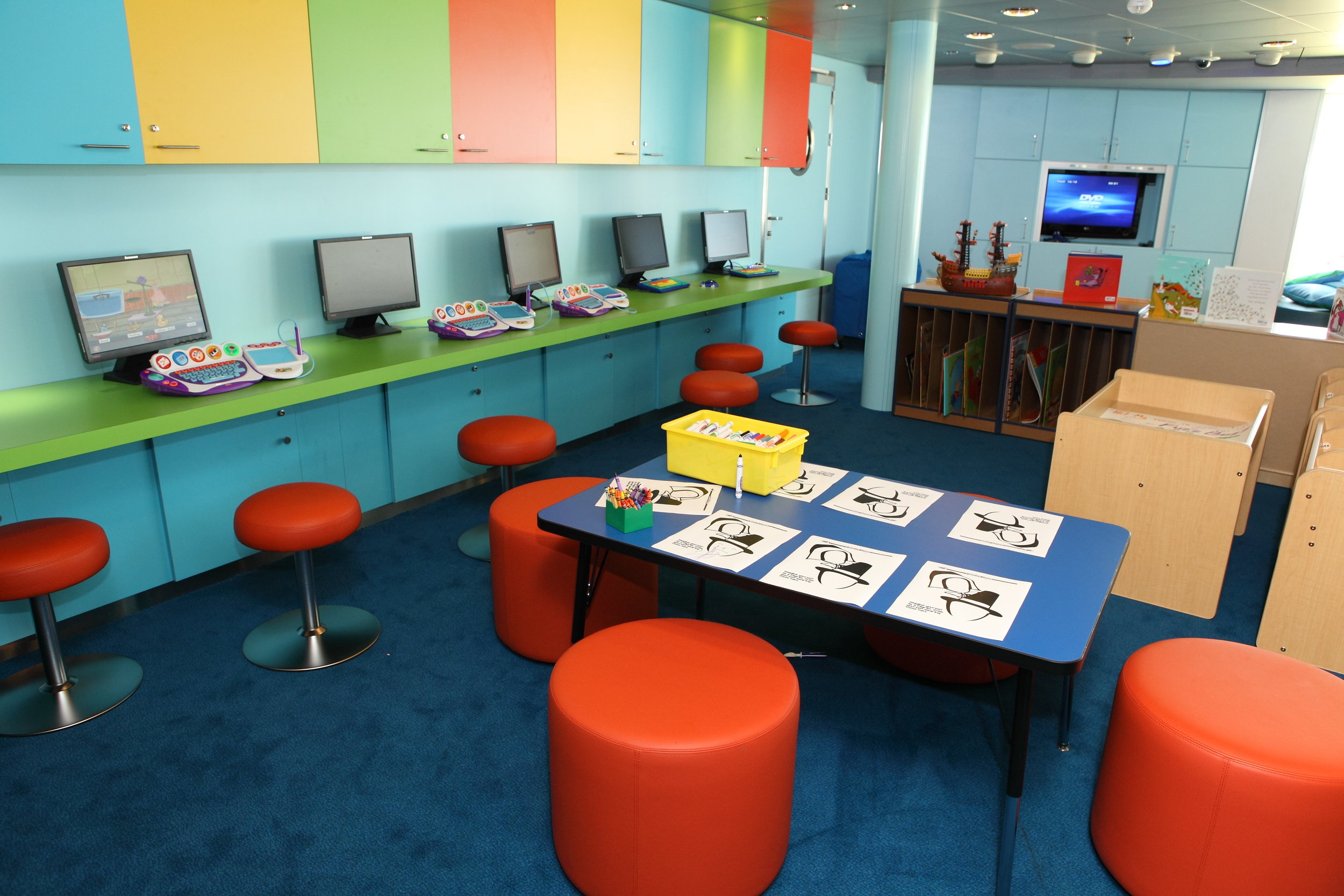 1/Extensive kids' programming
Royal Caribbean has an extensive children's program, ranging from 6 months to 17 years. The youth program, Adventure Ocean, is divided into three groups: Aquanauts (ages 3-5), Explorers (ages 6-8), and Voyagers (ages 9-11). Each group has age-appropriate activities ranging from science experiments, sports, and games. Adventure Ocean is available on sea and port days.
My daughters are always itching to go to Adventure Ocean from the moment that they step on board the ship. They love the youth staff and their creative names such as Jenga and Potato. Games are their favorite; the newest game is Doctor Dodgeball played with a hula hoop and a swim noodle. (Who knew?!) They also like meeting new friends to pal around with at lunch and on the pool deck.
Teens and tweens revel in their own hang out area and dance club on board. Some teen perks include designated times on the FlowRider and rock climbing wall. Just read the Cruise Compass for times and locations.
KidTripster Tip: Royal Caribbean became the first autism-friendly cruise line, offering special cruises, activities, and specially-trained staff.
2/Meals with families in mind
Whether you're eating a meal in the main dining room, buffet or specialized restaurant, you're treated like royalty on Royal Caribbean. If you don't see anything on the menu that tantalizes your taste buds, just ask your waiter to modify an entrée. My youngest daughter is picky and wanted garlic shrimp tacos. So much to her delight, the chef made her tacos with just three ingredients: shrimp, garlic, and tortillas.
KidTripster Tip: Royal Caribbean has something called My Family Time Dining. Do it! Children have dinner with their parents in the main dining room before being whisked away for a night of fun activities. Kids get expedited table service before meeting the Adventure Ocean team that picks them up. My husband and I enjoyed many quiet, relaxing nights over desserts and after-dinner drinks sans kids.
3/Water time on board
Both my kids and I appreciated that the pools and spas are filled with desalinated water, which is not the case on all cruise ships. The pool deck area is spacious, so cruisers are able to get around more easily. Certified lifeguards are always on duty when the pools are open, and life jackets are available for free. I also appreciated the numerous pool attendants constantly sweeping excess water off the pool deck to help avoid nasty spills.
My daughters love the current pool. It's a small pool compared to all the others on board where water is propelled around by strong jets. They love floating in circles or trying to swim against the flow. Another favorite is the H2O Zone, where water guns and colorful fountains spew out water, drenching the kids.
If you have tweens and teens, they'll likely gravitate to the FlowRider, a surf simulator. It's not easy to surf or boogie board, but we saw plenty of older kids and adults up to the challenge.
4/Royal Caribbean's private beaches
We loved Royal Caribbean's private beaches on CocoCay in the Bahamas and Labadee in Haiti. The beaches are calm, clean, and free from peddlers. Our girls loved just hanging, building sandcastles and riding the waves. For those who don't want to simply lounge, adventure awaits in the form of ziplines, parasailing, 300-foot water slides, and a splash pad. Be prepared to pay extra. Cost: Slide $23.75; Zipline $95.75; Parasailing $85.75. These adrenaline rides and more can be reserved pre-cruise, on the cruise or on the beach itself.
5/Luxurious veranda staterooms
We've been on lots of cruises, and we prefer the veranda staterooms on Royal Caribbean. They are very spacious and deep. Two chairs and a table can fit on the balcony with room to still walk around. As a family of four, having a veranda gives us that extra living space that we really appreciate. It's also a great spot to whale watch and look for other marine life. On our most recent cruise, we saw huge jellyfish!
6/Crown & Anchor Society
The Crown & Anchor Society is Royal Caribbean's loyalty program. Your benefits depend on your tier. We are Diamond members, so we get access to a private lounge, priority seating, discounts on VOOM internet, and more. After your child's first cruise, he or she is immediately bumped up to your status tier. Benefits for kids include commemorative gifts and arcade credits.
One special perk that we enjoy? The daily social hour between 4:30pm and 8pm. Diamond members get three free drinks which can be ordered at most bars around the ship.
7/Unexpected activities at sea
For my family, the ship is the destination. Royal Caribbean has done an exceptional job in designing cruise ships that will excite everyone. In fact, there's so much to do, that even after a week, we ran out of time to try everything.
Every ship has a rock climbing wall, and some ships even have two! My girls got harnessed up and took turns scaling the wall, eager to ring the bell at the top. The rock wall has different climbing levels, so each climb can be different.
If you're traveling on Oasis or Allure of the Seas, take a spin on the full-sized carousel. Inspired by beach boardwalks, cruisers can saddle up on one of 18 different animals. It's amazing how the carousel was constructed, as it can still work at a 5-degree tilt, which may happen as the ship rocks back and forth. My 7-year old daughter was in complete awe that a carousel was on a ship. It was the first thing that she did, as well as the second!
Ice skating on the high seas? Yes, on most of the bigger ships, there's an ice skating rink. You'll find out, as my kids did, that skating is not easy... and it's even harder on a rocking boat.
On Oasis of the Seas, I got to check off a box on my bucket list. I rode the 82-foot-long zipline eight floors above the Boardwalk in the middle of the Caribbean Sea. While the ride was short, the memory was lasting. And you can go again and again.
If you rather watch high flying than do it yourself, take a seat at the Aqua Theater, where acrobats, high divers, and synchronized swimmers will wow you. Choreographed to music, divers plunge 55 feet into a pool, right before your eyes.
Kidtripster Tip: Download the Royal Caribbean app, so you can plan your adventures on the ship. Times of activities, shows, and more are at your finger tips. Plus, you can follow the ship's navigation in real time on the map feature.
8/Both traditional & non-traditional dining
My family and I prefer the traditional dining option when cruising. While most cruise lines boast that you can eat wherever and whenever you'd like, we actually like sitting at the same table at the same time each night of the cruise. We love getting to know the waiters and assistant waiters, and I believe that they like getting to know us. By the end of our vacation, they understand our preferences, right down to having our drinks waiting when we arrive. We've cruised on lines which don't have set dining and have felt very disconnected.
That being said, there is another option called My Time Dining that allows for more flexibility. You're not stuck eating at the same time each day. This can be a good option if you have a long day in port or if you want to see a show on board at a certain time. However, you won't get the same wait staff each night, and you'll need to make reservations ahead of time; otherwise you may have to wait to be seated.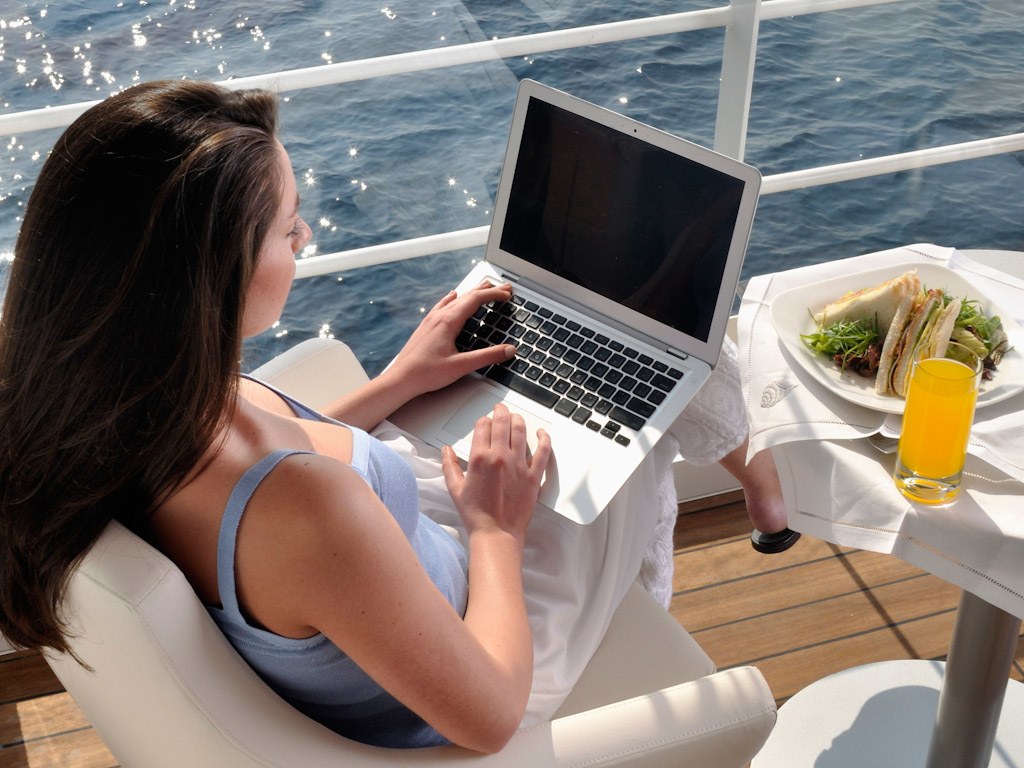 9/VOOM Internet
Royal Caribbean claims to have the fastest internet at sea, and from my experience, it is. We were able to surf the web and stream video with ease. Granted, there were times when it took awhile or video would buffer, but those times were short in duration and usually in the evening hours. I went live on Facebook several times from somewhere in the middle of the Caribbean Sea and had no issues.
10/Happy staff
This is the most important reason why we choose Royal Caribbean. Every Royal employee that you meet on the ship seems to be happy to be there - from the captain all the way down to the maintenance crew. Their smiles are genuine, and they treat you with respect, making your vacation even more memorable. They all go the extra mile and then some. For example, when my daughter wanted Jello in the Windjammer Cafe, a waiter went into the galley to find some for her, even though she hadn't specifically asked. We have been on different cruise lines where the crew was disgruntled and constantly bickering in front of guests. That's not a vacation! The staff on Royal Caribbean's ships will keep you coming back.
Holly Thiel Rake is a mom of two daughters. She's cruised the Caribbean, Europe, Panama, and Hawaii. When she's not on the high seas, she's dreaming of her next travel destination on land.
Pin to Pinterest & read later