South Padre Island, Texas
SCHLITTERBAHN BEACH RESORT & WATER PARK
Check out this water park resort, situated one of Texas' most popular beaches.
Why go?
Spread out over 15-acres on the beautiful shores of South Padre Island, Schlitterbahn in a one-stop-shop for family fun! It's so easy: from planning where to stay to where to eat to what to do. The park is packed with 11 family-pleasing attractions and 13 fabulous water slides. In addition, the park has two boardwalks that connect directly to the beach, where we flew kites, fed the seagulls, and splashed in the ocean waves. My kids were fully entertained for days at this indoor/outdoor park, riding every attraction several times and continually discovering a new carousel, slide, or play area. The staff was fully accommodating, friendly, and provided expert tips to help us enjoy our stay on the island. Best of all, this South Padre location can be enjoyed year-round.
KidTripster Tip: Study the park maps prior to visiting. Arm yourself with information including highly-detailed ride ratings, as well as ride and food stand locations.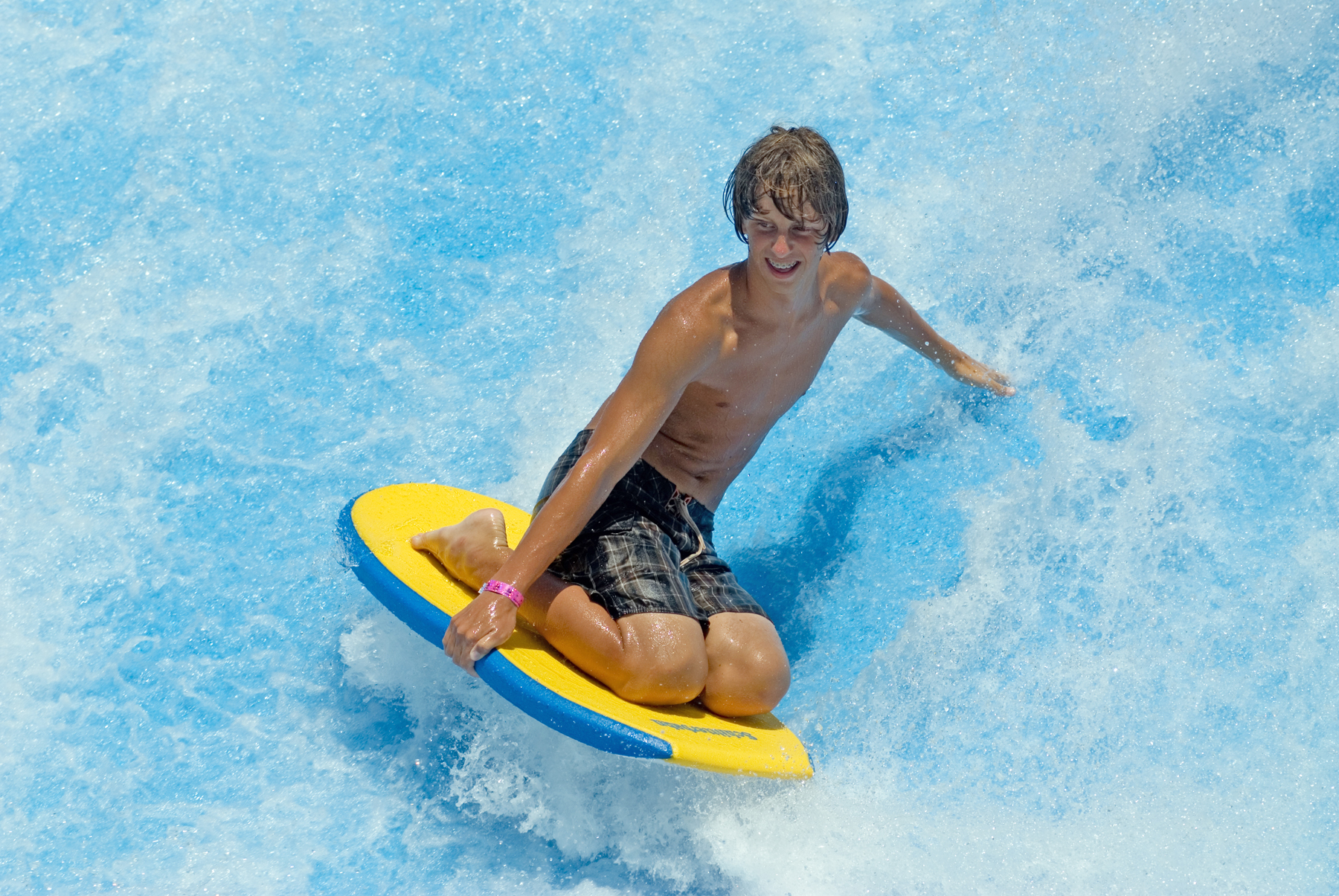 What to do?
With 37 years of water park expertise, Schlitterbahn has created a rich environment for visitors of varying water skill levels. The easygoing nature of the island undoubtedly influenced the design here with attractions revolving around the lazy river, Rio Adventura, that encircles the park. Let your toddler run free around the indoor well-padded Pirate's Cove or outdoors at the enormous five-story Sand Castle Cove loaded with spraying spigots, hoses, slides, and a firing cannon. For the older kids, head down one of the twin Blackbeard's Twister and Lafitte's Cyclone slides, get blasted uphill on the Sea Blaster or jump on the Boogie Bahn, the world's largest surfing ride. We frequently found ourselves congregating and comparing notes at the heated pool in front of our room to wind down the day.
KidTripster Tip: If you've got a water-savvy toddler, find a two-person float with a seat (instead of a hole). Let them navigate the lazy river in front, while you relax in the back.
Where to eat?
All of this irresistible amusement leads to hungry tummies. Luckily, Schlitterbahn has you covered with 16 distinct locations to eat and drink. At the Shrimp Haus, you'll find blackened, baked, fried, curried, stuffed or grilled shrimp with options such as Shrimp Pizza, Shrimp Nachos or the fascinating Peanut Butter Shrimp, if you're up for a gamble. For a more intimate meal, head to Sea4ever and gaze over the entire island. Here, you'll find find tacos, burgers, and sandwiches.
KidTripster Tip: For those who are inclined, you're allowed to bring both food and drink, including ice chests, into the park, although carry-in glass containers and alcohol are not allowed. Full wait-serviced private cabanas that accommodate six guests are also available. Cost: Starts at $150/weekdays and $175/weekends.
Where to stay?
I highly recommend staying at the resort, as entry to the park is free with a reservation. Considering the price of tickets (Cost: Youth $34.99; Adult $50.99), the starting price for a room for a family of four is a steal at $237/night.
Upon arrival, the helpful concierge can assist you with island activities outside of the resort, too. Consider deep sea fishing, surfing lessons, sea turtle watching, and horseback riding. Click here for more on what to do on South Padre Island. Most everything on the island is within a 10 to 15-minute drive.
KidTripster Tip: Your free wristbands are available for pickup at the time the park opens on the day of your check-in and are valid until closing time on the day you check out. So get to the resort early and plan to stay late.
Getting there
There are two options for getting to South Padre Island. From the north side/Harlingen area, take TX-100 West from 69 East about 35 miles through Laguna Vista. From there, you'll head through Port Isabel and over the bridge onto the island.
From the south side/Brownsville area, take TX-48 East approximately 28 miles, again into Port Isabel, and over to the island. The traffic is usually non-existent on the freeway but during peak travel times, the bridge can get plugged up.
South Padre Island is about a 6-hour drive from Houston.
Born in nearby Brownsville, Carla Reed grew up building sandcastles and collecting shells on the beaches of South Padre Island.
This writer received complimentary admission for the purpose of this review. However, all opinions expressed are solely her own.
Pin to Pinterest & read later