France
SELF-GUIDED LE BOAT CRUISE
Want to captain your own European vacation? Read our day-by-day account of life on the Canal du Midi.
Why go?
The best family vacations happen when we simply go with the flow. That's why we took a cue from European boating enthusiasts and drove our very own Le Boat down one of France's most famous canals, the Canal du Midi. My family of six went in search of a little slice of peaceful country life and came away with new friendships, new skills, and memories to last a lifetime.
DAY ONE
We arrived at Le Boat headquarters in Castelnaudary, France, an hour before our 4 p.m. check-in time. We had spent the last five days exploring Paris and were ready to escape the lines, crowds, and agendas. For my husband and I, this was our first European adventure with our four children: our 14-year-old daughter, our 12-year-old son, and our 10-year-old girl twins. You just don't see big families like mine touring France, and I understand why. It can be expensive and stressful. We need two, sometimes three hotel rooms, depending on the rules, and while we absolutely love French food, it's never a picnic eating several restaurant meals a day with my big crew. Seeing Southern France from the deck of our very own Le Boat promised to be a more relaxing, laid-back vacation. To get to Castelnaudary, we took a fast train from Paris to Toulouse and then onto Castelnaudary. The taxi parked outside the train station was too small for six and totally unnecessary since LeBoat's base was a short, five-minute walk from the train station.
KidTripster Tip: We went by train to give our kids the thrill of high-speed rail travel, but sometimes flights within the country are less expensive. If you don't have a preference, be sure to compare the two. Also, don't wait to buy your tickets at the station. To book your train travel to Castelnaudary in advance, click here. Then, just print out your train tickets at home or bring along the credit card that you used for the purchase to retrieve your tickets at the station.
Hundreds of boating vacations launch from Le Boat's Castelnaudary base each year with most of them headed down the canal towards the Mediterranean Sea. Canal du Midi vacations can begin, end or come full circle here at the Le Boat Castelnaudary base, depending on your pre-arranged route. Le Boat also has departure bases in Trèbes, Homps, Narbonne, and Port Cassafières. We wanted to tour the famed Citadel of Carcassonne, roughly 25 miles from here which made Castelnaudary a good place to begin.
KidTripster Tip: To help plan your canal cruise, order a booklet called the Waterways Guide for the Canal du Midi. This guide maps out the exact cruising distance between locks and lets you know when bridges are coming up. It's a fabulous resource. Click here to order one. Cost: about $24, plus shipping.
Inside the main office, we were greeted by a very friendly LeBoat staffer named Ghusain. He began the introduction by showing us important boating rules and safety requirements contained in a large binder with laminated pages. It was a lot to digest, especially since we're first-time boaters and have never driven a boat! Ghusain reassured us that most people are in "the same boat" and not to worry. We put a downpayment of €250 (about $295) to cover our gas usage with the understanding that we'd be reimbursed for whatever we didn't use. Le Boat also required a damage deposit of €750 (about $880). The check-in was quick and painless. We walked outside and met Laurent Francois, who showed us all the bells and whistles of Le Boat's Horizon 4, our incredible floating home for the next week.
The Horizon 4 is brand new in Le Boat's fleet, launched just this summer in France along the Canal du Midi. It's gorgeous and spacious, yet compact enough to squeeze under 300-year-old bridges. This 8-person, 45-foot boat has four cabins with ensuite bathrooms in each, making it ideal for big families like mine. No fighting over one tiny hotel bathroom or tripping over each other while getting ready in the morning! From the moment that I stepped inside, the Horizon 4 just felt really special, thanks to modern decor and amenities, great light throughout, generous headroom, and a surprising amount of storage space for luggage. The Horizon 4 definitely had the wow factor with a bright, roomy kitchen and wraparound eating nook in the main living space. I was thrilled that the kitchen came with two refrigerators, a gas stove and oven, and even a microwave. We spent a small fortune dining out in Paris, and I was looking forward to saving money by cooking fresh and healthy meals here on the boat. Also, I loved the 360-degree windows in the main cabin. While cooking for my crew, I'd still be able to enjoy the view! There also was also a grill on the top deck where we hoped to spend most of our time eating outdoors. The top deck was large enough for all six of us to sunbathe, read, play cards, and dine around the oversized table.
When it came time to go for a test drive, Laurent had my husband back the boat out of its tight spot in the harbor and drive into the Grand Basin of the canal. With my husband in the driver's seat, Laurent showed him how to control the boat's speed and work the bow and stern thrusters which maneuver the boat from side to side. The lesson lasted about 10 minutes, and my husband passed the toughest test by backing the Horizon 4 into its tiny spot in the harbor with only just a foot of clearance on each side.
KidTripster Tip: Newer boats in Le Boat's fleet come equipped with bow and stern thrusters. These thrusters are a must for bigger boats and help immensely in the locks. Whatever you do, make sure your boat comes with thrusters. They make cruising the canal, backing away from debris, clearing small bridges safely, and squeezing into the locks alongside other boats a whole lot easier.
After orientation, we got directions to the nearest market and walked along the towpath and into town for provisions. Spar Supermarket had an excellent meat counter and wine selection. We stocked up on breakfast foods, meat, cheese, bread, Languedoc wine, fresh fruits and veggies, along with other essentials like toilet paper and bottled water.
KidTripster Tip: Le Boat base staffers will give you directions and a map to the town center and its supermarket. If you spend over €100 (about $120), the supermarket usually will deliver your purchase to your boat, free of charge.
Le Boat's Castelnaudary base was a lovely spot to begin our adventure. The staff was incredibly welcoming and friendly, making us feel right at home. My kids really enjoyed getting to know some of the other boaters from around the world. We introduced ourselves to an Australian family of five, including three kids with similar ages as ours, who, like us, arrived in Castelnaudary that day. They gifted the kids with a koala bear pencil set from Australia. We also met an Austrian couple, who waved us over and offered us all of their leftover provisions since they had just finished their week-long cruise and didn't want to toss out perfectly good food. They loaded us up with apples, cheese, crackers, pasta, and fresh garlic from Austria. I've never experienced this kind of friendliness while on vacation! There was such a laid-back, happy vibe along the canal. I could hardly wait to see what other sweet surprises we'd discover as we cruised the canal and learned about the French good life together as a family.
DAY TWO
Castelnaudary is famous for the Grand Basin, the biggest port along the entire stretch of the 150-mile Canal du Midi. The first big test for my crew of inexperienced boaters came early this morning as we left Castelnaudary and drove the boat towards a challenging four-lock staircase. And boy, did we feel like amateurs! The quadruple lock is just downstream from Le Boat's base, and within 100 meters, we had our first mishap. As we passed underneath a bridge, we heard a loud, crunching sound. Turns out, we had forgotten to lower the tall floodlight on the top deck. But there was no time to think about it, because our first lock was coming up, and my husband was driving full speed ahead. Mind you, full speed isn't very fast around here. Normal boating speed is 4 to 8 kilometers per hour along the canal; that's a top speed of 5 miles per hour.
We can all laugh about it now, but that first lock was terrifying! The Australian family that we met a day earlier was first up and seemed to know the drill. We crossed our fingers and followed their lead. The lockkeeper signaled for us to follow them into the lock, and my two daughters jumped out of the boat and grabbed hold of the ropes located near the bow and stern. They looped the ropes around the steel bollards inside the lock and held the boat steady. Once both boats were safely tied up in the lock, it was just like draining a bathtub. The lockkeeper closed the gates behind us, and the water emptied to the canal below. In about five minutes, the lock was level with the next one; the gates opened, allowing us to drive into the next lock and begin the whole process again. My crew was all smiles as we cruised out of the last and final lock of the staircase! It was a kind of "sink or swim" experience, and we drove out of there an entirely different crew. We knew if we could survive the Saint Roche Locks, we could take on just about any challenge along the canal. We sat back and soaked in the beautiful countryside all around us. My husband steered the boat past 100-year-old plane trees that offered shade along the canal, fields of sunflowers in full bloom, and beautiful, wide open spaces.
Late in the afternoon, we stopped at the little village of Villepinte to get a closer look at a massive field of sunflowers growing along the towpath. This field took our breath away; it was simply gorgeous. We unloaded our bikes, compliments of Le Boat, and set out to explore. Riding along the paved path to town, we pedaled past the sunflowers and another field of golden wheat ready for harvest. It felt really good to stretch our legs and see the sunflowers up close. It was like being in a van Gogh painting. Our new best mates from Australia stopped here, too, and we all rode together to the town's nearby market to stock up on French bread and ice cream. This store made French bread in a massive oven near the entrance, and we couldn't resist buying several baguettes. Oh, man, have we got it bad for French baguettes!
KidTripster Tip: The locks close daily between 12:30 and 1:30 p.m. for lockkeepers' lunch breaks. Be prepared for some downtime in the middle of the day, if you arrive at the locks during this time.
KidTripster Tip: Some candy can go a long way in befriending a grumpy lockkeeper who's tired of dealing with newbies. Keep some handy.
By 5:30 p.m., we cruised into the lovely village of Braum and called it a day. Boats are allowed to camp just about anywhere along the towpath beside the canal. We were famished and tired from navigating an insane number of locks - 18 of them, to be exact! My amazing husband drove the boat the entire day and was ready to chill out with a nice glass of French wine. Bram has a safe and scenic bike path which leads directly into town. We followed the path with our Aussie friends and found a great little crêperie, where we rewarded our hardworking crew with their favorite French treat - sweet and savory crêpes!
KidTripster Tip: La Flibuste Creperie Bretonne (23 Place Carnot) serves up traditional Breton-style crêpes. These crêpes are divine! The restaurant was a good value, too, ranging in price from €7 to €11 ($8-13) each. Our crew of 11 - the six of us and our five new friends - devoured every bite.
The day began with a mishap but ended on a happy note. Despite beginning as total amateurs, we made it through 18 locks relatively unscathed. My kids worked together without arguing and had a can-do attitude from sunup to sundown. We saw some gorgeous scenery and made new friends along the way. I couldn't have asked for more.
DAY THREE
We found our boating rhythm today. We awoke to the sounds of the boat sloshing and birds chirping. The weather was perfect for cruising - a light breeze and clear skies. We had decided to keep breakfast simple on the boat: French yogurt and fresh fruit along with a steady supply of baguettes. The kids slathered them with delicious French butter and jam.
KidTripster Tip: We took a cue from our Australian friends after day one and purchased paper plates. There's no dishwasher onboard, and the last thing we wanted to do was spend precious vacation time washing dishes by hand.
The first thing that my youngest asked me this morning was if we'd get to go through more locks today. I reassured her that we'd all get plenty more turns to grab onto the ropes and hold our Horizon 4 steady in place. Yesterday, we were pleasantly surprised that there was no wait time at the locks, so we pulled up stakes early and set off with our new Australian boat mates to ensure another stress-free, easy cruising day. We had far fewer locks on this day and miles of open canal. It was a much more relaxing, and my husband had fun showing the older kids the nuances of captaining our big boat. By mid-afternoon, we noticed the landscape around us begin to change. The sunflower fields of yesterday were replaced with rolling hills covered with vineyards. We were cruising through wine country now and drinking in the gorgeous scenery all around us.
We reached Carcassonne by late afternoon and luckily found two side-by-side spots in the city's private marina to dock with our Aussie pals. Docking at the marina offered power hookup, fresh water, garbage service, hot showers, and most importantly, a washer and dryer.
KidTripster Tip: If you decide to moor for the night in a private marina, report to the main office when you arrive to pay for overnight mooring and use of port facilities. With a big family, the conveniences of the marina were well worth the €20 (about $23) fee. Reservations are not required, but they are recommended to save your spot, especially during the busy months of July and August. You can email the port before you go. Port email at Ville de Carcassonne: port.carcassonne@wanadoo.fr.
A visit to Carcassonne's medieval, hilltop castle is a must along the Canal du Midi. This UNESCO World Heritage Site has been a major fortress throughout history, protecting the plains of Southern France from foreign invaders. The citadel's fully-restored ramparts, fairytale towers, turrets, and cobblestone streets are stunning and awe-inspiring. Even Walt Disney was moved by this magical place, as it supposedly inspired Disney's Sleeping Beauty castle.
When we arrived in town, we pulled our bikes from the back of our boat and headed to the castle with our Aussie friends. There's a conveniently located tourism office at the harbor where we picked up free maps and tips on how to get to the citadel. It amazed us that the lower town, called La Ville Basse, was virtually empty of car traffic as we biked through the narrow streets toward the castle. It was quite a sight to see all 11 of us, riding as a gang of bikers through the quiet town.
KidTripster Tip: To get to Carcassonne's castle, ride your bikes through the lower city, cross the Aude River Bridge, and make the steep climb up the hill into the medieval city. If you have younger children (8 and under), I'd suggest riding the Le Petit Train instead, which offers hourly rides to the Citadel during the busy summer season. At just €1 per person, it's an easy way to get to the fortress. The tourism office located in the harbor offers maps and directions to the nearby bus and Le Petit train stop.
There's no admission to roam the walled city. We met our tour guide, Sarahi Seguy of the Carcassonne tourism branch who gave us a guided tour and treasure hunt for the kids. When we crossed the drawbridge and entered the walled city, I realized why there was no traffic in the town below this famous fortress; it appeared everyone was here. The narrow cobblestoned streets were jam-packed with tourists going in and out of the shops, candy stores, restaurants, hotels, and even a cathedral within the city walls. Sarahi told us all about the people who lived here and conquered this place throughout its 2,500-year history - from the Romans to the Visigoths, Counts, and Viscounts, followed by Cathars and Crusaders. One of the more interesting tales was the legend of Dame Carcas whose massive stonecarved image welcomes visitors to the walled city. Legend has it this Arab princess saved the fortress singlehandedly in the 8th century by placing straw soldiers around the ramparts, essentially tricking invaders and protecting the castle against siege.
KidTripster Tip: For a more relaxed visit, skip the costly guided tours and purchase your very own treasure hunt guide from one of the many tourist shops in the walled city. Treasure of the 3 Kings sells for about €15 (about $18) and is a fun way for kids to explore the sites. My kids enjoyed the hunt and tour, but at nearly three hours long, it tested their patience. However, for tour options, contact the Carcassonne tourism office.
The fortified city is free to visit, while the ramparts and castle itself, the Chateau Comtal, cost extra to explore.
Make plans to catch the incredibly entertaining, live action, jousting tournament at the castle during the summer months of July and August. The Grand Tournament of Chivalry was action-packed and thrilling to watch as knights and dames on horseback battled with real swords and medieval weapons for control of Carcassonne.
We worked up a major appetite walking the walled city and escaped the touristy area to dine at Restaurant Le Saint-Jean (Place Saint-Jean). Our outdoor table offered amazing views of the Chateau Comtal. We enjoyed a scrumptious bowl of Cassoulet, a savory stew made with white beans, rich broth, and chunks of pork, duck, and sausage. Locals don't eat this dish in the summer months because they consider it to be too heavy. Lucky for us, restaurants serve this famous regional dish year-round. When the kids were done eating, they ran off to play in an open field outside the castle walls. From our table, we watched while enjoying another glass of fine Languedoc wine. We rode our bikes home and couldn't believe our luck as we saw the full moon rise above the citadel. It was a fairytale ending to another perfect day.
DAY FOUR
Three days on a boat and miraculously, not one of my children had complained that they couldn't swim in the water! I warned them early on that there would be no swimming in the canal as the water is the color of split pea soup. All drains lead to the canal, including runoff from nearby farms and sewage water from the many boats. So while it's not safe to splash in the Canal du Midi, a water park called Parc Aquaviva gave the kids plenty of thrills.
Cavayere Lake, known as Lac de la Cavayere in Southern France, is a freshwater oasis when the weather gets hot. Trust me, locals would like to keep it a secret, but seek it out. Cavayere Lake is just 5 miles from Carcassonne harbor where we docked our boat. There was no entrance fee to enjoy the lake and its beaches but expect separate fees for the many activities within the complex.
KidTripster Tip: Take bus line #1 to Parc Aquaviva (Route de la Cayayere). Guides from the tourist office near the harbor will be happy to direct you to the nearest bus stop. You may be tempted to ride your bikes to Parc Aquaviva but don't do it. There's not enough shoulder along most of the road to ride safely as a group. Take the bus. It's cheap, reliable, and the quite possibly the best deal in town.
Once we entered this scenic area, we followed the path and veered to the right. Here the kids took off with laser beam focus, following the part-paved, part-gravel path to the water park. There's no missing this place. Parc Aquaviva can be seen from just about anywhere in the Cavayere Lake area, thanks to its towering inflatables. We purchased a day pass for everyone in our group; €20 (about $23) per person also gave us unlimited access to two, insanely fast water slides. (If you only plan to stay two hours, it's €15 (about $18) per person.) These two slides required helmets and made me a bit nervous as I watched my fearless kids fly down and launch into the air. There was no waiver to sign, and I couldn't imagine this kind of high-adrenaline water park in the States, which is probably why my kids loved every minute! Even my husband couldn't resist the water slides. He made an epic belly flop entrance into the water on his first try. I really appreciated the requirement that everyone who entered the lake at Parc Aquaviva had to wear a lifejacket, provided free of charge. It put me at ease since there was only one lifeguard on duty, and the massive inflatables were spread out throughout the lake. Picture the obstacles from the show Wipe Out - over a dozen massive inflatables, climbing mountains, trampolines, slides, inflatable floating beams; it's a total water assault! It was an afternoon of pure joy for my family. When we needed a break, we rested in the hammocks under the big woodsy trees.
KidTripster Tip: Arrive early! Parc Aquaviva opens at 11 a.m. during the summer season. After 2 p.m., it gets very busy. If your kids are part fish like mine, they'll want to stay most of the day, but I think two hours would be enough for kids under 10. Bring your own sandwiches, snacks, and water. Sure, there's food here but mostly salty snacks, soda pop, and overpriced ice cream. Your kids will need more than that to keep them racing to the top of the inflatables. Also, slather on that sunscreen and reapply often.
Our original plan was to spend part of the day at the water park and part of the day exploring other activities here, but the water park held our attention for the entire afternoon. You could easily spend two days exploring this 100-acre recreation area, if time allowed. It offers families three supervised beaches, paddle boating, zip boarding, mini golf, beach volleyball, picnic tables, land inflatables for younger thrill-seekers, and a forest adventure park with a treetop rope course.
The kids were sufficiently wiped out after nearly four hours of intense water park fun. We headed back to town by bus and made plans to dine together with our Aussie friends al fresco on the top deck of the boat. We shared a tasty picnic of pasta dishes, sausages, salads, as well as French bread and cheese, all purchased from the nearby market. And of course, we enjoyed a bottle or two of wine. You can pick up a very nice bottle of red wine for as little as €6 (about $7)! Our new friends surprised us with a birthday cake to share in honor of the three July birthday kids on this trip. It was such a lively and lovely meal, made all the more memorable because we shared it with new friends. While the adults talked and sipped wine after dinner, the children played a fun new card game called Scum. They laughed and joked together, as if they'd been friends their whole lives. The sound of laughing kids and the site of the sun setting on Carcassonne... these are the moments that I'll remember.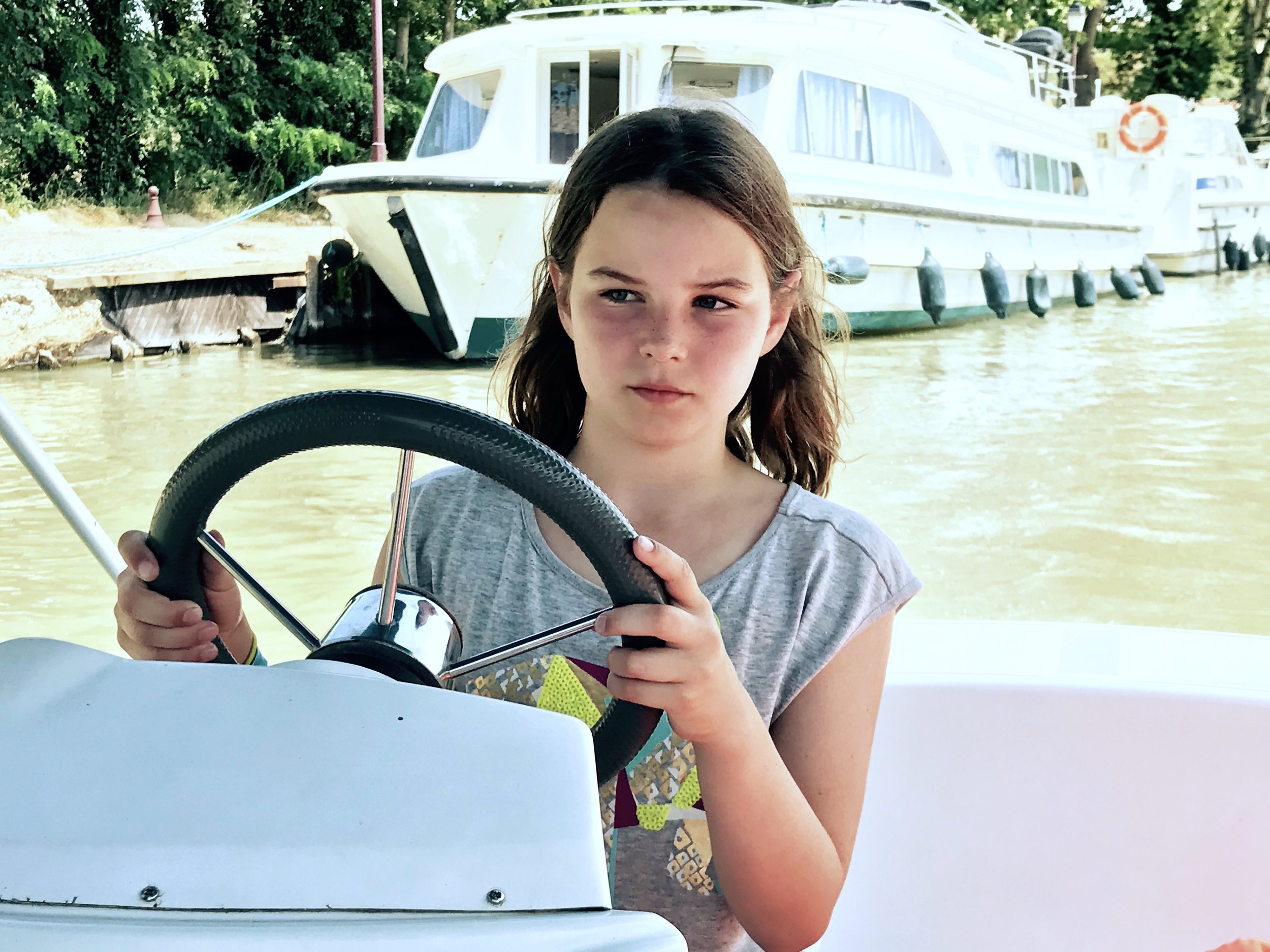 DAY FIVE
The warm, sun-baked Mediterranean climate of the Languedoc region offers so many things we love, including olives! Sure, Southern France is world famous for its wine, but no kid wants to spend the day wine tasting. That's why we headed to L'Oulibo in Bize-Minervois to taste and explore another important fruit from the region's diverse agricultural basket. The craft of turning olives into oil takes center stage at L'Oulibo. It's listed among the most visited companies in France as more and more travelers want to learn where their food comes from and how their favorite kitchen staples are produced. And Oulibo doesn't disappoint! It uses the same techniques that have been passed down from generation to generation to pick, crush, press, and extract the tasty liquid gold. We enjoyed a leisurely guided tour of the oil mill, a short film, and an interactive treasure hunt in the olive grove, but the tasting session was the biggest crowd-pleaser by far!
Sampling olive oil is a little like tasting wine. Oulibo's Jean Marc Thibaut told us to smell the oil first, notice its light color, and then sip it slowly. Earthy, fruity, lemony, spicy… these were some of the words that my kids used to describe the olive oil that they tasted. Could France be turning them into foodies?! Oui, oui! Next, Jean Marc had us taste the Oulibo olives. These olives were picked green, and the ones that my four kids liked most were brined, not pasteurized. These olives tasted buttery, firm, and flavorful. An instant favorite! The tour ended with a walk through a well-stocked shop full of wonderful regional products. We bought our new favorite olives, the simply brined Picholines, for eating on the boat and the pasteurized Lucques olives for gifts. My crew was thrilled to learn that we can find these same olives at our local Trader Joe's under the Trader Jaques label. It's a seasonal product that reaches stores just after harvest in December and sells out by early spring the following year.
KidTripster Tip: L'Oulibo (4 Hameau de Cabezac) is located in Bize-Minervois, about a 45-minute car ride from our Le Boat in Carcassonne. Private transport companies can help you arrange tours, so you can visit interesting towns that you won't have time to reach by boat. The owner of Authentic France drove us to L'Oulibo and Capestang in a new and roomy van. Contact Nicole Ebeyer with Authentic France to learn about the cost of these services.
From L'Oulibo, we drove 20 minutes to the flower-lined port of Capestang. We grabbed a quick picnic on the go from a local pâtisserie called Le Fournil des Bousquets (11 Cours Belfort). The sandwiches were huge, and the raspberry and apple tarts were simply irresistible! Our kids had been itching to pilot a canal boat, and here in Capestang, they finally got to drive their very own electric boat. Sure, it was miniature compared to our 45-foot luxury Le Boat, but they still enjoyed it and had a newfound appreciation for Dad's piloting skills! Electric boat rentals cost between €32 to €40 (about $38-47) per hour depending on the size of your group and can be arranged through the tourism office in Capestang.
Capestang tourism office, located at the harbor, is an excellent resource for canal boaters. You also can arrange a tour of the village's most visible landmark, the bell tower of Collegiale Saint-Etienne. We met up with local historian, Dominique Saillard, who gave us a tour of this Gothic-style cathedral, dating back to Roman times. We all went "Quasimoto" and climbed the 150 steps to the bell tower where it pays to be short and nimble. Watch your head, because the circular staircase narrows and shrinks the closer that you get to the top. The climb up was fun but also a bit scary. There was no railing to cling to, and we had to step over a few dead rodents! Our reward at the top: stunning views of the Pyrenees, Narbonne, and the beautiful countryside all around us. My kids were amazed to see a chessboard etched into the stone floor of the lookout tower. Dominique explained that even medieval soldiers needed to entertain themselves while watching out for foreign invaders. Guided visits in English with Dominique to the Collegiale Saint Etienne cost €5 (about $6) per adult and €2.50 (about $3) for children (ages 5-18). Contact the tourism office to set up a tour; it's well worth it.
KidTripster Tip: The Capestang tourism office also offers weekly, wine tasting events along the canal, making this a favorite stop for pleasure boaters. Wine tastings run from May to September on Mondays, Tuesdays and Wednesdays at 6 p.m.
Back in Carcassonne, we met up with our friends and shared stories about our day. They told us about a fabulous splash pad that they discovered just a short distance from the port. And, of course, we decided that we'd better go explore! We followed them on bikes to a lovely square in the center of town. This was a fantastic find with colorful flowers in full bloom and stately buildings flanking the park. The seven buddies were back at it again, splashing and running together through the water in the town square without a care in the world.
Tonight was our last night with our new Aussie friends, so we ordered pizza and dined on the deck of the boat. It was nice to leave the cooking up to someone else and just relax and enjoy the company and the view from our Le Boat. Tomorrow, we needed to head back to Castelnaudary while our friends continue onto Beziers. We didn't plan to stay in Carcassonne for two nights, but we really liked the convenience and comfort of the port, laundry facilities, and hot showers. Harbor docking is a great way to meet an international crowd. We had the kids go around to all the nearby boats in Carcassonne harbor to learn where people were from; they met travelers from nearly every continent in the world.
KidTripster TIp: Carcassonne is a great jumping off point to explore the many cultural and tourist sites in the Languedoc region. Depending on your route, plan to stay here at least one night.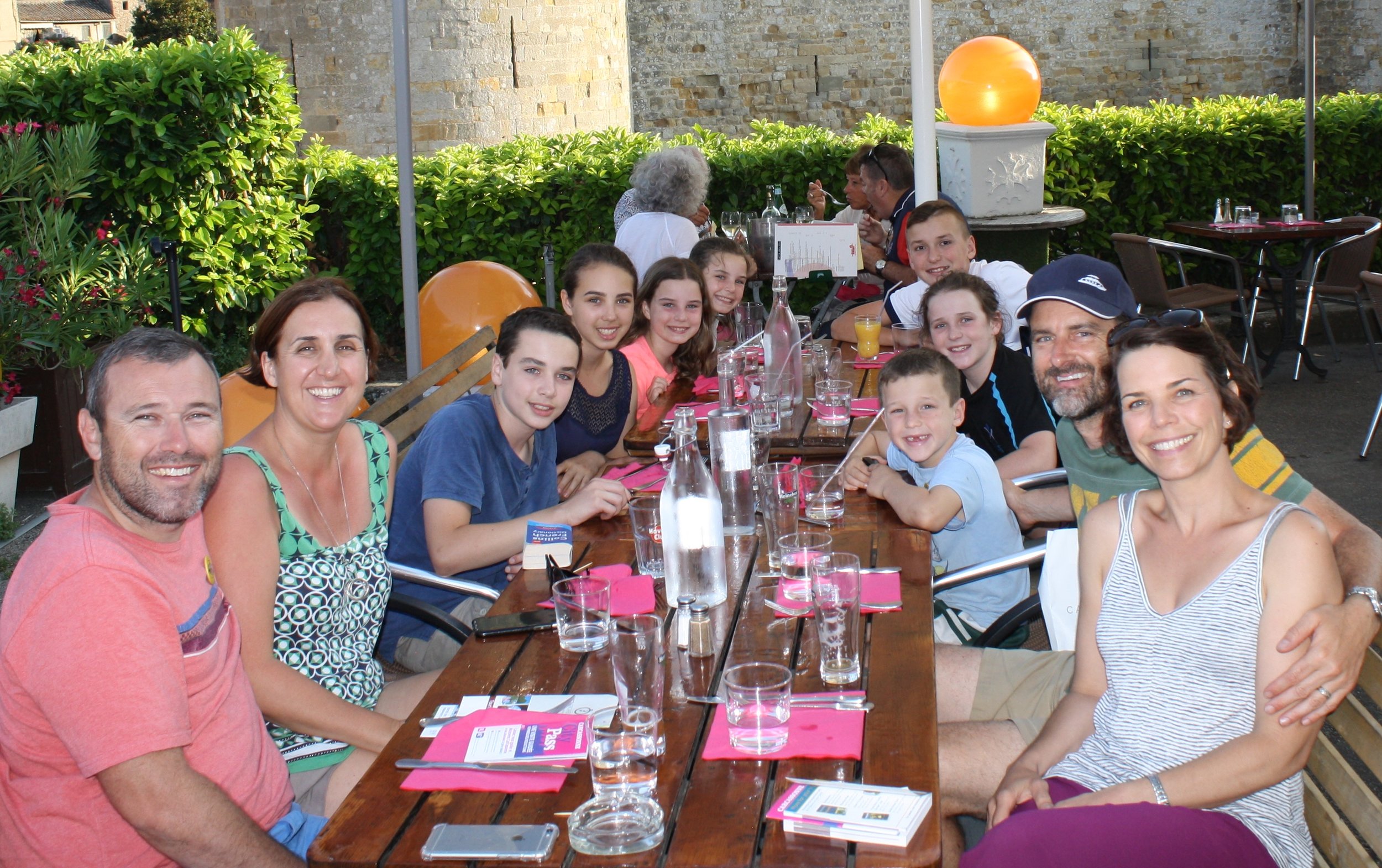 DAY SIX
We enjoyed one final outing with our Australian boat mates before we went our separate ways this afternoon. We walked into town and followed the cobblestone road to Place Carnot, a beautiful tree-lined square surrounded by outdoor cafes, typical French bars, and quaint shops. The kids immediately ran to the massive marble fountain featuring Neptune, god of the sea, and began to splash and play. We settled in at an outdoor cafe that offered a kid-friendly menu, finger foods, and cold beer for the adults.
KidTripster Tip: There's an outdoor market that takes place at Place Carnet. The market has impressive staying power since it has been held in this very square since the Middle Ages. The market runs Tuesday, Thursday, and Saturday mornings during the summer season and offers fresh produce and regional products.
Carcassonne was a good place to stock up on groceries for our final two days of cruising. We missed the outdoor market, but the next best thing was the French grocery store called Monoprix. It offered a fabulous variety of cheese, meat, fresh fruits, and fresh baked goods.
Back at the harbor, we said our goodbyes to our Aussie mates and promised to keep in touch via Facebook. We invited them to come see us in the States, and they invited us to visit Australia. As we pulled away from the dock and yelled our goodbyes, I couldn't believe our good fortune to meet such fun travel companions here in France. We all got along together so well! How lucky that our son had two fun boys to play with, while our twin daughters also found a new friend their age. We created some amazing memories while navigating the locks together, exploring towns by bike, and sharing meals and laughter. I'm starting to wonder if the boating life just naturally brings people together. Maybe just being "in same boat together" and surviving those first locks alongside each other set our friendship into motion from day one.
Kidtripster Tip: With Le Boat, no itinerary is the same. You are totally free to go with the flow as long as you return your boat on time to the pre-determined base. If we were to vacation along the canal again, we'd definitely do things differently. We'd book a point A to point B route instead of having to turn around and go back to the base where our excursion began. This would have given us time to cruise to the lively towns of Homps and Capestang. Remember, canal cruising takes time since you cruise at a fast-paced walking speed. Book a one-way cruise if you want to see more of this gorgeous place.
DAY SEVEN
We awoke in Bram this morning with one more full day of boating ahead of us. Driving the boat upstream through the locks was more labor intensive and time-consuming than the downstream route. When heading upstream, we had to drop off our crew members along the shore before steering the boat into the lock. That's because instead of emptying, the locks fill with water when going upstream. The kids quickly got the hang of scrambling up the bank and waiting alongside the lockkeeper to catch the ropes that we threw them from below. My four kids have gotten along so well during this adventure, but I knew it couldn't last. With time ticking down on our final day, they started arguing over who would hold the boat steady through the locks. They all wanted to work! Despite some bickering from my crew, it was mostly another peaceful day filled with gorgeous scenery along the canal. We soaked up our last views of the gorgeous sunflower fields while singing our favorite Jimmy Buffett tunes together on the top deck. When we arrived at the four lock staircase leading up to the base where we began our journey five days ago, I couldn't believe how far my crew had come. We began our vacation by breaking the light on our boat, but now we cruised into Castelnaudary as an accomplished team of boaters. We cheered and hugged each other as we passed under our final bridge. We made it 50 miles, navigated 36 locks, and brought home some priceless souvenirs: memories that will last a lifetime. There was even a celebration in Castelnaudary to mark the occasion. Ok, technically, it was Bastille Day. Fireworks launched from a nearby barge in the middle of the canal. What an incredible show! We snuggled together under blankets and watched the fireworks from the deck of our Le Boat. As I watched, I thought back on all the fun that we had together as a family cruising the canal, riding bikes, exploring castles, trying new foods, and making new friends. To have fireworks cap off our final night aboard the boat was pretty amazing. I couldn't have scripted a more perfect ending to our week-long adventure aboard Le Boat in beautiful Southern France.
KidTripster Tip: I'd highly recommend either beginning or ending your cruise along the Canal du Midi on July 13th at the Le Boat homebase in Castelnaudary. The firework show is an annual event to mark Bastille Day.
Interested in our KidTripster Teen's opinion of Le Boat? Click here.
What to know more about the costs and other Le Boat destinations. Click here.
Deanna Connell lives in Beaverton, Oregon, with her husband and band of lively pirates. When she's not driving her kids to their sports, music, and play practices, she's daydreaming about tropical beaches. In her previous life (b4Kids), she worked as a journalist and then host of a gardening show on PBS. These days, she claims that her most noteworthy accomplishment is having kept Toulouse, the family goldfish, alive for nearly 4 years.
This writer received a complimentary cruise for the purpose of this review. However, all opinions expressed are solely her own.
Pin to Pinterest & read later