Aruba, Bonaire, Curaçao & Grand Cayman
SOUTHERN CARIBBEAN WITH CELEBRITY CRUISES
Is a cruise to the ABC Islands & Grand Cayman right for your family?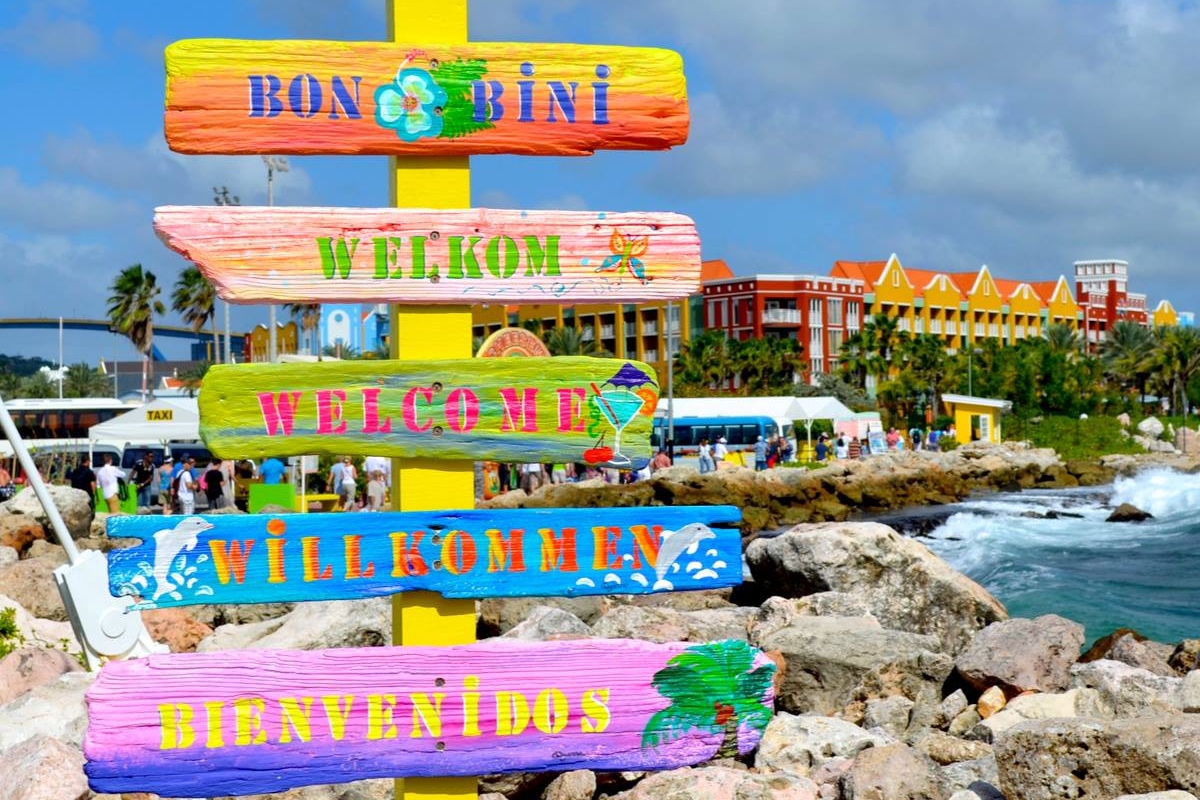 Why go?
Prior to having children, my husband and I sailed exclusively on Celebrity Cruises, which we perceived as being a good option for adults only. But after an 11-year hiatus, my family and I decided to return to the cruise line and see what it had to offer families. Celebrity did not disappoint. My girls, ages 8 and 10, had an endless supply of activities on board. In fact, at the end of the cruise, they didn't want to get off the ship.
We chose a 9-night Southern Caribbean cruise on the Silhouette which took us to Grand Cayman and then on to what's known as the ABC islands - Aruba, Bonaire, and Curacao. The warm locale and close proximity to the equator makes these islands an ideal cruise option year-round. Perhaps more importantly to your kids, you'll find beautiful beaches and perfect spots for snorkeling and SCUBA diving.
KidTripster Tip: If you find yourself unable to avoid traveling during hurricane season in the Caribbean, which runs June 1 through November 30, the ABC Islands are a good choice. Because of their position, these former Dutch islands are out of the path of destructive hurricanes.
Photo courtesy: Visit Curaçao
Where to stay?
Celebrity offers several types of staterooms ranging from interior cabins (no windows) to penthouse suites. If you've got a larger family, check out the family suites, but know there's a limited number, and they sell out quickly.
Another option for big families are adjoining cabins. I like how Celebrity has designed these types of rooms. Unlike a typical adjoining cabin where the door is inside the room, these rooms share a common entry door from the hallway and then have separate doors to the actual staterooms. If you're traveling with older children or other adults, this arrangement allows everyone some additional privacy.
If you choose to book a suite, it will have more space, more windows, and a balcony plus other perks like a personal butler, private restaurant, and exclusive lounges.
For my family of four, I chose a veranda stateroom. The cabin had an ample-sized bathroom with a spacious shower. We pushed the two single beds together to make a king-sized bed for my husband and me. Each night, the girls would switch back and forth – one sleeping on the upper berth (a bed that folds down from the ceiling) and the other sleeping on the sofa bed. The veranda gave us an extra 42 square feet of cabin space which we used for reading and eating our afternoon snacks. I highly recommend getting a room with a veranda.
KidTripster Tip: If you're looking for connecting staterooms, use a travel agent. They can get a better look at the cabin inventory. In addition, there are several other good reasons to use a travel agent when booking a cruise. Read here.
KidTripster Tip: Don't book your stateroom directly under the pool deck. It gets really loud with pool chairs being dragged around or deck parties under the stars.
Where to eat?
Oh my goodness, where to start? As is the case on most cruises, there's an endless supply of food!
Always a popular go-to option, the Oceanview Cafe buffet serves made-to-order pasta and pizza with a salad bar and rotating-themed lunch and dinner menus. Check the restaurant's iPads for upcoming themes during your cruise. We enjoyed the pub buffet, grabbing pretzel rolls and making pretzel dogs out of them. The buffet is a great choice for kids who tend to be pickier eaters. Looking for something healthy? Then head to the Spa Cafe in the Solarium. Grab a sandwich, fruit or a fresh-squeezed juice.
Grand Cuvee is a great option for those families who prefer a sit-down meal, either at lunch or dinner. The lower floor is for those who have reserved seating. The upper floor is for those who like free-style dining where you don't have a set time for dinner. Kids have their own specialized menus, but they don't change daily. However, kids can order off the main menu – as many dishes as they wish. My daughter loved the garlic shrimp on the main menu and ate two orders! Overall, the food quality was good. There were some hits and some misses – meaning some dishes were a little bland. But it was definitely a step up from my own cooking!
KidTripster Tip: Choose reserved seating if you want to get to know your waitstaff and want the certainty of eating at the same time each night. With free-style seating, you take your chance with the dining staff, and sometimes, there can be a wait.
Celebrity also has specialty restaurants for an extra cover charge. Qsine presents a theatrical production of your meal. A little chef comes out on your table (via video projection) and prepares a virtual meal. At the conclusion of each virtual course, your real waiter comes out with the real dish. Our daughters thoroughly enjoyed the show. It made dining fun as there was constant entertainment. The only drawback? You're eating at the same pace as all the other diners, so the dinner can take a minimum of two hours. Other specialty dining includes the Tuscan Grille, Sushi on Five and Murano – just to name a few. Eating at these restaurants can set you back as much as $45 to $89 per adult; children's meals are a little less.
KidTripster Tip: Unless your child is a foodie, save your money and put it towards the arcade or slumber party.
After dinner and a show, you may start to feel a little hungry or maybe you have teenaged boys who are always hungry! Unlike some cruise lines, Celebrity offers food service until at least midnight. Some nights, my husband and I would steal away to the buffet and get some sandwiches and cookies for the room. And don't forget, there's always room service! It's complementary until the wee hours of the morning; after that, there's a small service charge.
What to do on the ship?
To get the most out of a Celebrity cruise, you'll want to employ a bit of strategy. Each night, look at your Celebrity Today flier which lists the activities planned for the next day. Some Celebrity Life activities include trivia, pool volleyball, cornhole, and bocce ball competitions. A big hit with our family? Silent disco! Each dancer gets his or her own headphones that can be dialed into one of three channels. Each channel plays a different genre of music. You never know where the silent disco party will be held as it travels from one part of the ship to another. On our 9-night cruise, there were four dance parties. We managed to hit every one!
If you aren't into dancing, try lounging on the lawn. Yes, the Silhouette has the Lawn Club with real grass! You can rent a cabana for the day or have a picnic on the grass in the middle of the ocean. Sit in one of two giant-sized Adirondack chairs or gently sway in a hammock. It's really quite surreal.
If you have junior cruisers, Celebrity has a great place for them called the Fun Factory. There are four age groups: shipmates (ages 3-5), cadets (ages 6-8), ensigns (ages 9-11), and teens (age 12-17). Celebrity has more than 500 tailored activities that revolve around S.T.E.M., cooking, art, and recreation. The Fun Factory has a morning, afternoon, and evening session. After 10 p.m., it's slumber party time; you'll be charged an extra fee per hour, if you decide to drop off your kids. Depending on whether it's a port or sea day, there are also lunch and dinner parties that the kids can attend. Does your tween and teen need more convincing? Celebrity has a partnership with Microsoft, so you'll see Xbox systems lining the walls of the Fun Factory.
Kidtripster Tip: Cruisers (ages 10 and older) can sign themselves in and out of the Fun Factory, if a parent first signs a waiver.
KidTripster Tip: Be sure to check out the Fun Factory agenda in advance, so you don't miss pizza making or s'mores camping night. My girls loved camp-out night. They assembled their own s'mores and sipped hot cocoa by the "fire."
While the kids are off playing, parents can get a little R&R time. Indulge in a spa treatment or couples' massage at Canyon Ranch Spa. The Solarium is another great place to get away from the kids, as it's an adult-only (ages 16 and up) pool and hot tub area. At night, my husband and I enjoyed the martini bar which was made of "ice" and kept our drinks cold. We also retreated to the comfortable Sky Observation Lounge at the bow of the ship.
You won't find Broadway shows on Celebrity. Instead, the line prides itself on showcasing original productions. On an average 7-day cruise, there are two big productions. The rest of the evenings are filled with other types of entertainment including comedians and singers.
You also won't find tons of high-adrenaline activities on Celebrity. There are no ziplines, Flow Riders or obstacle courses. What you will find are more relaxing activities such as pools, a large library, and a game room. My 10-year-old favored the Hideaway. It had egg-shaped chairs as well as cut-outs in the wall where you could lounge. Often she could be spotted doing her homework there. Watch her tour here.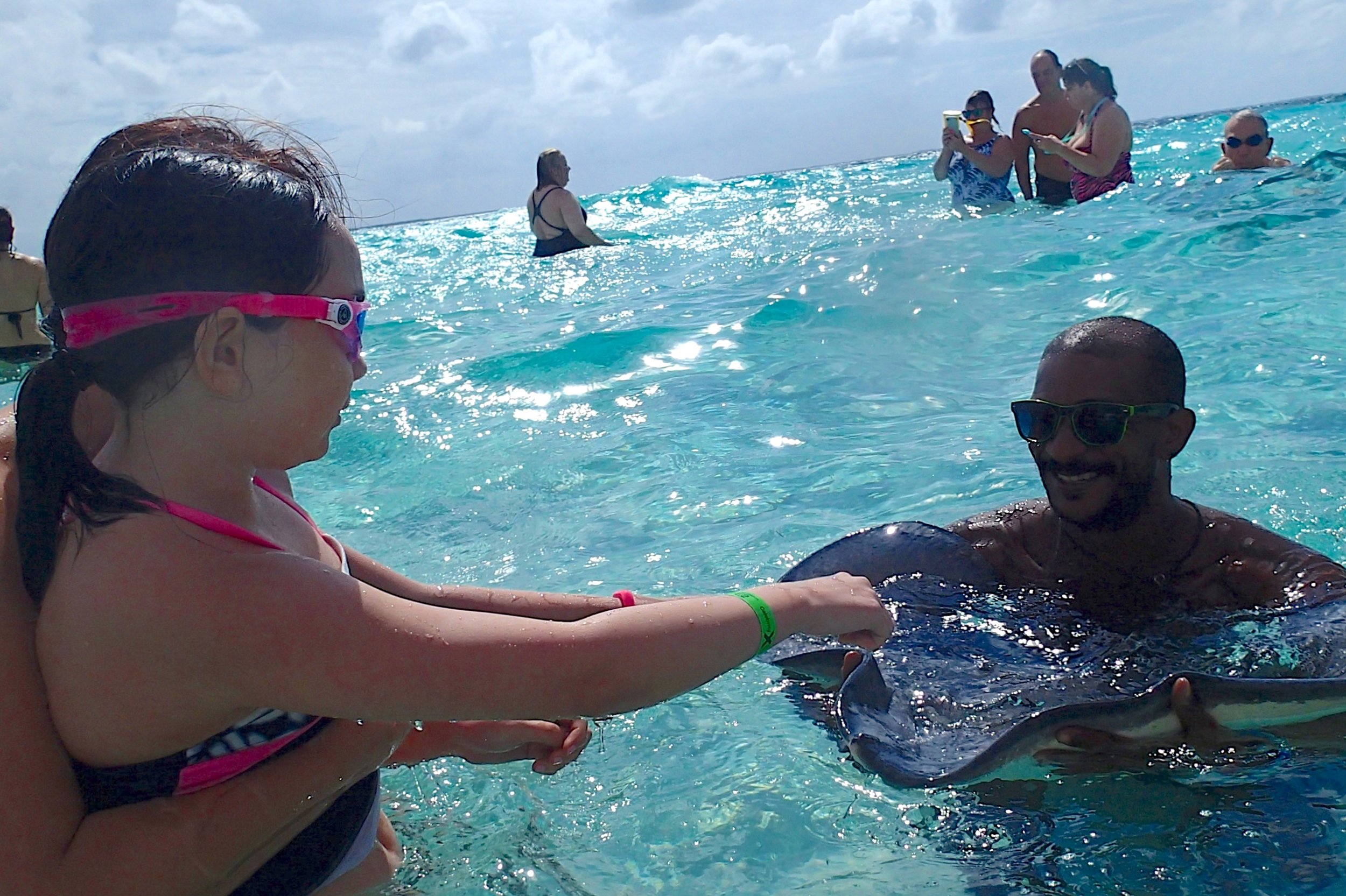 What to do off the ship?
As a general rule, I recommend booking your shore excursions independently and in advance. You'll likely find more unique tours, and I promise you that they'll be less expensive than booking through the cruise line. Below are my suggestions for each port of call on this sailing.
Kidtripster Tip: If you do book through the cruise line, save money by purchasing your excursions before you go. Prices go up about 20 to 30% once you step foot on the ship.
Grand Cayman
We chose to swim with sting rays at Sting Ray City in Grand Cayman. We booked this excursion through the cruise line because we had been on this particular excursion before (prior to kids) and knew what to expect. In addition, it was a single stop. My girls aren't particularly strong swimmers, and many of the independent tours had multiple snorkel stops; I knew that much swimming wouldn't be fun for them. But know that you can book such a tour independently, if you wish.
George Town, the capital of the Cayman Islands, doesn't have a pier big enough for large cruise ships, so expect to tender from the ship to the shore. After a 20-minute tender ride, we boarded a van for a quick, 15-minute drive to a second boat dock. There, we boarded another boat for the 40-minute trip to Sting Ray City, which is a sandbar off the coast. The ride travels through unprotected, open water; on the day of our excursion, the seas were very choppy, and the trip wasn't for the faint of heart.
After a brief instruction on how to do the "sting ray shuffle" (shuffling our feet in the sand so as not to inadvertently step on a sting ray), we jumped in. Our excursion included snorkeling gear to see these magnificent gliders underwater. At first, the girls were hesitant when they saw the rays' stingers. But they soon warmed up to the idea and petted them as the guides expertly cradled the rays. My 8-year-old even fed them some squid! We spent about 40 minutes at the sandbar before heading back to the ship. Cost: $59 per person. If you book outside the cruise line, expect to pay $40 per person.
KidTripster Tip: Be sure to keep your hands in a fist when feeding. Sting rays suck their food into their mouths. You don't want to lose a finger!
Aruba
If you're looking to combine a little bit of history, beach time, and a whole lot of fun, the Kukoo Kunuku Party Bus is your jam. The bus – painted bright red and decked out with sayings that you'll only find in the Caribbean – is a trip! With maracas in hand, we shook them throughout the whole tour at everyone that we encountered.
The open-air bus takes you around Oranjestad to several points of interest. We stopped at the California Lighthouse on the west side of the island. It was built between 1914 and 1916 and stands nearly 100 feet tall. It's named after a steamer owned by the West India and Pacific Steamship Company that struck a rock and sank just off the coast.
Next, we stopped at the picturesque Chapel of Our Lady of Alto Vista, overlooking the Caribbean Sea. On Sundays, parishioners walk together to the chapel for mass on top of the hill. The chapel only fits a small number of people inside; however, there's plenty of outdoor seating for services.
After a long day of crazy maraca shaking and sightseeing, we got dropped off at a local beach for nearly two hours. Mambo Beach was great for swimming and sandcastle building, but if you're looking to snorkel and see fish, you'll be disappointed. The waters in this area are very cloudy. Tour cost: Youth (13 and under) $9; Adult $29 through Celebrity. You won't be able to book this one independently unless you have a big group and can charter the bus. The Kukoo Kunuku has evening tours that you can book on your own, but they involve alcohol and are adult-oriented.
This tour was just the right amount of history and entertainment for the girls. With only two stops before we hit the beach, their attention spans didn't wane. The loud music and maraca shaking helped with getting from point A to point B without too much fuss. This tour would be great for toddlers. I mean, who doesn't like shaking maracas?
KidTripster Tip: Be sure to ask your Kukoo Kunuku guide to take you on an "Aruba roller coaster."
Curaçao
We chose to book our own 4-hour private tour through The Natural Tours Curaçao. After a few email exchanges with owner Paul van den Boogaard, he customized our family's excursion - a combination of sightseeing in the town of Willemstad and around the island with swimming for the kids.
When we got off the ship, Paul was waiting to whisk us away in a private SUV. Our first stop was Rif Fort which had been built to guard St. Anna Bay from pilfering pirates and invading enemies. The 19th-century fortress maintains the original walls but has since been converted into a waterfront mall. We also stopped at Fort Nassau to take in a breathtaking, 360-degree view of the island. On a clear day, you can see to neighboring Bonaire.
Eager to see more of Curaçao, we headed northwest to the less touristy side of the island. Knowing that my girls love wildlife, we stopped to see flamingos feasting on shrimp. But the highlight of the tour was yet to come – swimming with sea turtles on Playa Grandi! These wild sea turtles hang out at this particular beach because local fisherman throw chum into the water here. There were so many turtles, the girls had trouble keeping count. We saw at least a half dozen turtles ranging in size from juvenile to adult.
Booking a private tour was worth every penny. We got to customize our excursion, getting the best of both worlds. The adults got a bit of history, and the kids got to be one with nature. We decided where we wanted to go and for how long. We definitely saw more spots on Curacao than we would have if we'd been on a big tour bus. And the girls got more out of the one-on-one time with the guide. They didn't feel as shy about asking questions. Cost: Family $150.
KidTripster Tip: Bring water shoes to protect your feet on the rocky beach. Also, it's good to have a spotter on the wooden pier who can help point to where the turtles are. They can be very sneaky and swim up right behind you or dart right under your feet!
After our tour, Paul dropped us back at the ship. We showered and then decided to venture back into Willemstad. We walked across the Queen Emma Bridge, a swinging bridge. If you can time it right, stay on the bridge while it opens to let boats and small ships pass. Right across from the swinging bridge is the Dutch Parliament. Walk into the courtyard to see the Fort Church, built in 1769. Back at Rif Fort, we did a bit of souvenir shopping.
Bonaire
At our last port, we decided to be a bit more adventurous. We booked a Twizy tour through Road Runner Bonaire. A Twizy is an electric, two-seater car that can go up to 50 miles per hour, which is much faster than the golf carts that you'll see on the island. We rented two Twizys for the two-hour tour.
KidTripster Tip: The cars are windowless. If it's raining, you'll get wet.
Our host, Hans, picked us up at the pier and drove us to the Twizy parking lot where we signed waivers and got a quick how-to course. Then we were off! Following a tour van, we drove caravan-style with other tour participants to our first stop high atop a hill for a panoramic view of Bonaire and Klein Bonaire, a small uninhabited island. We then hopped on the Queen's Highway to a popular dive and snorkel spot called 1000 Steps. It's actually only 67 steps, but when divers come out of the sea and haul their tanks up the stairs, it supposedly feels like 1000 steps. While our stop here was brief, we got a chance to wade in the surf, play with crabs, and admire the iguanas sitting in the trees.
What would a tour in a Caribbean country be without a visit to a distillery? Our final stop was Cadushy Distillery where alcohol is made from cacti. The kids learned how to properly handle the cacti with two sticks, while the grown-ups sampled. On the way back to the ship, we got to put our Twizy to the test, topping out at over over 50 miles per hour and passing cars and motorcycles on the roadway. Exciting! Watch our video here so you know what to expect. Tour cost: Youth $25; Driver $75; Second driver $35.
KidTripster Tip: Road Runner Bonaire does have booster seats. When you book, be sure to let them know if you need one.
KidTripster Tip: Make sure you bring your license if you're going to drive.
After dropping off the Twizy, we were shuttled to Eden Beach where we arranged a time to be picked up. The beach is nestled between two hotels. For $5 per person, you can rent a beach chair and use the pool and bathrooms. There's a bar and restaurant on premise, so after a long day on the road, you can soak up the sun and sip up an umbrella drink. Eden Beach was an amazing spot for snorkeling. We saw hundreds of fish just off the dock. The crystal clear water was shallow enough to see the bottom. If you decide not to take the Twizy tour, I highly recommend this area for the beach, snorkeling, and other amenities.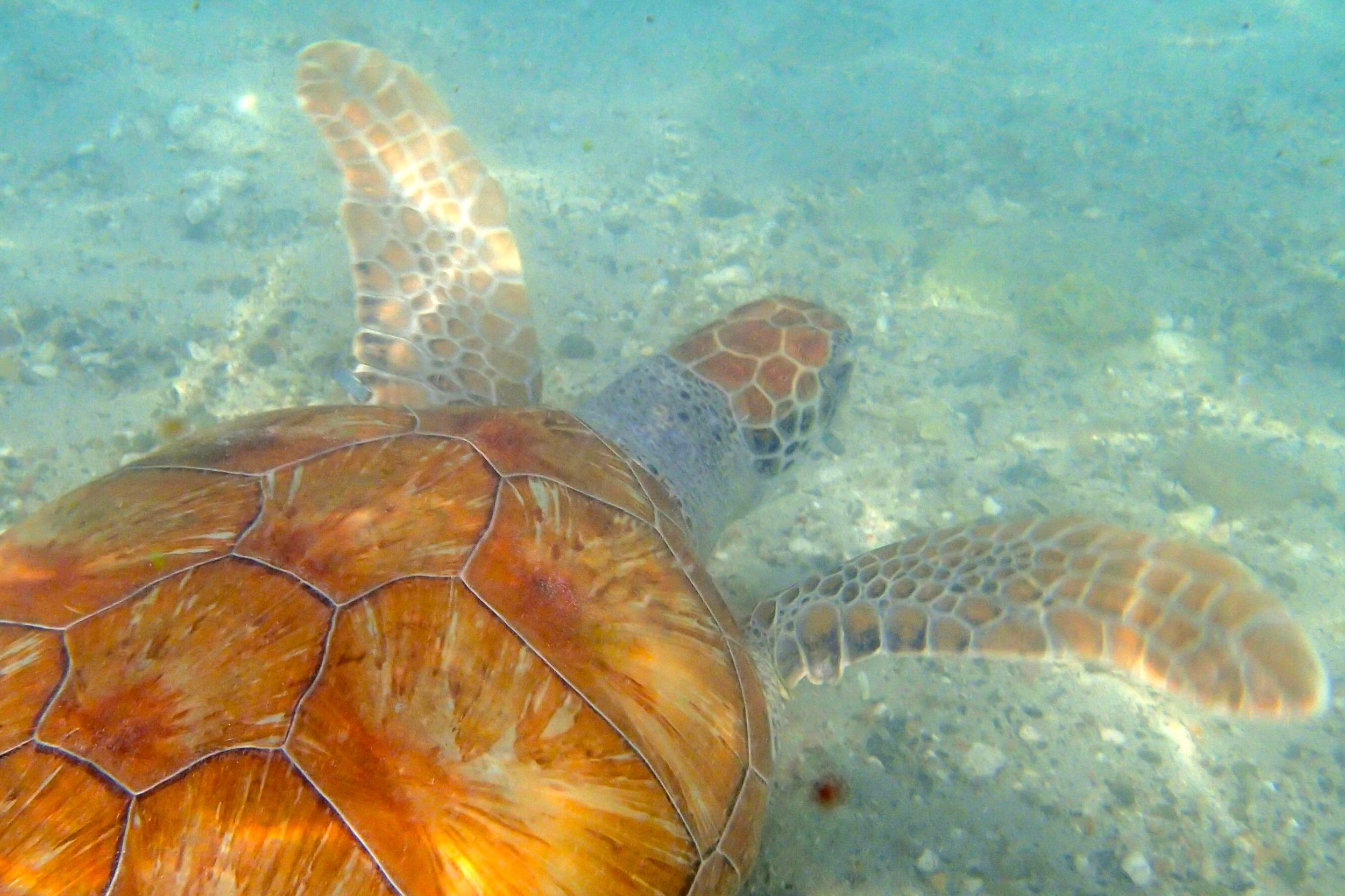 How much?
The cost of your cruise will vary based on the time of year and your cabin category. Inside cabins will be cheaper than suites. Holiday cruises are more expensive. For a family of four, an inside cabin will be about $3500. A veranda cabin is a bit more at $4500, and a Sky Suite is $8800. If you book through a travel agent, they may be able to find a better deal. We booked through a travel agent and saved an additional $300. Here's a link to the agent, Sally Black with VacationKids-Dream Vacations, that KidTripster recommends.
KidTripster Tip: Watch for deals. When we booked, Celebrity was offering two free perks for our cabin category (alcohol beverage package, unlimited Wi-Fi, free gratuities or onboard credit). We saved more than $500, utilizing the free gratuities (valued at $260) and onboard credit (valued at $300).
KidTripster Tip: Celebrity automatically charges $14.50 per day per person for gratuities. This charge is for every passenger in the cabin, regardless of age. If you go to Guest Relations, you can have the charges removed if you wish to tip less, tip in cash or tip directly to a crew member.
Getting there
This Celebrity cruise leaves out of Port Everglades which is about a 10-minute drive from Fort Lauderdale-Hollywood Airport. Miami International is another option, but it's about 40 minutes south of the port.
Holly Thiel Rake lives in Portland, Oregon, with her husband and two daughters. She has spent 121 days at sea, 42 of them with her daughters.
If interested in booking a cruise. KidTripster has partnered with our friends at VacationKids-Dream Vacations. We have confidence that they'll be able to steer you to the perfect cruise for your family. If you book using this link, KidTripster gets some coffee money at no cost to you. Thank you for your support.
Photo courtesy: Visit Aruba
Pin to Pinterest & read later