Costa Rica
THE ULTIMATE FAMILY VACATION TO COSTA RICA
12 Reasons to book a family vacation with Costa Rica Family Holidays
Why go with a tour company?
In general, my family and I are independent travelers, meaning we typically research, plan, book, and execute our own travel plans. Ok, who are we kidding? I, as the CVO (Chief Vacation Officer), do all those things; my husband and two teenaged sons simply show up. If I'm being completely honest, I actually enjoy the process of planning a family vacation. I love to dig into a new location, discover its hidden gems, and then watch as my family experiences something together for the first time. It's my definition of joy.
That's why when I write an article suggesting that you book your family's vacation to Costa Rica with tour provider Costa Rica Family Holidays, you know that I must have a really good reason; in this case, I have 12 really good reasons. In all my years of travel writing, I've only suggested using a tour operator for top-to-bottom planning on a handful of occasions. But in the case of Costa Rica, I think that it makes a lot of sense.
However, let's be clear. If you're looking for a week-long beach getaway to a Costa Rican resort, you don't need a tour provider. You can easily book that vacation on your own. But I have to say, you'll be missing out on what makes Costa Rica truly extraordinary. While the country does have two coasts of beaches, that's not the reason to go there. You can find equally good, if not better, beach resorts elsewhere. You want to go to Costa Rica to experience its diversity. In addition to a few days at the beach, you and your family can stay at an ecolodge in the jungle, see baby turtles hatch and make their treacherous journeys to the sea, sit in hot springs heated by an ancient volcano, and ride a zipline through a rainforest, where it actually makes sense and isn't simply a tourist trap.
When trying to find the best experiences for your particular family in a country that has so much to offer, I think that you can really benefit from the expertise of Costa Rica Family Holidays. And by the end of the trip, I'm confident that your family will feel part of theirs.
So, here are 12 reasons why you should consider planning your Costa Rican adventure with this family-owned and family-focused business.
1/The business is run by a family
To understand the challenges that families face when traveling, I truly believe that you have to be a parent - someone who is living a life like yours.
Costa Rica Family Holidays is the family-focused division of Il Viaggio Travel, owned and operated for the past 13 years by local husband-wife team Emilio Zúñiga and Stephanie Sheehy. Emilio and Stephanie are parents to two young children, whom you'll likely meet while in Costa Rica. They have visited all the properties where you'll stay with their own children. They've tested the restaurants where you'll eat with their own kids. And they've brought families and school groups with kids of all ages to the activities that you'll experience.
In addition, Emilio and Stephanie are very intentional about pairing visiting families with certified guides who also are parents. Our guide Diego has three children; guide Juvenal has three children. It was clear from the very start that Diego and Juvenal know how to engage kids and genuinely enjoy the interaction.
Finally, Emilio and Stephanie want you to feel a part of their family. In fact, if you wish, they'll actually invite you to their family home in San Rafael just outside downtown San José for dinner! Guide Diego does grill some of the best food that you'll eat in Costa Rica!
KidTripster Tip: Costa Rica Family Holidays is a member of the Family Travel Association, as is KidTripster. It's an association dedicated to promoting family travel and companies that share its core belief that travel can be a transformative force in children's lives.
2/Curated trips specifically-designed for different ages
While each vacation is specially-crafted to your family's interests, Costa Rica Family Holidays starts the planning with packages that meet the specific needs of children, depending on their age.
The First Encounter package is designed for families with children, age 0 to 4. Emilio and Stephanie make sure that the chosen hotels are well-equipped with microwaves and refrigerators and have cribs and highchairs. If not, they'll provide them. They also put together a welcome kit that includes your preferences for baby food, formula, and diapers. Do you need a carseat, stroller or baby carrier? Done. Do you need laundry services at no charge? Done. And the itinerary is designed to be manageable for a young family with shorter drive times, stroller-friendly hikes, and built-in nap times.
Not sure if you'll need a stroller. Get some advice here.
The Treasure Hunt package is geared toward inquisitive kids, ages 5 to 11. These family vacations are designed to engage kids around a pirate theme. Your guide serves as captain (complete with pirate hat). Kids are encouraged to collect "treasures" along the way that represent the day's adventures; those treasures are placed in a small chest that's given to the family at the end of the trip. Kids can download a special app and play educational games with Jorge, the white-faced monkey, while they're traveling from one destination to the next. The van in which you travel is always stocked with healthy snacks plus water and juices. Hotels typically have more space and connecting rooms, if desired, as well as microwaves and refrigerators.
If you have teenagers, you know that you have to up your game. Emilio and Stephanie, as well as the guides, know this, too. The Costa Rica Adventure package is for tweens and teens who want to push the limits and themselves. But parents can still feel confident that these adrenaline-pumping activities - think whitewater rafting and extreme ziplines - are safe. Welcome kits for older families include coconut necklaces and bracelets and more challenging games. Again, selected hotels have connecting rooms or side-by-side villas to allow teens some independence.
For more on what to do with tweens and teens, read our top 7 suggestions here.
Costa Rica Family Holidays also specializes in arranging vacations for families with children of various ages and multigenerational trips where Grandma and Grandpa are along for the adventure. Here, the emphasis is on making sure that the vacation includes something for everyone.
3/Accessible travel for all
Many tour companies claim to cater to families with special needs, but few actually do. I have to say that I'm totally impressed with Costa Rica Family Holidays' efforts in this area.
Emilio and Stephanie and their entire staff are committed to making sure all families can experience Costa Rica. They've worked with families with autistic children and understand that those children may have sensory issues or need extra assurances about what's coming next. They've planned trips for children with Down syndrome; in fact, you'll see many of those families in photos on their website - not as a marketing ploy - but as proof that all families can travel internationally.
But where Costa Rica Family Holidays really sets itself apart is in arranging epic vacations for people with disabilities. The company's van is equipped with a lift to facilitate a wheelchair. They know which natural areas have universal trails so that everyone can experience the biodiversity that Costa Rica is known for. They provide waterproof wheelchairs so those with disabilities can experience the ocean or a river. They have a relationship with Ecoglide Arenal Park, a zipline operator whose guides will carry people with mobility issues up a mountain so that they can experience the freedom of flight on a zipline through the rainforest, a service that's provided at no additional cost. One of Costa Rica Family Holidays' clients who suffered from cerebral palsy learned to surf through an adaptive surf program. Truly, no challenge is too great.
In addition, this company is going above and beyond to further increase accessibility for all. It's raised money and created the first universal beach path in the Central Pacific region so that those with disabilities can easily access the ocean. And they've formed a foundation to further advocate for accessibility in Costa Rica - all efforts which I applaud.
4/Specific regional knowledge
Costa Rica is smaller than the state of West Virginia. It's broken up into six tourist regions: Central Valley (home to the country's main international airport in San José), Central Pacific, Guanacaste, Northern Plains, Limón, and South Pacific. Each region offer visitors distinctively different experiences depending on the specific time of year. For example, if you want to see the Green sea turtles hatching in Tortuguero, you'll want to visit in December. Or if want to see the famous Arenal Volcano near La Fortuna, you won't want visit in October, because it's rarely free from clouds.
KidTripster Tip: In addition to Green sea turtles, it's also possible to see Olive Ridley, Leatherback, and Hawksbill sea turtles at different locations at different times of the year.
That's where relying on the expertise of Emilio, Stephanie, and their staff comes into play. They'll have you fill out a survey to discern exactly what kind of experiences you and your family want to have. Then they'll devise an itinerary that hits those highlights, given the time of year that you'd like to visit. Ideally, you'll be able to visit two or three regions in a week's time.
KidTripster Tip: When to visit has a lot to do with what you'd like to come. However, the holidays - Christmas, New Year's, and Easter - are times to avoid as destinations will be packed. Also, you'll want to book your vacation at least six months in advance.
KidTripster Tip: When you arrive in Costa Rica, plan to spend a night or two in San José. Visit Rescate Animal Zooave and maybe take a painting class in the artisan town of Sarchí, if you have order kids. Then add in a tour of either Corsco Lechería where you and your kids can milk cows and eat freshly-made ice cream or Espíritu Santo Coffee plantation where you can race to see who picks coffee beans the fastest. You'll also discover how an authentic Costa Rican coffee is brewed. Hint: it's not like Starbucks!
Costa Rica Family Holidays also partners with trusted, local companies to provide your lodging, activities, transportation, and meals. Because they've developed relationships with these businesses, they're often able to get better pricing than you would booking online.
5/Expert guides enrich your travels
If I were to highlight the best reason to book a family tour through Costa Rica Family Holidays is would be this - the guides.
You can research a country to death or have your guidebook out at every turn, but it's not the same as having a local friend teach you about his home. And yes, by the end of the trip, you will be friending your guide on Facebook.
Our guide Diego was phenomenal. He's been guiding families for the past 30 years, but his enthusiasm and passion for his country was fresh and genuine. He was a walking Wikipedia of knowledge - from Costa Rican history to its wildlife to its culture and customs. The amount of information is Diego's head… mind-blowing! In fact, he taught me plenty about the U.S.'s past role in Central America - things that I wasn't aware of. It's all communicated in a fun and engaging manner that will resonate with your kids. This kind of valuable context is what you miss when you plan and execute a trip on your own.
KidTripster Tip: Don't hesitate to provide your guide with feedback early in your trip. If your family needs more time at particular stops, say so. If you need the tour to be faster-paced, say so. Your guide is there to meet your needs.
A special note here about the importance of having a guide in natural areas: As I've mentioned, Costa Rica is one of the most biodiverse countries in the world with 42% of its land (private and public) protected. The flora and fauna here are amazing, but without a guide to educate, you'll won't be able to fully appreciate it. Frankly, you probably won't be able to spot the wildlife on your own. Again, you'll find your guide or the site-specific guide that Costa Rica Family Holidays arranges to be invaluable.
Your guide also serves as your driver. Could you drive in Costa Rica? Yes, the country has a fairly well-developed infrastructure. But getting from point A to point B without getting lost along the way? Bonus. Plus it's your vacation, too. It's a relief to leave the navigating to someone else. Know that some areas that you may want to visit - for example, Tortuguero - are only reachable by boat. In those cases, the company makes all the arrangements, and your guide will accompany you.
KidTripster Tip: Many people worry about the extra cost of having to pay for a guide's lodging and meals. Know that in most cases, the hotels and restaurants provide complimentary rooms and meals to guides who book a group at their establishments.
KidTripster Tip: It's customary to tip your guide at the end of your trip. It's a personal decision, but gratuities typically range from $10-20/person/day.
6/Built-in babysitter
After spending a few days with your guide, you'll build trust. Your kids will consider your guide to be an uncle. And if you choose, you can decide to have an adult-only night out while your guide babysits the kids. It's a service that's provided at no extra cost to you.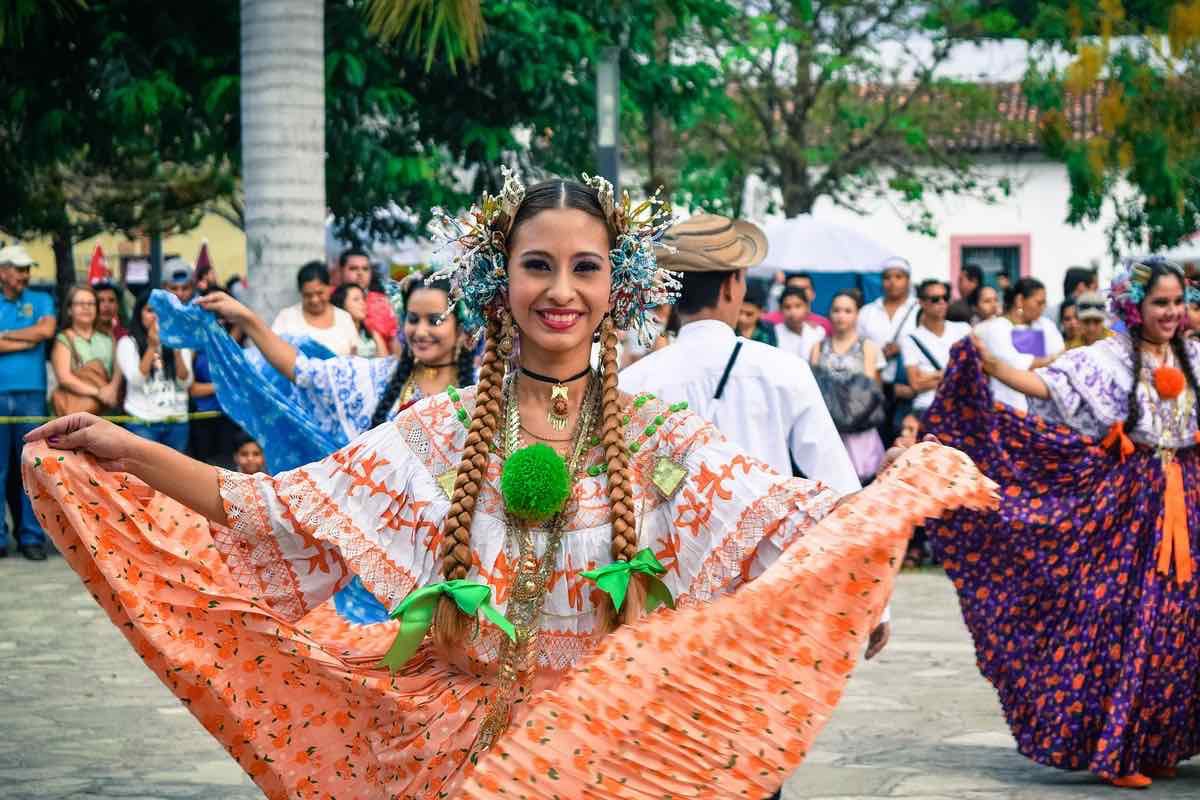 7/Personal interpreter
Your guide with Costa Rica Family Holidays will be completely fluent in English. We absolutely had no problem understanding Diego. You'll find many Ticos (that's how Costa Ricans refer to themselves) in urban areas do speak English. Also, folks that you encounter in hotels and at tourist attractions also speak English.
However, we found that older Ticos and those who live in more rural areas are less likely to speak English. That's when your guide's interpretive skills become invaluable.
8/Impromptu roadside stops
When you travel with a local guide, you have the opportunity to be flexible. If your guide sees something along the road that he thinks will interest your family, he'll stop.
Our guide Diego knew that he had a group of foodies on our tour, so he stopped at a local roadside stand on our way to La Fortuna. Why? Because here, we could see and taste fruits and vegetables that we'd never seen before: peaches of palm, sour guavas, malay apples, taros, and cherimoyas, to name a few. It's something that - with a language barrier - you'd probably be unlikely to do on your own.
9/Best food experiences
Speaking of food, if your family enjoys culinary experiences, Costa Rica Family Holidays will hook you up. Want to taste one of the best strawberry shakes in Costa Rica? (The country is a big strawberry producer.) Diego will book lunch at Freddo Fresas while you're exploring the area around San José. Have a sweet tooth? Diego knows the go-to bakery for traditional pastries in Sarchí. Want to sample nuevo cuisine, Costa Rican-style. Then you need to dine at Don Rufino Restaurante in La Fortuna, hands-down the best meal that I ate in Costa Rica.
KidTripster Tip: Generally speaking, Costa Rican food is nothing to write home about. The staples at every meal are rice and beans. I also found the food to be fairly bland compared to our Latin cuisines like Mexican or Peruvian. (That could be an advantage if you have fussy eater.) I think that's why it's even more important to have Costa Rica Family Holidays handpick the most interesting places to dine.
KidTripster Tip: When planning your vacation, ask to avoid buffet-style restaurants, especially those in hotels.
I'd also highly suggest having Costa Rica Family Holidays arrange a visit and family cooking class at Arenal Vida Campesina, a small organic farm. It's a real farm-to-fork experience where you and your kids tour the gardens and then help cook the meal - from making fresh tortillas to chopping just-picked vegetables for a traditional chayote salad.
10/Insider experience that you may not be able to easily arrange on your own
In my travels, I've found that some of the most authentic experiences are those that you can't book on the internet. That's where Emilio and Stephanie's local expertise comes into play, again.
On our trip, we stopped in Sarchí, the handicraft capital of Costa Rica. It's also the place where traditional ox cart painting originated. The ox cart is the national symbol of Costa Rica and harkens back to the days when these carts were used to transport the harvest on coffee plantations. Today, Costa Rican families still proudly display these vibrantly-colored carts in their homes. While here, we took a painting class from 64-year-old William Valverde Arias who's worked as an artist since age 18. While our "art" wasn't comparable to his, it was a memorable, hands-on experience. Watch our teacher here.
KidTripster Tip: While in Sarchí, we stopped at Fabrica de Carretas Eloy Alfaro, a traditional ox cart factory and gift shop. While I appreciated knowing the history of the ox cart, I was disappointed by the tour from the on-site guide - not our personal guide, Diego. The whole experience felt rushed and very touristy, as it's a favorite stop for large tour buses. It wouldn't be a kid favorite. Instead, I'd opt to have your guide explain the history and simply stop at Fábrica de Carretas Chaverri that offers the classes. That location is the best spot to buy well-priced souvenirs.
Emilio and Stephanie also can arrange for your family to spend the day at a local school, interacting with children who are the same age as your kids. Often this experience can be coupled with some kind of community service work. Again, it's a teaching opportunity that likely would prove difficult to arrange on your own.
11/Emphasis on sustainability
The country of Costa Rica was one of the early pioneers in ecotourism. It's more than a catch phrase here; sustainability is a way of life. To drive this point home, every Costa Rica Family Holiday trip ends with each person planting a tree to offset his or her carbon footprint during the vacation.
12/Extra touches
Lastly, there are all those little, extra touches that make a vacation with Costa Rica Family Holidays more personal. Every night in your hotel room, you'll find a postcard outlining what to expect the following day and what you should wear. You'll also find gifts: lip balm with sunscreen, rainforest playing cards, and stuffed animals of species that you've seen on the trip - coatis, sloths, and turtles. In addition to the treasure chest of mementoes, your guide will present you with a scrapbook of photos so that you can relive your favorite moments from your Costa Rican adventure.
Want more? Read the 10 random things that you should know before visiting Costa Rica.
Editor Shellie Bailey-Shah's favorite moment in Costa Rica? Swinging like Tarzan through a rainforest. Her screams were mostly from joy… and a wee bit of terror! Take a listen.
This writer received a complimentary tour for the purposes of this review. However, all opinions expressed are solely her own.
Pin to Pinterest & read later