Alaska
AN ALASKAN VOYAGE WITH UNCRUISE
Is it the right Alaskan cruise for your family? Read our day-by-day account to find out.
Why go?
Cruise ships have been touring Alaska since the 1800s. There are the big ships - the ones with all the bells and whistles like water slides and racetracks on board. And then there are the smaller ships that have a distinctly different appeal - adventure and access. Some of the larger ships carry more than 4,000 passengers, whereas the smaller ones - like those operated by UnCruise - carry less than 100. The experience is entirely different.
To read why eight reasons our KidTripster teen prefers small ship cruising over mega ships, click here.
UnCruise offers several Alaska itineraries ranging from seven to 14 nights. Many of them are roundtrip from Juneau. However, some leave from one city and arrive in another - for example from Sitka to Juneau or from Juneau to Ketchikan. We opted for the Alaska's Glacier Country itinerary which sailed in and out of Juneau.
Before my daughter and I boarded UnCruise's SS Legacy, our expedition leader laid out some ground rules. She told us that the trip might deviate from the itinerary that we'd studied closely online because of something she called the "three Ws" of sailing with UnCruise - weather, wildlife, and whimsy. She was correct; our plans did change a few times on our cruise - all for the better.
While your cruise won't look exactly like ours, here's a day-by-day account to give you an idea of what to expect on this once-in-a-lifetime family adventure.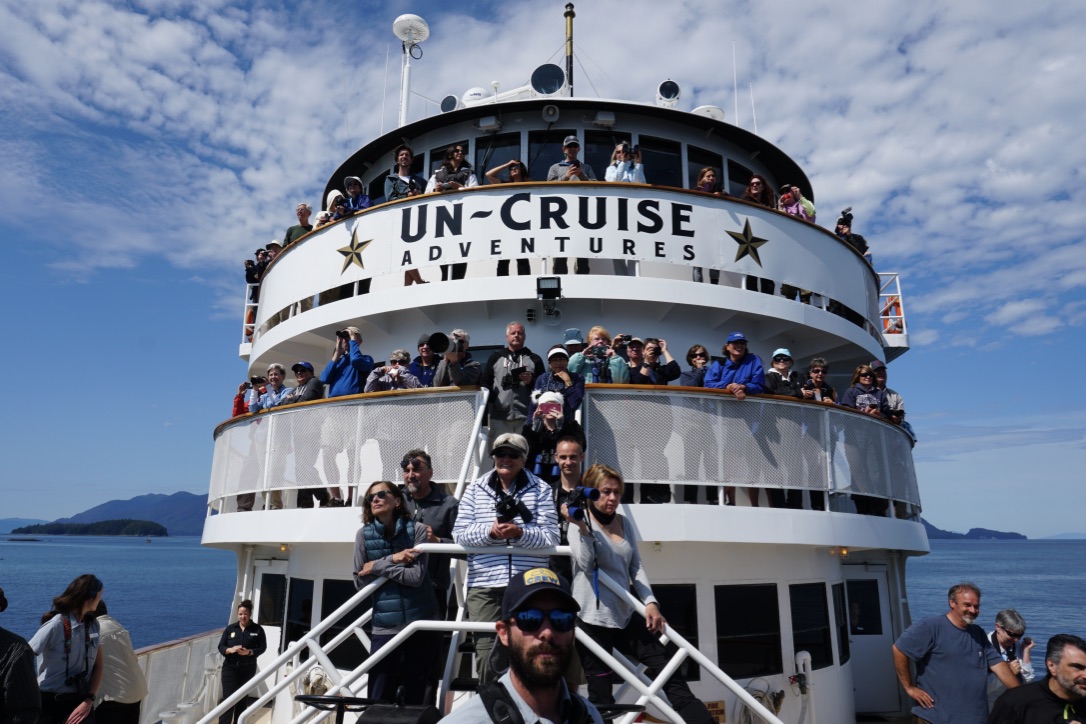 DAY 1: Juneau embarkation
We didn't board the ship until 5 p.m. on the departure day. Since we'd arrived in Juneau a day in advance, that meant that we had a whole day to explore prior to sailing away.
KidTripster Tip: As is the case with any cruise, we recommend arriving a day before departure, just in case there's a flight delay. You don't want your ship to leave without you!
Rather than lug our suitcases around with us, we went by the Juneau Convention Center where the UnCruise staff cheerfully greeted us. They got us checked in, whisked our bags away, and offered us a snack and use of the free WiFi. UnCruise has a large reception area inside the convention center which makes for a comfortable spot to hang out before and after your cruise. We, however, had some exploring to do. For ideas on what to see and do in Juneau, click here.
Other guests arriving on the same day as the departure utilized UnCruise's shuttle service from the Juneau airport. By the time we arrived back to the convention center around 4 p.m., the place was packed with people who were buzzing with anticipation of what was to come. Most of the guests hadn't previously sailed with UnCruise, but there was one gentleman who was on his 16th voyage with the company! He regaled the room with stories of past cruises, serving as a one-man pep squad.
About 4:45 p.m., the expedition leader for the SS Legacy arrived to give us the previously mentioned "three Ws" speech. Then she lead our group out of the convention center and across the street to board the vessel.
The captain greeted each guest at the dock, a crew member took our photo, and another escorted us to our cabin. Our luggage was already in our room. We had a few minutes before the mandatory safety drill, so we did a little unpacking and settling in.
The SS Legacy is 192 feet long. It has 45 cabins including two single cabins and three triple cabins. This ship has an elevator and one cabin that can accommodate a guest in a wheelchair. On the first floor, you'll find guest cabins and the dining room. These cabins have a large window and are accessed by an interior hallway. On the second floor, you'll find the lounge as well as additional cabin rooms. The third floor is comprised of all staterooms. The second and third floor guest rooms open onto a covered, exterior walkway. The fourth floor is where the fitness area, sun deck, and hot tubs are situated. That is also where the spacious Owner's Cabin is located as well as the bridge which is open to guests. On each level, you have access to an outdoor viewing area.
We were a little surprised that we didn't have room keys. Our room locked from the inside but not from the outside. There's a small safe in the closet, large enough for cell phones and wallets. This took a little bit of getting used to. At first, I tucked away all of my valuables, but by the end of the cruise, I didn't even bother with it. We felt perfectly safe.
Our room had two twin beds, full bathroom with a shower, desk area, closet, and some drawers. There was room to stow our luggage and backpacks under each bed, keeping the floor space clear. The cabin size is small but comfortable.
Not long after arriving on board, it was time for the safety drill. You'll be asked to retrieve the lifejackets from your room and convene in the lounge. In addition to covering safety basics, you'll learn other important information like your meal times. We also got a lengthy speech from the chief engineer about what not to flush down the toilets (this is serious business, people!).
Once that was all taken care of, it was time for dinner. There's no assigned seating on UnCruise. At this point, we were all still strangers, so it took a minute for everyone to settle on a spot to sit. (By the end, we were all fast friends!) Dinner is served in courses, starting with special bread, a salad or soup, your main course, and, of course, dessert.
At dinner, you'll have a land, sea or vegetarian option. If you can't decide, they'll make you a half-and-half plate or even serve you one of each entrée, if you like. The meal portions were perfect. We felt full but not stuffed, which meant we always had room for the dessert. (You won't want to miss dessert!)
KidTripster Tip: There are set meal times on the ship. On our ship, breakfast was served at 7:30 a.m., lunch at 12:30 p.m., and dinner at 6:30 p.m. Meals were served promptly and efficiently. There were a few guests who arrived about 15 minutes late to our first breakfast and were surprised to learn that they had missed the meal. The crew scrounged something together for them, and the guests weren't late again. In the lounge, fresh pastries were available before breakfast, cookies were set out during the day, and a robust happy hour was served before dinner. The lounge had a self-serve beverage bar with an espresso machine, drip coffee, tea, and hot chocolate. There also was a basket of granola bars for snacks.
KidTripster Tip: I have celiac disease which means no gluten for me. Traveling with a food allergy can be particularly stressful, especially on a cruise when you're at the mercy of others for all of your meals and snacks. UnCruise did an amazing job making sure that I was well fed all week. I was able to eat all of the same meals as the other guests with some slight modifications. There was only one menu item that I was not allowed to order which was the Bananas Foster French Toast. Otherwise, I was able to have the same items as the other guests. The servers always offered me gluten-free bread before my meal and a gluten-free dessert, too. During snack time and happy hour, the crew always tucked away some gluten-free crackers, bread, and cookies for me behind the bar. Prior to your cruise, you'll fill out an intake form. Be sure to indicate any food allergies that you might have so that the crew can be prepared to accommodate you.
After dinner, it was time to mingle a bit. The lounge is the place to be in the evenings. All beverages - including beer, wine and alcohol - are included in your fare. The wine was flowing on that first night as guests got to know one another.
We each had a name tag. And remember those photos taken prior to boarding? They were printed and labeled with our names and hung on the wall outside the lounge. The SS Legacy can accommodate about 90 guests (the most of any of the UnCruise vessels). However, our cruise had about 65 passengers on it in addition to 32 crew members. Most of the guests were older, primarily retirement age. There were some multi-generational families on board, too. Several young adults were traveling with their parents. There were only three children on this particular cruise. My daughter, age 11, and a brother and sister, ages 9 and 11. Fortunately, my daughter and the other girl connected immediately, given that they were both the same age and same grade.
Soon it was off to bed. Breakfast was early the next morning, and Glacier Bay awaited us.

DAY 2: Glacier Bay National Park
After a restful night of sleep, we got up early to join the morning stretch class in the gym. It took place daily at 7:00 a.m. Just as our workout ended, the captain made an announcement over the loud speaker. Breakfast was served in the dining room. Breakfast always consisted of two choices: a specially item and an omelette-du-jour. You could add on things like fruit or bacon.
Just as breakfast was wrapping up, we spotted several orcas. The pod was training the young to hunt. Apparently the orcas wanted breakfast, too, because we watched as one gobbled up an otter. Welcome to Alaska!
After breakfast, we learned that we had a special guest with us for the day. The ship had stopped to pick up a Ranger Becca from Glacier Bay National Park. She told us about the land, the people who used to live there, and the animals who call the area home today. Ranger Becca also had Junior Ranger supplies with her. She gave the kids and any interested adults workbooks to fill out with the promise of a badge at the end of the day.
Our ship sailed some 60 miles into Glacier Bay. The park is that big - stretching across 3.3 million acres. There are more than a thousand glaciers in this area, although most of them are hard to see or access because they're high up in the mountains. Some of them, however, stretch to the sea, like Margerie Glacier. As we began to approach the glacier, the air got colder, and we saw lots of ice floating in the water around us.
But before we got to Margerie, it was mealtime. It was a Greek-themed lunch, and our menu options included a chicken shawarma, falafel, and greek salad. My daughter was thrilled to discover that dessert was served after lunch. The joys of being 11-years-old!
Dessert was good, but the real treat of the day was Margerie Glacier. You can see the glacier from miles away. It's about a mile wide and 21 miles long and has an ice face that's about 250 feet tall. We could hear cracking and popping and saw small bits calve off into the water, leaving a trail of icy chunks. The ice was a brilliant blue, and the water around it appeared emerald green.
The captain steered us right up to Margerie, and we sat there for quite awhile. By this time, it was really chilly, so most of us were bundled up in jackets, hats, and gloves. No one really minded the cold, though, as the glacier was simply stunning.
Eventually it was time to move on. We saw other wildlife in the area like humpback whales, seals, and puffins.
Before we returned to the Glacier Bay National Park Lodge to drop off Ranger Becca, we had something important to take care of. It was time to swear in the Junior Rangers. All three kids and a few adults received their Junior Ranger badges.
Unbelievably, it was time to eat again. For dinner, we had a short ribs and rockfish.
After dinner, we disembarked the Legacy and took a hike around the Glacier Bay Visitor Center at Bartlett Cove, the only developed area in the park. This area used to be a glacier. When it retreated 200 years ago, a forest sprung up in its place. Today, it's filled with tall spruce and hemlock trees, as well as several ponds. We followed the mile-long trail, stopping to eat the wild berries, look at the large mushrooms called "bear bread" growing on fallen trees, and examine the scat found on the trail, making sure it wasn't too fresh.
KidTripster Tip: Scat is another word for feces. Our guides often stopped to examine scat. It sounds gross, but it was a safety issue. They were particularly interested in bear scat, wanting to make sure it wasn't too fresh which would indicate a bear in the area. We'd been given a bear safety talk, and the guides were equipped with bear spray.
There are a few other points of interest at Bartlett Cove. There's a totem pole and a tribal house as well as a large whale skeleton. The Visitor Center has exhibits about Glacier Bay and a gift shop.
We were back on board the SS Legacy by 10 p.m. It was just getting dark as the last passenger (me!) got back on the ship. How does the crew keep track of everyone's whereabouts? When you disembark, you move a magnet from a column reading "aboard" to the column reading "ashore."
KidTripster Tip: There's no WiFi aboard the SS Legacy. There's also very little cell service in this area. Hopefully, you'll take this opportunity to disconnect from your devices and reconnect with your family. That said, sometimes you do need to check in with work or home. In my case, I was traveling with my daughter and without my husband and young son. I usually had an hour or two of cell service each day which gave me a chance to say "hi" to my boys. There only was one time during our cruise that I had WiFi access and that was outside the entrance of the Glacier Bay Visitor Center. If you want to Instagram your day at Margerie Glacier instead of later-gramming it, this is the place to do it.
DAY 3: Pavlof Harbour & Wachusett Cove
We woke up to a sunny morning and once again joined the morning stretch class, readying our bodies for a full day of adventure.
Breakfast was served promptly at 7:30 a.m. This time, we had a choice of an English breakfast or an omelette. Each morning, just before breakfast ended, the chef came out to tell us about the food offerings for lunch and dinner. Then the wait staff took our lunch and dinner orders. You could change your mind later, but they wanted to get an idea of approximately how many items of a particular dish to prepare.
Then everyone headed off on their excursions. We'd chosen our activities the day before. On the bulletin board outside the lounge, the sign-up sheets were posted, telling us which activity we were doing and at what time. My daughter and I signed up for the Kayak 101 course.
A guide spent some time on board showing us how to operate a kayak. Then we zipped up our life vest and hit the water. The guide went with our group of kayaking newbies. Our guide showed us tricks for using the rudder, how to properly paddle, and how to turn around quickly. We also learned that communication is a big part of a 2-person kayaking adventure.
We got back on the ship just before lunch. We'd worked up an appetite from our kayaking, and we wanted to carb-up before our afternoon bushwhack. Our lunch choices included chicken parmesan or eggplant parmesan with a carrot cake cupcake for dessert.
At the pleading of my daughter, we'd signed up to do a bushwhack which is an intense hike that's off the trail. I was less enthusiastic about this excursion. We'd been warned to expect to be wading, trudging, and perhaps crawling through the forest. It was a warm and sunny day, so we wore t-shirts with our waterproof pants and rubber boots. A skiff delivered us from the ship to the shore. We waded through tall grasses, walked between old ferns, crossed fallen logs, and traipsed through a bog. We got wet, sweaty, and dirty - which was exactly the goal!
KidTripster Tip: You might find it stressful to pack for an Alaskan cruise. Be sure to check out the UnCruise packing list. You'll want to have layers with you. The temperatures can vary depending on your location, and the weather also can change quickly. You may get a soaking rain and then see the sun a few minutes later. Light, waterproof layers are easy to pack and easy to take on and off as needed. You'll be wearing rubber boots for most of your onshore excursions. You can pack your own or borrow a pair on the ship. Note: the ship doesn't stock youth sizes, so you'll need to pack a pair for your kids. You also can leave your binoculars, water bottle, sunscreen, and insect repellent at home. All of these items are available for use on the ship. If you forget something, there are a few items available for purchase on the ship, like rain clothing, fleece jackets, t-shirts, and hats. There's no laundry service available, so pack accordingly. Attire on board the ship is extremely casual. You can pretty much wear what you wore on a hike to the dinner table.
Back at the ship, we had time to clean up and take a nap before dinner. Dinner was a choice of duck or halibut plus a vegetarian option.
After dinner, one of the guides gave an informative talk about the landscape of Southeast Alaska. As interesting as her talk was, it was interrupted several times by something more interesting; whales! We took several breaks to view humpback whales swimming around and under the ship. (It was late July in Alaska which meant we had about 17 hours of daylight for wildlife watching. It wasn't dark until after 10 p.m.)
DAY 4: Hannus Bay, Lake Eva & Kasnyku Bay
You guessed it, we woke up early for another 7 a.m. stretching class. To be honest, we considered skipping it. All of the activities the previous day really wore us out, but we didn't want to break our streak.
Breakfast was tasty. I had pork belly served with eggs, potatoes, and a tortilla. The other choice was a chorizo omelette.
Our excursions started right away. Options for the morning included a vigorous hike, moderate hike or interpretative trail hike; we chose the moderate hike. We got to hike on one of the few actual trails that we saw the whole week. It was a national forest service trail near Lake Eva. A skiff took us to shore, we waded a few feet into the water and then walked up a rocky beach, enjoying the satisfying sound of seashells crunching under our boots. Our hike took us through a forest to an estuary. Then we had our first bear sighting of the week! We were all excited to get a look. From a considerable distance, we saw a mama bear and cub feeding on fish in the water. The guides put safety first, making sure that no group got too close by using their radios to keep each other informed of the family's whereabouts.
After arriving back on the ship, it was soon time for lunch - a deconstructed nacho with ropa vieja. We had a yummy coconut cake for dessert.
Then the day took an unexpected - but exciting - turn. The ship was headed to its next destination in Hanus Bay. We had an afternoon of water activities planned. But as we began our journey, we encountered a group of humpbacks bubble-net feeding! Bubble-net feeding describes when a group of whales works together to feed - diving down into the water, spiraling to the surface, and pushing fish upwards to eat. It's pretty spectacular. Rather than go forward as planned, the captain made an executive decision to stay with the whales.
We watched the humpbacks for several hours. At times, they swam within a few feet of our ship. The whales were so close that we could see, hear, and feel their splashing. Although we watched it happen several times, whenever the whales surfaced, the crowd couldn't help but gasp in awe. Most of the crew was on the viewing deck, too, taking photos and explaining what we were seeing. It was a memorable experience for all. This proved to be another benefit of the small ship cruising. The captain could change course on his whim to chase wildlife. Trust me, there were no complaints from the passengers.
Next stop: a waterfall. Again, the small ship allowed us to get so close, you could hear and smell the waterfall from the bow of the ship.
All of the whale watching drained our camera batteries and worked up our appetites just in time for happy hour and dinner. One of the expedition guides offered a timely, post-dinner presentation on whales.
The boat paused for a bit, and we saw the sun go down over a hillside. Even though it was late, many guests were out in their pajamas watching the gorgeous sunset.
KidTripster Tip: On most nights, passengers retired to their rooms between 9 and 10 p.m. The bar in the lounge stayed open until 10, but some passengers hung out chatting or playing cards past that time. Although there's a small selection of games on board, it's worth packing a deck of cards or small travel games that your family likes to play. People laid claim early to certain favorites - like the set of dominoes or the one Yahtzee game on board.
Although we were physically tired, we sometimes weren't quite ready to go to sleep. The ship has a library of DVDs available to borrow. Our cabin TV had a DVD player. The ship's DVD selection was interesting, ranging from box sets of random TV shows to a large selection of 90s movies. Most nights, we were too tired to watch a whole movie, but my daughter enjoyed selecting vintage films for us to watch together like the original 1987 Overboard movie.
DAY 5: Halleck Harbour & Red Bluff Bay
We woke up to another sunny day. It was chilly on the water, but t-shirt weather on the shore. We rolled out of bed just in time for the morning stretch. Then it was off to breakfast. Today's special was eggs Benedict.
We signed up for a skiff and stroll excursion, meaning part of the excursion was on the water and part of it was on land. The skiff took us around Frederick Sound. It got us up close to a petroglyph of a sun painted on a rock. There was a group of seals lounging around some kelp. We spotted a few otters and seabirds, too.
The skiff dropped us off at the beach. It was low tide, so we walked around the tide pools, gently turning over rocks to peer at the small creatures living underneath like kelp crab, sea cucumbers, starfish, and anemones. It was a good thing that we wore our rubber boots because we did a lot of wading and splashing in the water. On the beach, we spotted some mink running between the forest and the water, looking for snacks. As we walked along the beach, we found a large bone. Our guide thought that it was a bear femur and deemed it to be relatively fresh. We also found an intact porpoise skeleton; the only thing missing was its skull. After a morning of exploration, the skiff took us back to the boat, getting us there just in time for our next meal.
The theme of lunch was BBQ. We were served either brisket or jackfruit. It was served with BBQ sauce, cornbread, coleslaw, and macaroni and cheese. Twist my arm!
After lunch, it was on to our next adventure. We got in a bonus round of stretching at an afternoon session. Then we put our Kayaking 101 skills to use. We paddled out to a nearby waterfall. Being newbies, our arms got a little sore, so we took some breaks and enjoyed the view.
Still full of energy, my daughter wanted to try out paddle boarding for the first time ever. With some instruction and encouragement from the crew, she got on a board. A couple of other paddle boarders stayed close and offered her advice. She stayed on her knees the whole time, not quite confident to stand up. The jellyfish swimming all around kind of freaked her out! Still she paddled around for about a half-hour before heading back in. Then it was off to the hot tub on the sun deck to warm up and relax after a busy day.
During happy hour, we munched on fried corn and zucchini fritters. But the highlight of the day for many guests was the all-you-could-eat Dungeness crab dinner. The chef came around with a large bowl throughout dinner offering more crab legs. Few refused second or third helpings. At first, my daughter wasn't sure how to get the meat out of her crab. The helpful crew got her started, patiently showing her how to use the crab cracking tool. Our tablemates also had lots of experience cracking crab, and they shared their techniques. By the end of the dinner, we'd consumed more crab than we'd had in our entire lives!
After dinner, there was a presentation on salmon covering the different types, the importance of salmon, and how to eat salmon responsibly. As you've noticed each night, there was a presentation. It included a slide show on a large screen in the lounge. A different guide presented each night, relying on their areas of personal expertise. Many of the guides had degrees in subjects like marine biology or geology.
Looking for something to do, my daughter joined a couple of the young adults in a game of Mancala. Then it was lights out by 10. We were both quite tired after our day of adventure.
DAY 6: Port Houghton
We broke our streak and skipped the morning stretch. We were too worn out to get out of bed any earlier than necessary. We did make it downstairs in time for breakfast, though. The featured dish was a French toast with a bananas Foster topping.
For our morning excursion, we chose the skiff tour. It was a little drizzly and chilly as we zipped around a salt chuck (an area where the sea flows into a lake or river). We saw bald eagles flying around this area plus some eaglets and seals. Some seals seemed to be following our boat, popping their heads up curiously close as if to check us out.
It was sandwiches for lunch. The featured sandwich was a muffuletta on homemade focaccia bread served with tomato basil soup. To the delight of my daughter, dessert was a brownie topped with Ferrero Roche (one of her favorite chocolates) ice cream.
For our afternoon excursion, we took a skiff to shore and then embarked on a meadow walk. We spent some time trekking through the tall grasses in the meadow, seeing and hearing bald eagles, even finding their feathers on shore. (Did you know it's against the law to keep a bald eagle feather? If you discover one, leave it where you found it.) We also saw sea lions playing in the water and possibly spying on us. July was a perfect time to walk in a meadow in Alaska. Many wildflowers were still in bloom and when we looked up, we also could see snow-capped mountains. The setting was gorgeous. We would have liked to linger longer, but our ride arrived to whisk us back to the SS Legacy.
A bruschetta appetizer was served for happy hour. Each night, the bartender concocted a special beverage. On our day at Margerie Glacier, she prepared mulled cider to warm us up. But on this night, the special cocktail was made with licorice liqueur and egg white. The starring attraction at dinner was Moroccan-spiced rockfish. It was flaky and full of flavor.
At dinner, we were notified that our following day's adventure consisted of getting up close to another glacier. And we were informed that just before lunch we'd have the option of participating in the polar plunge - jumping off the end of the ship into the glacier waters below. That gave us something to talk about at the dinner table. Who would be willing to take the plunge?
The presentation after dinner was about sled dogs. One of our guides spends her winters raising and training sled dogs. Her enthusiastic presentation was full of pictures of cute puppies (she got a lot of "oohs and aahs" with those photos), and she told us about the interesting history of the sport. You could tell that she loved working with sled dogs despite her living conditions. She spends her Alaska winters in a one-room cabin with a three-walled outhouse and no electricity with a bunch of dogs. Now that's a dog lover!
DAY 7: Endicott Arm
We woke excited about the day before us but feeling sad that our Alaskan adventure would be wrapping up soon. We bookended our adventure with another glacier, spending our final day at Endicott Arm.
After our stretch and breakfast, we had a choice of water activities - skiff tours, guided kayak tours or open paddle. The guided tours visited North Dawes Glacier. We chose the guided kayak option. Our guide lead us through the water right toward the ice, explaining the area around us. She advised that we stay away from any ice chunks too large to hug. These pieces could roll, causing a dangerous wake for our kayaks. Other pieces were small, so we were able to pluck a few chunks out of the water, giving us a chance to see just how cold the water beneath us was. It was beautiful and memorable -memorable for a right reason (the beauty of the place) and a wrong reason (the challenge of kayaking such a long distance). My daughter and I only had kayaked two other times together that week. On the way there, it was alright, but the paddle back was cold and seemed much farther. As we fought the current, we also bickered in our boat. In the end, we made it back to the SS Legacy, but it was dicey in addition to being icy. We had a chance to warm up a bit and get ready for the next big event of the day - the polar plunge! At least one of us was going to do it, and - you guessed it - I wasn't going to be me!
Just before lunch, a small group of brave and perhaps crazy individuals decided to jump into the glacial waters. The rest of us not-so-brave souls watched them from the deck, recoding their polar plunge from many angles. My daughter joined in on the jump. Watch here. She liked it so much that she considered plunging again! Instead, she headed to the hot tub on the sun deck like a sensible girl.
We had an Asian-inspired lunch: teriyaki chicken or teriyaki tofu, both served with pineapple fried rice and stir-fried veggies.
As we dined, we pulled closer to Dawes Glacier. The temperature on board dropped quite a bit. The ice appeared blue, and the water was jade. We boarded a skiff for an opportunity to get closer. Although the glacier appeared close from the SS Legacy, the skiff traveled some three miles up to the face of it. From a safe distance, we observed the glacier and, of course, took photos. On our journey out, we encountered lots of sea lions lounging about on the ice floes in the water. The glacier was majestic. We were all a bit breathless once we arrived close to Dawes. After some time to soak it in, we headed back, passing a waterfall on the way. As we approached the SS Legacy sitting in the middle of Endicott Arm, I was struck by how small the ship seemed compared to the scale of Alaska. It was a brochure-worthy image.
We had a few hours to warm up and clean up after our day of icy adventures, but the fun wasn't over quite yet.
That night was the captain's dinner. The captain dined with us, and after dessert, he introduced the SS Legacy crew. We'd met most of them by now, but there were several below-the-deck crew members that had a chance to get some recognition and applause.
Dinner was a choice of petit filet or king salmon served with potatoes and Brussel sprouts.
After dinner, the guests gathered in the lounge for a slide show presentation. During the course of the week, the crew took photos. Sometimes they asked us to do silly things - like kiss banana slugs - or simply pose and smile. One of the crew members compiled the best photos for an end-of-week slide show, reminding us of all the amazing adventures that we'd shared. The best part? The photos were available to download after the cruise. This was all part of the fare; there were no extra costs for photos.
Although no one had cell service yet, many of us had our cell phones with us in the lounge. There was a lot of air-dropping going on. Many of us had snapped photos of our newfound friends and wanted to share them as well as share our contact information to keep in touch.
DAY 8: Disembarkation in Juneau
The day that we'd dreaded had arrived much more quickly than we expected. It was disembarkation day. We pulled into Juneau around 6 a.m. It was the first time that we'd seen civilization in days. During the course of our cruise, we'd only passed just a few other ships. We never saw any people except for those on our own cruise.
We had to have our bags outside our door by 7:30 a.m. We'd been given specific luggage tags depending on what our next destination was. Then it was off to breakfast as usual. The last meal was just as good as the first.
By 8:30 a.m., it was time to depart. The captain and the crew members lined up outside the ship to say goodbye to each guest. They knew all of us by name and wished us well on our next adventure. We felt sad to leave but grateful for the experience.
Then it was back to where it all began, the Juneau Convention Center. Our luggage awaited us at the reception area, as did a shuttle bus for those headed to the airport. We had some time before our flight, so we spent the day walking around Juneau, bumping into several people we'd met on the cruise.
KidTripster Tip: During a cruise, it's easy to forget just how many margaritas you ordered at the pool. The bar tab can add up quickly. But there's no surprise final bill on UnCruise. All drinks are included, and so is everything else. Unless you made any souvenir purchases on board, the only thing left to do is leave a gratuity. Tips are shared amongst the entire crew. It was suggested that we leave a $500/cabin gratuity. We experienced great service from the entire crew, and we were more than happy to give a tip.
Alaska is a must-visit destination. We highly recommend seeing it from the deck of a small ship like Uncruise's SS Legacy.
Wanna hear what our KidTripster Tween has to say about her Alaskan cruise with UnCruise? Click here.
To find out more about how much a cruise like this costs and how to save money, click here.
KyAnn Lewis is a Portland, Oregon-based journalist, mom, and travel junkie. She's the CVO (Chief Vacation Officer) for her family, always on the lookout for a good deal and a new destination to explore. She believes one of the most important things that you can give your kid is a passport.
This writer received a complimentary cruise for the purpose of this review. However, all opinions expressed are solely her own.
Pin to Pinterest & read later