Wisconsin Dells, Wisconsin
WILDERNESS HOTEL & GOLF RESORT
Your family won't want for anything at America's largest water park resort.
Why go?
For anyone who has spent anytime in the Midwest, you know that the Wisconsin Dells (aka The Dells) is known as the "Waterpark Capital of the World." There is no shortage of things to do, see or eat here. You'll never hear your kids say, "we're bored."
Located on the south side of The Dells, Wilderness Hotel and Golf Resort is a great destination for families with children of all ages. The property is immense with several mini resorts on one 600-acre campus. There's several hundred-THOUSAND-square feet of indoor and outdoor water park fun with slides, lazy rivers, hot spas, play-and-spray features, zip lines, mini golf, go-karts, and the nation's largest wave pool. The best part? Your plans will never be ruined by the weather. It's a perfect place for both a mid-winter getaway or summer retreat.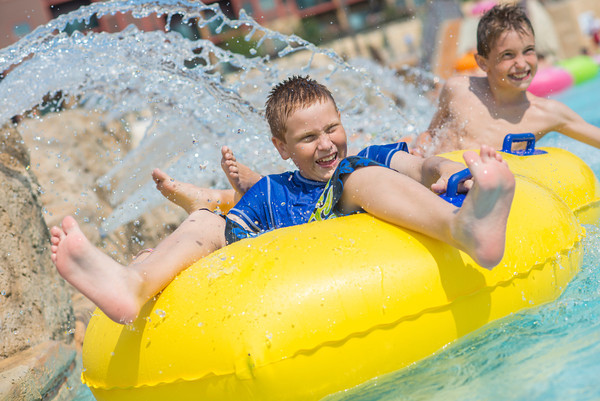 What to do?
Wilderness' mini resorts are all connected by a series of skywalks and shuttles. After you check in, study the map and design your plan of action. You'll need one! My family and I couldn't do it all in just two days. (We'll have to plan a return visit!)
KidTripster Tip: Have a plan for the morning. Most of the parks don't open until 10:00 a.m.
The indoor and outdoor water parks are like none that you've ever seen before. One minute you're in a lazy river with a conveyor belt that transports you to different levels and the next, you're in a multi-level tree house with ball cannons. The Wild WaterDome waterpark features a 2,200-square-foot play lagoon and is perfect for kids that aren't strong swimmers.
KidTripster Tip: Check out the slideboards. They're like surfboards with handles; it's like a real-life gaming experience on a waterslide. I'm guessing you've never seen anything like it!
The Lake Wilderness Outdoor Waterpark is the one space where you can easily see everyone in your party at the same time and was probably our favorite park. The slide entrances and exits are all at the same location, just adjacent to the baby pool. I love the double inner tubes with mesh bottoms, so younger kids can ride.
KidTripster Tip: Need a little privacy while you're in the indoor or outdoor parks? Check out the cabanas, which are perfect for families with napping babies or large families that need a big hangout spot.
In the Wild West, don't miss the indoor play area called Timberland Play Park. It's a multi-level treehouse with ball cannons, bridges, and all sorts of fun; socks are required. (If you forget, there's a sock vending machine!) This is a nice meet-up place for the evening after everyone has dried off for the night.
Where to stay?
Talk about everything in one place! This resort is massive and was clearly built with kids in mind. The rooms are large (at all levels), made for families and include separate sitting rooms and multiple televisions. Wilderness Hotel has four options: the main hotel, cabins (3 to 5 bedrooms), condos (3 to 4 bedrooms), and villas (2 bedrooms). The farther away from the main resort you get, the quieter the hallways become.
If you're looking for a stay that feels more like home and less like a hotel, consider the Glacier Canyon Lodge. These units are privately-owned but rented by the resort. That's where you'll find the Canyon Wild Kids Club with activities like bingo, movies, and scavenger hunts. There's also a fully-enclosed walkway that will take you straight to the golf course which is great if you're bringing grandparents that could use a break from the action. Wilderness on the Lake is another 2- and 3-bedroom condo option.
KidTripster Tip: Get to the resort just before check-in at 4 p.m to avoid long lines.
Consider booking your vacation rental from Tripbound. As a KidTripster fan, you get an extra 10% off when you reserve through this link.
Please know that we love its properties so much that KidTripster has decided to partner with Tripbound as an affiliate. That means if you use our link to book, we get some coffee money from them. There's no additional cost to you. Just wanted you to know.
Where to eat?
Food isn't cheap which is to be expected. You can easily opt for a nearby substitute, if you feel like venturing outside of the resort, but there are tons of options on the property, as well. The Klondike has typical fast food fare like hamburgers and chicken finger meals for around $10. Wild Canyon Café is a good breakfast option, because it's a buffet, and you can get in and out with relative ease. Kids eat free, too, which is a nice touch (not typical in all restaurants). Yukon Yogurt is a nice place to stop for a midday snack; it even has some options for the calorie-counters in your family as well for those with allergies. Located in Glacier Canyon, Canyon Ridge Taproom has a cozy bar feel and is a great place to catch a sporting event on TV.
Getting there
Wilderness Resort is about a 45-minute drive from Madison, a 2-hour drive from Milwaukee, and just over a 3-hour drive from Chicago, if you can escape the city before rush hour.
Christa Reed is a TV fanatic and philanthropist. She enjoys drinks with umbrellas, unreasonable amounts of caffeine and watching the Cubs. She lives in her dogs' Chicago home with husband and 4-year-old son.
This writer received a complimentary stay for the purpose of this review. However, all opinions expressed are solely her own.
Pin to Pinterest & read later