Idaho-Montana-Wyoming
YELLOWSTONE NATIONAL PARK
Guide to Yellowstone National Park, a place worthy of its must-see status
Why go?
As the world's first national park, Yellowstone is on nearly every family's must-see list. The park, which stretches into three states, is enormous at 3,472 square miles; that's three times the size of Rhode Island! But you by no means will have it to yourself, unless you plan on visiting during the winter, when there's several feet of snow on the ground. Yellowstone hosts around four million visitors each year, mostly between the months of May and September, so it's critical to plan and reserve ahead!
Despite the large numbers of gawking nature lovers, you will see nature. My family and I have traveled to 33 national parks. Our best and most memorable wildlife encounters have been at Yellowstone, followed secondly by Grand Teton National Park, just to the south. Yellowstone has the additional draw of amazing geological features. A visit here is both pleasurable and educational.
Your biggest challenge in planning a trip to Yellowstone will be deciding what to see and for how long. If you're moving at a leisurely pace and want to focus one day on each section of the park that I've recommended (see What to do), give yourself five to six days. If you're willing to combine areas - for example Norris-Madison and Roosevelt-Mammoth Springs - it can be done in four days.
KidTripster Tip: If you only have a week, I'd recommend four days in Yellowstone, two days in Grand Teton National Park, and one day in Jackson (also known as Jackson Hole), Wyoming.
Cost: $30/vehicle; if you plan to visit the Grand Tetons as well, which I strongly recommend, you can purchase a two-park pass for $50. Or if you'll be visiting multiple national parks in the same year, consider the Annual National Park and Federal Lands Pass for $80.
KidTripster Tip: Stop at a visitor center to pick up your child's Junior Ranger book and return it completed for a Junior Ranger badge. Also, make sure to watch the park movie, so you're primed for your visit.
KidTripster Tip: At Yellowstone, kids (ages 5 and up) can earn a bonus patch, the Young Scientist. Purchase your self-guiding booklet for $5 and pick up your loaner backpack, complete with an infrared heat gun, at the Old Faithful Visitor Center.
What to do?
On our trip, we entered Yellowstone from the west entrance and then explored the park in a counter-clockwise direction. I've detailed the areas of the park that our family found most interesting, as you'll have to be selective when visiting. Read on!
KidTripster Tip: Cell service is limited in the park. So before you arrive, download the Yellowstone app. Then go into the "More" section and select "Settings." Tap the gear icon labeled "Download Content." This move will allow you to access the app's content, including the map, even without service.
Xanterra, the national park's authorized concessioner, offers a number of organized tours and activities throughout the park. But to be honest, I don't think you need to spend the money. Between the advice here and the information that you gather at visitor centers and from ranger programs, your family should be able to experience a very educational and fulfilling national park vacation for no more than your entrance fee.
KidTripster Tip: On the national park website, there's an collection of Yellowstone orientation videos. It's a good idea to view these videos to help plan your itinerary.
Photo courtesy: Jim Peaco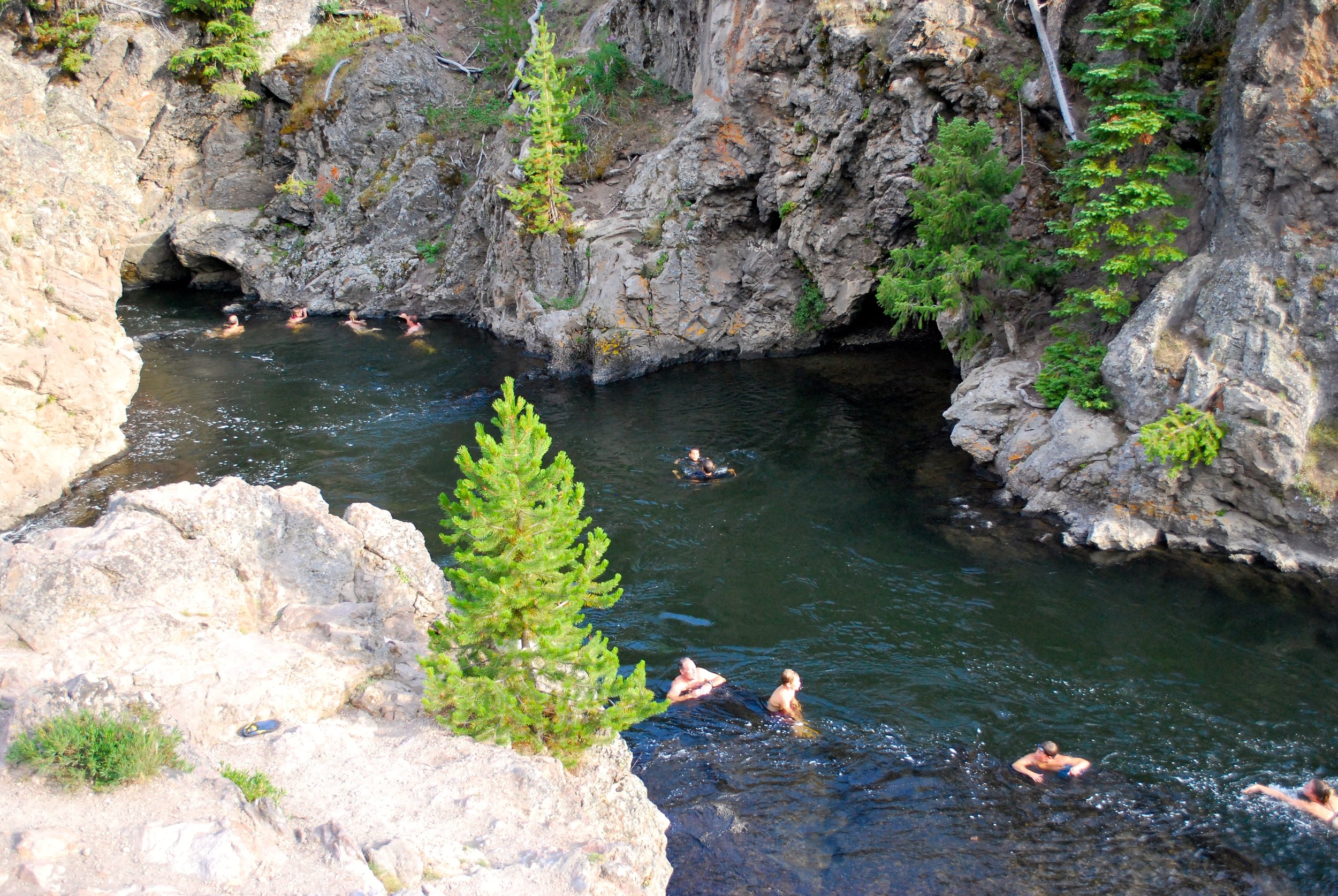 Madison & West Yellowstone area
The meadows along the Madison and Gibbon rivers are accessible from Madison Campground. A herd of about 100 elk make this area their year-round home. Bison, too, can be seen here in the spring, fall, and winter; during the summer, they move to their traditional habitat and breeding area in Hayden Valley. In the area around Seven Mile Bridge, look to the sky for Bald eagles, ospreys, Trumpeter swans, and other water birds.
KidTripster Tip: You will see bison - often incorrectly referred to as buffalo - roaming everywhere in Yellowstone, including alongside and in the road. Yes, you can take photos, but don't mess with them or get too close. Numerous signs around Yellowstone remind visitors that bison can run three times faster than you, and that many visitors have been gored by the animals.
The big draw for my sons in this area of the park was the Firehole swimming hole. South of Madison Junction, you'll find the entrance to Firehole Canyon Drive, a one-way road that follows the Firehole River. The swimming hole here is influenced by thermal activity below the surface. However, don't be fooled; the water is bone-chilling cold, even in the summer. Just ask my husband, who waded in with my young sons; his teeth were chattering! It's important to know that there's a very strong current here; children absolutely should be accompanied by an adult in the water. You'll see plenty of people climbing the rock ledges and then jumping in the water, but it is forbidden as it erodes and damages the habitat.
KidTripster Tip: Like to fish? Firehole is world famous among anglers for its abundance of brown, brook, and rainbow trout. Make sure to read the fishing regulations and obtain the proper permits before casting your line.
Old Faithful area
The Old Faithful area is the busiest section of the park. Visitors here wait for the Old Faithful Geyser to erupt every 51 to 120 minutes, depending on the season. The height will vary from 106 to 180 feet and last between 1-1/2 to 5 minutes. It isn't the tallest geyser - that distinction belongs to Steamboat Geyser in Norris Geyer Basin at more than 300 feet - but it's one of the most predictable. To be honest, we found Old Faithful to be underwhelming, but the visit is obligatory.
KidTripster Tip: Download Yellowstone's Geyser app that provides predicted eruption times for Old Faithful and other geysers in the park.
We actually found some of the other thermal features around Old Faithful to be far more impressive. Yellowstone's hydrothermal basins are amazingly colorful, thanks to thermophiles, microorganisms that thrive at hot temperatures. Trillions of them group together, producing unbelievable hues in pools with names like Morning Glory (my favorite!) and Emerald.
My youngest son couldn't get enough of the infrared heat gun that came in the Young Scientist backpack that you can borrow from the visitor center in this area. Point it at any geyser or pool, and it measures the temperature. Both my boys, however, did have enough of the rotten egg, sulfur smell that the geysers and thermal pools emit. The walk along the boardwalk here was a highlight of our trip.
KidTripster Tip: When walking in any thermal area, make sure to keep a hand on young children. A wrong step can prove very dangerous.
Don't miss the largest hot spring in the USA is Grand Prismatic Springs, located north of Old Faithful. It's rainbow colors are stunning.
And where can you get the most geological bang for your buck? Head farther north to Fountain Paint Pot, eight miles from Old Faithful. There you'll find all four types of thermal features: geysers, hot springs, fumaroles, and mudpots.
Canyon Village area
The Grand Canyon of the Yellowstone is roughly 20 miles long. The 109-foot Upper Falls is upstream from the 308-foot Lower Falls. Take the hike along the rim to catch glimpses of both waterfalls (though there's no point where you can see them both at the same time). This area is very picturesque; your photos will look like paintings.
As we traveled north from Canyon Village to Roosevelt near Mount Washburn, we experienced the most memorable moment of the trip - a mother Grizzly bear and her two cubs crossing the road ahead of us. Traffic in both directions quickly stopped. Even though there are an estimated 400 to 600 Grizzlies living in Yellowstone, we considered ourselves very lucky to actually catch a glimpse!
KidTripster Tip: Yes, it's a magnificent photo op, but be smart. Shoot from a distance with a zoom lens, especially if Mama is escorting her babies.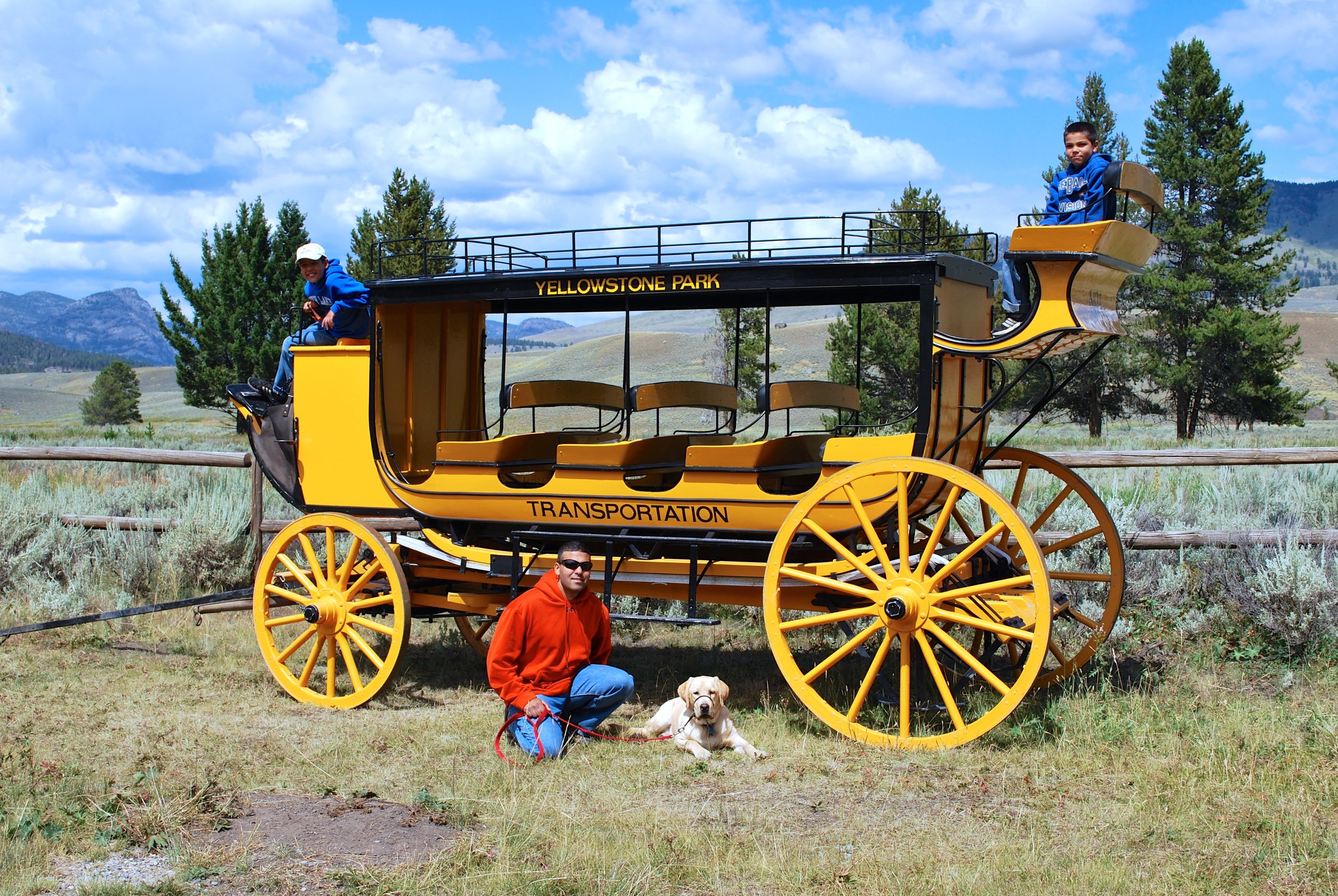 Tower-Roosevelt area
Home to the historic Roosevelt Lodge, this area of the park has a distinct "Old West" vibe. Perhaps it's that feel that motivated us to saddle up for a horse trail ride. The 1-hour ride travels through the sagebrush flats and then up Garnet Hill for a view of Pleasant Valley. Two things to know: 1) one hour is plenty long to be in the saddle, and 2) the scenery isn't all that interesting to young boys. Oh, let's be honest. It wasn't that interesting to me either. This activity was the one thing that we wished that we hadn't done in Yellowstone. One-hour ride cost: $49/person; 2-hour ride cost: $72/person. All riders must be at least 8 years old, 48 inches tall, and weigh under 240 pounds.
Fun Fact: President Theodore Roosevelt never stayed at the lodge, but he did camp nearby during his 1903 visit. And contrary to popular belief, it was President Ulysses S. Grant - not Roosevelt - who signed the order that created Yellowstone National Park.
In addition to Hayden Valley (south of Canyon Village), Lamar Valley is another popular wildlife viewing area for bison, pronghorn, elk, wolves, and possibly Grizzlies. The best times to spot animals are just after dawn and right before dusk.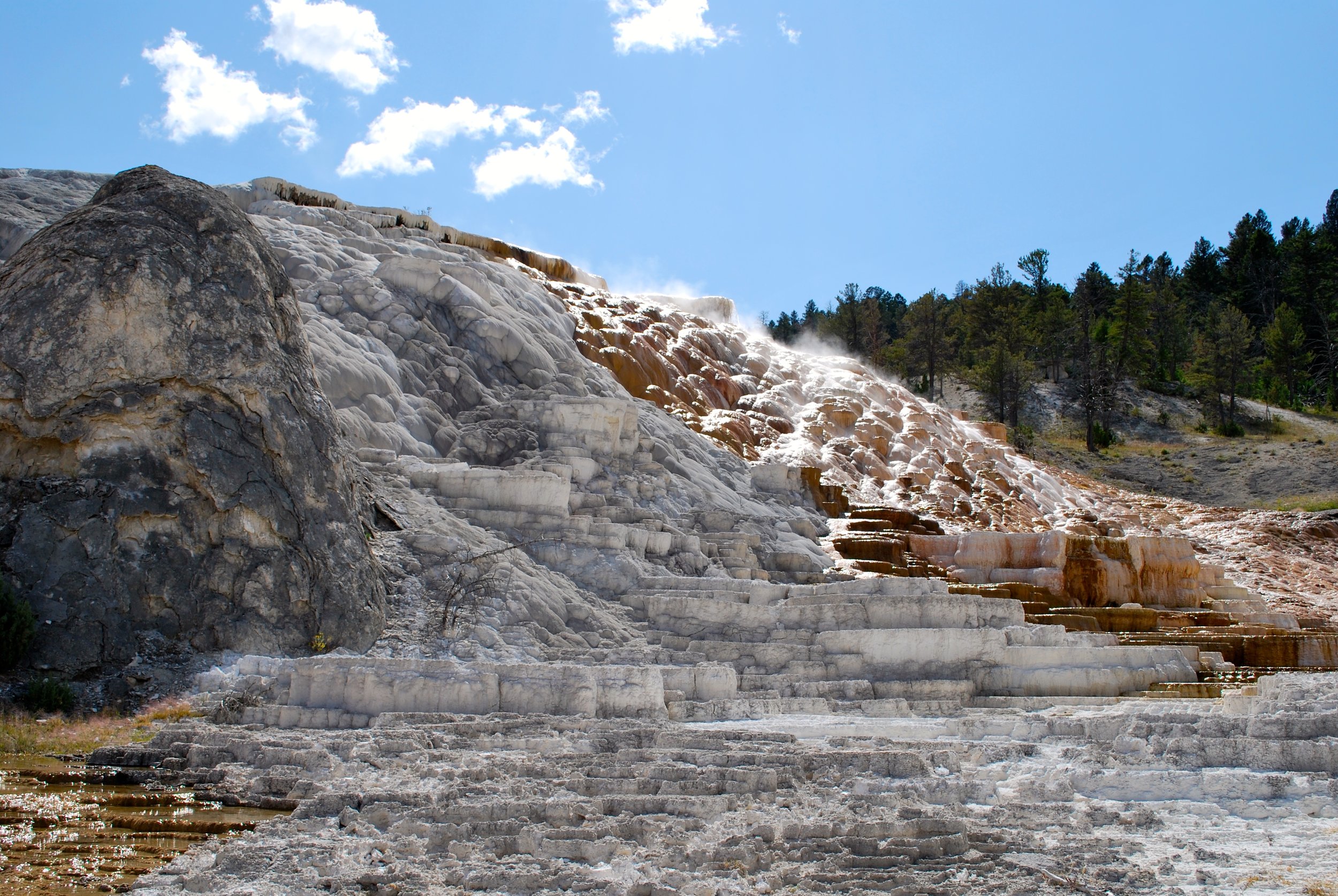 Mammoth Hot Springs area
Located in the northwestern corner of Yellowstone, you'll find the Mammoth Hot Springs area. Because it's a bit removed for the central part of Yellowstone, visitors often miss it. But if you have the time, I think that it's worth a visit. Here you can take a self-guided tour of Fort Yellowstone, or better yet, explore the travertine terraces. There are also lots of good hikes that start from Mammoth. Keep your eyes open, and you may spot elk; but remember to keep your distance as they can be unpredictable.
Where to stay?
Xanterra Parks and Resorts operates nine lodges and hotels in Yellowstone. Because of the popularity of this park, you should book well in advance. Really. Reservations for the following year's summer open on May 1. Yes, many people book more than a year in advance.
However, to truly experience the wonder and beauty of Yellowstone, I suggest camping. Yellowstone has four campgrounds plus Fishing Bridge RV Park (full hook-ups), which is designated for hard-sided RVs only (up to 40-feet in length) because of the frequent Grizzly bear visitors. Again, you need to make these reservations well in advance.
KidTripster Tip: It can be frigid at night, even in August! One night, we were so cold in our RV that we spent the next morning traipsing from gift shop to gift shop buying hooded sweatshirts and jogging pants.
When planning your lodging, I'd recommend moving around the park. Book your reservations to coincide with your planned itinerary. The park is just too big to be backtracking every night.
And yes, there are camping and lodging options outside the various entrances to Yellowstone. But staying outside the park requires more driving and, in my opinion, wastes precious time.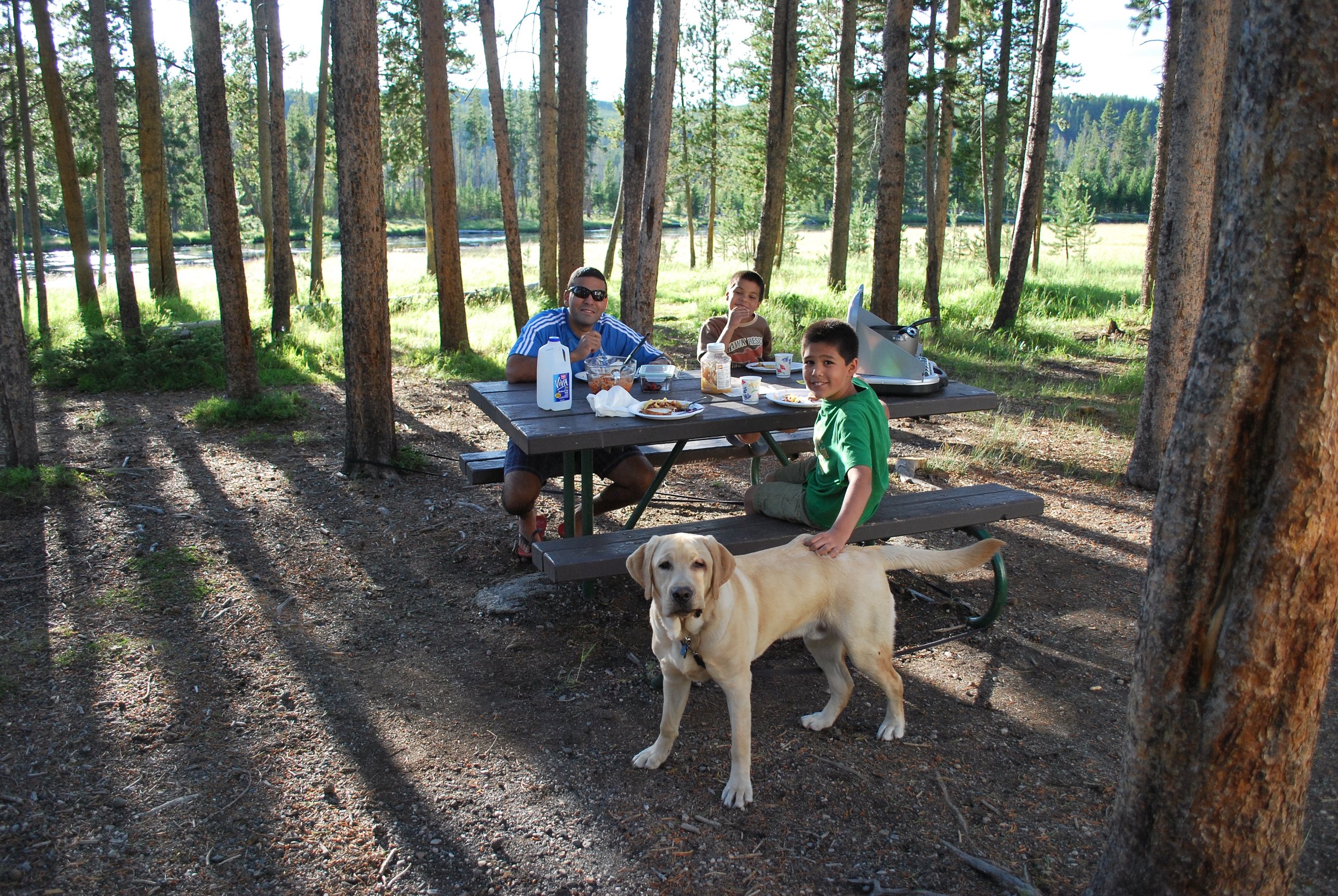 Where to eat?
Yellowstone offers the most dining options of any national park that I've visited. Dining is concentrated around lodges and visitor centers; you have about 25 restaurants, cafeterias, and grills to choose from. If you'd like to have dinner in one of the lodges, I'd recommend making reservations, if possible.
KidTripster Tip: If you visit during the winter, know that only the Mammoth Hot Springs and Old Faithful Snow Lodges are open; both require reservations for dinner.
For a more rustic experience, consider either a wagon or horse ride to the Old West Dinner Cookout in the Tower-Roosevelt area. Once the dinner bell rings, you'll be treated to an authentic Western-style spread with steaks, baked beans, coleslaw, cornbread muffins, and fruit cobbler; vegetarian meals are available with advanced notice. Dinner with wagon ride cost: Youth (3-11) $50; Adult $63; Dinner with 1-hour horseback ride cost: Youth (3-11) $72; Adult $87; reservations are strongly recommended. There's also a 2-hour horseback ride available, but I wouldn't recommend it for families. All riders must be at least 8 years old, 48 inches tall, and weigh under 240 pounds.
Of course, many visitors choose to do their own cooking or pack a picnic. You'll find 52 scenic picnic areas around the park. If you need any supplies, there are also several general stores, but prices are definitely higher than your local market.
When to go?
Hundreds of thousands of people visit Yellowstone during the summer months. To avoid crowds, visit during non-peak hours - in the morning before 9 a.m. and in the afternoon after 3 p.m. Or if you can be more flexible, visit Yellowstone during the shoulder months: April, May, September, and October. But check here first to see which visitor centers, campgrounds, and lodges will be open.
It's possible to visit Yellowstone during the winter, but only the road between Mammoth Hot Springs and the northwest entrance is open. Once enough snow falls, travel becomes possible via guided snowmobile or snowcoach tours. If you're skiing in Jackson Hole, consider a day trip.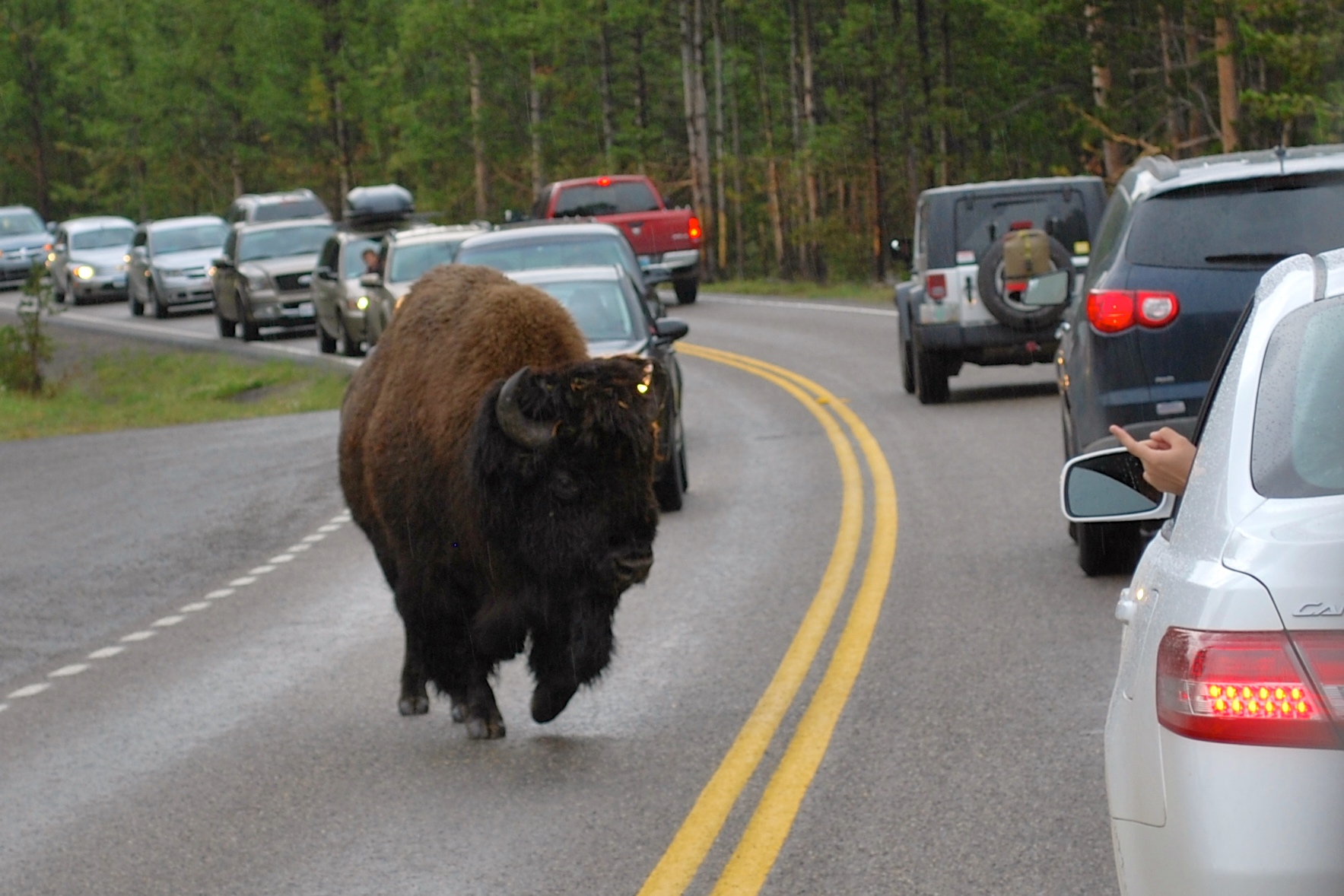 Getting there
Yellowstone has five main entrances: north, northeast, east, south (nearest to Grand Tetons National Park), and west. The roads from each of these entrances lead to a centralized loop road, where you can access most of the park's major attractions.
KidTripster Tip: Don't schedule yourself too tightly when visiting Yellowstone. During the summer, road delays are common because of traffic and animal sightings - in some cases, bison walking right down the middle of the road!
If you're flying to visit Yellowstone, I'd recommend using the Jackson, Wyoming airport. The town of Jackson Hole and nearby Grand Teton National Park are worthy destinations, as well.
Editor Shellie Bailey-Shah travels to national parks with her husband and two sons. She's logged thousands of miles behind the wheel of the family's RV.
Looking to get out into the Great Outdoors? Consider renting an RV or camper with our friends at Outdoorsy. It's the Airbnb of RVs, matching RV owners with would-be renters. Use this link and get an extra $50 off your booking just for being a KidTripster fan! In addition, KidTripster will get some coffee money from Outdoorsy at no cost to you.
Pin to Pinterest & read later