Ireland
36 HOURS IN DUBLIN
Things to do in Dublin for families on a tight schedule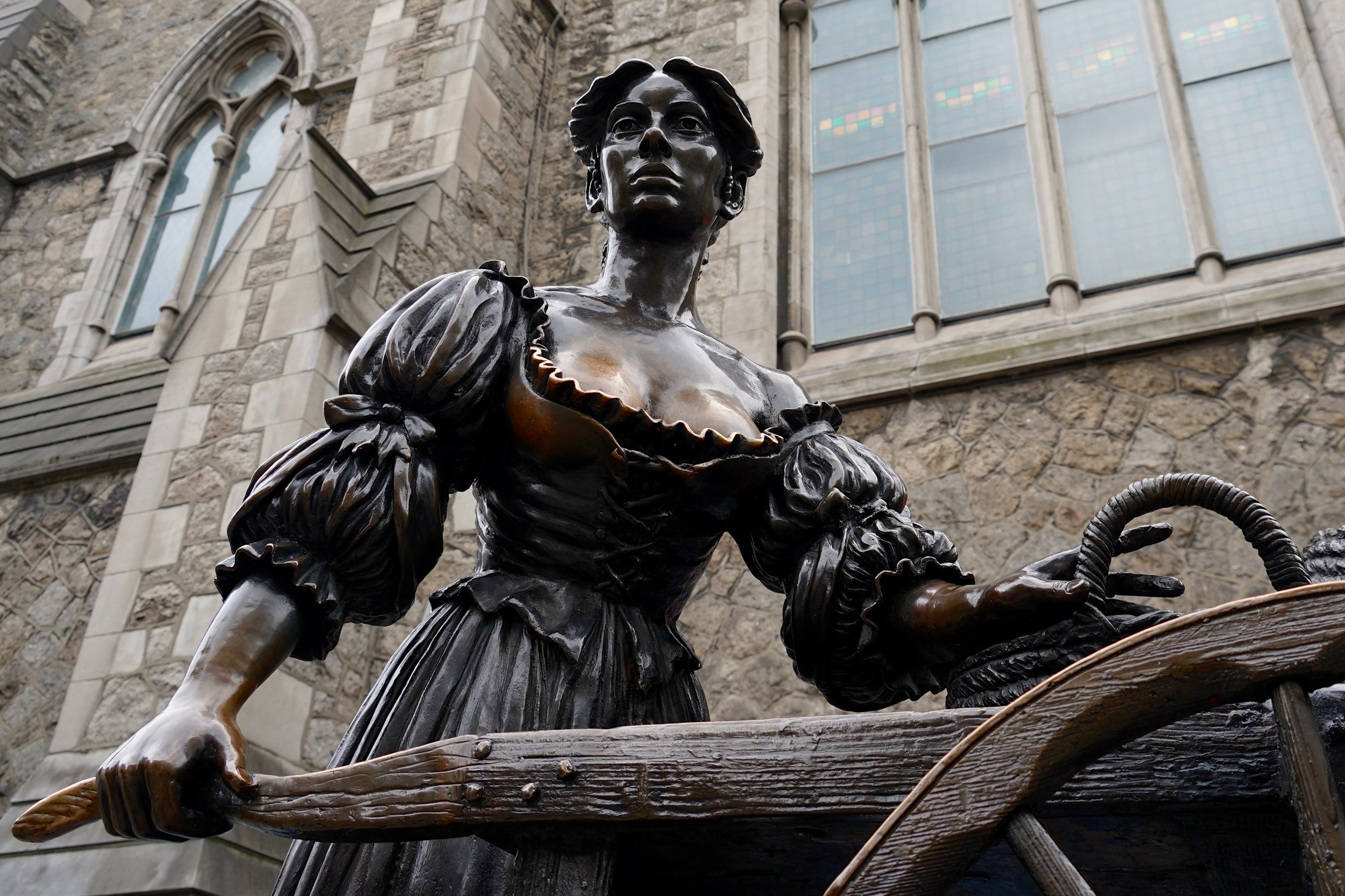 Why go?
It's possible to fly from the USA to Ireland through Shannon, but the vast majority of visitors will make the country's capital, Dublin, their first stop. While filled with evidence of its historic past, Dublin is the center of modern Irish life - young, vibrant, and energetic - the kind of place where you and your best friends would come for a bachelor or bachelorette party weekend. (In fact, we saw many such groups filing in and out of lively pubs in the popular Temple Bar area.) But at the end of the day, it's a city. Likely, the Ireland that you've come to experience - the jagged, cliff-topped coastline, the emerald green pastures spotted with flocks of wooly sheep, the picturesque villages with their colorful doors and neighborhood pubs - that Ireland lives outside of Dublin. So while it's completely possible to spend several days here, I recommend that you don't, especially if your family's vacation time is limited.
That being said, while you are here, do make the most of it! The following itinerary walks you through arriving and spending 36 hours in Dublin and then encourages you to move on to see what the rest of Ireland has to offer.
KidTripster Tip: If you decide to ignore my advice and stay longer in Dublin, consider buying the Dublin Pass. The card includes entry to 30 attractions plus a hop on-hop off bus tour.
DAY ONE
Getting there
If you're arriving in Dublin and won't be renting a car, take the Airlink 747 Express bus between the airport and Central Dublin. This shuttle makes several stops including the popular College Green and Temple Bar areas plus Heuston Railway Station. It operates daily from 4:45 a.m. to 12:30 a.m. The ride takes about one hour, and there's free WiFi on the bus. Cost: One-way ticket to the city about $7; one-way ticket to the airport about $12, depending on the exchange rate. You can save money by booking online in advance or simply buy your ticket directly from the Airlink airport desk, from the driver or from a ticket vending machine at Terminal 1 and 2. You also can purchase a combo ticket for Airlink and the Hop On-Hop Off city bus. However, if you'll only be in the city for 36 hours, you won't really need that service. Most attractions are within easy walking distance.
If you're not on a tour, you'll likely be renting a car. If you're not skilled at driving a manual transmission, make sure to request an automatic one and know that you'll pay a premium for this luxury. Because my family and I were on a tight schedule to leave Dublin early on the morning on Day 3, we opted to rent our car at the airport (rather than at a downtown location) and drive into the city. Granted, I was a bit nervous about coming off a trans-Atlantic flight severely sleep-deprived and then slipping behind a steering wheel positioned on the "wrong" side of the car. Not to mention, there was my apprehension about driving on the left, navigating to our lodging in Central Dublin, and then finding parking. Admittedly, it was a little nerve-wracking at first, but we managed. The worst part was parking in the insanely tight car parks in Dublin.
KidTripster Tip: Before you leave the USA, contact your insurance company and the credit card company that you're using to reserve the rental car regarding your coverage. While our insurance company didn't cover us driving in Ireland, our credit card company did, alleviating the need to buy additional insurance from the rental company.
Check out our other tips for renting and driving a car in Ireland.
Where to stay?
As is the case in nearly every European city, it's difficult to find accommodations for a family of three or four to stay in one room - much less a larger family. There are a few high-end (and pricey) hotels located in central Dublin that offer a limited number of family-friendly rooms: The Fitzwilliam Hotel Dublin, The Westbury Dublin, and The Shelborne Marriott.
KidTripster Tip: If you're visiting from May to September, make sure your hotel has air-conditioning. That's certainly not a given in Europe. If it doesn't, you may be forced to sleep with your windows open. In certain parts of Dublin - for example, the Temple Bar area - the street noise from late-night revelers can be significant.
A better option? Book a well-located flat or apartment. We booked a one-bedroom apartment with a fold-out couch on Dame Street in the Temple Bar area for $172/night through Airbnb. To be honest, with such limited time in Dublin, you won't be spending much time in your apartment. And with so many restaurants to choose from, you likely won't be cooking either. Your selection primarily should be about location and ease of accessing attractions on foot. (And the same advice goes regarding the necessity of air-conditioning.)
KidTripster Tip: If you'll have a rental car with you, make sure to ask the host about parking availability. You'll likely need to park in a nearby parking garage. Parking runs around $23 per day.
KidTripster Tip: Whether you're booking a hotel room or an Airbnb, do so early, especially if you're traveling May through September. Even at six months out, you'll find limited availability.
What to do?
You'll likely be arriving in Dublin from the USA in the mid-afternoon. My recommendation: fight the jet lag and stay up. The best way to do that - keep moving!
Start with a leisurely walk of central Dublin. Make sure to pay a visit to fair maiden Molly Malone on Suffolk Street. The statue is based on an Irish song that tells the fictional tale of a fishmonger that pushed her wheelbarrow through the streets of Dublin selling "cockles and mussels alive, alive oh!" and then died young of a fever. If you're thinking about Game of Throne's Arya Stark hawking cockles in the streets of Braavos, you've got the picture. In the late 20th century, the legend was expanded to include a real Molly who lived in the 17th century, hawking by day and prostituting by night. Whether Molly Malone really existed or not, she's earned her spot as Dublin's official greeter. Visitors have gotten rather "handsy" with Molly's well-endowed bosom over the years (apparently in attempts to gain good luck) to the point that the bronze is wearing thin. My advice, keep your hands to yourself and instead take a photo.
KidTripster Tip: You may have seen widely-circulated photos of a Dublin street with colorful umbrellas suspended overhead on Instagram. That's Anne Street near a bar named Zozimus. It's actually a dingy alleyway and completely overrated. Don't waste your time visiting.
If you're with younger children whom you're trying to keep awake and get adjusted to the new time zone, head to the playground at St. Stephen's Green, Dublin's 22-acre mini version of New York's Central Park.
KidTripster Tip: If you've embraced KidTripster's previous advice about packing a foldable scooter for kids visiting Europe, here's a chance to break it out.
However, if you're traveling with your young adult children, might I suggest a visit to the Irish Whiskey Museum (119 Grafton St.). The one-hour tour is super interesting. I was a complete whiskey novice, but I walked away with a real appreciation for just how important the distilling of whiskey is to the Irish. The tour includes a sampling of three different kinds of whiskey (four if you opt for the premium tour) and some expert tips from the guide. For example, did you know that you can change the taste of your whiskey by vigorously shaking it? It's true! Our guide Andrew was incredibly knowledge and enthusiastic, plus he had a very memorable mustache and beard! Cost: Youth (Under 4) Free; Youth (5-12) about $10; Student about $18; Adult about $20; Non-drinking adult about $18; Family (2 adults, 2 kids) about $50, depending on the exchange rate. While you can take children on the tour, I don't think that it would hold their interest for very long.
KidTripster Tip: Just FYI, the drinking age in Ireland is 18 years old.
If beer is more to your taste, consider the Guinness Storehouse brewery tour. It's about a 30-minute walk from the Molly Malone statue. Cost: Youth (under 13) Free; Youth (13-17) about $18; Student (ID required) about $21; Adult about $21, depending on the exchange rate. The tour includes a pint of Guinness or a soft drink.
Where to eat?
You're likely running out of steam, so time for an early dinner. If you're traveling with young children, I suggest Elephant & Castle (18-19 Temple Bar), home of some killer American-style chicken wings. Yes, chicken wings!
But if you're traveling with older kids who also are foodies, make a reservation in advance at Pichet (14-15 Trinity St.). Serving modern Irish cuisine with a French twist, this bistro focuses on fresh, seasonal ingredients from local suppliers. Both my son and I had the hand-rolled gnocchi with goat cheese topped with a crispy egg, girolles, and summer vegetables. Honestly, if we'd have been at home, he'd have licked his bowl. However, my husband made the best choice of the night: a perfectly-cooked stripling with smoked Béarnaise which was so tender and flavorful that both my son and I insisted that he share - not one - but two pieces with each of us. And I don't even really like red meat! Of all the meals on our 10-day trip in Ireland, the one at Picket was the best.
For more recommended Dublin Eats, click here.
Time to give into the jet lag and get to sleep.
KidTripster Tip: I highly recommend using a sleep aid like melatonin on your first night in Ireland.
Photo courtesy: Pichet
DAY TWO
Where to eat?
We've got a big day planned, so you'll want to start with a hearty Irish breakfast. Depending on where you're staying in central Dublin, we suggest Avoca (11-13 Suffolk St.) or Hatch & Sons (15 St. Stephen's Green). Or just grab a quick pastry and coffee at Le Petit Parisien (17 Wicklow St.) or Queen of Tarts (Cow's Lane) and wait to fill up at our lunch stop.
What to do?
Our first stop this afternoon is Trinity College and its Old Library, which is home to the famed Book of Kells, considered to be Ireland's greatest national treasure. It's an ancient manuscript, painstakingly created by monks around 800 AD. Written in Latin, it contains the first four gospels of the Bible - Matthew, Mark, Luke, and John. What's most striking about the book is the extremely detailed and colorful decoration surrounding the text.
The Book of Kells is an extremely popular attraction, so you should purchase your timed ticket in advance online. On our visit, we arrived during the first hour of the day, but I have to say, the library was swamped with tour groups, making it difficult to move through the exhibit and into the Long Room (Note: Only four pages of the book will be visible during your visit - two in the second portion of the exhibit and two at the end of the Long Room.) That's why I'm suggesting to you to go during the last hour of the day. The library closes at 5 p.m. on most days; on Sundays from October to April, it closes at 4:30 p.m.
Prior to arriving at the Long Room, you'll move through a series of exhibits that explain both the significance of the book and the process of creating it. I'll be honest, it's a lot of reading - more than my son and husband wanted to do. You may find using the audio tour to be more family-friendly. Admittedly, I think that this attraction is more popular with history-loving adults than kids; the biggest draw for young visitors is the Long Room itself which has a Hogwarts feel to it. Cost: Youth (under 12) Free; Adult about $12-$16; Family (2 adults, 2 kids) about $31; Audio tour about $6, depending on the exchange rate.
KidTripster Tip: If you want to learn more about Trinity College, you can take a 35-minute, student-led, campus tour which can be done with or without a Book of Kells stop.
KidTripster Tip: Need a pick-me-up? Order a Trinity Coffee at the small coffee shop located on the campus quad opposite the library.
Where to eat?
If you went light at breakfast or you're traveling with insatiable teenagers, grab an early lunch before our next activity at Marks & Spencer Cafe (15-20 Grafton St.). Enter the Food Hall off Grafton Street but then go upstairs for the restaurant and better view.
What to do?
It's just a 15-minute walk from lunch to Lazy Bike Tours (4 Scarlet Row, Essex Street West). I'm a sucker for a bike tour in any city. I think that it's a great way to cover a lot of ground in a short period of time. And with Lazy Bikes, you don't have to do all the work! The bikes have an electric assist. This tour is for families with kids, ages 14 and older. The 2-hour Dublin City Tour takes in some of the major tourist attractions (from the outside only): Dublin Castle, St. Patrick's Cathedral, Guinness Brewery, Kilmainham Gaol, Royal Hospital, and Christ Church Cathedral. Our guide was really informative and did a good job of bringing these locations to life. Cost: about $40 per person, depending on the exchange rate.
If you're traveling with kids under age 14, see Dublin with a Viking on a bus that transforms into a boat. Viking Splash Tours is the Irish version of the popular Duck tours in the USA. In addition to seeing the sights on this 75-minute tour, your kids will get a complimentary Viking "roaring" lesson! Cost: Youth (2-14) about $15; Student (must have ID) about $25; Adult about $28; Family (2 adults, 2 kids) about $79, depending on the exchange rate; advance online booking recommended.
After your tour, head back to your lodging for a bit of a rest. We've got a full evening planned!
Where to eat and what to do?
How you choose to tackle your evening in Dublin will, again, depend on the age of your kids.
If you have attentive kids (age 6 and up), settle in for an evening of Irish food, music, and dancing with Musical Pub Crawl's Dinner Show. Designed to be family-friendly, the evening starts at Oliver St. John Gogarty in the heart of Temple Bar. The group then walks to The Ha'penny Bridge Inn and then on to Flanagans for dinner at 7:15 p.m. and more entertainment. Cost: Youth (6-12) about $28; Adult about $54; Family (2 adults, 2 kids) about $156, depending on the exchange rate. You also can opt for the show only for a discounted rate.
Alternatively, if you have music-loving adult children, head to Oliver St. John Gogartys for the start of the Musical Pub Crawl. Think of it as a moving concert. Led by two professional musicians, this 2-1/2 tour is more focused on telling the story of Irish music and its influence on contemporary world music. It includes stops at Ha'penny Bridge Inn and Brannigan's. Note: Alcohol is not included but can be purchased separately. Cost: Student (must have ID) about $16; Adult about $18, depending on the exchange rate.
Is this just a taste of what Dublin has to offer? Yes. But as you'll find, a country that has as much to offer as Ireland is difficult to cover in just one trip. So if you have the luck of the Irish, you'll hopefully return.
Note: We tacked a free stopover in Iceland onto this trip. We booked the tickets on Icelandair through a KidTripster partner called AirTreks. Each ticket was $450 cheaper than booking directly through the airline! If you book through this link, KidTripster gets some coffee money from AirTreks at no additional cost to you. Thanks in advance for your support!
Editor Shellie Bailey-Shah may be the only tourist to visit Ireland without trying Guinness. Sorry, not a beer drinker!
This writer received some discounted or complimentary activities for the purpose of this review. However, all opinions expressed are solely her own.
Pin to Pinterest & read later