Alaska
BEAR VIEWING IN ALASKA
Bears, bears & bears, oh my! Go bear watching in Katmai & Lake Clark National Parks.
Why go?
I doubt that I have to convince you and your family to go brown bear watching in the wild. It's one of the greatest wildlife encounters anywhere in the world. Ninety-five percent of the brown bears in the USA live in Alaska. Both Lake Clark and Katmai National Parks support healthy and stable populations, and bear viewing is a major draw to these parks. At Lake Clark, park biologists have counted as many as 219 bears within a 54-square-mile area on the coast in recent years. At Katmai, the National Park Service estimates the number of bears in the park to be about 2,200. So if you go at the right time of year, you will see bears!
There's something else that these pristine and rugged national parks have in common: remoteness. Look at a map of southern Alaska. What don't you see? That's right, roads… not a single one into either of these parks. So to visit, your family needs to be really motivated and willing to spend the money necessary to fly in.
Park admission to both of these parks is free.
When to go?
Assuming that you want to see brown bears (of course you do), you should visit when the bears are active from June to September.
During late spring through mid-summer at Lake Clark National Park, you'll find bears feeding on sedges in the salt marshes and clams in the tidal flats of Chinitna Bay. In late summer, the bears move to the rivers for the salmon run in places like Crescent Lake and Silver Salmon Creek.
In spring and early summer at Kamai, bears also migrate to mudflats and meadows in their never-ending search for food. If you're looking to observe the quintessential waterfall feed at Brooks Camp, bear numbers are greatest in July.
The good news is that you don't need to be a bear expert. Your guide will know the best spots to go at either Lake Clark or Katmai.
For the record, both parks are open year-round.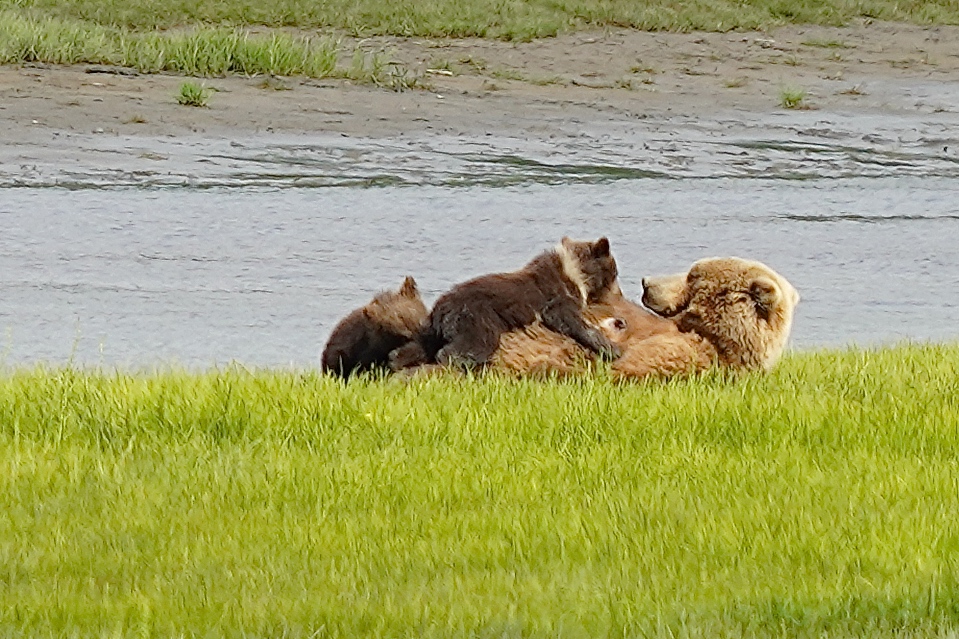 What to do?
The benefit of reading this article is that you can learn all the things that we wish we would have known on our first visit to this area.
First, you'll want to base yourself in Homer, where most of the bear viewing flights originate. We love Homer. It's your classic Alaskan town and the "Halibut Capital of the World." We actually found it to be less touristy than Seward which caters to a large cruise ship crowd but still full of family-friendly activities and restaurants.
This part is critical: you'll want to plan at least three days in Homer and book your bear trip for the first day. Why? Flights in these small planes are entirely dependent on good weather. If you get socked in by fog or high winds - which is common - your flight will be grounded. Also, landing conditions can impact the itinerary. My family and I know from experience. On our first flight, we were supposed to go to Katmai. But because the tides hadn't been high enough, the beach wasn't suitable for a landing. We saw Katmai from the air but then diverted to Lake Clark for our day of bear viewing. We attempted to fly the following day on a shuttle flight to Brooks Camp in Katmai but got grounded because of strong winds. In the end, it'll be your tour provider who determines the best location for bear watching on any particular day, though you can make your preference known.
So let's talk about the experience itself. We flew with Smokey Bay Air on a 5-hour tour to Chinitna Bay in Lake Clark National Park. When you arrive at the tour office, you're outfitted with waders (which we didn't actually need on this trip) and given instructions about how to behave around the bears. While you do need to keep your wits about you, bear viewing at Lake Clark and Katmai is reasonably safe. The bears have good food sources in these areas and don't see humans as a meal. In addition, they've become accustom to seeing observers in these specific locations and generally ignore visitors. When space permits on the small plane, a Smokey Bay naturalist will travel with your party; if not, all the pilots are also trained to read bear behavior and provide bear information throughout your trip. We never felt in any danger and were impressed with our pilot and guide's level of expertise. In fact, our naturalist Daniel served as a guide when Disney filmed the 2014 nature documentary Bears at Katmai and Lake Clark.
KidTripster Tip: Watch the movie Bears with your kids before you go, including the behind-the-scenes portion at the end. Request Daniel as your guide so that you can ask him questions about the filming.
KidTripster Tip: Read here for a great primer on brown bear behavior.
We flew in a Cessna 206 over some truly spectacular scenery - including active volcanoes, majestic glaciers and vast wilderness - on our way to Chinitna Bay, where we landed right on the beach! Watch here. Within a few minutes, we were standing alongside a saltwater marsh and meadow with nearly a dozen bears spread out in ever direction. Wow! For the next three hours, we wandered around the perimeter, watching bears interact and learning more about their behaviors. We saw lone males, a mother with 1-year-old cubs, and a group of three juvenile siblings. But the highlight was watching a mama bear with her 7-month-old cubs. The cubs wrestled in the lush grass and then after they'd worked up an appetite, nursed. It was a really special moment that even my teenaged sons appreciated.
KidTripster Tip: Part of the fun of bear viewing is photography. Make sure you and your kids have cameras that you all can use to take photos. Cell phones aren't enough; you'll need a camera with a fairly good zoom lens. I use a 24-240mm, which I'd say is the minimum amount of reach that you'll need to capture stunning photos. Others on our tour had those mega lens, and I admit to having had lens envy. Also, if you're visiting Chinitna Bay, there's really not that much walking involved, so feel free to bring a tripod.
KidTripster Tip: Our guide tended to keep us in one location for quite awhile. I found myself asking if we could move to get a different angle on the scene or move closer for better photos. Our guide obliged. Just know that you may need to ask. Remember, you're paying so don't be afraid to get the most out of the experience.
KidTripster Tip: Bring binoculars. They aren't provided.
At other times of the year at Lake Clark, you may move more inland to see bears fishing for salmon.
Again, Smokey Bay Air and other tour operators make similar trips to Katmai, depending on the time of year and weather. Cost: $625/person; there's no discount for kids; minimum age 7 years old. Granted, this is a pricey excursion, but it's truly once-in-a-lifetime. If you don't see bears with Smokey Bay, you get your money back. Watch this video to get a feel for the entire experience.
There's an additional, even more expensive option for viewing bears at Katmai. Have you ever seen those photo of bears pulling salmon from a cascading waterfall like they were simply pulling potato chips from a bag? It's likely a photo from Brooks Falls. Adventure Airways will fly you to Brooks Camp from approximately July 1 to August 1, corresponding with the salmon run. While at Brooks Camp, you only can observe bears from three designated platforms. The Falls Platform has a maximum capacity of 40 people and a time limit of one hour during peak periods. Rangers will rotate visitors through the area. With Adventure Airways, you'll fly 1-1/2 hours to Katmai and then spend 3 to 4 hours on the ground while your pilot waits; any bear interpretation is handled by the rangers. There's a visitor center and food service at Brooks Camp.
KidTripster Tip: Adventure Airways typically flies two trips per day - one in the morning and one in the afternoon. Each has its advantages. Leaving from Homer at 7 a.m., you'll arrive before the flights out of Anchorage. However, the crowds will come, and you'll likely have to wait for your turn on the platform. However, bear behavior in the morning tends to be more frisky. In the afternoon, you'll arrive as the Anchorage daytrippers leave and likely won't have to wait for your time on the platform. After eating all day, the bears are engorged… but still eating. Their behavior can be pretty amusing but less aggressive.
Cost for the Brooks Camp flight with Adventure Airways: $745/person; again, there's no discount for kids. When booking online, you may not see an afternoon option until the morning flight has filled.
If you're looking to fly from Anchorage on either a day trip or overnight stay, check out the packages offered by Katmailand. The extra time will allow you to explore the Valley of 10,000 Smokes in addition to your bear viewing.
Where to stay?
We based ourselves at the Ocean House Inn Hotel and Condos in Homer. What an incredible find! Of all our stays in Alaska, this one was our favorite. Instead of being located on the touristy and often overrun Homer Spit, we were situated in a residential area with stunning, unobstructed views of the Spit and Kachemak Bay and just minutes from shops and restaurants. You could hear the waves lapping the shore as you drifted off to sleep!
Ocean House Inn is warm and inviting, right down to the handmade quilts on every bed. It offer three units with one bed, three units with two separate bedrooms, and two condos with two bedrooms and a full kitchen. We stayed in Superior Room Four, a nondescript name for a beautifully appointed space. One room had a king-sized bed (and an awesome view!) for parents and the other bedroom had a queen-sized bed for the kids; both were impeccably decorated in hues of red and blue, giving off an upscale, nautical vibe. You have a deck with Adirondack chairs where you can enjoy coffee in the morning. You also have access to two outdoor hot tubs, fire pits, and private beach. Inside the unit, you'll find a mini refrigerator, microwave, coffee maker, flat screen television, and free internet access. The summer rate for this unit is $269/night.
Where to eat?
For a small town, Homer has a pretty big foodie culture. You'll find lots of family-friendly choices here.
Let's start with breakfast. Our favorite spot was Fresh Sourdough Express Bakery and Cafe (1316 Ocean Dr.) with it's emphasis on organic and locally-sourced ingredients. Order the pinwheel - like a breakfast pizza - served with hearty potatoes and eggs. It opens at 7 a.m., ideal if you're on an early morning bear watching flight.
Also open early, The Bagel Shop (3745 E. End Rd.) serves really good lattes and bagels of every kind. Two Sister Bakery (233 E. Bunnell Ave.) opens at 7 a.m. in Homer's Old Town, but it's closed on Sundays. Also located in Old Town, you'll find Wild Honey (106 W. Bunnell Ave.), serving sweet and savory crêpes. It's a busy sit-down place, so you'll need more time to eat here; closed on Wednesdays.
For lunch, I recommend Mike's (158 W. Pioneer Ave.), an unassuming little green shack that serves up some delectable sandwiches. My 15-year-old son raved about the BLT.
For dinner, the most popular place is town is Little Mermaid (4246 Homer Spit Rd.), located on the Spit. To dine at this seafood spot with killer views, you'll definitely need reservations several days in advance. We also ate at Cafe Cups (162 W. Pioneer Ave.) and AJ's Old Town Steakhouse and Tavern (120 W. Bunnell Ave.). While the food was good, the service was painfully slow - not ideal when traveling with hungry teenagers.
Photo courtesy: The Bagel Shop
Getting there
From Anchorage, it's about a 4-1/2-hour drive to Homer on the Kenai Peninsula.
If you're planning on an extended visit to Lake Clark rather than a day trip, know that the park is only accessed by plane. Aircraft fly out of Anchorage, Chugiak, Homer, Iliamna, Kenai, King Salmon, Kodiak, Port Alswoth, Soldotna, and Wasilla. For a complete list of air providers, click here.
KidTripster Tip: You may not want to go by boat. Waters are often rough, and the travel time is long.
If you're planning on an extended visit to Katmai, the park is accessed by plane or boat. You can take a commercial flight with Alaska Airlines, PenAir or Ravn Airlines from Anchorage to King Salmon Airport. Brooks Camp and other Naknek River locations can be reached by power boat from the villages of Naknek and King Salmon or by chartered float plane.
Combine your trip to Katmai or Lake Clark with other Alaskan national parks. Check out our itineraries to Kenai Fjords, Wrangell-St. Elias, and Denali.
Editor Shellie Bailey-Shah has visited 45 national parks with her family with hopes of exploring them all!
This writer received a complimentary stay and tour for the purpose of this review. However, all opinions expressed are solely her own.
Pin to Pinterest & read later