Alaska
DENALI NATIONAL PARK BY AIR
Why your family may want to take to the skies to see this majestic national park
Why go?
Denali. The mere mention of the name conjures images of a majestic, snow-covered mountain rising over 20,000 feet into the sky where it convincingly lays claim to the title, "Tallest Peak in North America." If you're a national park enthusiast, Denali is a must-visit.
However, as I'll explain more fully in the next sections, experiencing Denali National Park is more challenging that you may think. Very intentionally, nearly all of the six million acres (yes, that's million) that make up this park are wild, rugged, and undeveloped. There's just one, 92-mile (mostly gravel) road into the park, and only the first 15 miles of it are open to visitors during the summer (May 20 through mid-September.) To explore farther, you and your family will need to board a bus.
Here's the point where you need to know your kids. Would I take a 12-hour, narrated bus tour through Denali National Park. Yes. Would my 18-year-old son do it happily? Maybe. Would my 15-year-old son? Not a chance. But he would take a 3-hour flightseeing tour from Anchorage to Denali that lands on an alpine lake! So that's what we did.
Here's the other issue: because of the time and expense involved, most families only will visit Alaska once. Do you spend three days (or more) driving to and then exploring Denali or do you use your time to explore more of Alaska's national parks? On this trip, we spent a week visiting four national parks: Denali, Wrangell-St. Elias, Kenai Fjords, and Lake Clark. Were we able to do a deep dive into each park? No. But did we have enough time to appreciate their wonder and their differences? Absolutely.
Fun fact: On the eve of the National Park Service's 100th anniversary in 2015, President Barack Obama restored the native name of Denali to the mountain previously known at Mount McKinley, named after President William McKinley. The naming debate has raged for nearly 100 years. Before you visit, read more about it here.
Photo courtesy: Dave Oberg
When to go?
Let me state the obvious: the average family will want to visit Denali during the summer. Several factors - unpredictable weather, road closures, few open facilities, and little daylight - don't make for a good family vacation during the winter. Shoulder season access also is heavily dictated by weather.
However, if you're a hardcore adventurer, Denali is open year-round. During the winter, you won't have to share her beauty with anyone, and you may even glimpse the Northern Lights.
Getting there
To drive from Anchorage to the visitor center on the east side of Denali National Park takes about four hours. Once you arrive at the park, you can drive the first 15 miles of the Denali Park Road to Savage River. Only designated buses and shuttles can proceed farther. You also can charter a flight to the very small McKinley National Park Airport.
KidTripster Tip: One of the best views of Denali from the ground is actually not in the national park at all. Stop along the way at Denali State Park for beautiful mountain vistas on a clear day.
So what's the "Road Lottery" all about? Starting May 1, you can enter a drawing for a chance to win a permit that allows access to Denali Park Road on one of four specified days in September. In general, your chances of winning are 1 in 7. A fifth day is open to U.S. military personnel only. Those passes are distributed by the military; ask your superior or base commander for details.
Alternatively, you can do what we did and head to Regal Air, located on the north shore of Lake Hood in Anchorage, to board a 6-seater float plane for a 3-hour, aerial tour of Denali. Flying in a float plane is part of the adventure. Lake Hood happens to be the busiest seaplane base in the world.
Note: There are other flightseeing tours that originate in Denali Park, Healy, Fairbanks, Kantishna, and Talkeetna.
What to do?
Our pilot was a native Alaskan. He was not only able to impart information about what we were seeing below but how folks in this area live. He seemed to know ever jagged peak and serpentine river, right down to the kind of fish that swim there. As you fly north, you'll be able to appreciate how the topography transitions from coastal mudflats to fertile farmland to rolling foothills. But it's the behemoth Alaska Range that you've come to admire.
We were incredibly fortunate to have a clear day, a rarity at Denali National Park. As you approach Denali, you're absolutely awed by it's height. I find it insane that humans actually climb this peak! Of course, my 18-year-old son thought it would be "awesome" to try. From above, you're able to see brilliantly-blue glacial pools. Their color is only matched by the jade green waters of Chelatna Lake, where we landed for a brief break.
At this point, I do have to be honest: I happened to get pretty airsick on this flight (though I didn't have to use the airsick bag!), as I'm prone to motion sickness. I tell you this not as a deterrent to flying but as a friendly reminder to employ proactive steps. Take non-drowsy motion sickness medicine about 30 minutes before takeoff. If you have Seabands, wear them. Also, bring along some ginger candies to suck on.
KidTripster Tip: One of the benefits of visiting Alaska in the summer is the midnight sun. More daylight means more hours to schedule a flight!
If you're able to depart after 4:30 p.m., you may be treated to some rare wildlife viewing on your return trip. We spotted more than 30 moose from the air, wading in the ponds below! Even our pilot was wowed by the number. Cost for flight: $425/person. No, it's not cheap, but you'll soon discover that nothing in Alaska is!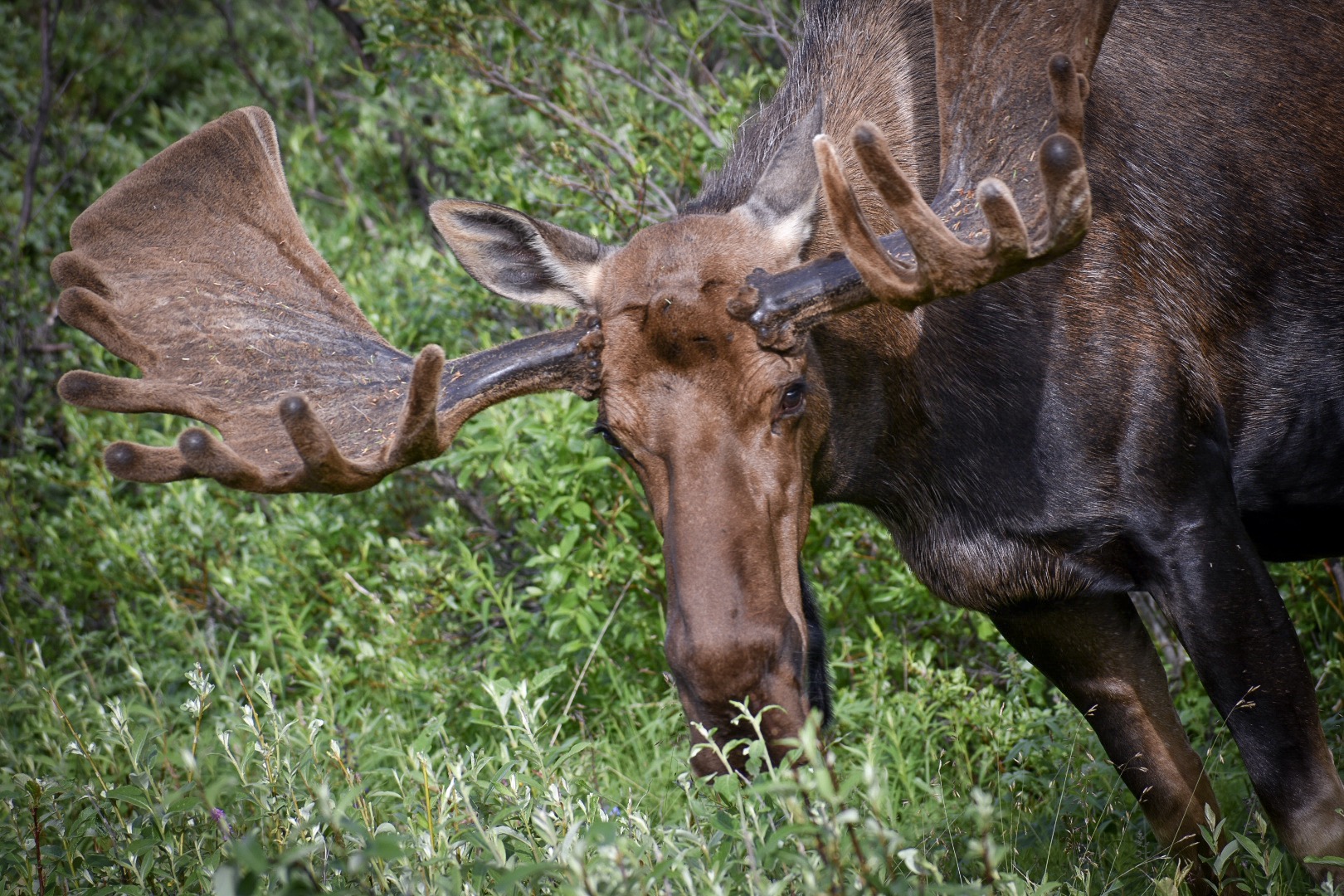 What to do if you decide not to fly?
If you decide don't opt for a flightseeing trip, you can access the park via a few other means. While these options won't give you an up-close view of Denali, other KidTripster families report that they do provide excellent wildlife viewing opportunities for brown bears, caribou, Dall sheep, moose, and wolves.
Green shuttle buses, part of the Visitor Transportation System or VTS, offer transportation and wildlife viewing opportunities for the full length of the park road which ends at the Eielson Visitor Center. Day hikers can use this shuttle to get on and off. Know that most marked trails in Denali are relatively short and near the visitor center. Cost: Youth (15 and under) Free; Adult $31-$60, depending on the distance you plan to travel, plus park entrance fee of $10.

Tan buses provide full, narrated tours with information about the park's cultural and natural history. Cost: Youth (15 and under) $40-$104; Adult $80-$208, depending on tour, plus park entrance fee of $10. These tours range in length from two to 12 hours, round-trip.
It's best to make advance reservations online. Alternatively, you can make last-minute arrangements at the Denali Bus Depot, depending on availability.
There also are three, free shuttle buses for short trips: the Savage River Shuttle, the Riley Loop Shuttle, and the shuttle to the sled dog demonstration area.
KidTripster Tip: Alaska state law requires children to be in car or booster seats on these buses.
You can bike in Denali, and rentals are available outside the park. You also may see bike-joring! That's where one or more dogs, attached by a leash, pull a cyclist. Yes, dogs are allowed in this national park if they're leashed. Before you opt to bike, check out the Denali Park Road elevation profile.
Especially popular with kids, consider a ranger-led sled dog demonstration at the park's kennels. The junior ranger program is also available at Denali. Click here to print out your booklet in advance of your trip. And don't forget to catch the park movie at the visitor center.
If you're a backcountry adventurer, Denali was created for you. Permits are required. Click here for more information. Or if you'd like to opt for a guided, backpacking experience, click here.
Park entrance cost: Youth (15 and under) Free; Adult $10. Admission is good for seven days. If you're buying a bus ticket or making campground reservations in advance, the entrance fee is collected online. If you have a national park pass, you're entitled to a refund which you can get at the Denali Bus Depot or Riley Creek Mercantile when you arrive. Bring a photo ID, your park pass, and proof of your reservation.
Looking to get out into the Great Outdoors? Consider renting an RV or camper with our friends at Outdoorsy. It's the Airbnb of RVs, matching RV owners with would-be renters. Use this link and get an extra $50 off your booking just for being a KidTripster fan! In addition, KidTripster will get some coffee money from Outdoorsy at no cost to you.
Photo courtesy: Shay Griffin
Where to stay?
If you opt to fly Denali, you'll likely base yourself in Anchorage where there are plenty of hotel options.
Near Denali, you'll find lodges, hotels, and cabins to rent in the surrounding area of Talkeetna. There are also four, privately-owned, remote lodges inside the park.
If you're a camper and don't mind roughing it, you can choose from six campgrounds inside the park. All park campgrounds are open by June 8. Igloo Creek and Sanctuary River are first come-first service. The rest can be reserved in advance online.
Combine your trip to Denai with other Alaskan national parks. Check out our itineraries to Kenai Fjords, Wrangell-St. Elias, Katmai, and Lake Clark.
Editor Shellie Bailey-Shah has visited 45 national parks with her family with hopes of exploring them all!
This writer received a complimentary tour for the purpose of this review. However, all opinions expressed are solely her own.
Photo courtesy: National Park Service
Pin to Pinterest & read later