Alaska
FAVORITE MOMENTS IN ALASKA
KidTripster Tween: 6 Favorites from my Alaskan cruise with UnCruise
Why go?
This summer, I had the amazing opportunity to travel to Juneau with my mom and go on a 7-night Alaskan voyage with UnCruise.
We were two out of 65 people on the ship. The staff members did an excellent job accommodating everyone. Every day, they had fun activities to choose from - everything from meadow walks to whale watching, guided kayak tours to polar plunging, and I tried every last one. When there wasn't an adventure to seek, you could find me in the lounge ordering Shirley Temples or virgin Pina Coladas (when I wanted to be fancy), reading a book on one of the comfy couches, playing games with different passengers or just hanging out on the bow of the ship, gazing at the spectacular views.
Here are some of my favorite things that I got to see and do on my UnCruise adventure in Alaska. I hope it helps you decide if your kids would like to sail with UnCruise cruise, too.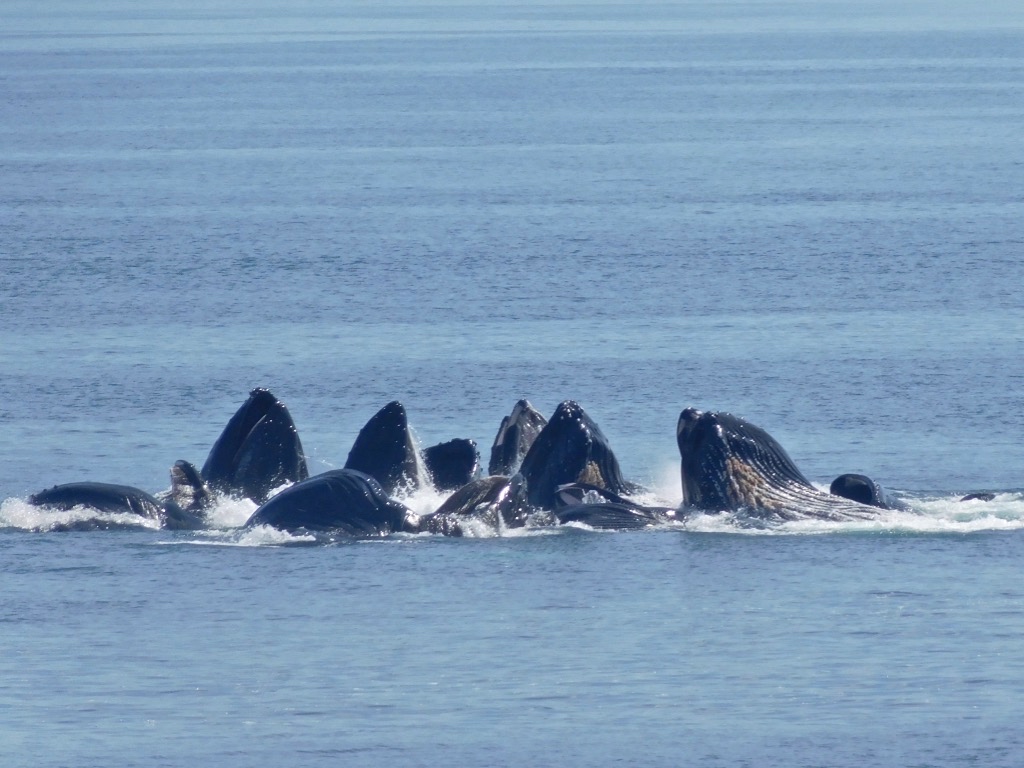 1/Whale watching
On the third day of our UnCruise voyage, the passengers heard a call over the loudspeaker. All of the activities we were supposed to do got cancelled but for a good reason. The staff told us that humpbacks whales were bubble-net feeding by the bow of the ship! Bubble-net feeding is when a pod of whales dives deep into the ocean and makes a spiral of water to create a funnel that brings up all of the sea creatures. The funnel leaves them floating on the surface of the water so the humpbacks can have a feast.
When I looked outside, I saw all of the humpbacks diving in and out of the water. It was amazing! Needless to say, I didn't regret missing any of the planned activities. When I saw the crew members taking out their phones and cameras, I knew that I was witnessing something special. When I was talking to someone from the crew, she said I would probably never see this again in my life! Wow. For several hours, I continued watching and taking more and more pictures. But to be honest, I won't need photos to remember this moment.
2/Seeing glaciers
Seeing images of glaciers on the computer or reading about them is pretty cool, but seeing glaciers up close and in person is definitely way better. I was less than a mile away from Margerie and Dawes Glaciers. They are so much bigger and more detailed than you'd think.
Margerie Glacier is huge. It's 350 feet high and a mile wide! I actually got to see several giant chunks of ice calve and splash into the water. I also saw wildlife like puffins flying in the mist, orcas diving in and out of the water, otters chowing on fish, and mountain goats climbing into little caves.
And on the last full day of our cruise, we went to North Dawes Glacier on a guided kayak tour. Before getting into the kayak, we put on layers of clothes. Then we headed out into the iceberg-filled bay. Our guide told us about some of the geology in this area and about the icebergs. I picked up some small pieces of ice. After an hour or so, we headed back. IT. TOOK. FOREVER! There was a strong current, and it started to rain. It was even harder to paddle because my fingers were numb with cold (maybe picking up the ice was a bad idea!). My mom and I were one of the last couples to make it back to the ship, but when we did it, it felt great!
Once we warmed back up again, we got on a skiff that took us even closer to Dawes Glacier. We could see mountains and waterfalls, and on the floating icebergs, we could see otters and seals resting. I was able to get some pictures of the glacier, waterfalls, and mountain goats climbing on the cliffs. As we were heading back, we saw some harbor porpoises. Once back on board, I headed straight for the lounge where I had several cups of Earl Grey tea to warm up.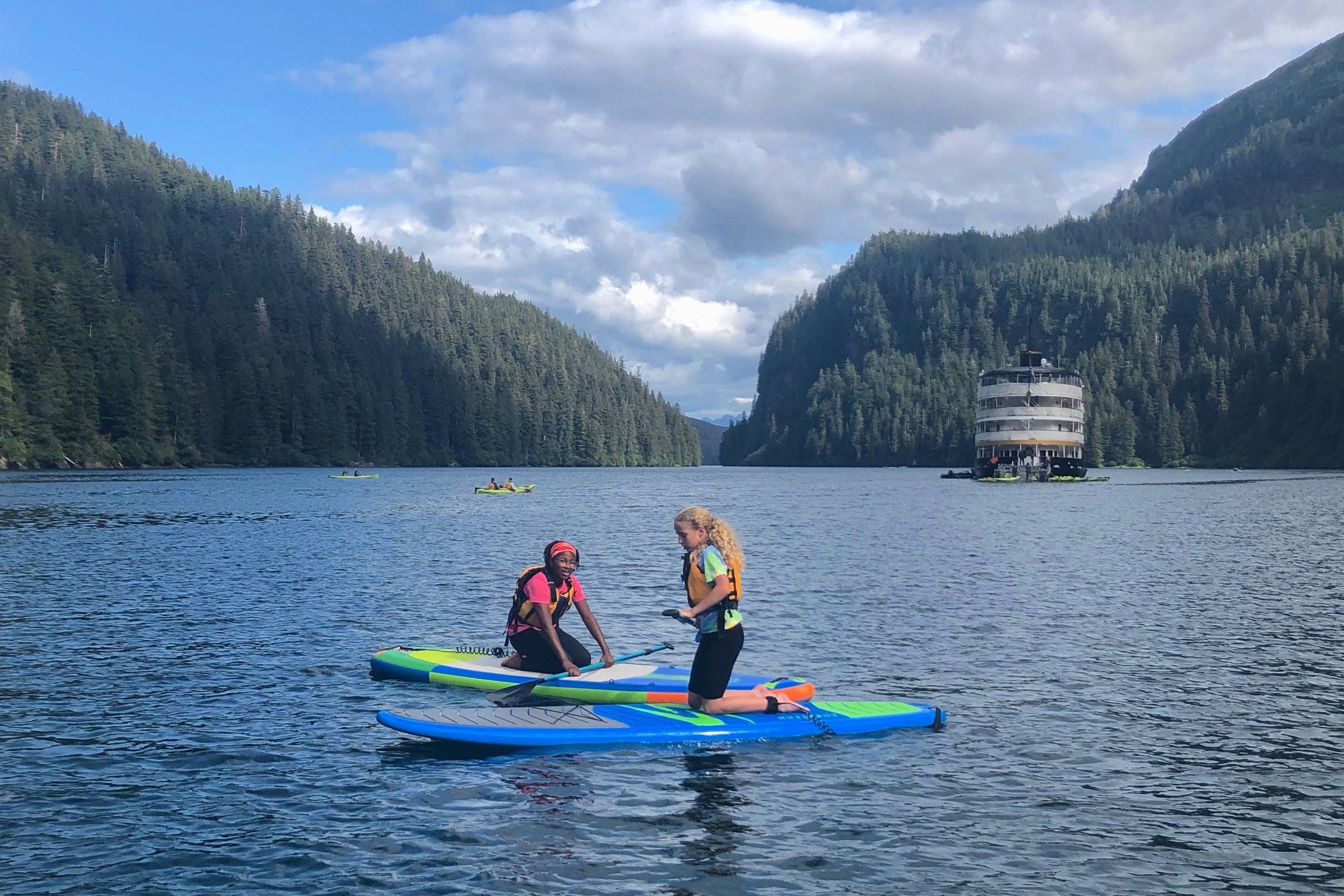 3/Trying paddleboarding
Another thing I attempted was paddleboarding. I'd heard of paddleboarding before, but I'd never tried it and didn't know how hard it was. The crew gave me some instructions and then helped me off the back of the boat. The bay that I was paddleboarding in was pretty deep, and I could see jellyfish swimming just below the surface, so I was a little worried.
There were a few other people out paddleboarding in the water, including my friend Katie who I met on the ship (we're both the same age). They gave me advice and encouraged me to stand up, but I was too nervous, so I stayed on my knees the whole time. I just couldn't figure out how to control the paddleboard! The wind picked up shortly after I got on, carrying my paddleboard away from the boat. Fortunately, my friend's mom and grandpa were kayaking nearby and helped lead me back to the end of the boat.
I will never forget the day that I almost fell into the jellyfish-infested water! I'm proud of myself for trying something new and a little bit scary.
4/Doing the polar plunge
Another thing I'll never forget doing is the polar plunge. I was in the lounge drinking a cup of tea and reading a book when the crew announced over the loudspeaker that it was time to do the polar plunge. I ran to my room and got on my swimsuit.
Then I rushed down to the first floor where I waited in a short line of people who looked just as nervous as I was. I walked out to the end of the ship with my friend and her family. "3 - 2 - 1, jump!" We leaped into the freezing cold, iceberg-filled water. I was the last one to jump in and the first one to get out! The crew took our photos as we jumped, and the look on my face was priceless. It was really cold! My skin was tingling when I got out. Can you guess where I went after that? Directly to the hot tub on deck 3!
Wanna watch me take the polar plunge? Click here.
5/Eating new foods & desserts
Trying new foods is one of my favorite things to do on any vacation. The meals on UnCruise were some of the best that I've had in my life. I'm not even joking! Every breakfast, lunch, and dinner was very high quality, and the staff made sure nothing was too bland or too salty. If the meal didn't satisfy your tastes, they would redo the whole dish!
On other cruise ships that I've been on, there was a buffet, but there's no buffet on UnCruise. This was a nice change, as you didn't stuff yourself silly. It was just the right portion size for everyone. And a nice surprise on the cruise? Dessert after lunch, in addition to dinner! Breakfast was also so good. It was my favorite meal time, and I looked forward to it every morning. Although, dinner was just as satisfying.
Remember when I said that the cruise was nice because it didn't have a buffet and I wouldn't stuff myself silly? Well, the only exception was Crab Night. I think that I ate a total of ten crab legs! At the end of the night, our table came in first place for eating the biggest mountain of crab.
Photo courtesy: UnCruise
6/Other fun stuff… and stuff that wasn't so fun
There were plenty of other things that we did on the ship during our week with UnCruise including bushwhacking and hiking. I have to admit, I didn't like bushwhacking. That's when you travel through unmarked territory (the woods), climbing over fallen trees and jumping over creeks; I didn't mind doing that. The thing that I absolutely did not like was walking a mile in rubber boots over crunchy weeds and thorns and fungi. It was like walking on a very, moist sponge. There also were little ponds of mud that you could easily fall into (I didn't, thank goodness). And it was really hot, considering we had to walk in rubber boots and coats, "just in case."
But now, I'll talk about what I did enjoy: hiking. Unlike bushwhacking, you walk on a marked trail. I took beautiful pictures of the landscape. I even got to see a mama bear and her cub, staring up at me! We were on the hillside, and they were down below eating fish alongside a stream. I got a close-up picture of them, but there was a tree in the way. Bummer. During our hikes, I learned the difference between a spruce tree and a hemlock. Spruce trees have bark that looks more circular like a potato chip, and a hemlock has strips of bark like bacon. (Yes, I relate everything to food!)
Another activity that I tried was called "skiffing." If you weren't up to hike or bushwhack, skiffing was a good alternative. I got on a small rubber boat with my mom and other passengers and rode around the bays and sounds. I enjoyed doing this because I liked the refreshing breeze and the mist on my face. One time, otters swam right up to us! During the skiff excursions, the UnCruise guide would always give us more information about what we were seeing.
If you like trying new things and seeing new places, you'll definitely love UnCruise. I hope you have a spectacular trip on your UnCruise travels. I know I did!
Watch Eliza chat about some of her favorite moments here.
For more on how much an UnCruise voyage costs and how to save money, click here.

Eliza Watkins may only be a tween, but she's already a travel expert. At 11, she's visited 20 countries. Her favorite things about traveling are exploring different cultures and trying new foods wherever she goes. Eliza will eat just about anything except durian. She tried that once in Southeast Asia, and she won't do that again!
Pin to Pinterest & read later