Alaska
CRUISING ALASKA'S INSIDE PASSAGE WITH UNCRUISE
6 Things to know about booking a small ship cruise for your family on UnCruise
Why go?
If you're searching for a cruise to Alaska, there are a lot of choices. The big name cruise lines often will come up first in your internet research. Their names will be familiar; maybe you or your friends have traveled with these cruise lines before. That's fine, but if you're interested in an entirely different experience, give UnCruise a look. You'll find a more intimate and adventurous itinerary that will take you to parts of Alaska that other cruise lines just can't go.
So let's take a closer look at exactly what you get and for how much.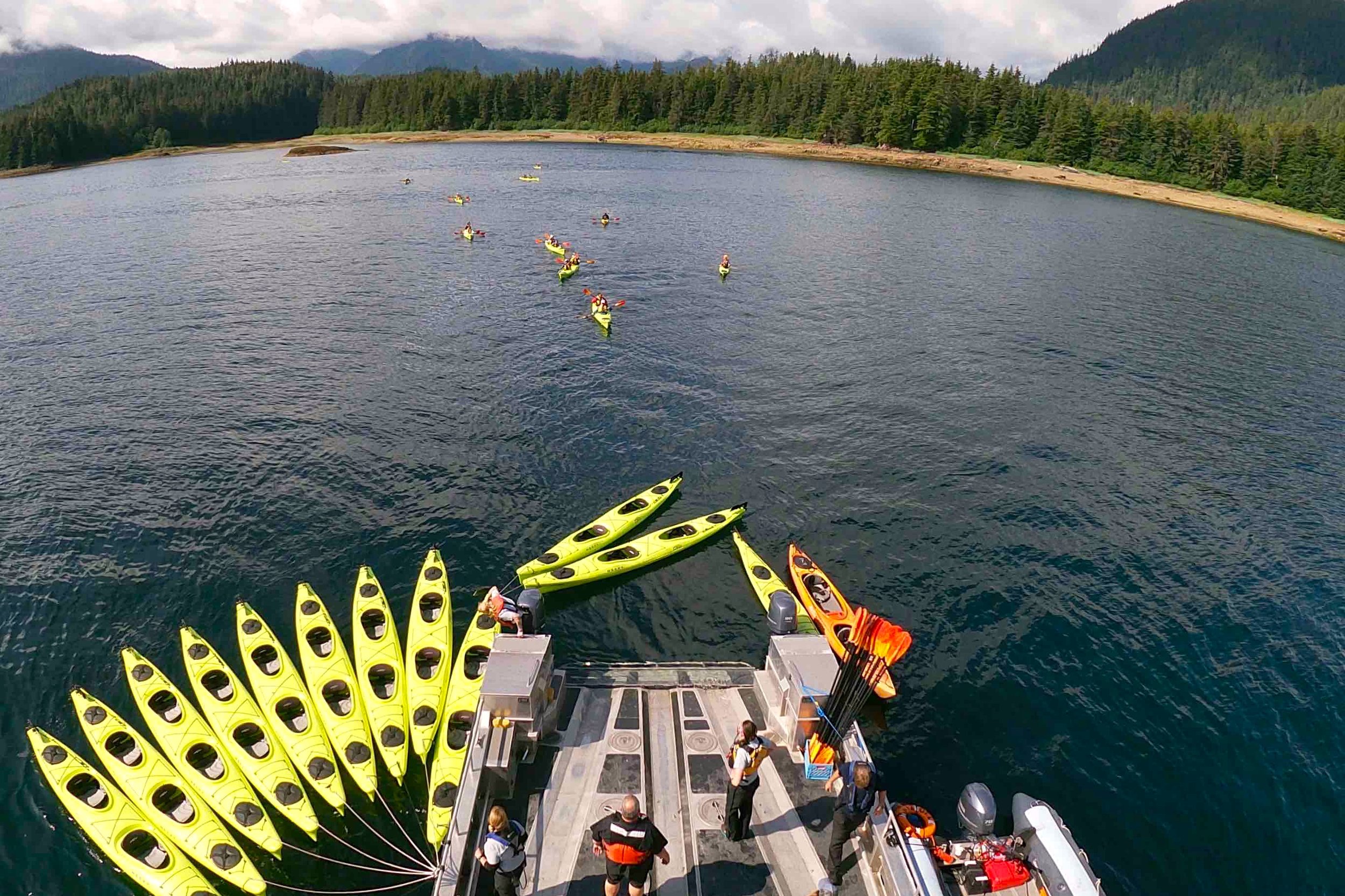 1/What Is UnCruise?
UnCruise is a small ship cruise line that operates eight vessels. Its largest vessel has 45 cabins and holds 90 passengers; the smallest has just 11 cabins and accommodates only 22 guests.
These adventure cruises take guests to remote and scenic destinations: Alaska, Costa Rica, Galapagos Islands, Hawaiian Islands, Pacific Northwest, Mexico, and Panama. When it comes to Alaska, there are several itineraries to choose from ranging from 7 to 14 nights. UnCruise knows Alaska's Inside Passage well, having sailed here for 20 years.
KidTripster Tip: Think you rather go to a warm weather location where you have the opportunity to swim with whale sharks? Read about our adventure with Uncruise in Mexico's Sea of Cortez here.
All the vessels include adventure activities such as hiking, kayaking, paddleboarding, skiff excursions, beachcombing, and whale watching. Some locations also include snorkeling opportunities.
2/Who travels with UnCruise?
As with any cruise, you'll see a lot of older travelers. During our cruise, many guests were traveling with multi-generational families. We saw adult children traveling with their adult parents. For example, a mother was traveling with her son who'd just graduated from college. One elderly man who was recently widowed was traveling with his two adult sons. We also met a family of eight that included grandparents, parents, an aunt, an uncle, and grandkids.
UnCruise welcomes guests, ages 8 and up. The ship doesn't have designated kid areas. Kids traveling on UnCruise need to be prepared to spend a lot of time in the company of adults and partake in physical activities like hiking and kayaking. Know that there's no kids' menu offered in the dining room (but my daughter loved everything she ate!). There's also no WiFi.
If you have children younger than 8 years old, UnCruise sometimes offers family cruises. You'll see more children on these itineraries. There's a Youth Adventurist on board who helps facilitate fun activities in ways that may not be available on other departures.
KidTripster Tip: If you're planning a group getaway, UnCruise may waive the age restriction to accommodate your family. It doesn't hurt to ask.
All that being said, UnCruise is a very kid-friendly adventure! You simply find that without the distraction of kids' clubs and WiFi, you actually will be spending time with your children in an incredibly special and unique way. After all, isn't that why you're going on vacation?
Read why our KidTripster Teen prefer small ship cruises over mega ships with pools, teen clubs, and climbing walls. Click here.
3/Why choose a small ship cruise?
Before boarding our cruise, we were advised that our adventure may not follow the itinerary found in the travel brochure. We were warned that our journey would be influenced by the three Ws: weather, wildlife and whimsy. One day, wildlife took precedence to previously-made plans. Our captain spotted a large group of humpback whales bubble-net feeding near the ship. (That's when humpback whales work together to feed, masterfully coordinating their movements despite their large bodies.) Rather than simply point them out and move on, the captain slowed down and allowed us to watch the whales for several hours. That meant our excursions were cancelled for the afternoon, but no one complained. We experienced something that most people never see. Keep in mind, a large cruise ship can't change course on a whim to go whale watching.
A small ship cruise is a much more intimate experience. Our cruise had just 65 guests. By the end of the cruise, we knew nearly everyone's name. It was impossible not to get to know our fellow passengers. It was open seating at mealtime. Because the tables sat four, six or eight guests, my daughter and I were always dining with others and making new friends.
We also got to know our guides. Many of them had worked for UnCruise for several seasons and knew Alaska very well. If you had a question, they usually had an answer.
4/What will you experience on and off the ship?
A voyage on UnCruise is about interacting with Alaska, not just watching it pass you by from a ship window. This adventure cruise includes many physical activities; however, you don't have to be in top physical condition to participate. Many of the guests were older, and some not very mobile. There were options for everyone from a forest meander to an extreme bushwhack.
To read about our KidTripster Tween's favorite moments on the cruise, click here.
All adventures and excursions on board UnCruise are included with your fare. The types of adventures that you'll experience will depend on your cruise, but you can expect opportunities to do things like hike and kayak. Each day, you'll have an opportunity to sign up for activities for the following day. Your expedition guide will offer you several choices allowing you to find an activity that's right for you.
You'll experience great meals served three times a day. And you're never hungry in between, thanks to snacks in the lounge ranging from early morning pastries to early evening happy hour. The food is outstanding. The chef even made allowances for my gluten allergy.
A daily workout class is offered each morning or you can go at your own pace by using the equipment in the fitness area. Most ships also have hot tubs on a sun deck.
You won't have WiFi, and you may not have cell service either. That means you can disconnect and reconnect with your family. During downtime on the ship, we played board games with fellow passengers and shared a few glasses of wine.
KidTripster Tip: All your beverages are included in the price of the cruise including alcohol for the adults.
Photo courtesy: UnCruise
5/What should you pack?
Packing for a trip to Alaska can feel a bit overwhelming. One thing that you definitely need is a waterproof jacket. You'll likely experience rain at some point. We also took waterproof rain pants which were helpful when we went bushwhacking and kayaking in the icy waters.
You'll be wearing rubber boots a lot on your trip. You can pack your favorite pair or borrow a pair when you get on board. The ship doesn't have youth-sized rubber boots available, so be sure to pack a pair for your kids.
Even though the temperatures can dip in Alaska, UnCruise recommends you dress in layers rather than bring a heavy jacket.
The cruise line is very casual. No need to pack formal wear or even anything even moderately dressy. You can pretty much go from a hike to the dinner table, although you might want to change out of your muddy boots!
UnCruise has a very helpful packing list. Click here.
6/How can you save money?
There's no getting around this fact: a small ship cruise will generally cost you more than sailing with a larger cruise line. It varies by the location, length of the voyage, and the type of ship. The least expensive 7-night Alaska cruise will cost you about $3,000 per person, but the average is likely around $5,000 to $6,000 per person. Cruises are all-inclusive, and every UnCruise fare includes alcohol and excursions.
UnCruise cabins typically accommodate just two people. Most of the UnCruise ships have a couple of triple cabins; the third bed is a trundle. A family of four would need to book two cabins. You do receive a $500 savings for kids (ages 8-13).
You can often save money by booking early. Early Bird promotional offers often are shown on the UnCruise website. You also can save by booking a cruise for the shoulder season. In Alaska, that means booking for April, May or September. When comparing prices, be sure to look at the different kinds of ships. For instance, the Wilderness ships offer a lower price point as well as a more cozy, relaxed atmosphere.
You also will save money by choosing an itinerary that departs and returns to the same port. That way, you don't have to fly into one city and out of another, forcing you to purchase two one-way tickets.
Flying in and out of Juneau? Click here for ideas of what to see and do on a 2-day extension.
UnCruise recommends booking a year in advance for your best choice of itinerary and cabins, although they do take bookings as close to a month prior to departure.
To get an even better feel for exactly what you'll see and do on an Alaska cruise with UnCruise, read my day-by-day account here.
KyAnn Lewis is a Portland, Oregon-based journalist, mom, and travel junkie. She's the CVO (Chief Vacation Officer) for her family, always on the lookout for a good deal and a new destination to explore. She believes one of the most important things that you can give your kid is a passport.
This writer received a complimentary cruise for the purpose of this review. However, all opinions expressed are solely her own.
Pin to Pinterest & read later