Cancun, Mexico
FINEST PLAYA MUJERES
Beware! If you visit here once, it will be hard to travel anywhere else in the Caribbean with your family again.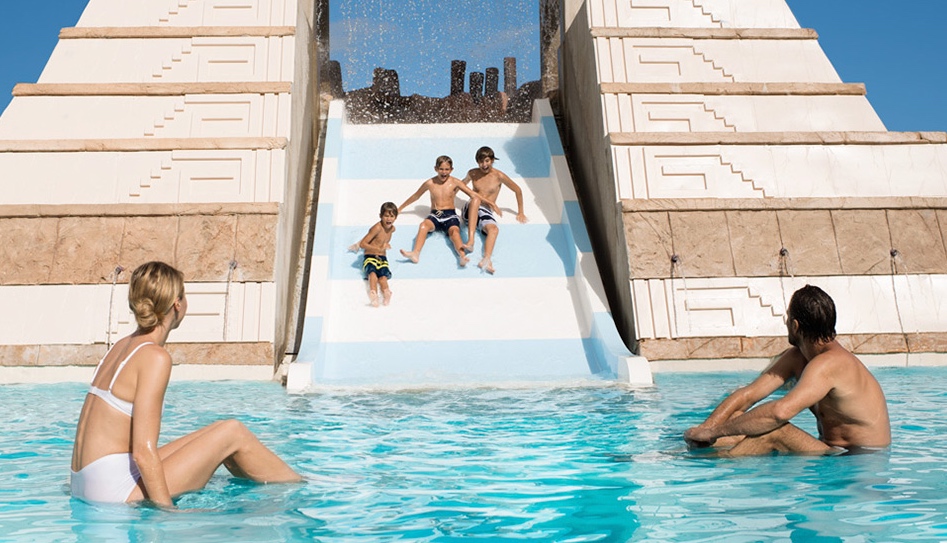 Why go?
Playa Mujeres likely has never hit your radar, because you'd assume anywhere close to Cancun's 26 miles of hotels and shopping malls isn't a good choice for anyone under the age of 18 and over the age of 22. But I'm here to tell you that Finest Playa Mujeres is one of the most family-friendly resorts in North America! The all-inclusive resort is situated on two miles of white sand beach, exactly 25 minutes from Cancun International Airport. And with its adult-only sections, it's a perfect spot for a multi-generational vacation (in case the grandparents want to join but don't want to be around the kids all day).
Where to stay?
This resort offers a few different types of accommodations. I chose the Finest Club Family Suite (Building 5 – Ocean View) because of the separate bedroom with twin beds that my son could stay in. When he went to bed, mom and dad weren't hostages in the room, hiding with an iPad under the covers. We were able to have a drink on the balcony, take a dip in the hot tub, and watch TV in the common area of the suite. There's a standard suite with king or double beds, as well as a swim-up pool option, which is nice for keeping an eye on your middle school children (close to the room but plenty of room to spread out in a much larger pool). Finest Club and Excellence Club suites come with additional amenities like a full bar (four bottles of alcohol of your choice) and robust minibar in the room, which can be personalized upon your arrival. The minibar also includes candy, juice, and chocolate milk.
KidTripster Tip: If you have more than one child, consider getting the Finest Club Family Suite with the plunge pool. That way, you can put a younger child down for a nap, while your older, non-napping child plays in the plunge pool, right in your own private, mini-backyard.
Where to eat?
There are a plethora of great on-site restaurants. You never need a reservation, and service is generally very quick. Because it's all-inclusive, the staff also will encourage you to select multiple courses. If you are happy, they are happy. There's one restaurant that's just for adults, Le Petit Plaisir, and there's one restaurant just for adult club members, The Bistro. All the other dining venues have kids' menus. If you're dining at one of the restaurants in the main building (Le Petit, Brass, Shoji, Lizo, Legends or Market), you may utilize the Imagine Lounge, which is free, on-site childcare.
KidTripster Tip: Be cognizant of the dress code. Only the buffet and a couple of the outdoor restaurants allow casual clothing. Ladies, bring skirts, dresses, capris or long pants. Gentlemen, no shorts or flip-flops. They are strict about it.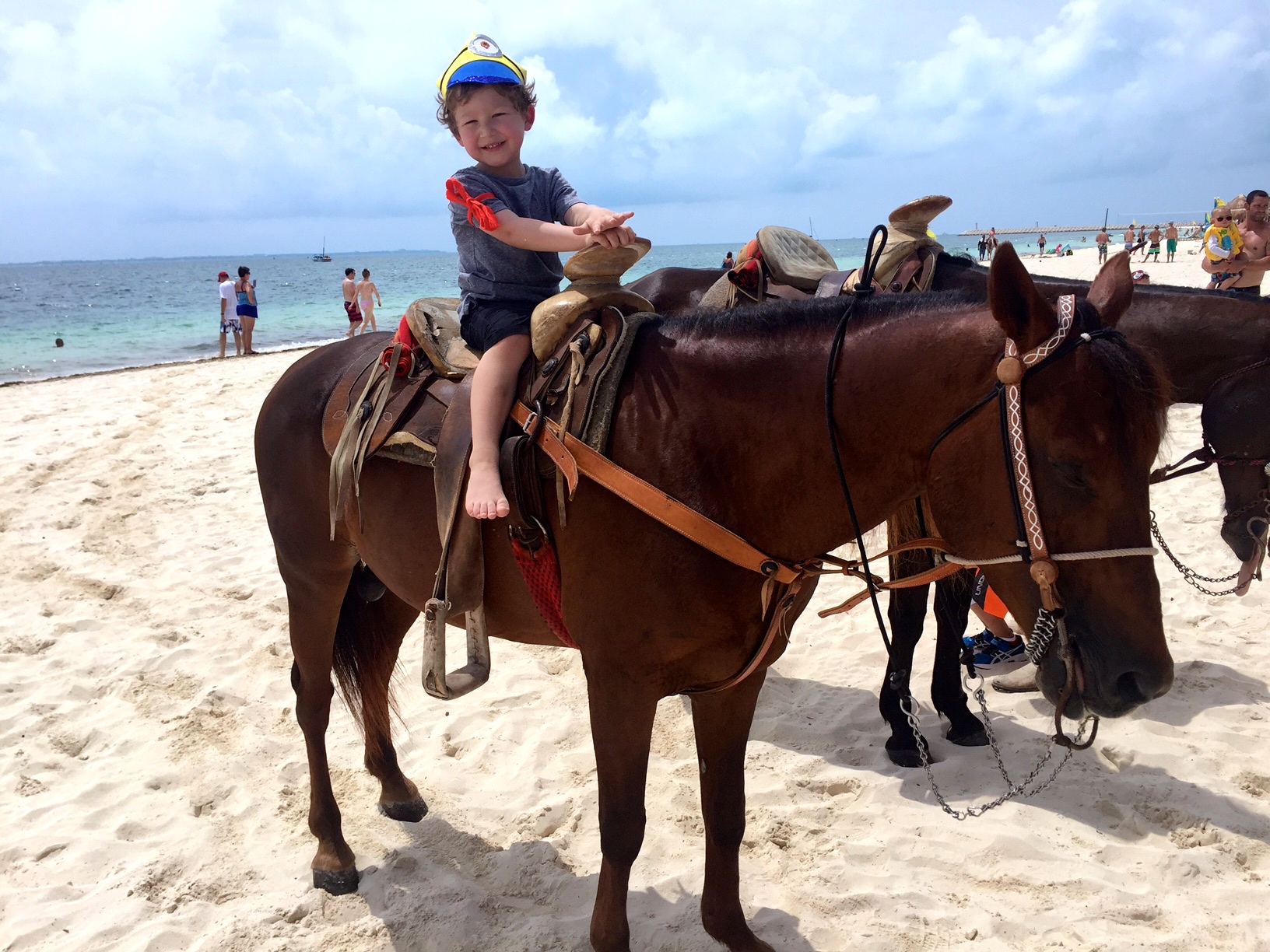 What to do?
The Imagine Kids Club is like nothing that I've ever seen before. It's all-day childcare for kids, ages 3 and up. The staff divides the children into three different groups and provides them with age-appropriate activities - every hour, on the hour. Some of the activities include horseback riding, finger painting, treasure hunts, foam parties, pirate hat making, ping pong, foosball, pool games, and so much more for no additional charge. Remember, this resort is all-inclusive, meaning the childcare is included, as well. The Kids Club offers a kids' dinner adventure each night from 6:15 to 8:45 p.m., where the staff feeds the kids (sometimes at a themed dinner on the beach or sometimes at a buffet set up in the club) and provides them with some sort of show. My 4-year-old son was able to experience a pirate show, magic show, and pajama party. He actually preferred dinner with the kids to dining with Mom and Dad. Dissed! It's obvious that these childcare providers love kids and their jobs. They are great at accommodating kids that may be shy with new people and love having the more outgoing kids help break the ice with kids that are just arriving. Oh, did I forget to mention the two giant splash pads with ten water slides? Seriously, amazing! My son cried the day that we checked out, because he said that he was going to miss his Kids Club teachers and friends.
There are also nightly shows and activities for the adults. Think Casino Nights with complimentary playing chips, dancing, a pirate-themed Cirque de Soleil-type show on the beach, and so much more. Adult daytime activities include archery, beach soccer, bocce, tequila tasting, cocktail tutorials, tennis clinics, bike tours, aqua aerobics, and Spanish lessons… all included! While there's never a dull moment, there are plenty of quiet areas to just relax with a frozen drink, too.
How much?
Cost varies based on time of year. The good news is everything is included: meals, drinks, snacks, childcare - yes, even 24-hour room service. Chocolate cake at midnight? Yes, please. A standard room (with capacity for four) will run you around $380/night during low season or $1,000/night during peak season.
KidTripster Tip: Bring some singles for tipping. While not encouraged by the resort, it's very much appreciated by the staff.
Overall, you can't ask for a more well-thought-out resort for adults and kids alike. The service, food, activities, and accommodations will surely bring our family back, time and time again.
Read about another one of our favorite Caribbean resorts. Click here.
Christa Reed is a TV fanatic and philanthropist. She enjoys drinks with umbrellas, unreasonable amounts of caffeine and watching the Cubs. She lives in her dogs' Chicago home with her husband and 4-year-old son.
This writer received a discounted stay for the purpose of this review. However, all opinions expressed are solely her own.
Pin to Pinterest & read later