Nevada
Las Vegas
7 Things things for families to avoid in Sin City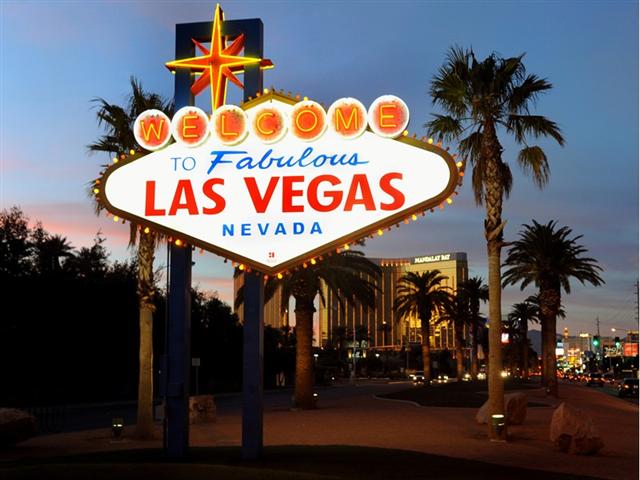 Why go?
Newsflash. Las Vegas is likely a lot nicer than the last time you were there, and while we're not calling it a "family vacation destination" just quite yet, it shouldn't necessarily be avoided like the plague. Grab the kids and tag along on that business trip, if you'd like. Just keep in mind these 7 suggestions.
1/Walk "The Strip" during the day
Walking "The Strip" can be a lot of fun for your kids. Get out there and enjoy the sunshine and lack of crowds during the day. If there aren't crosswalks with pedestrian/stroller-friendly signage, there are elevators that will take you up and over the street entirely.
In addition, there are new forms of transport that make getting from one end of the strip to the other more manageable. Hop on the tram at Monte Carlo and take it to Aria and Bellagio. From there, walk to The Mirage and take another tram to Treasure Island. There's still the occasional guy trying to hand you a card with an escort solicitation on it, but it's scarce during the day.
KidTripster Tip: Be sure to instruct your kids not to take anything from strangers.
Photo courtesy: Visit Las Vegas
2/Choose your shows wisely
3/Avoid casino floors
Children are allowed to walk through casinos but are not allowed to linger. Move through the middle and go directly to your destination without stopping, if you want to avoid personnel shooing you away.
And remember, while smoking in public may be a thing of the past in your progressively-minded hometown, you will notice that cigarettes are prevalent in Vegas. Keep an eye on the kiddos in busier thoroughfares to avoid potential burns and secondhand smoke.
4/Hit the sack early
If you have really young children, my recommendation is to hit the sack by 8 p.m. or at least be in your room. Most casinos on The Strip start to get rowdy and crowded around that time. If your kids are night owls and like to eat late, consider staying in a hotel on The Strip that doesn't have a casino. Mandarin Oriental and The Signature at MGM Grand are both great options.
Photo courtesy: Mandarin Oriental
5/Skip certain pools
There are plenty of family-friendly pools in Vegas, and depending on the time of year that you travel, you may want to book your hotel based on the pool, itself.
Of course, you're going to want to avoid the European/topless pools and any of the "club" pools, because frankly, they aren't going to let you in with kids anyway. You also want to avoid the smaller pools, as they seem to attract rowdier crowds.
The more square footage you have, the better (think Mandalay Bay and MGM Grand). The main Palazzo pool is great, because it's very shallow, but chairs are close to one another, so consider renting a cabana. A cabana is an especially good option if you're a nursing mom looking for some shade or have a baby that needs to nap.
Photo courtesy: Mandalay Bay
6/Shop selectively
While there's no shortage of shopping in Vegas, realize much of it is impractical. Don't bother with The Shops at Crystals unless your toddler is into Gucci or Harry Winston or the Grand Canal Shoppes at the Venetian with its random and unnecessary steps that are difficult for strollers. If your little ones need somewhere to burn off steam away from the summer heat, check out The Forum Shops at Caesars Palace, where the hallways are wide and easy to traverse, family restrooms are large, and treats and sweets appear every 50 yards or so. There's plenty of kid-friendly chain restaurant dining, as well.
Photo courtesy: The Forum Shops at Caesars Palace
7/Rent or share a car at airport
Sometimes waiting in a taxi line in Vegas can feel like waiting for a ride at Disney World. The cab rides are expensive, and of course, the taxis don't come equipped with car seats.
Las Vegas is one destination where renting a car is a very viable option. Every casino has free parking. Renting a car also gives you an opportunity to take adventures off strip and swing by the grocery store, if needed.
If you don't plan on using a car daily, consider ride sharing. Uber and Lyft are both accessible in each of the terminals. Just grab your bags, open your app, and your driver will direct you where to meet in the terminal.
To see KidTripster's Top 10 Plays in Las Vegas, click here.
To see KidTripster's Top 10 Stays in Las Vegas, click here.
To see KidTripster's Top 10 Eats in Las Vegas, click here.
Christa Reed is a philanthropist and TV fanatic. She enjoys drinks with umbrellas, unreasonable amounts of caffeine, and watching the Cubs. She lives in her dogs' Chicago home with her husband and 4-year-old son.
Photo courtesy: McCarran International Airport
Pin to Pinterest & read later