Universal Orlando Resort, Florida
LOEWS PORTOFINO BAY HOTEL
Italy? No, this hotel makes it pretty darn believable!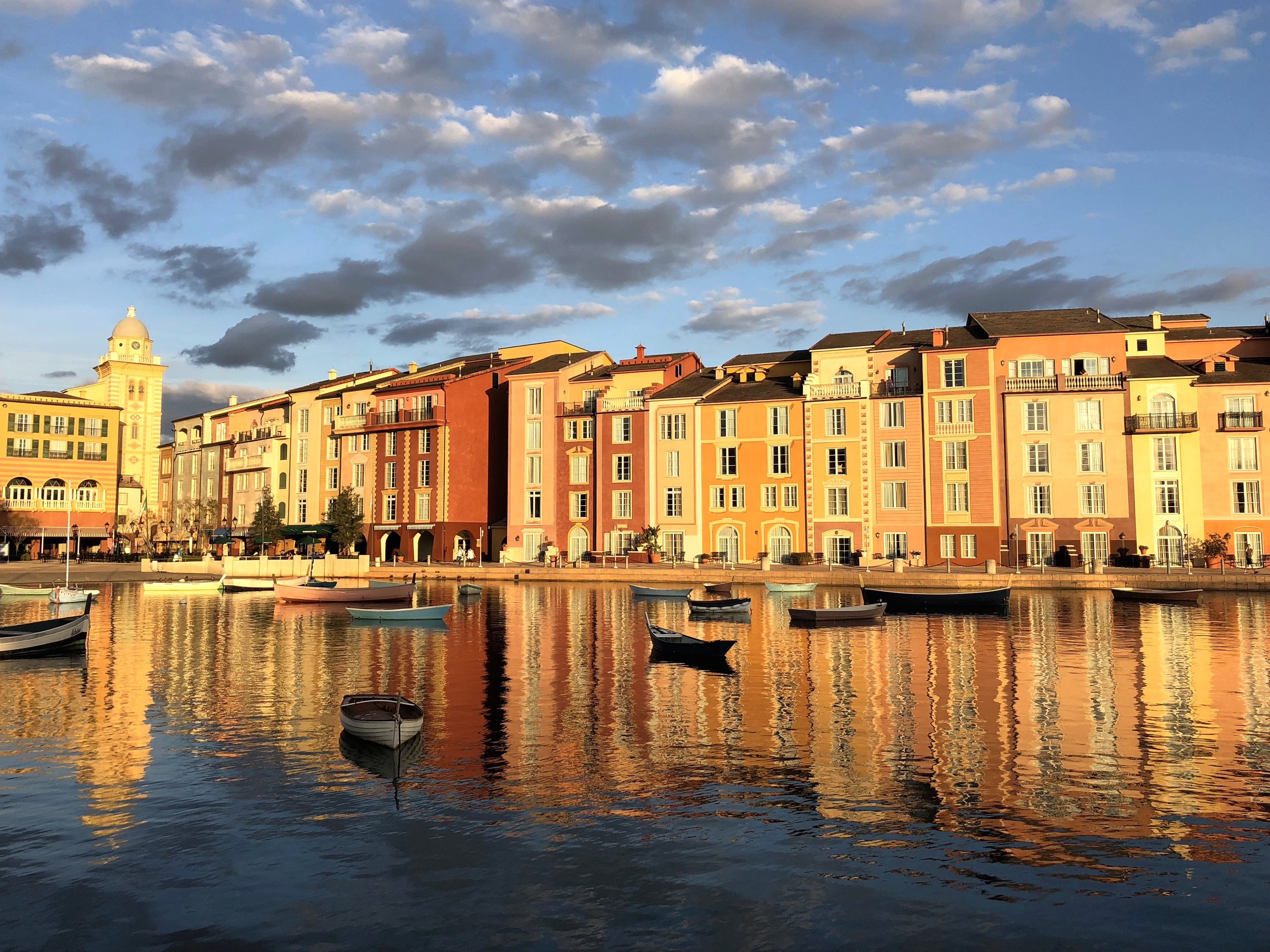 Why go?
Loews Portofino Bay Hotel at Universal Orlando is one of only two premier hotels at Universal Orlando. If you're looking for the most luxurious on-site accommodations and don't mind the higher price tag, this hotel is the place for you. Some of the advantages of staying at an on-site hotel include early park admission, complimentary transportation to the parks via water taxi or shuttle bus, resort-wide charging privileges with your room key, and complimentary delivery of merchandise purchased through the resort to your hotel.
However, the biggest perk - which is exclusive to the premier hotels - is the fact that Universal Express Unlimited ride access (as well as priority seating at select restaurants throughout the resort) is included for each person in your party for the entire length of your stay. Normally an extra $89.99 per person/per day, Universal Express Unlimited allows you to show your hotel room key (everyone in your party will get one, even kids) and bypass the main line for participating attractions and go through the shorter express line, significantly reducing your wait times in the parks.
All of these perks, combined with beautiful grounds, spacious guest rooms, and easy access to the theme parks, place this hotel at the top of my family's list for future Universal Orlando vacations.
Where to stay?
My family of five stayed in a standard guest room at Portofino Bay. It offered us much more space than I was expecting. In addition to two queen beds, there was plenty of space for a rollaway bed ($25/day, one allowed per room) in front of the window; we also brought our own air mattress which we placed at the foot of one of the beds. Even with the two extra beds, we still had plenty of open floor space. The bathroom was the largest that I've seen in a standard hotel room and offered two sinks, loads of counter space, and storage shelves in the corner. Our room was located in the East Guest Wing, but if you want to be closer to the water taxi and family pool, request a room in the West Guest Wing. Standard room prices range from $329/night during the slow season to $500/night during peak season.
KidTripster Tip: Are your kids Despicable Me fans? Check on the themed suites.
KidTripster Tip: Portofino Bay is a pet-friendly resort, so you can bring your furry friends with you (up to 2 pets per room) for a $50/night fee (up to $150 maximum per stay). Upon arrival, you'll find goodies including a pet bowl and welcome treat. There are some restrictions and requirements, so be sure you read the complete pet policy beforehand.
KidTripster Tip: When one of our daughters got sick and needed to see a doctor, I found Physician Room Service online and texted late one night, requesting an appointment the next day. The service responded immediately and scheduled a doctor to come to our hotel room the following morning. The doctor was on time, professional, and thorough. Although we did have a car, many families don't when vacationing in Orlando. This service saves you a taxi ride to an urgent care facility with a sick child. The doctors visit all of the major resorts in the Orlando area. They do require payment at the time of the visit, but provide you with the paperwork needed to file a claim with either your travel or health insurance carrier. I would definitely use them again, if needed.
Photo courtesy: Loews Portofino Bay Hotel
What to do?
In addition to the three Universal Orlando theme parks, Universal CityWalk is a short water taxi ride away. This pedestrian area features a movie theater, shops, restaurants, bars, and nightclubs. We like to spend at least one evening here walking around, eating dinner and soaking in the festive atmosphere.
If you're in the mood to relax and soak in the Florida sunshine, check out one of the three hotel pools. The Beach Pool is the largest one and the place where families hang out as it features a water slide, sandy beach, kiddie pool, and poolside restaurant. We spent a glorious afternoon here unwinding from two long days in the parks and had food and drinks delivered to our lounge chairs from the poolside Splendid Bar & Grill. For a more serene atmosphere, visit the smaller Villa Pool or Hillside Pool (adults only). Another option for adults is the full-service Mandara Spa and Fitness Center. If the weather is not cooperating, head to the arcade located near the Beach Pool.
The grounds of the resort are beautifully landscaped and provide several walking and jogging paths. My kids enjoyed watching the ducks swim in the harbor right in the center of the resort.
Finally, if the adults want some time to enjoy an evening away from the kids (ages 4-14), check out Campo Portofino, the on-site children's activity center where kids can partake in an evening full of games, crafts, and movies for $15/hour. It's open during select evening hours; reservations are required.
KidTripster Tip: Each evening at sunset (weather permitting), visit the Harbor Piazza for Musica della Notte, a showcase of live music. There's outdoor seating, plenty of space for kids to run around, and shops and restaurants just steps away.
Photo courtesy: Loews Portofino Bay Hotel
Where to eat?
Dining options at Portofino Bay range from casual to elegant. The two most family-friendly options are Sal's Market Deli and Trattoria del Porto. We visited Sal's Market Deli the most during our visit and thought the pizzas and sandwiches were outstanding. It's also a great place to grab snacks and drinks out of the refrigerated case on your way to the parks.
For a more elegant dining experience, visit either Bice Ristorante (dinner only) or Mama Della's Ristorante (dinner only). Although they both have children's menus, these restaurants have a more upscale, quiet atmosphere and would be better suited for older children. There's a Starbucks, which we frequented for breakfast, and although we never tried it, there is 24 -hour room service available. I checked out the menu, and the selections looked amazing, but as you'd expect, the prices were high. Finally, the Gelateria is just a few steps away from the water taxi and is a great place to stop for gelato, milkshakes or smoothies after returning from the parks.
KidTripster Tip: If you feel like doing a little exploring, use the free hotel dining shuttle to check out the restaurants at the other Universal Orlando hotels. Pick-up is in the hotel lobby every 30 minutes from 6:00 to 10:00 p.m.
Photo courtesy: Loews Portofino Bay Hotel
Getting there
Portofino Bay is located approximately 17 miles from Orlando International Airport. A taxi will cost about $45 to $50, plus tip. Shuttle services also are available and run about $25 to $35 per person, round trip (children under age 3 ride free). Be warned, however, that you'll most likely have to make several stops along the way to drop off shuttle passengers at other resorts, significantly increasing travel time.
If saving time and hassle is worth spending more, then hire a town car. Your driver will meet you at baggage claim and help you with your luggage. Call ahead to request a car seat. There's a Hertz car rental location at the resort, so a one-way rental also is an option. If you prefer to keep the rental car for the duration of your stay or if you drive your own car to the resort, the self-parking fee for overnight guests is $22/night, while valet parking is $29/night.
Because Portofino Bay is located on the Universal Orlando property, getting to the theme parks is a breeze. There's complimentary resort-wide transportation via shuttle bus and water taxi, and you're also within walking distance to Universal Studios Florida, Universal's Islands of Adventure, Universal CityWalk, and Universal's Volcano Bay water park. In addition, there are complimentary shuttles available to Sea World and Wet 'n Wild, though reservations are required; see the concierge desk for assistance.
In addition to an amusement park lover, Diana Smith is an expert cruiser. She and her family, including her three Disney princesses, have set sail on eight Disney cruises. For more, check out Disney Cruise Mom Blog.
Photo courtesy: Loews Portofino Bay Hotel
Pin to Pinterest & read later