Killarney, Ireland
RING OF KERRY
How to navigate this must-do drive in Ireland with a family
Why go?
Confession: I had been to Ireland many, many times before I really knew what Ireland's Ring of Kerry was. I mean, I knew it was one of the country's top tourist attractions, but I didn't understand what all the fuss was about. However, now that my family and I have experienced it for ourselves, I get it.
The Ring of Kerry (ROK) is a 111-mile-long circular route around the Iveragh Peninsula, the middle and largest of the three fingers of land that reach out into the Atlantic from the southwestern part of the island. Traversing the rugged coastline of County Kerry, the circuit is home to some of Ireland's most stunning landscapes, dramatic panoramas, and welcoming towns and villages.
The ROK is one of the most scenic drives in the world – right up there with the Pacific Coast Highway, the Amalfi Coast Drive, and the Road to Hana. And much like driving along the Amalfi Coast or on the Road to Hana, driving the narrow, winding roads of this long, Irish loop can be a thrilling, albeit nerve-racking, experience – maybe more so since you also have to drive on the left!
But if you're brave enough to get behind the wheel in Ireland, you must, must, must take a day or two to do the ROK. Within minutes, you'll see why this unspoiled region of Ireland has attracted so many visitors.
Photo courtesy: Discover Ireland
What to do?
The Ring of Kerry is undoubtedly Ireland's greatest tour. It's one of those places where the only "to-do" on your list should be driving the entire loop and stopping at the many sites and viewpoints along the way. Sorry kids, we're not going all the way to "The Kingdom" (as they call Kerry) to go ziplining or play paintball; we're here to experience it in all its natural glory. And even then, you'll have to pick and choose what you want to see, because there's just too much to pack into one or two days.
There are many ways to tackle the circuit. Most travel guides will recommend that you start in Killarney and drive clockwise toward Kenmare, so as to avoid getting stuck behind all the tour buses that start in Killarney and drive counter-clockwise toward Killorglin. It's not a bad way to do it, unless you're not so comfortable driving on the left. If you go the opposite direction of the tour groups that means at some point, one of those big buses will be driving at you head-on, and you'll end up having to pass by them on a very narrow road with a very steep cliff that drops off into the cold Atlantic to your left. It can be a more than just a little unnerving.
So, if you are even the slightest bit afraid of heights and/or driving on the left, drive it counter-clockwise and just be patient. Leave very early, getting out in front of the buses; most buses leave Killarney around 10 or 11 a.m. And take detours that the bus tours can't because of their size.
Continue to read KidTripster's recommended two-day itinerary.
Photo courtesy: Discover Ireland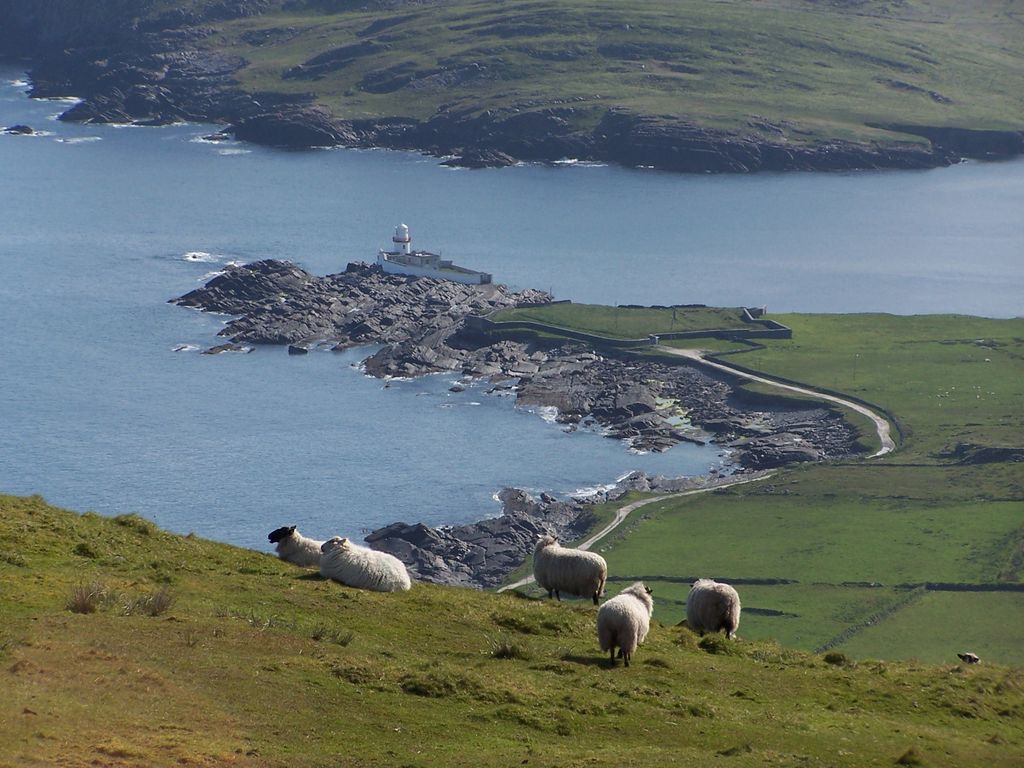 DAY ONE: Part 1
The day that we drove the Ring of Kerry, we had an early breakfast and headed out counter-clockwise from Killarney around 9 a.m., passing through many picturesque villages such as Killorglin, Glenbeigh, and Caherciveen before turning off the ROK to explore the Skellig Ring and Valentia Island – two places that the tour buses can't take you, because the roads are just too narrow. If you don't want to just sit on a bus and stop where everyone else stops along this unforgettable route, then I highly recommend these detours before getting back on the ROK at Waterville and looping back through Caherdaniel, Sneem, and Kenmare. Return to Killarney via Molls Gap and Ladies View, the famous Lakes of Killarney, and through the Oakwoods of the magnificent Killarney National Park. For me, some of the best bits are actually off the ROK.
Here are some of my family's favorites:
Rossbeigh Beach
Leaving Killarney, pass through Killorglin and Glenbeigh and then take a right at the end of the village and head toward Rossbeigh Beach; it's about two miles off the ROK. It's a lovely, long, sandy beach, ideal for families, horseback riding, and long walks. There's ample parking.
Valentia Island
While small in size, this island certainly has made its mark on history and culture. From the Vikings to the monks of Skellig Michael to the first transatlantic communication, this island has a long and interesting history, not to mention some of the most magnificent views in the whole of Ireland.
The quickest way to get to Valentia Island is on the car ferry. It's a five-minute ride, and the ferry shuttles back and forth every ten minutes, seven days a week (April to October). To get to the ferry, pass through Cahersiveen and follow the signs to the Valentia Island car ferry at Renard Point. Until 1971, the only way to get to Valentia Island was by boat or ferry, but now there's a bridge that connects it to the mainland. So if you can, go over on the ferry, explore the island, and then come back over the bridge and resume the Skellig Ring at Portmacgee.
Start your tour of the island with a visit to the Valentia Island Lighthouse at Cromwell Point. Built on the site of a 17th-century fort, the lighthouse has stood against the sea and invaders for hundreds of years. Today, this gleaming, white lighthouse looks out over some of the most spectacular sights along the Wild Atlantic Way. Take a tour of the lighthouse tower and balcony and be blown away by the dramatic scenery. Cost: Youth: $2.66; Adults, $5.31; open Easter to September, daily 11 a.m.-6 p.m.
After the lighthouse, make your way to Geokaun Mountain & the Fogher Cliffs. This highest point on Valentia Island is well worth the hike up. On the mountain's north face are the dramatic 600-foot Fogher Cliffs, where the mountain meets the sea. From the summit, there are spectacular 360-degree views of the Skellig Islands, Dingle Peninsula, Blasket Islands, and Portmagee. The Geokaun Viewing Area is a Wild Atlantic Way Discovery Point.
There's a small entry fee of just over $5/car to enter the park. Once in, there are three car parks and viewing areas at different stages along the way, making it a perfect destination for young and old (read: not a ton of hiking to be done). There's a particularly spectacular viewing deck, complete with a picnic table, perched precariously atop the peak overlooking the Fogher Cliffs. It's enough to make your palms sweat even on the coldest of Irish days!
KidTripster Tip: There's a little hut where you pay your entry fee that also sells tea, coffee, and biscuits. But take it from someone who learned the hard way, there aren't any restrooms for quite some time, so watch your and your kids' liquid intake! Another hard-learned lesson from yours truly: even in late July, it can be absolutely freezing (and misty, if not soaking wet) atop Ireland's highest points. Even if it's warm at the start of your journey, bring layers and a waterproof, hooded jacket or coat, just in case.
Another truly magnificent spot is The Tower at Bray Head. The attempted French invasion of Ireland in 1796 brought about a scurry of tower building along the Irish coast. Valentia Island's tower, built in 1815, was used until the 1920s. Today, Bray Head is a signature Discovery Point along the Wild Atlantic Way. Pay a couple of dollars to park your car and then take the 1-1/4-mile hike up to Bray Head. Once at the top, you'll be at the southernmost tip of Valentia Island and rewarded with unparalleled views of the Skellig Islands.
KidTripster Tip: The hike is over a rough, bumpy (sometimes muddy) trail, not a paved path, making strollers impossible. You also must climb up and over a stone wall along the way up. There is a short ladder affixed to both sides, but this could be difficult for little ones or anyone with disabilities. Also, mind the cliffs, as there is no railing or fencing at the top. Maybe skip this hike, if you're afraid of heights.
DAY ONE: Part 2
Skelligs Islands
All this talk of the Skelligs, and you might not even know what they are. The Skelligs are unique and dramatic rock formations located about five miles off the coast of Kerry. The name "Skellig" comes from the Gaelic word meaning "rock in the sea." The islands are named Little Skellig and The Great Skellig (more commonly referred to as Skellig Michael). Many tourists say the boat tour to explore these wonders up close is the most unexpected thrill of their entire trip.
Standing 700 feet above the sea, Skellig Michael, a UNESCO World Heritage site, gets its name from an old tale about St. Michael and his army of angels who, as the story goes, appeared on the island to help St. Patrick throw all of Ireland's snakes into the sea.
Fast forward hundreds of years to another story where, in the final scene of Star Wars: The Force Awakens, Rey and Chewbacca fly the Millennium Falcon to a gorgeous, rugged mountain island. It looks like something only a Hollywood set designer or computer graphics expert could create, but it is, in fact, Skellig Michael.
Apart from now being very popular with Star Wars fans, this imposing, windswept, hunk of rock is a special place worth visiting not just because of its natural beauty, but because somewhere around the 6th century, a small, devout group of Christian monks built a monastery here. For the next 600 years, generations of monks lived in isolation and spartan conditions, lashed by the brutal elements. The monks' distinct beehive-shaped stone huts, church, and graveyard remain largely as they were. The sense of solitariness on this bare crag of rock in a hostile sea 18 hours of rowing from the coast of Ireland is nothing short of humbling.
Even today, in the best of weather conditions, getting to this secluded island is difficult. Visitors can reach this magical place only by climbing the 670 steps of a 1,000-year-old stairway that the monks carved into the rocks; that's after the 1-½-hour (often very rough) boat ride out to the Skelligs. Tours run from May to September (weather permitting) and are not suitable for children under the age of 10.
There are several options for landing boat trips listed here. I'd recommend Casey's Skellig Island Tours, Skellig Michael Cruises or Skellig Boat Trips (cost of this company's tour includes entry into the Skellig Experience Centre). Most cruises depart from Portmagee just across the bridge from Valentia Island and run approximately 2-½-hours. While the cost varies, you can expect to pay around $25 to $30/person.
KidTripster Tip: These tours can be challenging. Two Americans have fallen from these steps and died. For safety reasons and because the steps up to the monastery are old and steep, climbs are not permitted during very wet or windy weather. Climbs are only permitted under the supervision of on-site guides. Proper hiking boots are essential.
KidTripster Tip: If the weather is bad, or you're just not up for the choppy boat ride or grueling stair climb up Skellig Michael, you can stay on dry land and visit the Skellig Experience Centre instead. Cost: Youth: $4.25; Adult: $5.25; Family (2 adults and up to 4 children): $14.85. The Skellig Experience Centre also offers sea cruises that go around the Skelligs but do not land or allow visitors to climb the rock.
Meanwhile, Skellig Michael's sister, Little Skellig, is famous in the world of ornithology, as it's home to nearly 30,000 pairs of gannets, making it the world's second largest colony of the impressive sea birds. The island often appears to be snowy from a distance, but that's only because it's covered in the birds' white plumage.
Puffin Island
Just off the coast of Valentia Island, before you get to the Skelligs, is Puffin Island, a conservancy that's home to thousands of the adorable birds. While visitors are prohibited from visiting the island, you can see the birds quite well from the sea as the boat takes you to the Skelligs.
Portmagee
After the Skellig Experience or viewing them from a distance, head into the colorful, picturesque fishing village of Portmagee for lunch. We tucked into a cozy booth at The Moorings Restaurant and Bridge Bar for some hot soup and warm Irish brown (or soda) bread. The food is good, the service is fast and friendly, and there are plenty of kid-friendly options.
St. Finian's Bay
Once back on the Skelligs Ring, follow it toward The Glen/Ballinskelligs. Then follow the signs for St. Finian's Bay and Skelligs Chocolate Factory. It's a fun place to visit, and the chocolate is divine.
After that, it's back onto the ROK, which you'll pick up near the town of Waterville. At this point, we didn't want to stop much, because we knew there was a lot to see coming up near Kenmare, Molls Gap, and Ladies View. We made a quick pit stop for caffeination and conversation with a friendly American barista (who makes a mean cappuccino) at Bake My Day in Caherdaniel, and then we were on the road again.
Kenmare
Drive through Sneem (funny-sounding, but lovely little town) and onto Kenmare. Just as the Aran Islands are famous for their cable knits, Kenmare is famous for its lace. The lace-making industry here (one of Ireland's heritage towns) originated in the famine years of the 1860s. The Poor Clare nuns taught lace making to the women of the area, thus giving them a skill and enabling them and their families to survive hard times. It's an important part of Irish history and tradition that continues in Kenmare today and can be explored at the Kenmare Lace & Design Centre.
Killarney National Park
If you thought the roads were twisting and winding so far, just wait! Make your way through Kenmare and onto Molls Gap, located among the long and winding roads between Kenmare and Killarney. It's the perfect place for viewing the MacGillycuddy's Reeks and surrounding lakes. Then it's on to Ladies View. Just 10 miles from where you started in Killarney, this scenic point in the Killarney National Park displays some of the most spectacular panoramic views of the three lakes and mountains.
KidTripster Tip: There is a small car park and cafe here, if anyone is in need of fuel (or a cheeky Irish Coffee) for the last short leg of the journey.
Photo courtesy: Discover Ireland/@storytravelers
DAY TWO
Just four miles from Killarney, you'll find Torc Waterfall. This 80-foot waterfall is a very short walk up a paved path from the car park. Is it beautiful? Yes, but it's no Multnomah Falls and, being from Oregon, I was less than impressed. Besides, its beauty pales in comparison to yesterday's sites, so I'd recommend skipping it.
Just over a mile from Torc Waterfall is Muckross House, Gardens and Traditional Farms. This magnificent Victorian mansion is one of Ireland's most stately homes. The majestic house, built in the Tudor style in the 19th century, sits overlooking Muchroos Lake. With some 65 rooms and gorgeous gardens, the mansion was constructed in preparation for a visit by Queen Victoria. Today, the house is open to the public. Cost: Youth (6 and up): $6.25; Adult: $9.50. Entrance to the gardens is free. While there, check out the Muckross Traditional Farm, Craft Shop, and Garden Restaurant.
About a mile from Muckross House is Muckross Abbey. Both an Old Irish Monastery and modern Irish graveyard, this ancient abbey is situated in the middle of Killarney National Park. Founded in the 15th century, this Franciscan friary built of local limestone is preserved to a high standard. The tower, added after the church was built, is the only Franciscan tower in Ireland and is as wide as the church itself.
Close to Muckross Abbey on the way to Killarney is one of the best-kept secrets on the ROK: the Blue Pool Nature Reserve. Visitors are often struck by the quiet of this natural sanctuary and beauty of its clear, horseshoe-shaped, greenish-blue water.
Continue on another mile past the Blue Pool, and you'll come to Dinis Cottage, a historical cottage which dates back to the 1700s. It has operated as a tea room for more than 200 years and offers both indoor and outdoor seating. It's a nice spot to end a long walk with tea and scones or a hot chocolate and marshmallows.
Photo courtesy: Discover Ireland
Where to stay?
My advice: stay in or very near to Killarney. There are many nice towns along the route, but Killarney, which is actually the official start and end point of the Ring of Kerry, is a lovely historic town full of lots of hotels, restaurants, shops, and pubs.
A favorite with regular visitors to Killarney, the International Hotel Killarney is one of the best-loved hotels in town. With its spacious rooms (and bathrooms – somewhat rare for Europe), central location (just a stone's throw from where most tour busses depart each day), and reasonable rates, it's no wonder this charming hotel is consistently rated one of the top hotels in Killarney. It also has a fantastic pub that's popular with locals and visitors alike. Hannigan's Bar and Restaurant has a cozy atmosphere and really good food, serving all locally-sourced produce. It has live Irish music every weekend and "pours a lovely pint" of Guinness (as my father-in-law, the Guinness connoisseur and regular visitor to Killarney, will tell you). Rooms start at $110/night.
Centrally-located in the heart of town, right at the gateway to the ROK is the Killarney Plaza Hotel and Spa. With some rooms overlooking the part of town where horse-drawn carriages take visitors on area tours and other rooms overlooking Killarney National Park, this hotel boasts a great location. It's right across the street from where most tour busses depart each morning, and there are dozens of great restaurants and pubs within strolling distance of the front door. It also has very affordable rates, making this an excellent choice for the budget-conscious family. Rooms start at $75/night.
KidTripster Tip: Parking at this hotel can be tricky, so take that into consideration if you'll be renting a car.
Located just two miles outside Killarney town on the shores of Lough Leane is The Lake Hotel Killarney, a gorgeous four-star, family-run hotel with old world charm and some of the most stunning views in County Kerry. While on the pricier side, the hotel's location just can't be beat. Killarney National Park is immediately adjacent to the grounds of the hotel and extends over 25,000 acres. Visitors who stay here are just a short walk or cycle away from several of the most popular attractions within the park like Mucrosss Abbey, Muckross House and Gardens, and Torc Waterfall. Rooms start at $189/night.
KidTripster Tip: Even if you don't stay here, have lunch or dinner in The Lakeside Bistro, the more casual of the hotel's two restaurants. It has stunning views, a gorgeous patio (weather permitting, of course), and incredible fish and chips!
Also located on the shores of the Lakes of Killarney, but along the ROK route is The Europe Hotel and Resort, a modern, five-star hotel that is pretty spectacular and yet, family-friendly. Most lakeview rooms have balconies with panoramic views of the magnificent Lough Leane and MacGillycuddy's Reeks, while golfside rooms overlook the 16th fairway of Killarney's Mahony's Point Golf Course. While the hotel has fantastic restaurants and a spectacular spa, there also are a wide range of amenities like an indoor pool, indoor and outdoor vitality pools, indoor tennis courts, small playground, and pony rides on the grounds of the hotel. Rooms start at $275/night.
For those wanting to stay in Kenmare and drive the ROK clockwise, check out Sheen Falls Lodge or Brook Lane Hotel.
For those looking for more self-catering options, check out Irish Holiday Rentals, Irish Country Cottages or of course, Airbnb and VRBO; all offer a good selection.
Photo courtesy: The Lake Hotel Killarney
Getting there
From the USA, the best way to get to Killarney is to fly into Cork, Shannon or Dublin. By car, Killarney is 90 minutes from Cork, two hours from Shannon, and four hours from Dublin.
Or consider Dungarvan as home base for your Irish adventure and make Killarney a two-day side trip for there!
And before renting a car (or hiring a private tour guide) in Ireland, be sure to check out our 7 tips for driving in Ireland.
Marcia Breen is an American writer who went to London, met an Irishman with a Russian name, and followed him to Bermuda. Nearly a decade later, they are married and living in New York City with their 3-year-old daughter and extremely lazy cat. Marcia is now fluent in Irish (yes, it's different than English!) and addicted to Tayto, Jacobs Fig Rolls, and Barry's Tea.
Need help planning at trip to Ireland? Our friends at Ciao Bambino! specialize in luxury family travel to bucket-list destinations. Click here to find out more. If you end up booking through Ciao Bambino!, KidTripster gets some coffee money at no additional cost to you. Just wanted you to know!
Photo courtesy: Discover Ireland
Pin to Pinterest & read later