Saint Lucia
ROYALTON SAINT LUCIA
This all-inclusive resort is redefining family luxury on an island previously known as a honeymoon haven.
Why go?
With its breathtaking beauty, mountainous terrain, and small luxurious resorts, Saint Lucia is a lush and verdant island with an under-the-radar reputation that has typically appealed more to newlyweds than couples with kids.
But that's about to change, thanks in part to a new resort that's making a major push to attract more families to this small slice of the Caribbean heaven that's often passed over in favor of places like the Bahamas, Jamaica, and Turks and Caicos. Trust me, you want to come here.
Nestled on the northern tip of one of the most picturesque islands in the Caribbean, the all-inclusive, 455-suite Royalton Saint Lucia Resort and Spa offers upscale elegance for guests of all ages. The $250-million-dollar resort, which opened in March 2017, features three distinct sections: the family-friendly general resort, the Diamond Club for a higher level of service and exclusive pool, beach and dining areas, and Hideaway, a 94-room, resort-within-a-resort for adults only.
I'll admit that when I heard the words "all-inclusive," I had visions of tacky plastic wristbands, bad buffets, and 20-somethings over-imbibing by the pool. But upon arrival at the Royalton Saint Lucia, I was pleasantly surprised… by just about everything!
Yes, there are wristbands to indicate what level of all-inclusiveness that you're entitled to, but they're not ugly. They almost look like a friendship bracelet with a small plastic tag that doubles as your room key. At first, the thought of having to wear this wristband all week was slightly annoying, but then I really grew to like it. There was no rummaging around in the beach bag for the key or worrying that I'd lose it somewhere between the beach, the bar, and the room. It also eliminates the need for cash, because all-inclusive here means that you've paid upfront for all food and beverages, as well as taxes and gratuities. Also eliminated: the dread that you get at the end of your trip when the bill is slipped under the door!
In a place known for luxury and romance, this resort takes it to a whole new level, keeping couples happy while also catering to families looking for a way to relax and create lasting memories. The two happily coexist in this little tropical paradise.
Photo courtesy: fleewinter.com
What to do?
People come to the Caribbean for the sun, sand, and sea. For some, a dream beach vacation means chilling by the pool or relaxing on the beach. Period. But for others, it means action, adventure, and exploration. Whichever type of vacationer you are, I promise that there's something for you at this resort.
The Royalton Saint Lucia offers a long list of family activities, many of which are included in your stay. You can enjoy complimentary snorkeling, kayaking, stand-up paddleboarding, and scuba lessons. You also can use the resort's Hobie Cats (small sailing catamarans) and Zayaks (flotation devices with a window that allows you to lie face down and snorkel without a mask and tube) for free.
Only a few activities cost extra, including parasailing, deep sea fishing, and an array of specialized courses for certified divers. Nexus Tours, located onsite at the Royalton Saint Lucia, also offers a number of sightseeing tours around the island. One of the most popular is the Soufriere Adventure, which takes you sailing on a catamaran pass the famous Piton Mountains to the island's volcano, La Soufriere. Also popular are the Martinique Splendor, a day trip to the neighboring French island of Martinique, and the Pirates' Day Adventure, an all-day sail along the coast of Saint Lucia aboard a replica 16th-century pirate ship. Children on board can dress as pirates as they visit Soufriere, the Pitons, and various waterfalls. There's also a treasure hunt, firing of black powder cannons, and chance to walk the plank, if you dare!
But even with all the sailing and watersports, what's the number one attraction at the resort? The pools! There are four, all-access pools, but kids will most likely head straight for the Splash Pad, or as my daughter called it, the "Magical Pool." With several water slides, fountains, and even a pirate ship, it is pretty magical and certainly the coolest kids' pool that I've ever seen. The water is shallow, maybe only a foot deep, so even very young toddlers can enjoy splashing around. My 3-year-old was able to do all the slides. I saw children as old as 12 enjoying themselves here, too.
KidTripster Tip: Little ones also will enjoy the playground, climbing structure, and slides located right next to the Splash Pad; but be warned, the slides do get hot, so it's best to play during early morning or evening hours.
The main, infinity-edge pool overlooking the beach is as kid-friendly as it is beautiful. With a shallow edge that runs along the entire length, little ones can sit, walk, and splash around in the water safely, while older, stronger swimmers go for deeper dives. There are plenty of umbrellas and cabanas available to provide shade and a swim-up bar in case mom and dad get parched. They also serve mocktails and smoothies that your kids are sure to love.
KidTripster Tip: A variety of activities are offered in and around the main pool area each day, including aqua aerobics, Zumba, beach volleyball, hula hoop competitions, chair massages, and much more. Watch our KidTripster cub reporter crash the adult water aerobics class here. Best part, no one cared!
For those who prefer the beach, this resort doesn't disappoint. You'll find warm, blue water and a long stretch of white, sandy beach. There's also a nice, quiet little cove, where children can play and build sandcastles. And the sunsets? Unbelievable.
KidTripster Tip: You'll see professional photographers wandering around the beach and pools, capturing special moments that you may miss because you're in the water without your phone or camera. Go to the PhotoPro shop onsite and purchase all the photos taken of your family during your stay. You also can book a private session and get family photos taken on the beach at sunset – a keepsake far more meaningful than a silly t-shirt, if you ask me.
I'm typically a go-see-do kind of traveler. I like to explore, get a feel for a place and its people, and take photos. But this time around, my husband and I were happy to remain at the resort for the entire time, thanks in part to my daughter learning to swim in Saint Lucia and wanting nothing more than to be in the water. All. The. Time.
We also found many of the activities and all-day excursions just weren't a good fit for us. Things like hiking the Pitons, ziplining through the treetops of a rainforest, exploring La Soufriere and bathing in its sulpher springs and hot mud baths all come highly recommended and may be perfect for your family.
But the beauty of this resort is that whether you have thrill-seeking teenagers looking for adventure or young toddlers unable to last an entire day in the sun, there's plenty to keep you and your kids happy and as busy as you want to be.
More to do?
If you're hoping to lounge by the pool, sneak off to the spa or just have a few child-free moments, the Royalton Saint Lucia offers both a kids' club and teens' club at no additional cost.
At Clubhouse Kids Club, children (ages 4 to 12) can play with other kids, join various daily activities or just enjoy a bit of downtime indoors, watching cartoons or playing games in a safe and supervised environment. For teens (ages 13 to 17), there's the Hangout Teens Club which offers a PlayStation lounge, air hockey, ping pong, and supervised outdoor activities.
Because my daughter was not yet four, she wasn't allowed in the kids' club without a parent, but we were still welcome. We visited a couple of times to get a break from the intense sun and afternoon heat. Once we colored and did crafts with another little girl. The other time, we made friends with Tammy, one of the lovely caregivers at the club. She colored, did puzzles, and threw a bouncy ball back and forth with my daughter. She let her write her name on the colorful blackboard - a rite of passage for all kids' clubbers. We even visited the teens' club, where another friendly staffer painted my daughter's nails.
Each time we went in the clubs, we were greeted by friendly staff and children with smiling faces. And twice, we overheard kids at the resort talking about how much they loved the kids' club. Two girls that we met (ages 8 and 10) said they enjoyed the tie-dying and doll-making workshops. And we got a kick out of hearing one little boy at the pool say to his brother, "I'm going to try and talk mom into letting me go to the kids' club again tomorrow." If that's not a rave review, I don't know what is.
KidTripster Tip: Young travelers can join Royalton Saint Lucia's Summer Camps by the Sea, which include scavenger hunts, eco-adventures, beach games, fitness classes, picnics, cooking classes, and even karaoke. Again, it's all part of the all-inclusive fun.
Kids also can hang at the clubs for dinner and evening activities, like talent and circus shows. For children who are too young, the resort offers a nanny service at an additional cost of $25/hour. We used this service one night, so we could enjoy an adult night out and were very satisfied.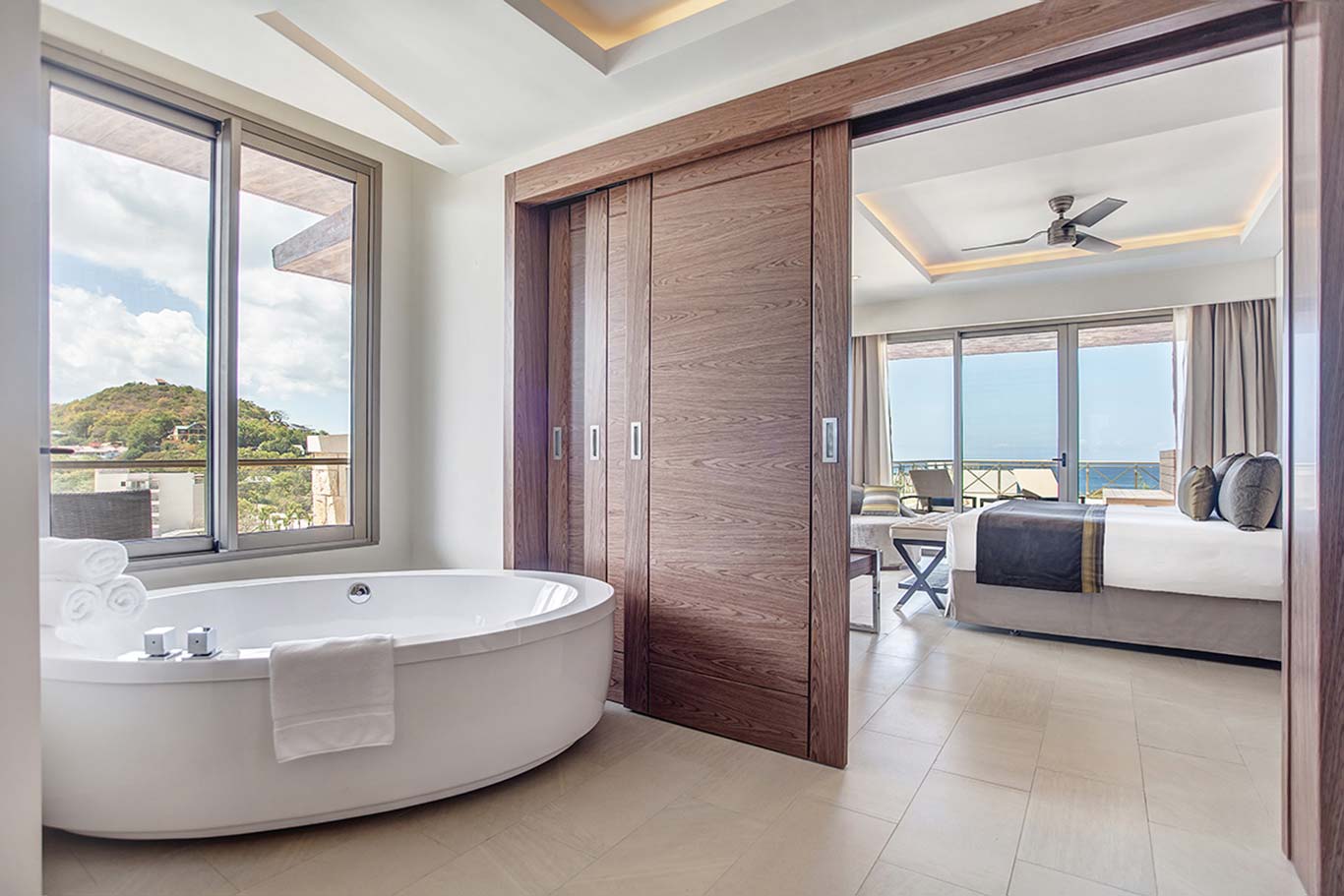 Where to stay?
With nearly 500 rooms, more than a dozen restaurants and bars, a handful of retail shops, and five swimming pools, the Royalton Saint Lucia is enormous.
The resort offers really great accommodations in a variety of categories from standard to super luxurious. But no matter the category, rooms are all spacious, sleek, modern, and well-appointed with the resort's signature DreamBeds and high thread count sheets. Some rooms even come with semi-private, swim-up pools, just outside the sliding glass door.
Family suites offer sliding doors between the bedroom and sitting area, where there's a pull-out couch. All rooms include USB charging stations, in-room Bluetooth speakers, and free high-speed WiFi (found throughout the entire resort).
KidTripster Tip: The electrical outlets in Saint Lucia are Type G, the same as in the United Kingdom/Ireland/Hong Kong, so you'll need an adapter. However, our room did have two North American-style outlets. Still, I'd recommend bringing an adapter or two, just in case.
We stayed in the Diamond Club-level suite which entitled us to butler service. Butlers will assist with everything from packing and unpacking to ironing, laundry, and preparing your Jacuzzi. Being not exactly used to having a butler nor very comfortable with the concept, our personal butlers, Sarage and Jameel, were more like a concierge team - providing us with a wealth of information about the resort and island and assisting with reservations and the like. For a peak at the uber luxe Diamond Club suite with its own pool table and stocked bar, click here. Can you say, "wow!"
Where to eat?
With nine restaurants, 13 bars, a coffee shop, an ice cream parlor, and a food truck, you are spoiled with choices at the Royalton Saint Lucia. If you're staying a week, you could easily eat at a different place every day!
Our favorite meal was breakfast each morning at the Gourmet Marché, a massive all-you-can-eat buffet with a dizzying array of options. Here you'll find made-to-order eggs, a smoothie station, a vegetarian section, a gluten-free counter, and even a kids' buffet that's slightly lower to the ground, so children can help themselves. The buffet is also a great option for lunch.
Lunch is served at Grazie Italian Trattoria and Score Sports Bar & Lounge, as well. Or you can grab a bite at the on-site food truck. We often ate lunch poolside at the Diamond Club Grill, but that's only open to Diamond Club-level guests.
KidTripster Tip: Traveling with someone who has special dietary requirements? No problem. The resort offers gluten-free, dairy-free, and vegetarian selections in every restaurant.
We also loved indulging in a bit of ice cream at Scoops and refreshments at one of the swim-up bars. My husband and I sipped on Pitons (the local beer) and piña coladas, while our daughter swam between the bar stools and became a fan of the Max & Ruby mocktail, a blended drink of banana, strawberry, coconut, and chocolate.
Our favorite spot for dinner was Hunter Steakhouse which had, by far, the best food and service. Be sure to try the coconut butter on the bread that they serve; it's heaven, and we think that it should be the next big coconut thing. We also enjoyed the atmosphere at Zen Teppanyaki & Sushi Bar. Watching the chefs prepare various dishes was fun, but the food itself was just okay. We also found it a bit odd that if you opted for teppanyaki, you were limited to a set menu with no sushi.
The best part about all of the restaurants and bars? Everything is included. Want two appetizers, an entrée, and two desserts? Feel free! It's a dream come true if you happen to be the parent of a bottomless vessel, otherwise known as a teenaged boy.
KidTripster Tip: Feel like dining al fresco in your swimsuits on your own balcony? No problem. Room service is included, too!
KidTripster Tip: The number one complaint we heard from other guests at the resort was that the service wasn't the fastest. We found servers mostly friendly and eager to please, but just like any newly-opened resort, they're working out the kinks. But don't ever expect it to be like New York City; remember, this is the Caribbean, where you're on "island time."
How much?
Peak season on Saint Lucia runs from mid-December to April. Accommodation rates during these months are generally a lot higher than at other times of the year, but this is when the weather is at its best. Rates are less expensive in the summer and early fall when it's much more humid and wet; hurricane season runs from June to November. All-inclusive rates for a family of four start at $486/night for a luxury, ocean view suite.
KidTripster Tip: Booking a package that combines flights and accommodations can often work out to be less expensive than booking them separately.
KidTripster Tip: There's no need to change money before you go. The official currency is the Eastern Caribbean dollar, but you can pay for most things with U.S. dollars; any change likely will be given in the local currency. Or avoid any hassle by simply using your credit or debit card.
Getting there
Direct service to Saint Lucia (UVF) is available out of New York (EWR & JFK), Atlanta, Miami, Boston, Chicago, Philadelphia, and Charlotte.
Transfers and taxi rides from Hewanorra Airport to the resort on the north end of the island are long (around 90 minutes) and expensive. We paid $120 with tip each way. Drivers were able to provide car seats.
A quicker way to the resort is to take a helicopter from Hewanorra to George F.L. Charles Airport. The flight is about 10 minutes and costs $180/person each way; children (ages 2 to 13) receive a 10% discount; kids under age 2 fly for free. The helicopter may sound great, but your luggage still goes by car, so this isn't the best option for going to the airport when you're leaving Saint Lucia; you'll only end up waiting for your bags at the airport. If you're going to use this option, better to do it when you arrive in Saint Lucia. Pack your swimsuits in a carry-on bag, get to the resort more quickly, and hop in the pool sooner!
You can rent a car in Saint Lucia, but I don't recommend it. Residents here drive on the left, and the roads can be potholed, steep, and windy. You likely won't need the car once you arrive at the resort.
Important note: Because the Zika virus can cause serious birth defects, women who are pregnant should not travel to Saint Lucia. All travelers should follow the CDC's guidelines for preventing mosquito bites.
Marcia Breen knows a bit about island life. She lived in Bermuda for nearly eight years and can tell you everything that you need to know about hurricanes, Dark 'n Stormies, frizzy hair, and driving on the left. She now lives on the island of Manhattan with her husband and 3-year-old daughter.
This writer received a complimentary stay for the purpose of this review. However, all opinions expressed are solely her own.
Pin to Pinterest & read later