Antigua
ST. JAMES'S CLUB & VILLAS
Come with us to a kid-friendly, all-inclusive resort with quiet beaches, complimentary watersports & spacious villas with sea views.
Why go?
With countless resorts on dozens of diverse islands scattered across the Caribbean Sea, it's hard to know what sets each place apart and which one is just right for your family. Americans traditionally have leaned toward places like Jamaica, The Bahamas, Puerto Rico, and the U.S. Virgin Islands with destinations like Dominican Republic, Cuba, and Turks and Caicos gaining in popularity in recent years. But with a beach for every day of the year, there's an island paradise that we think is one of the Caribbean's best kept secrets: Antigua.
Before we go any further, the island is pronounced "An-TEE-ga," and it's half of the dual island nation of Antigua and Barbuda (pronounced Bar-byew'da). With white (and pink!) sandy beaches, warm azure waters, and some of the best opportunities for watersports in the world, this sunny spot has long been a reliable mainstay for British tourists and honeymooners. Named the Caribbean's most romantic destination for the last four years in a row, this tropical dream getaway is now courting another fast-growing market in the travel industry: families!
Situated south and east of Puerto Rico and the Virgin Islands, there's little by way of flash or glitz here. There are no mega resorts with whiz-bang amusement park-like attractions. If you want massive complexes, crowds, and nightlife, you may want to pick another island. But if you're like the 51 percent of Americans who say they travel to get away from their busy, stress-filled, day-to-day routines and recharge their batteries, you may want to consider this corner of the Caribbean. Here, we found a quiet, family-friendly resort imbued with a refined yet relaxed charm: St. James's Club and Villas.
KidTripster Tip: New and more frequent flights from the USA to Antigua and its 365 beaches mean that it's easier than ever to escape to this island paradise.
Photo courtesy: St. James's Club & Villas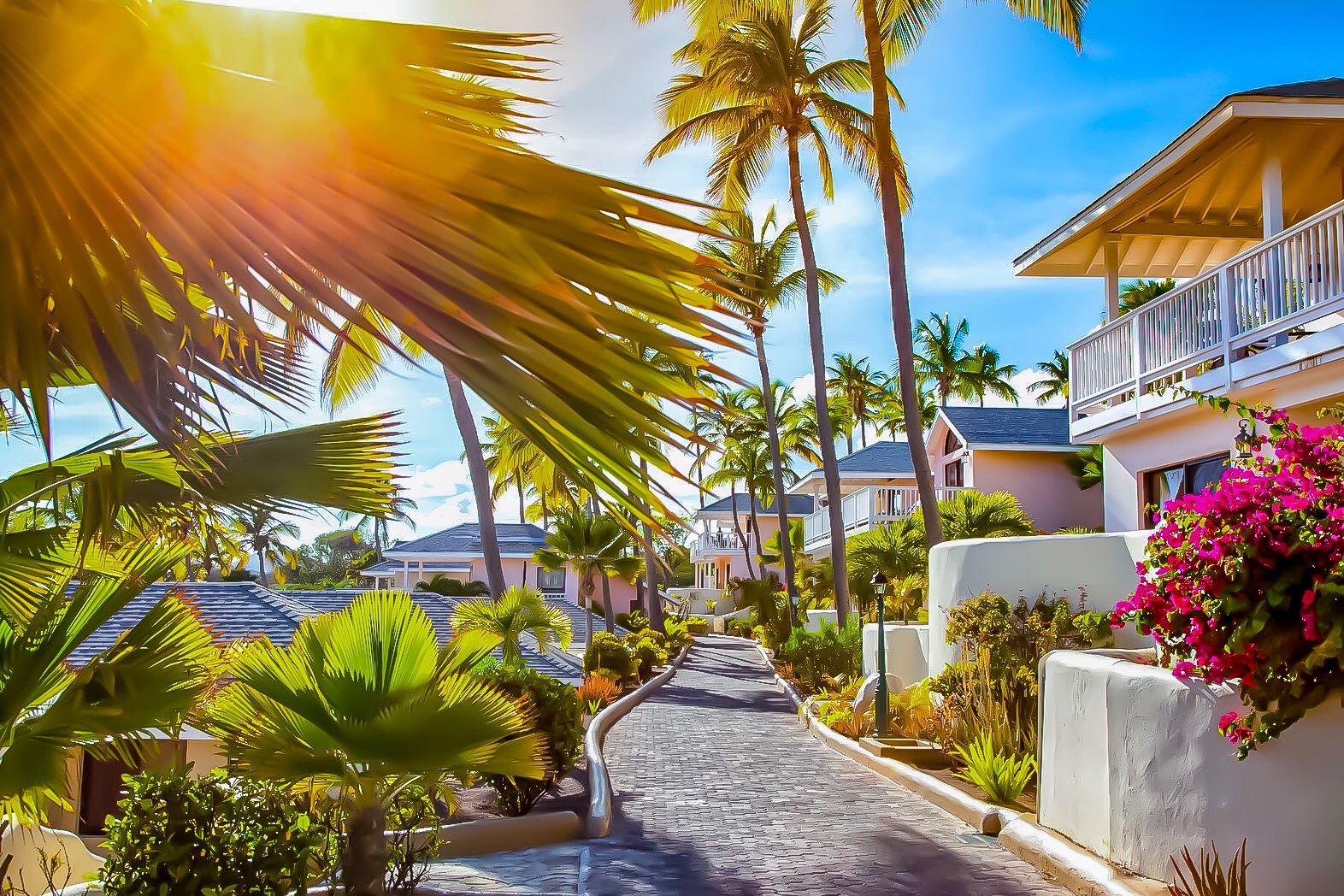 Where to stay?
Located on the south coast of the island of Antigua, the St. James's Club (yup, that's the way it's spelled) sits on a secluded, 100-acre strip of land between Mamora Bay and St. James's Bay. This all-inclusive resort has been an established name on the island for many years and is consistently named one of the top ten resorts in Antigua and Barbuda.
With six pools and uncrowded beaches, it's a great location for families who love the water but don't want to fight the crowds. Its peninsula location gives guests access to two separate beaches: Mamora Bay Beach on the west side - perfect for swimming - and Coco Beach on the east side - great for snorkeling.
Amongst the swaying palm trees and bougainvillea, you'll find narrow, winding brick paths that lead to some 250 rooms and villas. This beautifully landscaped resort is large but not overwhelming and offers a range of accommodations. The best bets for families are the beachfront rooms and the private villas.
The beachfront rooms are ground level and feature two queen-sized beds, a mini bar area with refrigerator, sink and coffee maker, and a private terrace where you can step right onto Coco Beach.
The more spacious villas are located in the village area on the hillside above Mamora Bay. With tropical décor, multiple bedrooms, and striking views of the bay, these units are a great option for larger families or families who want separate bedrooms. With 1,600 square feet of living space, the two-bedroom villas feature a full kitchen, dining and living rooms, and an impressive balcony. Downstairs, the master suite boasts a king-sized bed, en suite bathroom with shower, and sliding doors to a private patio. The second downstairs bedroom features either a queen-sized bed or two twin beds, its own private bathroom with a bathtub, and another private patio. Three-bedroom villas also are available and can sleep up to eight. Each of those bedrooms has its own private bathroom.

Double occupancy rates for beachfront rooms start at $318/night; villas start at $865/night. That's all-inclusive (room, meals, drinks, activities, and gratuities) for two adults. Children (under 2) are free. Children (ages 2 to 11) are $72 per child per night. So, if a couple with two kids (ages 2 to 11) book a beachfront room, it would be $462 per night. A two-bedroom villa for the same family would be $1,009 per night.
KidTripster Tip: The best rates at this property are typically late April through mid-December.
KidTripster Tip: While you may access free WiFi in the hotel's lobby area, there is no free, in-room internet service. It's $10 per day and pretty slow (if working at all; it wasn't in our villa). But it's like I always tell people, you don't go to the Caribbean for fast internet, table service or water pressure! Use it as an excuse for both you and your kids to unplug, free from Snapchat and YouTube videos!
Photo courtesy: St. James's Club & Villas
What to do at the resort?
With its blue waters, sugar-sand beaches, and multiple pools, you could easily spend your days lounging poolside or with your toes in the sand - perfectly blissed-out at this quiet, laid-back resort. But for those who want to expend more energy, the St. James's Club has you covered.
Pools & beaches
Tucked away on a beautiful and secluded peninsula, the St. James's Club is ideally situated with one side of the peninsula facing the Atlantic Ocean to the east and the other facing the Caribbean to the west (read: great sunset-watching). The beach on the east side is peaceful and never crowded, but the waters can get pretty choppy. The waters of horseshoe-shaped Mamora Bay on the west side are calm enough for even the most inexperienced of swimmers. The long, wide, sandy beach that wraps all the way around the bay is quiet and perfect for families. It's particularly nice for those with young children because there aren't many waves, and it's very shallow with no sudden drop-offs.
KidTripster Tip: The beach gets quite hot in the afternoon, but there is plenty of shade provided by the palm trees and thatched umbrellas. The Caribbean sun is very strong, so be sure to bring sunblock, hats, and rash guards. Try to keep your kids out of direct sunlight between the hours of 11 a.m. and 2 p.m.
KidTripster Tip: Inflatable raft toys are easy to come by on the beach along Mamora Bay. They're often left behind by departing families, so you're free to use them. If your child needs floaties or puddle jumpers in the water, you'll want to bring your own.
Watersports
Does your family like more action? Not to worry! Non-motorized watersports are part of the all-inclusive package at the St. James's Club. There are plenty of pedal boats, kayaks, Hobie cats (small sailing catamarans), and stand-up pedal boards (like SUP but with handlebars and foot pedals) to use.
KidTripster Tip: Life jackets of all sizes for children and adults are provided at no cost on the beach and are required for every watersport participant.
Snorkeling & scuba diving
Both Antigua and Barbuda are almost entirely surrounded by well-preserved and thriving coral reefs. With little to no current and an average water temperature of 80 degrees, the islands are ideal snorkel and dive destinations. An array of sealife is just a swim away offshore in Mamora Bay. Snorkel masks and fins are available from the watersports center.
The resort's on-site dive shop offers full PADI certification courses, rents out diving equipment, and has tank refills. It also organizes daily excursions to tour local reefs and shipwrecks for snorkelers and scuba fans. While snorkeling equipment is included in your all-inclusive package, there is an added charge for tours and courses.
Sailing
Antigua is known for its sailing and is home to one of the most famous regattas in the world. Every April, hundreds of boats and thousands of sailors descend on the island for week-long mix of competition and partying.
KidTripster Tip: Unless you're into sailing or the party scene, consider avoiding the last week of April and first week of May, as hotel rates will be higher.
Whatever you do, get out on the water and experience Antigua by sea. For an additional fee, you can hop aboard the resort's Calypso Cat, a 42-foot luxury, power catamaran that will take you on a 4-hour tour around the east coast of Antigua. You'll whisk by stunning coastline and celebrity homes before making two stops: Bird and Green Islands. On Bird Island, there's a chance to swim, snorkel or just relax. On Green Island, you can snorkel again, go on a short hike with the guides or just chill out on the beach. Lunch is served and then there's another chance to swim before heading back to the resort.
This cruise was one of the best things that my family did during our stay at the St. James's Club. The trip was long enough to see and do a lot without being too long for my 5-year-old daughter. The crew is a vivacious bunch who were informative, helpful, and kept the beers and rum punches flowing.
All life jackets, snorkels, and fins are provided – even for the littlest of feet. Cost: Youth (2-9) $40; Adult $75.
KidTripster Tip: All cruises leave right from the dock at the St. James's Club. The 4-hour cruise is from 9 a.m. to 1 p.m. There's also an all-day tour from 10 a.m. to 4 p.m. and a sunset cruise (ages 16 and up only) from 4 p.m. to 6 p.m.
Kids Club
Like many all-inclusive resorts, the St. James's Club offers a free kids club for children ranging from age 4 to 12. With its own private, fenced-in beach, the kids club is open from 9:15 a.m. to 11:00 p.m. and offers a whole host of fun-filled, organized activities from slime making to tie dye.
I'll be honest - it's not the most amazing kids club that I've ever seen. While it has lovely staff, a great view, and a nice outdoor area, the inside space is a bit dark. We also were at the resort when most kids were in school, so there weren't many children to provide companionship. My daughter didn't want us to leave her there, but I think if more kids had been present, she would've been happy to stay and play. Still, we went in and played with the toys a couple of times during our stay to escape the mid-day heat.
The kids club also offers dinner and a movie starting at 6:30 p.m. for parents who may want a date night. The resort offers babysitters for an additional cost per hour. Babysitters must be paid directly; it's not a cost that can be added to your room.
Other on-site activities
There are plenty of other fun ways to keep busy at the resort. Tucked into a quiet corner near the villas are four tennis courts that are even lighted for night play. You'll find poolside ping pong and pool tables, a fitness center, and a variety of fitness classes from yoga to water aerobics offered each day.
Photo courtesy: St. James's Club & Villas
What to do away from the resort?
If you're looking to explore the island away from the resort, here are some family-friendly suggestions.
Kitesurfing
The second stop on our catamaran tour was to a place called Green Island which is known for its incredible kite surfing. While we were there, we watched several people learning to kitesurf with a company called 40knots which also offers lessons specifically geared to kids. If you're unsure whether your child is ready for it, they'll do a 1-hour test lesson before you sign up for a full course. I think that this activity is especially well-suited to teens who want to try something new… and yes, Instagram-worthy.
Water park
Splashing around in the bay and building sandcastles all day may be enough fun for little ones, but for teens and tweens looking for more excitement, head over to Swash Water Park at Darkwood Beach which is about a 40-minute cab ride from the resort. This floating water complex is a series of bouncy castles and slip-n-slides all connected and floating in the water. Kids and parents can climb, slide, and bounce to their hearts' content. Friendly, attentive lifeguards make sure that everyone stays safe. Cost: Youth (under 12) $15/hour; Adult $20/hour; buoyancy aids are provided.
KidTripster Tip: Sun beds and umbrellas are available for rent on Darkwood Beach, and there's a restaurant and bar on-site. You also get a great view of Montserrat from this beach.
Ziplining
Have a thrill-seeking kid looking for a rush? Then head over the hills and through the verdant rainforest where you can soar like Tarzan through the scenic canopy with Antigua Rainforest Zipline Tours. And man, what a rush!
This company has a great reputation and safety record and has had participants as young as 4 and as old as 99! My 5-year-old did it and loved it! She wasn't quite confident enough to go on her own, so she went tandem with an instructor. It was quite a thrill for all of us and one of the most memorable experiences of our trip. Cost: starts at $59/person.

KidTripster Tip: We did the six zipline canopy tour which is the fewest number of zips that the company offers. It was just the right amount of ziplining for a child as young as mine.
This cool ziplining spot is about a 20-minute cab ride from the St. James's Club. To get there, you'll drive along the scenic Fig Tree Drive. It's a bumpy road that winds through a tropical rainforest lined with fruit trees - cocoa, banana, coconut, guava, pineapple, mango, and more. But no figs. On Antigua, a "fig" is actually a banana.
KidTripster Tip: This ziplining location is a popular tourist attraction, particularly for visitors arriving on cruise ships, so call ahead and see if you can book for a day when the ships aren't in port.
Stingray City
Another popular tourist attraction (the most popular, in fact) is Antigua's Stingray City. Don't be fooled by their name; these gentle giants of the sea are friendly creatures. After an equipment and safety briefing on the beach, you'll take a boat to a floating platform where you can feed, pet, and swim with the stingrays in their natural habitat. The rays are accustom to humans. The clear, shallow water makes it easy to get up close and personal with them. Cost: around $50 per person.
KidTripster Tip: Know that attractions like this come with some level of risk. While stingrays are ordinarily docile creatures, they are still wild animals and are capable of stinging which can cause injury and in some rare cases, death. Stings have been reported at this spot. If you choose to go, be alert, handle the stingrays with great care, and be careful not to step on them.
Barbuda day trip
While the island of Antigua was spared, her sister island, Barbuda, was among the Caribbean islands ravaged by the wind and waves of Hurricanes Irma and Maria in 2017. The 185-mph winds and 15-foot waves leveled more than two-thirds of all the buildings there. For the first time in 300 years, no one was living in Barbuda; the island's entire population (about 1,600 residents) was displaced while the island slowly began the painstaking process of recovery. As of early 2019, about half of the displaced residents had returned and the first of the island's resorts, the charming Barbuda Belle, was reopened.
The island is known for its peaceful, pristine, and undeveloped pink (and white) sand beaches that stretch for miles. When Princess Diana wanted to get away from it all, she escaped to Barbuda. There's even a beach that was renamed for her.
Along with stunning shorelines, Barbuda is known as a birdwatcher's paradise. Home to the Frigate Bird Sanctuary - the largest bird colony of its kind in the Western Hemisphere - it's a haven for more than 100,000 birds on one of the island's most beautiful beaches.
Getting to Barbuda from Antigua is relatively easy during most of the year. The Barbuda Express Ferry departs daily from St. John's Harbour and takes 90 minutes. The ferry service also offers all-day tour packages from 9 a.m. to 5:30 p.m. You'll find chartered catamaran and helicopter tours to the island, as well.
We, unfortunately, were unable to visit Barbuda during our trip to Antigua as we were advised the seas were just too choppy. But we took comfort in knowing that just by visiting Antigua, we were - in some small way - contributing to the recovery of Barbuda. This dual-island nation relies on tourism dollars to fund the continued recovery efforts. And we now have a very good excuse to come back!
Photo courtesy: 40 Knots
Where to eat?
The St. James's Club has six, open-air restaurants and five bars spread throughout the resort where you can enjoy breakfast, lunch, and dinner as well as afternoon tea and cocktails. There's also a coffee shop that's open all day.
You must make reservations for the à la carte options, so plan ahead or do like we did and book all your restaurants on the day that you arrive so you can go somewhere new every night.

Rainbow Garden
Set in a tropical garden with a terrace overlooking the main pool, Rainbow Garden is the resort's main restaurant. Open daily, it's buffet-style for breakfast and lunch with an à la carte menu for dinner. Reservations are required for dinner only.
We found ourselves here most mornings because the buffet was consistently good with a lot of different options. With fresh local fruit, a made-to-order omelet and waffle station, and a variety of yogurts, cereals, and oatmeal, everyone in the family was satisfied.
KidTripster Tip: Black pineapple, which is unique to Antigua and said to be the sweetest in the world, can be found on the buffet each morning. We developed a bit of an addiction to it and the local banana bread while we were here. Try them both!
KidTripster Tip: Afternoon tea is served daily from 4 p.m. to 5p.m. on the Garden Terrace - how British! You'll also find coffee, tea, and free wifi there and in the lobby.
The Docksider
Located right on the water's edge, this open-air restaurant with its charming nautical décor and stunning views of Mamora Bay ended up being a surprising favorite of ours. It's surprising because we don't typically like buffet-style for dinner, but when the buffet is as solid and varied as this one, we apparently don't mind it! It's the number one gripe about most all-inclusive resorts - bad food, generally served buffet-style. Trust me, I get it. The buffet thing can get a bit redundant.
But The Docksider does a very good job of offering a different themed buffet each night. We went for their British Sunday Roast, Taste of the Orient, and Bollywood Nights and were impressed with each. It makes sense that a former British colony would put on decent carvery and curry nights. And when the British tourists like everything from the roast beef and Yorkshire puddings to the tikka masala and samosas, you know it's good. The Chinese food night was solid, too.
And don't worry, there's a picky eater's section that had different offerings each night. From spaghetti and meatballs to chicken tenders, my non-curry-loving daughter was happy each night and always looked forward to seeing what was being offered at the dessert station. The restaurant does Caribbean, French, Italian, Mexican, and BBQ nights, too.
Coco Beach Restaurant & Bar
Perched high above the beach on the east side of the resort is Coco's, a bright and breezy spot that offers à la carte breakfast and dinner on the upper deck. Serving up simple, casual fare like salads, sandwiches, and burgers, it's an easy, kid-friendly spot. Personally, we preferred Rainbow Garden for breakfast, but that may be because we could get in and out and onto the beach a little faster; Coco's seemed a bit slow.
Eleven/11
Located on the lower deck of Coco's, this casual spot is - fittingly - open from 11 a.m. to 11 p.m daily. Serving everything from sandwiches and salads to pizza and pasta, it's an easy-going eatery. It's also one of your only options for a late lunch or early dinner. (Most restaurants don't serve dinner until 6:30 p.m.) You can stop in for a beer, tropical cocktail or the signature Wadadli (rum punch) and take it to the pool or beach. It also serves up ice cream cones as my hawk-eyed 5-year-old quickly discovered!
Mamora Bay Grill
If you're on the beach and don't really feel like taking time out to sit down for lunch, Mamora Bay Grill is your spot for grab-and-go. Located near the watersports center, you can get burgers, fish sandwiches, hot dogs, and other quick bites. The variety isn't great, but the location is ideal for when you're wet and sandy or you can't pull the kids away from the fun.

Piccolo Mondo
Considered the resort's only fine dining establishment, this restaurant has a $40 surcharge. Its striking hillside setting, stepped-up service, and impressive wine list make this a special occasion kind of place. The ambience is quiet and romantic, but not over-the-top fancy. Reservations are required. Children are welcome, but only on "family nights" which were Mondays and Thursdays when we visited. We brought our 5-year-old (crayons and all) with us and were never made to feel like we didn't belong. But then again, she's well-behaved in restaurants, so use your best judgment.
Mamora Bay Cafe
This newly-added coffee house, conveniently located in the center of the resort, is a one-of-a-kind, treehouse cafe. Literally built into the tops of a few giant trees on the property, this shady spot is perfect for a morning or afternoon pick-me-up. The cafe serves coffee, tea, espresso drinks, smoothies, frozen coffees, pastries, and more.
Photo courtesy: St. James's Club & Villas
When to go?
Antigua is the driest and sunniest of the eastern Caribbean islands with low humidity and constant northeast trade winds, making it very appealing to North Americans and Europeans when cold, frigid temperatures set in. So it's no surprise that Antigua's peak season is from mid-December to mid-April. The low season (with reduced rates) runs from late April to the end of December, but it's hotter and more humid, plus there's more risk of storms. Hurricane season runs from June through September, so vacations planned during that time can be somewhat of a gamble. You may want to think about getting travel insurance for a trip like that. We recommend World Nomads.
Photo courtesy: St. James's Club & Villas
Getting there
United Airlines flies direct to Antigua from both Newark and Miami airports, while American Airlines offers non-stop flights daily from New York's JFK and Miami airports. You also can find non-stop flights from Atlanta and Charlotte. The St. James's Club is just 30 minutes from the airport.
Rental cars are available, although be advised that you must apply for an Antiguan driver's license when you land at a cost of $20. Taxis are easily found just outside the arrivals area. It costs about $30 for a taxi to the St. James's Club.
Marcia Breen knows a bit about island life. She lived in Bermuda for nearly eight years and can tell you everything you need to know about hurricanes, Dark 'n Stormies, frizzy hair, and driving on the left. She now lives on the Jersey shore with her husband and daughter.
This writer received a complimentary stay for the purpose of this review. However, all opinions expressed are solely her own.
Pin to Pinterest & read later