Tampa, Florida
TOP 10 EATS
Best family-friendly restaurants where kids and flip flops are welcome
Why go?
The Tampa area, including Sarasota and St. Petersburg, is home to a growing food scene. It's a melting pot of influences – Southern, Cuban, and Mexican. And, if you're a seafood lover, it doesn't get fresher than this. Best of all, dining is laid-back. No suit and ties needed, only beach shorts and flip flops. Now that's family-friendly!
1/Yoder's Restaurant & Amish Village
3434 Bahia Vista St., Sarasota
This Amish restaurant is about simple food with no fussiness. Roll up your sleeves and dive into large portions that taste, literally, just like Grandma made them. My family and I have never had one bad plate here. I recommend EVERYTHING. It's always busy, but the line moves quickly, so don't worry. Featured on the Food Network for its homemade pies, Yoder's will not disappoint. You will likely be back again…and again. There is a gift shop, fresh farmers market, and deli also on the property. $$
KidTripster Tip: Ask the wait staff for a scavenger hunt card for your little one. While you wait for your food to arrive, let them explore with a parent. At the end of the hunt, there's a treasure chest, where your child can make a selection.
2/Larry's Olde Fashioned Ice Cream & Gelato
6595 Gulf Blvd., St. Pete Beach
Having been in this beachfront setting for nearly 30 years, Larry's has repeat customers from all over the world. From the moment you step inside, you're transported back in time to the days of a real ice cream parlor. Unique flavors, a plethora of sugar-free choices, ice cream sodas, milkshakes, and homemade waffle cones await you here. My son's favorite is Blue Smurf. $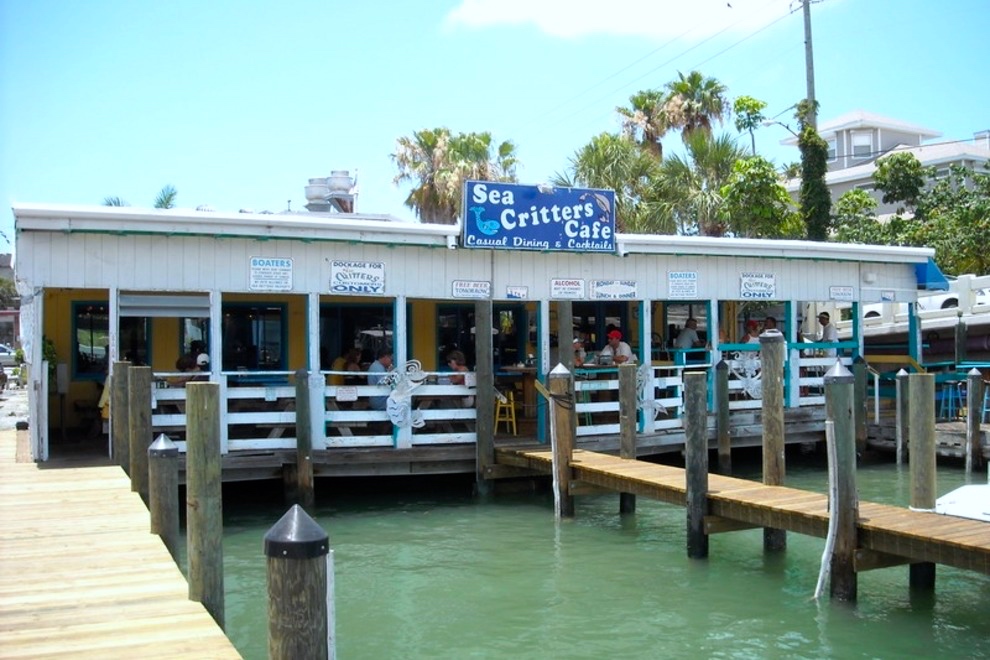 3/Sea Critters Café
2007 Pass-a-Grille Way, St. Pete Beach
Set right on the water, Sea Critters Café is a place to get a casual meal, sit back, and relax. Sit inside or outside, let the kids feed the many fish swimming below the dock, and enjoy the view. $$
4/The Columbia Restaurant
2117 E. 7th Ave., Tampa
For a true taste of Florida's history, you must stop at The Columbia Restaurant. Opened in 1905, Florida's oldest restaurant boasts spectacular Spanish architecture, authentic Latin cuisine, and Flamenco dancing. Set in the heart of Tampa's Ybor City, the restaurant has one of the best Cuban sandwiches around. When traveling with children, be sure to come for lunch as the area is geared a little more toward adults after dark. $$$
5/Taco Bus
505 N. Franklin St., Tampa
While strolling the streets of Tampa, enjoy a quick bite from the Taco Bus. The ensaladas, burritos, quesadillas, and tostadas taste fresh and healthy. Located a block from the Glazer Children's Museum, it's a perfect to-go lunch. $
6/Blue Dolphin Café
470 John Ringling Blvd., Sarasota
While it may appear unassuming on the outside, step inside Blue Dolphin Café for breakfast or lunch, and you'll find it bustling with locals who know the best place to go for a quality meal. Located right on St. Armand's Circle, grab a quick breakfast and hit the beach. $
7/Owen's Fish Camp
516 Burns Ln., Sarasota
Classic southern dishes, craft beers, and a sensational downhome setting makes Owen's Fish Camp one of our family's favorites. While waiting to sample some of Tampa Bay's catch of the day, head out back with your kids to sip an ice-cold sweet tea and relax in the tire swing. $$
8/Miller's Dutch Kitch'n
3401 14th St. West, Bradenton
After a day at Anna Maria Island, a Miller's Dutch Kitch'n in nearby Bradenton is a great place to refuel. The buffet here is your best bet to sample all the southern comfort foods. And save room for pie. In fact, maybe start with the pie! My son enjoys watching the elevated train circle the restaurant. $$
9/Pinky's Diner
3203 W. Bay to Bay Blvd., Tampa
For award-winning gourmet frittatas, pancakes, and stuffed French toast, look no further than Pinky's Diner. Expect a line on the weekends, but it'll be worth your wait. Walk off your breakfast afterwards by strolling around one of Tampa's most beautiful and prestigious neighborhoods. $$
10/Cody's Original Roadhouse
Various
Cody's offers the perfect family atmosphere - loud and unpretentious. If your little one has a meltdown, no one will mind! You can even throw (and you're encouraged to do so) your peanut shells on the floor. If you're in the mood for some ribs, a big steak, or barbecue chicken, this is your place. $$
KidTripster Tip: Use call-ahead seating, so your little ones don'thave to wait when you arrive.
For Top 10 Plays in Tampa, click here.
For Top 10 Stays in Tampa, click here.
Greg Bailey lives in the Tampa area with his wife and two sons. Born and raised in Michigan, he has happily traded in his winter parka, snow shovel, and gloves for the beach, sunny skies, and gentle breezes of the coast of Florida.
This writer received some complimentary meals for the purpose of this review. However, all opinions expressed are solely his own.
Pin to Pinterest & read later