Zambia-Botswana
VICTORIA FALLS
KidTripster Teen: How to visit this wonder of the world
Why go?
Victoria Falls is the biggest waterfall in the world. While it's neither the widest nor the highest waterfall, its combined width of 5,604 feet and height of 354 feet result in the world's largest cascade, straddling two countries, Zambia and Botswana. To put it in perspective, Victoria Falls is twice the height of Niagara Falls in North America! Seeing the falls in person, I was impressed by its sheer scale, to say the least.
Livingstone serves as the home base for most tourists who visit this natural wonder. It may be one of the biggest cities in Zambia, but it's actually the size of a small U.S. town. It's located about a 30-minute drive from the falls. Unlike some of its neighbors, Zambia suffers neither from wildly fluctuating currency nor an unstable government. It's a safe place where you can receive excellent service without the feel of packaged tourism.
Photo courtesy: Zambia Tourism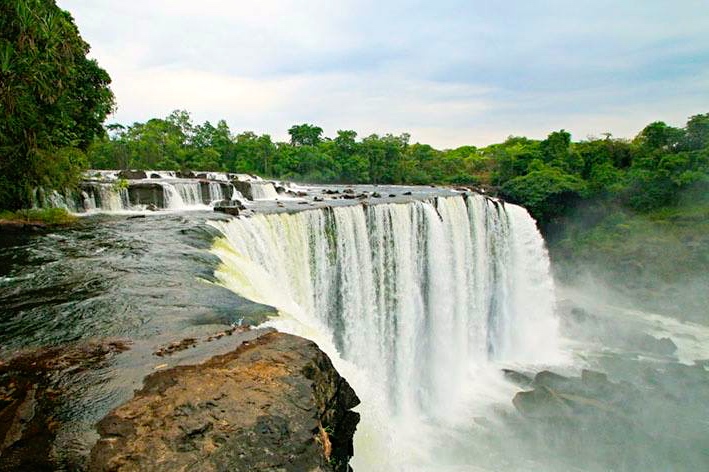 What to do & where to eat?
There are number of ways to experience Victoria Falls. You can explore the network of jungle trails around the falls or just stare in awe at the breathtaking chutes of water. Afterwards, cool off in the swirling pools, just a short hike downriver. Or if you're an adrenaline junkie, you can choose one of the many adventure activities offered here: bungee jump into the gorge, fly over the falls in a microlight aircraft, swing on a flying fox cable across the gorge or kayak or raft the river. Some of these activities are better suited to teens; kayaking and rafting are more family-friendly when water levels are low.
KidTripster Tip: This is the most important advice that I can give you: bring a waterproof jacket or poncho. The waterfall creates so much mist that it can be seen for miles, so you can imagine the spray close up. In fact, the local name for Victoria Falls is Mosi-oa-Tunya, or "smoke that thunders."
Finally, after a long day at the falls, head to Da Fusion Multi Cuisine Restaurant & Bar in downtown Livingston, offering crocodile burgers (tastes like chicken!), an inner courtyard patio, and soccer games cast on a projector screen.
When to go to Victoria Falls? That's a tricky question. After the region's summer rains, the falls are at their fullest from February to June. However the mist is so thick, it's actually difficult to see the falls themselves and impossible to photograph. Also, it's not the best time to take advantage of a Botswana safari. From October to November, water levels are low, and some sections of the falls are dried up completely. For these reasons, the ideal time to visit is from June to September.
You can also take safaris, either with Fawlty Towers Tourism or with other tour companies. The Mosi-oa-Tunya, Zambezi, and Victoria Falls national parks on the Zambia-Botswana border make for great riverboat tours, where you can see dozens of hippos, giraffes, and elephants along the Zambezi River. You also can do a walking safari to see rhinos.
KidTripster Tip: If you're looking for a multi-day safari experience, I'd suggest going with an organized tour in Botswana.
KidTripster Tip: Take a windbreaker on a safari, no matter how hot the day is. The jeep that takes you to the preserves zips along the empty highways with only a roll cage frame, blasting you with wind.
Photo courtesy: Zambia Tourism
Where to stay?
Around the Victoria Falls area, there are many high quality but also high-priced luxury resorts. However, I'd recommend staying at the rustic Fawlty Towers Backpackers Lodge. Your stay includes a comfy room, great pool, and delicious breakfast with surprisingly fast WiFi for a price closer to a 3-star hotel. My family and I spent an extra day to simply relax and explore the museums and artisan markets in Livingstone.
Photo courtesy: Fawlty Towers Backpackers Lodge
Getting there
Most people fly to Livingstone from Nairobi, Kenya; it's about a 5-hour flight. The Livingstone airport is small but efficient.
KidTripster Tip: If you need to recharge your electrical devices, the airport has a few outlets, but make sure you have a British-style (BS-1363) adapter.
KidTripster Tip: As with many countries, the taxi situation can be precarious. Before you enter the cab, make sure that it's officially licensed and that the driver agrees to the price on the meter. Otherwise, you might be pressured into paying more than is reasonable.
Photo courtesy: Zambia Tourism
Jonas Larson is a ninth grader, living in Portland, Oregon. He enjoys reading, writing, and athletics, but above all he loves traveling the world with his family.
Pin to Pinterest & read later