Alaska
FAMILY CRUISE ABOARD ALASKAN DREAM
Considering an Alaskan Dream Cruise? Read our editor's day-by-day account of this small ship adventure.
Why go?
I've had the opportunity to sail on six cruises: three with large ship cruise lines and three with small ship operators. Honestly, I'm a big fan of small ships. The experience always has provided my family with the type of vacation that we're looking for - a vacation where we spend time together not apart. However, I'll be the first to admit that small ship cruising isn't for every family. You need to forego some amenities like pools, kids' clubs, and non-stop entertainment in favor of more nature-centered, enrichment activities.
Because cruising is a big monetary investment for any family, I've written this day-by-day account of a small ship cruise with Alaskan Dream Cruises so you know exactly what to expect. This particular cruise is one of two designated family cruises that Alaskan Dream offers every summer through the Inside Passage of southeastern Alaska. Know that the other itineraries offered by Alaskan Dream also are family-friendly, and you'll definitely have kids on the voyages that sail during school breaks. However, the family cruises have a higher percentage of kids, in addition to some additional programming and staff.
This particular cruise started in Sitka and ended in Juneau. While that itinerary may make your airfare a tad more expensive because of the need to purchase one-way tickets, it wasn't an issue for our family as we spent an additional week in Alaska visiting Denali, Katmai, Kenai Fjords, Lake Clark, and Wrangell-St. Elias National Parks. Click on the links provided for more on those itineraries.
So let's get sailing with Alaskan Dream!
DAY ONE
We started our morning with a leisurely breakfast and then a stroll around Sitka before meeting at the Alaskan Dream Cruises' hospitality room near St. Michael's Cathedral. It was clear from the get-go that this was to be a family cruise with far more kids than I've seen on previous small ship cruises. The youngest child was 6 years old; the oldest was my son at 18. (Ok, technically, he's an adult, but he's still my baby!) Many of the children actually were traveling with their grandparents. One large group was 13 strong and consisted of Grandma and Grandpa, three adult children and their spouses, plus several grandkids.
KidTripster Tip: When you arrive in Sitka, you'll receive a list of all the passengers and their hometowns, so you can start to get to know your fellow passengers.
In small groups, we walked to nearby Sitka Sound Science Center. Here we were expertly guided through the small but informative learning center that also serves as a salmon hatchery. Seeing the various stages of the spawning process was really interesting, especially when you consider how important the salmon industry is to the state of Alaska. The center also had a large touch pool, where we were encouraged to feel starfish, sea anemone, sea slugs, and sea urchins.
We continued walking to the Sitka National Historical Park where we took a hike to view several native totem poles.
KidTripster Tip: Look at the back of the first totem pole for instructions on how to use your cell phone as an audio guide. We didn't clue into this option until it was too late.
After eating lunch back at the hospitality room, we headed to the Alaska Raptor Center, a rehabilitation center for bald eagles, hawks, kites, osprey, and owls. The bald eagle therapy area was quite impressive; 16 bald eagles were in various stages of rehab when we visited. We then listened to a short, well-informed presentation from a trainer, who gave us an up-close look at a juvenile eagle named Spirit.
Our last stop before heading to the ship was the Fortress of the Bear, a recovery center for Alaska's brown and black bears. This stop was my least favorite of the day; it felt a bit zoo-like. I also knew that my family and I would be seeing bears in the wild at Lake Clark National Park later in the trip, so I wasn't thrilled about spending an hour here.
All these sightseeing trips were necessary to give the crew time to prepare the ship for our arrival. Finally, around 4 p.m., we boarded the 207-foot Chichagof Dream, named for one of the islands in this area. The crew was incredibly friendly as they escorted us to our cabins - one for my husband and I and one for our two sons. The cabins were fairly roomy, impeccably clean, and well-equipped with ample storage. Click here for a tour.
The rest of the evening included an orientation meeting, safety drill, dinner, and Alaskan-style team Jeopardy game. As we crawled into our comfortable beds, it was easy to float off to sleep.
KidTripster Tip: I'm prone to seasickness. However, I experienced absolutely no issues while cruising the Inside Passage, even in the areas of more open water. If you want to error on the side of caution, I'd recommend packing over-the-counter, non-drowsy motion sickness medication plus a sleep aid like melatonin. I think that you'll find seasickness bands and patches unnecessary.
DAY TWO
I awoke early this morning. Coffee was brewed in the lounge. The ship was quiet, and I enjoyed the scenery of Frederick Sound all to myself. After breakfast, passengers were placed into excursion groups for the day - all with clever, Alaskan names. My family? We were part of the Fairy Barf Lichens. Yes, that's a real thing! Everyone was shuttled to the shore in Demaree Inflatable Boats, or DIBS, for a shore walk along Halleck Harbor. Low tide revealed plenty of sea anemones, clam shells, kelp bulbs, and washed-up jellyfish. The younger kids were instructed to find their favorite shell or stone for a craft project later that night. In the afternoon, the groups took turns in the double kayaks. My oldest son and I followed a very sly otter. I struggled to capture his photo as he rolled from his tummy to his back in the water. The afternoon was punctuated by the much-anticipated Polar Plunge, a voluntary leap from the kayaking platform into the 40°F water. Regretfully (not!) my husband and I had to record the moment (two cameras rolling for safety), so my sons were the only ones in the family to join the Killer Whale Club. Watch here.
One nice touch aboard the Chichagof Dream is that the expedition leaders eat with the passengers. It's an opportunity to talk to them about their lives in Alaska. On this day, we ate lunch with Joy and talked about growing up in Sitka. At dinner, we sat with Kelly, who grew up in Kake as a member of the Tlingit tribe. She answered all our questions about Native culture right down to how the paint colors for totem poles are traditionally made.
After dinner, we heard an excellent presentation on Alaska's bears from Maggie, the expedition director. Kudos to her for being well-informed and well-spoken. I was amazed at how much information that she communicated without notes! The kids had the option of doing icebreakers and then having movie night with popcorn, organized by Matt and Joy, the youth expedition leaders. Alaskan Dream actually added a staff member to better manage the kids and activities on this special family sailing.
Something began to happen on day two that's worth noting: kids of the same age found each other. Despite my 15-year-old son telling me at the start of the cruise that he didn't want to hang out with "people he'd never see again," he began to socialize with the other teenaged boys. On a cruise with no WiFi, it was so refreshing to see kids interacting face-to-face. From this day on, these boys would play chess, poker or other games every afternoon in the lounge and eat lunch and dinner together every day. The Israeli boys in the group even taught the others how to perform complex magic tricks that my son continues to perfect to this day.
KidTripster Tip: Consider a cell phone ban while on this cruise for your kids and yourself. Unplugging is a good thing. If you must check your phone, you'll get service when in these ports: Sitka, Petersburg, and Juneau.
DAY THREE
One of the pleasures of small ship cruising is the ability to reach places that the big ships can't. Petersburg is one of those places. Founded by Norwegian fishermen, this town is nicknamed Alaska's "Little Norway," even though only about 14% of its current population is actually of Norwegian heritage. In the 1890s, Norwegian Peter Bushmann arrived and insisted that nearby LeConte Glacier could provide plentiful ice for a fish packing industry. He was right. Today, Petersburg is one of the top-producing commercial fishing communities in the state, providing salmon, halibut, crab, shrimp, and more to domestic markets and products like geoduck clams and sea cucumbers to Asian markets.
When we arrived in Petersburg, we walked straight to the Sons of Norway Hall, where a dozen children greeted us in traditional Norwegian dress. Two of the local women had arrived even earlier to make three different types of Norwegian cookies for us to sample while we watched the children perform folk dances. But the real fun began when we were invited to join and learn. While I couldn't convince my teenaged sons to participate, I was more than happy to jump in.
After the dancing, we boarded buses and took a quick tour through the tiny town. It's not the history that my family and I tend to remember but instead the details about everyday life in Alaska. For example, when the local kids have a sports game against another team, they leave the island either by jet boat, ferry or even by an Alaskan Airlines flight to get to their competition. Our driver also talked about how the tides in this area - tides which can fluctuate by up to 16 feet - truly dictate everyday life.
In the late morning, we went on a nature walk through a muskeg, or bog. Most of this town is built on a spongy bog, meaning the houses are built on pilings without concrete foundations. On the walk, we saw Forget-Me-Nots (Alaska's state flower), the Fairy Barf Lichen (our group's namesake), and a Roundleaf Sundew, a flower that eats insects! Maggie, the expedition director, is a hobby botanist with a wealth of information about Alaska's flora and fauna.
The rest of the day was open to exploring Petersburg. We had lunch in town at The Salty Pantry, a spot worth recommending. When the weather turned to rain, we headed back to the ship for some time in the salt room.
What's a salt room? I'm glad you asked. It's a space about the size of a cabin on the first deck. The walls are made from Himalayan salt blocks. The room is warm like a sauna and is supposed to be good for respiratory issues and overall wellness. With no pool or hot tub, this room is the only spa-like feature on the ship.
KidTripster Tip: Let's talk about what kind of weather that you can expect on a cruise of the Inside Passage. While cruise websites may show photos of sun-drenched days in the Land of the Midnight Sun, southeastern Alaska is often overcast with sporadic rain during the summer. (During the winter, this area gets more rain than snow; some areas see 200 inches of rain per year!) However, it's not a downpour and doesn't last long. Alaskan Dream does provide ever passenger with a raincoat, rain pants, and rain boots. Temperatures - especially in the evening and while cruising in open water - are downright nippy. You'll want to pack a winter coat, a winter hat, gloves, and warm, thick socks. Also, I wish that I would have packed thermal underwear for the days spent on deck looking at wildlife and glaciers. While there is a sundeck on the ship, most passengers don't spend downtime there reading a book; it's just too cold.
After dinner, the youth expedition leaders, Matt and Joy, organized a kids' game night, while Maggie gave a talk on the trees of southeastern Alaska.
DAY FOUR
Of all the sights that we were scheduled to see on this cruise, today's expedition was the one that I was most looking forward to: Tracy Arm Fjord. My expectations were further heightened by comments from the crew, saying of all the destinations on this itinerary, this fjord was their favorite, hands down. It didn't disappoint.
You'll want to be up around 6 a.m. this morning to get the full effect. That's when the Chichagof Dream started her journey into the glacially-carved fjord. Sheer facades of 4,000-foot granite cliffs rose on both sides of the ship. As she slipped deeper and deeper into the mist-shrouded canyon, the walls began to narrow. Waterfalls cascaded down on either side. The fjord's water transitioned from an jade green to an aquamarine blue. All along the way, ice floes bobbed in the water. Their varied shades of blue were nearly indescribable. Keep a close lookout for harbor seals and bald eagles sitting on the ice. Toward the end of the chute, it split - South Sawyer Glacier was to the right and North Sawyer Glacier was to the left. This is the point where large cruise ships had to stop, and passengers would only see what comes next by paying for a third-party excursion. But we pressed on.
Just when I thought the scene couldn't get any more spectacular, the ship rounded the corner, and my family and I got our first glimpse of North Sawyer Glacier - impressive, imposing, and simply stunning. It looked like a massive wall of quartz bathed in boundless hues of blue. For most of the next three hours, we had it to ourselves. We broke up into groups and boarded two DIBs for 45-minute rides to the two waterfalls that frame the entrance to the glacier. Then we approached the glacier slowly, being careful not to get too close in case of falling, or calving, ice. Each family took turns taking next year's holiday card photo, plus single shots of all the kids. We returned to the ship feeling exhilarated and totally satisfied.
On the DIB rides, the staff pulled out small chunks of glacial ice from the water. Some of this ice went to the kids' activities director. The kids painted the chunks with watercolors, creating rainbow ice. The other chunks went to the bartender who chopped up the ice and concocted a kiddie cocktail and an adult-version called Glacierita. Yes, I just had to sample.
DAY FIVE
Today's family cruise itinerary deviated from Alaskan Dream's normal route. Instead of going to the small town of Kake to explore Tlingit culture more fully, we headed to Juneau, Alaska's state capital. We weren't the only ones in Juneau. On this day, four large cruise ships were docked downtown, releasing upwards of 15,000 people into a city whose population is only 32,000. It was a reminder to me of what I personally don't like about about big ship cruising: hordes of people.
We were shuttled to Alaska X, a summer training camp for mushers and sled dogs who either have run the famed 1,100-mile Iditarod race or have aspirations of doing so. During the summer, the dogs pull tourists seated in 6-person modified golf carts along a dirt path through the woods for short rides. Honestly, it was a little disappointing riding on gravel as opposed to snow. The cart with passengers weighed around 1,500 pounds, but it was no problem for these teams of 16 muscular Alaskan huskies. Our musher, Rob Redington, has run the Iditarod three times. In fact, his grandfather was one of the men who actually started the race in 1967.
After the ride, we were free to give the dogs a little love. We then moved on to a question-and-answer session where we learned about all-things-dog-sledding. But the highlight of the visit was puppy time! Yes, puppies. We got to cuddle with 5-week-old puppies Sheriff, Chief, and Outlaw, as well as 8-week-old pups Fuego (means fire in Spanish) and Hielo (means ice in Spanish). Needless to say, both the kids and parents couldn't get enough of the four-legged fur balls. Later that night, some of the girls would tell me how much they loved their visit here. It was the highlight of their cruise.
We had time to shop and eat lunch in Juneau before heading to the Alaska State Museum. My family and I aren't huge museum fans, but this museum was well-done, and the visit was just an hour. We were then bused to Mendenhall Glacier, a common stop for all those passengers on the larger cruise ships. The Mendenhall Glacier Visitor Center is set up similarly to a national park with marked trails, ranger talks, and a junior ranger program. After a 30-minute hike to reach the closest vantage point for the glacier and Nugget Falls, my family soon learned that not all glaciers are created equal. This sight simply didn't compare to the intimate experience that we'd had the day before. I actually felt badly for the other visitors who may only see this one glacier on their Alaskan vacation.
After returning to the ship, we traveled for about an hour to Orca Point Lodge. The kids descended on the beach and spread out in various directions. Some headed to the shore for beachcombing; the older kids gravitated to the cornhole games. Here we feasted on an all-you-could-eat crab, salmon, and prime rib buffet. I'm not a shellfish eater, but others raved about the size and taste of the enormous Alaskan King crab legs. Dinner was followed by a chocolate fondue dessert and s'mores around the fire. The evening ended with a very suspenseful game of Giant Jenga between some of the older boys and the youth expedition leader that ended in his defeat.
DAY SIX
We started the morning by picking up two new passengers, a park ranger and a native Huna Tlingit interpretive naturalist for our first of two days in Glacier Bay National Park. Ranger Kelly gave a brief talk on birds right before we approached South Marble Island, where we saw several species plus Stellar sea lions in the distance. Unfortunately, the morning was quite overcast and drizzly, limiting our time on deck. But we did have two other big sightings today. A humpback whale surfaced for a few seconds about 100 yards off the ship; unfortunately, it didn't make another appearance. As we coasted along the shore of Icy Strait, we also spotted an enormous brown bear, searching for his breakfast. This moment points out two advantages of small ship cruising. First, you're able to sail much closer to the shore than large cruise ships. And secondly, the crew can be flexible with the schedule. Once we spotted that bear, the ship stopped and allowed passengers to watch and photograph it for nearly 30 minutes. The larger ships have a schedule to keep and don't stop for impromptu wildlife spottings.
KidTripster Tip: The park ranger brings the Junior Ranger program to you! Encourage your kids to complete the booklets on board to receive their Junior Ranger badges.
We spent the afternoon in Reid Inlet at the base of Reid Glacier. Groups boarded the DIBs for shore walks. However, the best vantage point to see the glacier was from your own kayak. The size of the glacier can't fully be appreciated until you're floating next to it.
In the evening, the ship floated right in front of Margerie Glacier at the very end of Glacier Bay. The face of this glacier is a surprising, one mile in length. Everyone braved the cold, patiently waiting for the glacier to calve. Of course, there are no guarantees with nature, and while a few pieces split off, it unfortunately didn't calve.
Here's a sobering fact: Glacier Bay has seen the fastest glacial retreat on record: 65 miles just since 1780.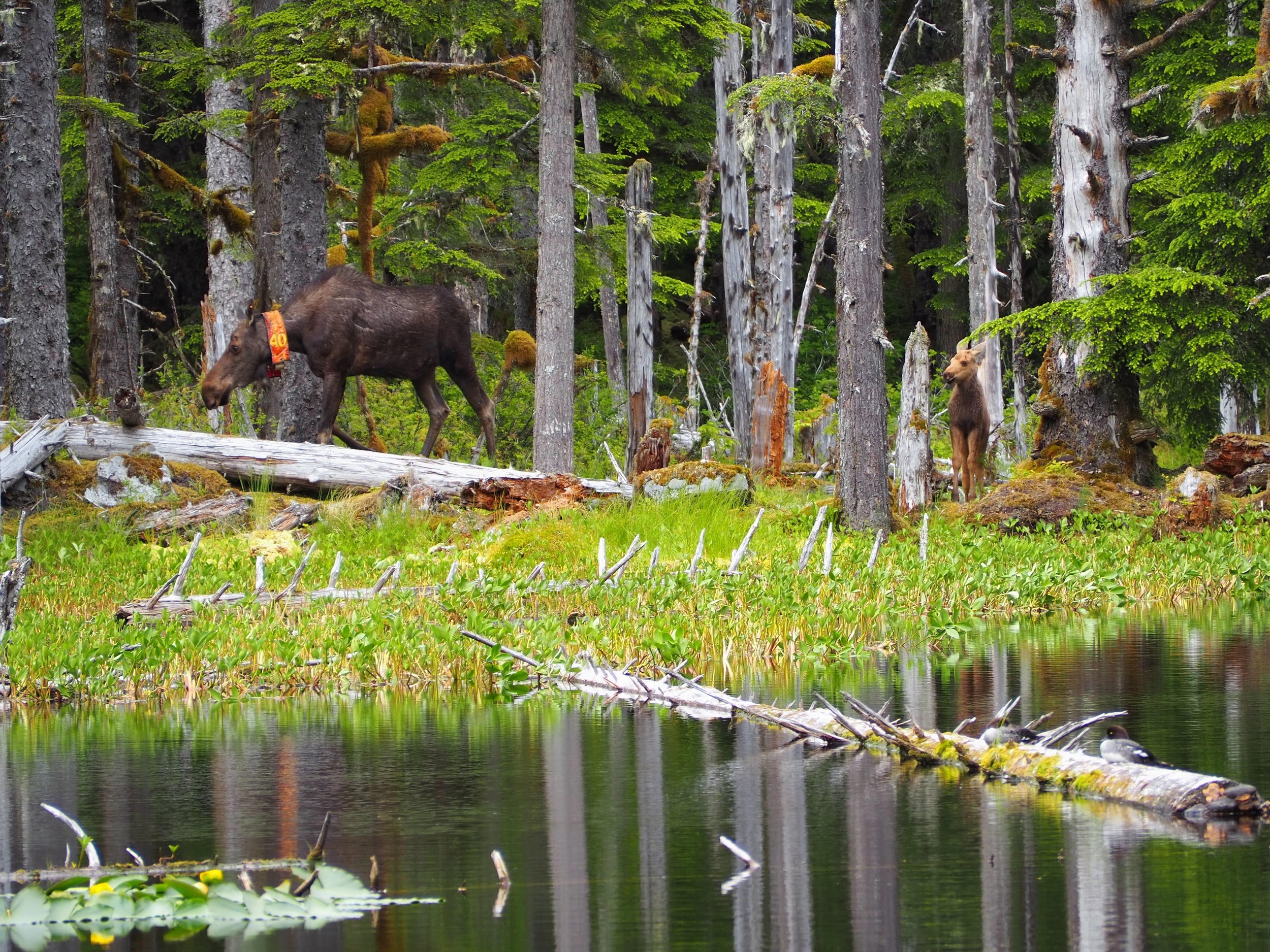 DAY SEVEN
As we made our way south to Bartlett Cove Visitors Center at Glacier Bay National Park, we kept our eyes peeled for whales. We did see one humpback who gifted us with a tail fluke in the air, but it didn't breach. We've seen fewer than a half dozen whales on this cruise - some simply spouting at a distance. Our park ranger Kelly told us that the humpback numbers are off by nearly 40%, and researchers aren't quite sure why. As far as wildlife viewing, the lack of whale sightings was my one disappointment of the trip, but of course, that's no fault of the cruise company. We did see another brown bear on the shoreline and plenty of otters, who surprising swim in open water.
The rest of the morning was spent listening to the personal story of Meimi, our Tlingit cultural guide, and the story of Glacier Bay National Park from ranger Kelly. Kelly also swore in all the new junior rangers (including one grandma and two crew members). While my kids are too old to really participate in the program, parents reported their kids really loving completing the booklets and having this educational component on the trip.
After lunch, we did what only 5% of visitors to Glacier Bay do - set foot on land! Most of the passengers - including my family - took a short, 1-mile loop hike with ranger Kelly and were treated to a fantastic sight - a mother moose and her calf! We watched them feed around a lily pad-covered pond for nearly a half hour. We also visited the Tlingit Tribal House, a magnificent structure used as a gathering place. Both the outside facade and the interior wall display colorful carved murals that each tell a specific story. In addition, there are four clan totem poles inside that also tell stories. Here's the thing: the Tlingit people don't share their stories readily. Out of respect, each clan only tells their stories. Tlingit children grow up practicing these stories; if they make a mistake, they must start again from the beginning. With no written language until the 1960s, the Tlingit relied on these oral stories to preserve their history and traditions. I'd like to be able to tell you what the stories were here, but I don't know. I do know that the carvings are worth seeing.
KidTripster Tip: Don't miss taking a look at the skeleton of a humpback whale named Snow, who died after being hit by a cruise ship. The size of these mammals is truly remarkable.
After the informal captain's dinner, Maggie distributed certificates to the new inductees into the Killer Whale Club (polar plunge), the largest number of inductees that the Chichagof had ever seen. We also were treated to a wonderful video with photos from the cruise. It's at that moment that we realized just how much we'd done in the past week and with whom. This cruise - more than any other that my family has sailed on - really had a sense of camaraderie. Sailing with other families does make a difference. I'm confident that my 15-year-old son, especially, would not have enjoyed this cruise as much if it hadn't been shared with kids his own age.
DAY EIGHT
This morning, we departed the Chichagof Dream and said our farewells to the crew and other passengers. We were taken to a hotel hospitality room and eventually to the airport in Juneau to catch our flight to Anchorage.
If you'd like to see where our Alaskan travels took us next, click here.
Want to learn more about how much a 7-day cruise of the Inside Passage with Alaskan Dream will cost you? Click here.
What did our KidTripster Teen like best about the cruise. Read his top 10 list here.
Editor Shellie Bailey-Shah has sailed with her family on three small ship cruises, including a trip to the Mexican Sea of Cortez and the Galapagos Islands.
This writer received a complimentary sailing for the purpose of this review. However, all opinions expressed are solely her own.
Pin to Pinterest & read later