Antigua
THE VERANDAH RESORT & SPA
Nestled on Antigua's pristine northeastern coast, this eco-friendly, beachfront, all-inclusive resort is the cure for your winter blues.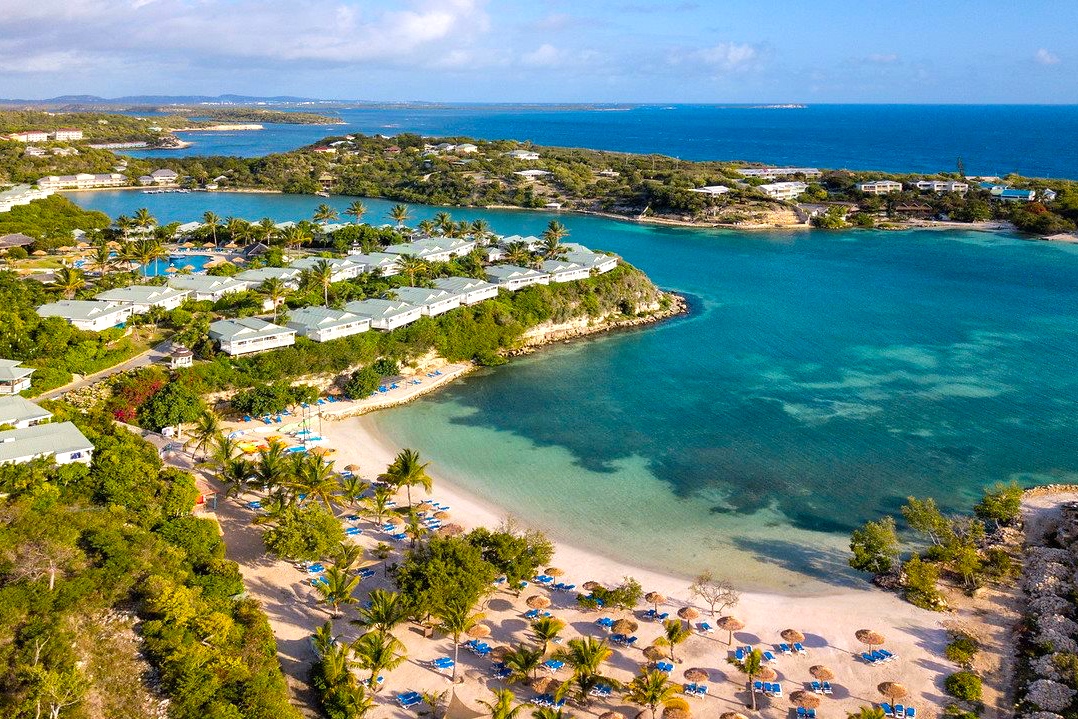 Why go?
There are few things as perfect as a Caribbean escape, especially in the dead of winter. The power of a rum punch in your hands and your toes buried in the sand - all set to the sound of lapping waves - simply cannot be understated. Neither can the joy of sharing a few sun-soaked days with your kids. You'll smile as they run back and forth from the surf with alternating buckets of wet sand for their sandcastles and salty sea water for splashing you. This is Antigua, and it's pretty much a paradise.
Nestled on a tranquil swath of land along the island's pristine northeastern coast, you'll find The Verandah Resort & Spa - a place that strikes that difficult balance between rest and relaxation for weary parents and fun and freedom for their Energizer bunny-like kids. Far away from the daily monotony of lunch-making, school runs and after-school activities, moms and dads can get a much-needed break while the kids swim, splash, and play the days away.
Life here is good.
Photo courtesy: The Verandah Resort & Spa
Where to stay?
Perched high on a hilltop overlooking the Atlantic Ocean, The Verandah Resort & Spa hugs Antigua's spectacular northeastern shore. This eco-friendly, luxury retreat lies adjacent to national parklands and occupies less than half of the land that it's built on. Loads of little white cottages laid out across 30 rolling beachfront acres are hidden among hibiscus, banana trees, and impossibly green tropical foliage. Surrounded by miles of powdery white sand beaches and crystal clear waters, this sprawling cliffside resort is sandwiched between two of Antigua's most treasured natural beauties: Devil's Bridge and Long Bay Beach. It's remoteness and idyllic setting make it the perfect place for families who want to relax and unwind.
Americans may feel in the minority here as there definitely seem to be more British and Canadian guests. Still, you'll feel welcomed right away as you're greeted with a lemonade, champagne or rum punch upon arrival.
KidTripster Tip: There's a lot of walking from reception to the main beach, and it's very hilly. If you or your kids are tired from swimming and playing in the sun all day or if you're traveling with Grandma and Grandpa and it's just too much in the heat catch the bus. It's more like a large, glorified golf cart, but with several stops throughout the resort, it's pretty handy, plus your kids will love riding it! Upon check-in, they'll drive you and your luggage to your room and when you're ready to check out, they'll come pick up you and your bags.
The sight of white-washed, plantation-style bungalows scattered throughout the resort is as quintessentially Caribbean as the cacophony of tree frogs beeping outside your window as you drift off to sleep - like a million little smoke detectors on the fritz. The cottages house waterfront, water view, and hillside suites along with more spacious, two-bedroom villas. Warm, casual suites feature either two doubles or king-sized beds, living areas with queen-sized sleeper sofas, and balconies. They're also equipped with kitchenettes. The villas at The Verandah are a great option for larger families. While spendy, they feature all the comforts of home and may be cheaper than paying for two adjoining suites.
Situated above the main beach, the two-bedroom plunge pool villas are the resort's newest and most luxurious accommodations. With two en suite bedrooms, separate living area, full kitchen, dining area, and private plunge pool on your balcony, these places are pretty perfect. Each 1,400-square-foot villa sleeps six and overlooks the resort's gardens with the sea off in the distance.
Double occupancy rates for hillside suites start at $416/night, villas start at $735/night, and villas with plunge pools start at $865/night. Rates are all-inclusive (room, meals, drinks, activities, kids' club, and gratuities) for two adults. Children (ages 2 and under) are free. Children (ages 2 to 11) are $72/child/night. So, if a couple with 4- and 7-year-old children book a hillside suite, it would be $560/night. A two-bedroom villa with a plunge pool for the same family would be $1,009/night.
KidTripster Tip: The best rates at The Verandah can be found from late April to mid-December.
KidTripster Tip: Free WiFi is available throughout most of the resort's public areas; however there's a $10/day charge for in-room internet service. Use it as an excuse for the whole family to unplug!
KidTripster Tip: In the upper-middle-range price-wise, this all-inclusive resort is the sister property to the St. James's Club - a long established name on the island. Both properties are consistently named among the top 10 family-friendly resorts on the island. And while smaller than the St. James's Club, The Verandah is more spread out and has more activities for your kids to enjoy. With four pools and two sprawling, uncrowded beaches to choose from, it's a great choice for families who love the water but also want a variety of other activities to keep busy.
To read our full review of St. James's Club, click here.
Photo courtesy: The Verandah Resort & Spa
What to do at the resort?
The term "family vacation" can seem like a bit of an oxymoron to some parents. Often times, it feels like it's all fun and games for the kids, but a lot of pressure, planning, and running around for parents. There is nothing worse than returning from your vacation needing a vacation. Which is why we are huge fans of any place that makes it easier for parents to relax, have fun, and escape the stress of day-to-day life. Enter The Verandah.
Here's a list of fun-filled, family activities that are equal parts memory-making and escape from the ordinary.
Kids' Club
A good kids' club is one of my favorite resort amenities. While once found only at high-end hotels and on cruise ships, kids' clubs are becoming more commonplace, especially as resorts realize that family travel is big business. Still, some are better than others. The better ones let kids be kids and let you have some time on your own.
At The Verandah, the kids' club (ages 2 to 12) is included in the all-inclusive price. One look at the pirate ship play structure, and your kids will be begging you to visit. And once they see the splash pool with cascading shower, you'll have trouble dragging them out!
My 5-year-old literally ran into the kids' club and made a beeline to the play structure in the back. Between that and the trampoline, she was in kindergartener heaven! She also did crafts and played inside with the toy kitchen, puzzles, and games on another day when the weather wasn't the best. My husband and I made the most of it and snuck off to the spa. She loved it. We loved it. Happy family all around.
While the toys inside the kids' club itself skew toward younger children, a range of supervised activities and classes are offered each day that are suitable for preschool-aged kids and up. With everything from tennis lessons to smoothie-making classes, there's plenty of fun to be had here. Whether your kids want to spend the day or drop in just for one activity, the caring and professional staff is happy to accommodate their needs. The kids' club is open from 9:00 a.m. to 10:00 p.m. daily.
KidTripster Tip: The kids' club also offers movie nights at 7:00 p.m., giving parents the perfect opportunity for a date night without having to hire a sitter. If you plan on taking your child to movie night, you also can arrange for a kid-friendly meal to be delivered to them. A kids' menu is available during the lunch hour, too.
KidTripster Tip: The resort also offers babysitting for an additional cost per hour. Babysitters must be paid directly; it's not a cost that can be added to your room.
The only criticism I have of the kids' club is that I wish it had a weekly, printed schedule that we could've looked over upon arrival. Instead, the staff posts the schedule on a chalkboard outside the club each morning, making it more difficult to decide which days we should do off-resort activities or schedule spa appointments.
Chill Out Zone
For the teens and tweens in your life (or fun for the whole family), there's a covered, outdoor "chill out zone" that offers ping-pong, billiards, foosball, and shuffleboard. It's conveniently located between the kids' club and the adult pool. The hotel also posts a list of daily activities geared toward older kids including games, hikes, fitness classes, beach volleyball, and more. Plus, the staff hosts movie nights, teen discos, and karaoke nights to help keep teens and tweens occupied in the evenings.
Mini golf
I've personally never been to a resort that has a mini golf course on-site, so we were all pretty excited to see this family-friendly feature at The Verandah. And this is no ordinary miniature golf course! Located opposite Rasta Beach, this intricate, nautically-themed, 18-hole course takes putt-putt to a whole new level. Designed to replicate the bends and breaks found on a real golf course, it will challenge even the best golfers in your family. And though it may be difficult for little ones and the, ahem… not-so-great golfers in your group, they'll still have a ball trying.
Tennis & volleyball
Adjacent to the mini golf course is the tennis area which includes two hard courts; the courts are lit and available for evening play, too. Use of the courts is complimentary, and reservations can be made at the mini golf check-in desk. Balls and racquets also are provided free of charge. Private lessons and clinics are available for an additional fee.
Across the road from the tennis courts on Rasta Beach, you'll find a sand volleyball court for anyone to use.
Pools & beaches
With two sandy beaches and four freshwater pools, there are plenty of serene spots to do all of those things.
There is a massive main pool in the center of the resort, a kids' pool near the kids' club, a family pool located near the family suites, and a secluded, adults-only pool. Surrounded by the resort's main bar and most of its restaurants, the main pool is truly the heart of the resort. It's huge with a cool water fountain in the center and plenty of seating; however, we found very few shady spots here. Because of that, we often spent the morning hours at the smaller, shadier, family pool and then hit the main pool in the late afternoon.
The resort's main beach with its stunning views and calm bay is at the bottom of a steep stone staircase. Located at the opposite end of the resort from reception, you'll find the watersports center, sand toys, and an area to play cornhole. There also are plenty of beach chairs and thatched umbrellas here.
While at the beach, help yourself to the coolers of water, lemonade, and frozen (virgin) piña coladas or daiquiris. For other drinks and snacks, head up to the Beach Bar & Grill at the top of the staircase.
KidTripster Tip: I can imagine lugging babies or toddlers and all their stuff down to this beach would be a pain. It also could be difficult for anyone who is elderly or disabled. Something to consider when thinking about a stay at this resort.
Antigua's famous Devil's Bridge National Park is right next door to the main beach. At the east end of the beach (the end that's away from the staircase), you'll find a path that takes you to a road which leads to a dramatic arched rock that juts out into the ocean. The beautiful, seaside geological formation is a popular tourist destination and worth checking out.
Rasta Beach, located on the other end of the resort by reception, is decidedly smaller and more tranquil. It has a volleyball court, bar, and snack shack at beach level which is nice. This beach tends to be more popular with teens and adults, but you'll see kids playing in the shallow waters here, too.
Watersports
An extensive array of non-motorized watersports are offered and are a part of the all-inclusive package at The Verandah: pedal boats, kayaks, Hobie cats (small sailing catamarans), and standup pedal boards (like stand-up paddle boards but with handlebars and foot pedals).
KidTripster Tip: Life jackets of all sizes are provided at no cost on the beach and are required for every watersport. Inflatable floating rafts are easy to come by on the main beach, too. If your child needs floaties, you'll want to bring your own.
Snorkeling and scuba diving
Both Antigua and Barbuda are almost entirely surrounded by well-preserved and thriving coral reefs. With little to no current and an average water temperature of 80 degrees, the islands are great snorkel and dive destinations.
For snorkel and dive tours, The Verandah suggests that guests head over to the Mamora Bay Divers Club at sister property St. James's Club. The dive shop offers full PADI certification courses, rents out diving equipment, and has tank refills. It also organizes daily excursions to tour local reefs and shipwrecks for snorkelers and scuba fans.
KidTripster Tip: Just a 3-minute walk from The Verandah is Long Bay Beach, one of Antigua's most beautiful beaches. Just steps off the sugary white sands, you'll discover excellent snorkeling along the right side.
Photo courtesy: The Verandah Resort & Spa
What to do away from the resort?
If you're looking to explore Antigua away from the resort, here are some family-friendly suggestions.
Ziplining
Have a thrill-seeking kid looking for a rush? Then head over the hills and through the verdant rainforest where you can soar like Tarzan through the scenic canopy with Antigua Rainforest Zipline Tours. And man, what a rush!
This company has a great reputation and safety record and has had participants as young as 4 and as old as 99! My 5-year-old did it and loved it! She wasn't quite confident enough to go on her own, so she went tandem with an instructor. It was quite a thrill for all of us and one of the most memorable experiences of our trip. Cost: starts at $59/person.
KidTripster Tip: We did the six zipline canopy tour which is the fewest number of zips that the company offers. It was just the right amount of ziplining for a child as young as mine.
KidTripster Tip: This ziplining location is a popular tourist attraction, particularly for visitors arriving on cruise ships, so call ahead and see if you can book for a day when the ships aren't in port.
This ziplining spot is about a 30-minute cab ride from The Verandah. To get there, you'll drive along scenic Fig Tree Drive – a 20-mile circular route across the volcanic, southwest hills of the island. This picturesque but bumpy road takes you through lush rainforest and Antiguan villages with brightly-colored chattel houses and small tropical fruit stands. The winding road is lined with fruit trees - cocoa, banana, coconut, guava, pineapple, mango, and more. But no figs. On Antigua, a "fig" is actually a banana.
After your ziplining tour, ask your driver to continue on Fig Tree Drive west to Mount Obama (yes, named for the American president) and then on to Darkwood Beach, a family-friendly beach with soft sand and gentle surf.
Water park
While you're at Darkwood Beach, your kids won't want to miss Swash Water Park. This floating water complex is a series of bouncy castles and slip-n-slides, all connected and floating in the water. Kids and parents can climb, slide, and bounce to their hearts' content. Friendly, attentive lifeguards make sure that everyone stays safe. It's perfect for teens and tweens who are looking for little excitement. Cost: Youth (under 12) $15/hour; Adult $20/hour; buoyancy aids are provided.
KidTripster Tip: Sun beds and umbrellas are available for rent on Darkwood Beach, and there's a restaurant and bar on-site. You also get a great view of Montserrat from this beach.
Stingray City
The most popular tourist attraction is Antigua's Stingray City. After an equipment and safety briefing on the beach, you'll take a boat to a floating platform where guides will give you the lowdown on these gentle giants of the sea. You then step down into the water where you can pet, hold, and feed sting rays. The clear, shallow water makes it easy to get up close and personal with them. While it can be intimidating for kids (and even adults), the rays are accustom to humans, and the guides will show you how to interact with them in their natural habitat. Cost: around $50 per person.
KidTripster Tip: Know that attractions like this come with some level of risk. While stingrays are ordinarily docile creatures, they are still wild animals and are capable of stinging which can cause injury and in some rare cases, death. Stings have been reported at this spot. If you choose to go, be alert, handle the stingrays with great care, and be careful not to step on them.
Barbuda day trip
While the island of Antigua was spared, her sister island, Barbuda, was among the Caribbean islands ravaged by the wind and waves of Hurricanes Irma and Maria in 2017. The 185-mph winds and 15-foot waves leveled more than two-thirds of all the buildings there. For the first time in 300 years, no one was living in Barbuda; the island's entire population (about 1,600 residents) was displaced while the island slowly began the painstaking process of recovery. As of early 2019, about half of the displaced residents had returned and the first of the island's resorts, the charming Barbuda Belle, was reopened.
The island is known for its peaceful, pristine, and undeveloped pink (and white) sand beaches that stretch for miles. When Princess Diana wanted to get away from it all, she escaped to Barbuda. There's even a beach that was renamed for her.
Along with stunning shorelines, Barbuda is known as a birdwatcher's paradise. Home to the Frigate Bird Sanctuary - the largest bird colony of its kind in the Western Hemisphere - it's a haven for more than 100,000 birds on one of the island's most beautiful beaches.
Getting to Barbuda from Antigua is relatively easy during most of the year. The Barbuda Express Ferry departs daily from St. John's Harbour and takes 90 minutes. The ferry service also offers all-day tour packages from 9 a.m. to 5:30 p.m. You'll find chartered catamaran and helicopter tours to the island, as well.
We, unfortunately, were unable to visit Barbuda during our trip to Antigua as we were advised the seas were just too choppy. But we took comfort in knowing that just by visiting Antigua, we were - in some small way - contributing to the recovery of Barbuda. This dual-island nation relies on tourism dollars to fund the continued recovery efforts. And we now have a very good excuse to come back!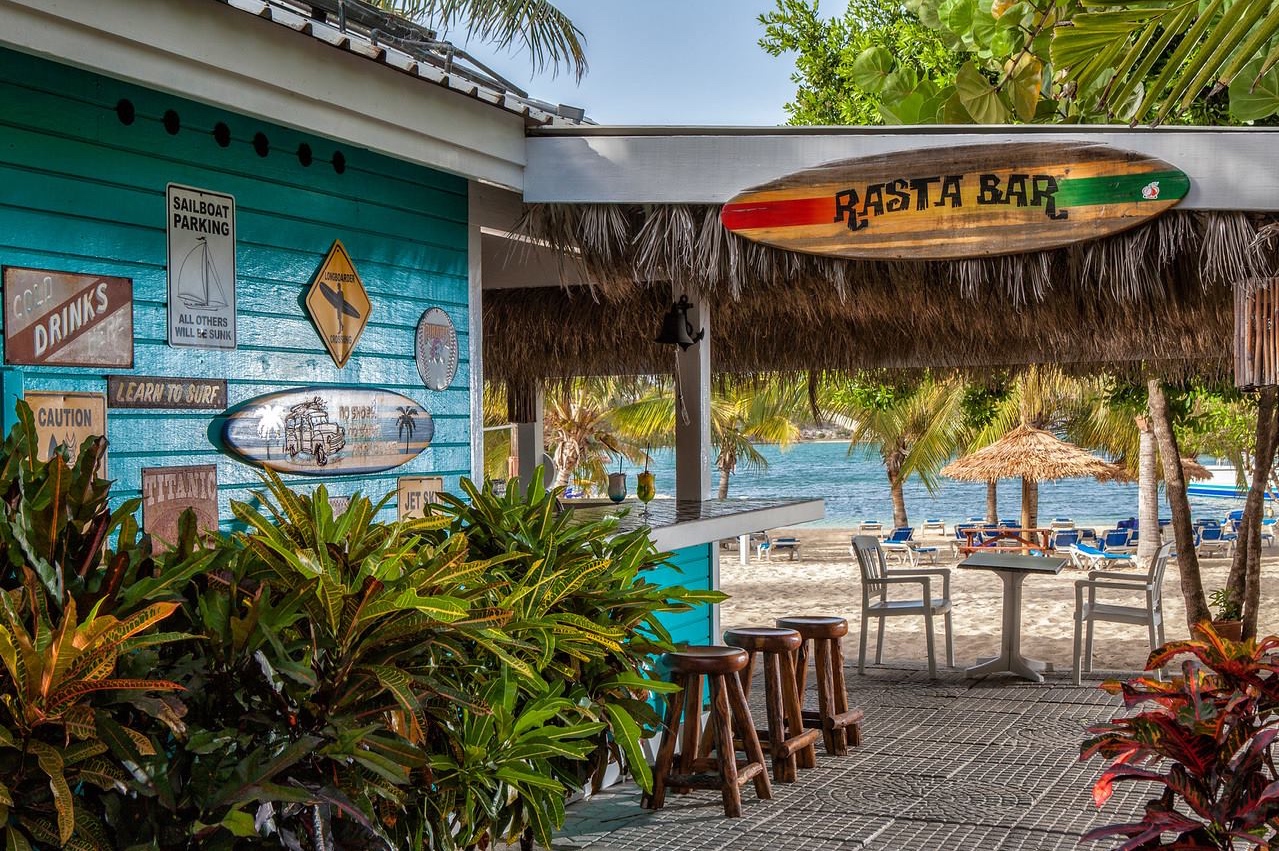 Where to eat?
The Verandah has five restaurants and three bars spread throughout the resort where you can enjoy breakfast, lunch, and dinner as well as afternoon tea and cocktails. There's also a coffee shop that's open all day if you need a pick-me-up or snack.
Seabreeze
Centrally located near the main pool area, the resort's main restaurant is buffet-style for all meals. If you don't like buffets, you may be disappointed to hear that Seabreeze is the one and only spot for breakfast at the resort. Having said that, the buffet offers enough variety to keep just about anyone happy. With everything from fresh fruit to made-to-order omelets and waffles, you'll find all your usual breakfast fare. They also have a wide selection of breads, cereals, baked goods, and yogurt. With Antigua being a part of the British Commonwealth, you'll often see the makings of a full English breakfast on the buffet, as well. Lunches here are comprised of soups, salads, and sandwiches along with hot dishes that vary daily. Dinners are usually themed buffets - like Caribbean, Asian, and BBQ nights.
Beach Bar & Grill
Overlooking the resort's main beach, this breezy, open-air spot has - by far and away - the best view of any restaurant at the resort. Along with those spectacular, sweeping views of the bay, the Beach Bar offers light lunches, snacks, and plenty of cold beer and umbrella drinks.
We were huge fans of the Caribbean jerk chicken wrap served with banana chips (not the sweet kind but the kind that are more like French fries) which may have been the best lunch that we had while in Antigua. We also loved the grilled black pineapple on the side… ridiculously good. My 5-year-old loved the cheese pizza, fruit punch (which, if you're not careful, your kids will develop a serious addiction to while in Antigua), and of course, the ice cream cones. Oh - and did we mention that they have an all-day nacho bar here? Yeah. As if being in Antigua weren't heaven enough, there are chips and guacamole to be had 'round the clock! There are also cookies out for the grabbing all day, but don't tell your little ones that!
At night, both the menu and atmosphere are stepped up with white tablecloths, candles, and locally-caught fish specials. The kids' menu has several options for even picky eaters. The food was really good, but the service was a little on the slow side that night. But it's like I always tell people before they visit the Caribbean, it's not New York City. Prepare to be on island time.
Wadadli Snack Shack
While not counted as one of the resort's restaurants per se, the Wadadli Snack Shack located on Rasta Beach serves up burgers, hot dogs, sandwiches, and chips. Grab a seat at one of the picnic tables and wash it all down with a local Wadadli beer, and you have a perfect wet hair, toes-in-the-sand kind of lunch. Just know it's a pretty limited menu.
The Pirate's Den
Located around the corner from the bar at the main pool, this little coffee shop doles out cookies, cakes, and caffeine at just about all hours of the day. It's also your spot for afternoon tea from 4:30 p.m. to 5:30 p.m. and late night snacks from 10:00 p.m. to midnight.
KidTripster Tip: If your kids worked up an appetite swimming all day and need something to tide them over until a late-start dinner, hit the afternoon tea here. You can grab tiny tea sandwiches, fresh fruit, and other nibbles and bring them to your room. Or hang out in the coffee shop and play cards or board games that are provided on the shelves.
Nicole's
Touted as the resort's high-end, fine dining restaurant, this restaurant has a $40 surcharge. Reservations are required, and children are only allowed on "family nights" which take place twice a week. The ambience is quiet and romantic, but we were happy to see that we weren't the only couple with kids. We raised a glass to the couple beside us who had their baby in tow, who was fussy at first but then slept in a stroller throughout the four-course meal.
After some Prosecco and a lovely amuse-bouche (think hors d'œuvre), we dined on tuna tartar, beef filets, and mahi-mahi while our daughter colored Paw Patrol pictures between bites of penne Bolognese. The wait staff was attentive, accommodating, and very friendly. So yes, it costs more, but I think it was worth it if you consider the stepped-up service and menu items like Antiguan Lobster and filet mignon.
KidTripster Tip: Keep in mind that Antigua - being a British Commonwealth country - tends to be a bit more formal. Don't expect to wear beachwear, flip-flops or t-shirts to dinner anywhere. Dress at Nicole's is elegant, meaning dresses, skirts or nice trousers for ladies and collared shirts and dress shoes for men.
KidTripster Tip: If this kind of place isn't your kids' speed, take advantage of the kids' club's dinner and a movie option and make it a date night.
Buccaneer's
While Nicole's is considered the top-notch fine dining establishment, believe it or not, dinner at Buccaneer's was unanimously voted as "best dinner of the trip" by every member of my family. OK, so there's only three of us but still! The food here was really good, the service was prompt, and the wait staff was over-the-top friendly - especially to my daughter, who actually declared her pasta as "the best pasta in the world." (Gotta love 5-year-olds!)
Considering it's one of only two à la carte restaurants included in the all-inclusive package and the kid-friendlier choice, we were pleasantly surprised by our experience. The main menu features Caribbean fusion cuisine; the children's menu offers your usual chicken fingers, pizza, pasta, and grilled cheese. Reservations are required, and the attire is summer casual.
KidTripster Tip: Two out of the three à la carte restaurants require reservations for dinner and don't start serving until 6:30 p.m., which is kind of a con in my book. That means families with young children who maybe eat earlier could get stuck at the dinner buffet (which opens at 6 p.m.) or the Beach Bar & Grill before it closes at 5:45 p.m. I mean, the buffet is good, but I don't know that we'd want to be there for breakfast and dinner everyday. There's also no room service option here. I suggest booking all your restaurants on the day that you arrive to avoid disappointment.
Photo courtesy: The Verandah Resort & Spa
When to go?
Antigua is the driest and sunniest of the eastern Caribbean islands with low humidity and constant northeast trade winds. So it's no surprise that Antigua, like much of the Caribbean, hits its peak season when the weather is miserable up north - mid-December through mid-April. You'll pay at least $100 more per night during peak season.
The low season with its reduced rates runs from late April to late November, but it's hotter, more humid, and there's a greater risk of storms. Hurricane season runs from June through September, so vacations planned during that time can be somewhat of a gamble. You may want to think about getting travel insurance for a trip like that. We recommend World Nomads.
Photo courtesy: The Verandah Resort & Spa
Getting there
United Airlines flies direct to Antigua from both Newark and Miami airports, while American Airlines offers non-stop flights daily from New York's JFK and Miami airports. You also can find non-stop flights from Atlanta and Charlotte. The Verandah is located 30 minutes from the airport in Antigua.
Rental cars are available, however, be advised that you must apply for an Antiguan driver's license when you land at a cost of $20 to legally drive on the island. Taxis are easily found just outside the arrivals area. It costs about $30 for a taxi to the resort.
Marcia Breen knows a bit about island life. She lived in Bermuda for nearly eight years and can tell you everything you need to know about hurricanes, Dark 'n Stormies, frizzy hair, and driving on the left. She now lives on the Jersey Shore with her husband and daughter.
This writer received a complimentary stay for the purpose of this review. However, all opinions expressed are solely her own.
Photo courtesy: The Verandah Resort & Spa
Pin to Pinterest & read later